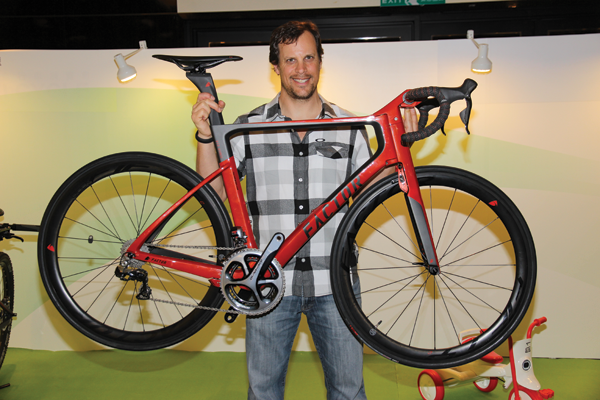 Bicycle design progresses incrementally with occasional small step-ups as things like larger bottom brackets or tapered head tubes are introduced. Beyond these the bicycle form seems to have settled on a standard diamond frame. Not many people have heard of Factor bikes yet, but as Phil Latz found out, a small but high-tech engineering firm from the UK has designs that might change all of that.
Steve Domahidy: Factor is a new brand. The parent company of Factor is bf1systems, an engineering firm out of Diss, England about two and a half hours north east of London. Even people from England haven't heard of it, it's a small town in Norfolk near Norwich. They are an engineering firm that does Formula 1 and a lot of other motor sport. They do Moto GP, NASCAR and many other things. Bf1 Systems also has many, many parts on pretty much every supercar known; Bugatti, Lamborghini, McLaren, you name it, and they also do stuff in the aerospace industry. So they're an engineering firm and about five or six years ago they decided to do a concept bike called the Factor001 and built a concept bike that was really radical. This was in 2007 that they started the project and 2009 they showed some renderings of it. It had hydraulic disc brakes; they made the master cylinders themselves in the brake levers and eight-spoke carbon wheels. They did everything out of their factory in England with no other players.
In 2011 they hired me to make a production version of that bike. So I'm the co-founder of Niner bikes and I had left Niner in May 2011 so it was good timing for me to start a new project and a radical one at that, so I took it on and I've been working on it for more than two years.
BA: Talk me through, is that more aerodynamic having that split front fork?
SD: The split front fork is not necessary more aerodynamic, it does have more surface area which would technically mean it is less aerodynamic, however when you take into account the internal cable routing and no external cables and no external drag from those pieces, I think it's about a second per kilometre in terms of aerodynamic efficiency. However, from a steering perspective, from a handling perspective the front end of this bike changes the way somebody would ride a bike – literally. You have a direct connection to the front wheel. In most bikes you have a wheel axis that's an axial load, then you are connected to a steerer tube and that axial load, then you're connected to a stem and that's an axial load and then you're connected to the handlebars and that's another axial load, so you literally have a series of axial points on the bike all of which conflict in a pretty severe way.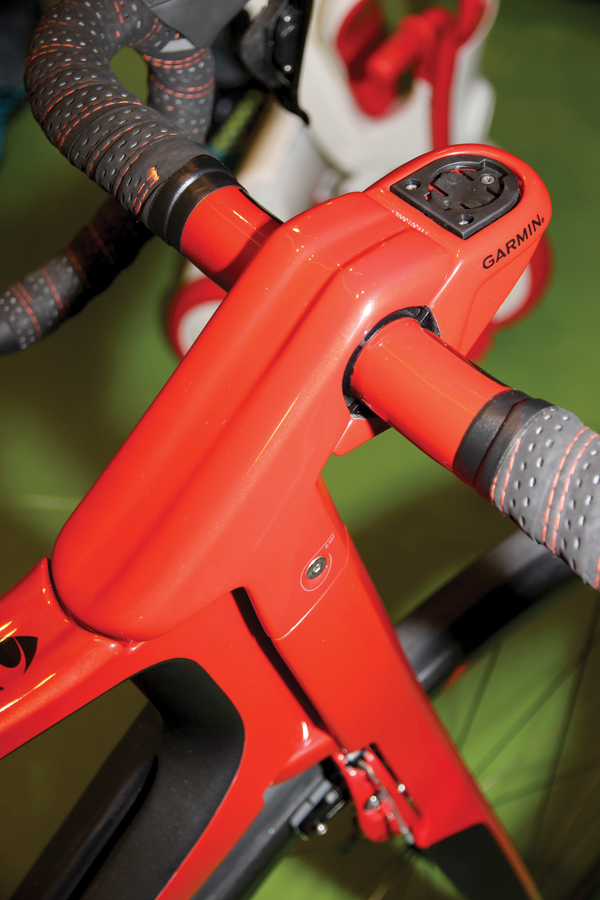 When you ride a bike like this you don't realise how much that other system flexes until you ride a bike that has zero flex in those plains. Of course you have axial loads on the handlebars because the handlebars are still round but the stem is no longer round and no longer axially connected to a steerer tube, which is also not round. So the stem is essentially the fork crown, this is the structural fork crown and the fork and steerer tube are one unit. That direct connection to the drop-outs means that your front end is literally a part of the bike. It's no longer a bolted on portion of another component, it's literally a part of the bike.
From a sprinting standpoint you're leveraging the whole frame. If you want to get up and crank on the pedals on this bike and you want to use the handlebars as leverage, you're not twisting. The purpose of using the leverage of the handlebars in out of the saddle sprinting is obviously you twist the bike to one side as you're hitting the pedals pushing down and trying to maximise your force on that bike, when you do that on this bike you are twisting the entire frame because it's connected here and here. It's a different load all the way through the frame. So your energy transfer from the front to the back is way more direct. The handling is way more direct. It's point and shoot.
BA: Road shock?
SD: It's funny, everybody who's ridden it has actually said for as stiff as this bike is it's actually completely rideable. You can do a 100-mile ride on it without being fatigued or feeling too much road shock. The front end is a little stiff but we can get some damping under the handlebars. These are special handlebars designed for us in cooperation with Enve but not only are there specific holes that are in the handlebars to wrap the cables but the internal butting so to speak of the carbon is different. It's got a different internal mould and a different layup than standard handlebars. That's for many reasons one of which is the strength with the holes in it but also to help with damping characteristics.
BA: Finally, on the stem the adjustability you say there's 5mm in each direction, how do you achieve that?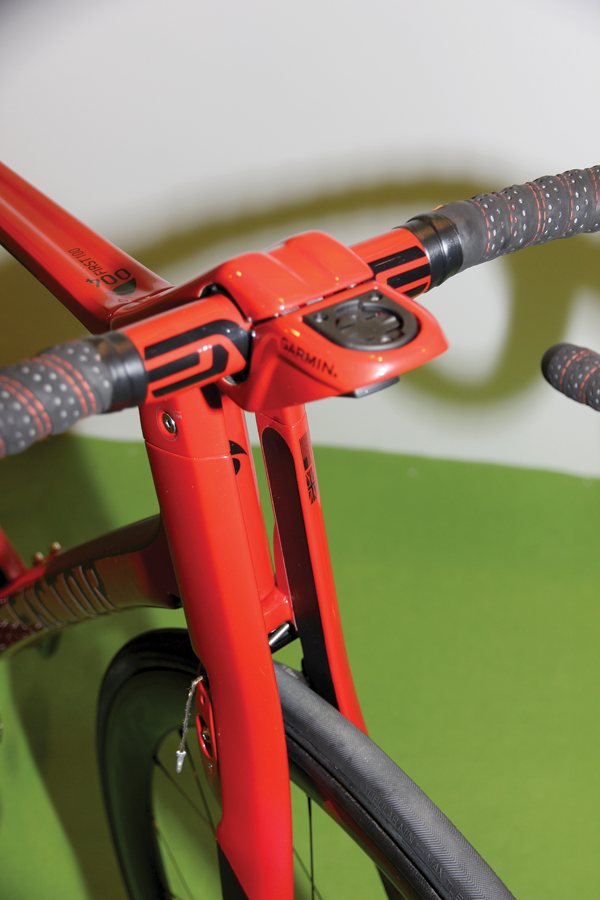 SD: There are also different options in stem lengths, so you can change the stem length. This aluminium piece in here, there's two aluminium pieces in here and these can be replaced and then you can move the handlebar literally around 360°. It's basically a hexagon so you have six positions all the way around that you can put the handlebars plus the centre position, so that's seven positions. Giving you forward and backward plus or minus five, up or down plus or minus five then slight variations in between that.
BA: The split down tube, what's the rationale behind that?
SD: The rationale behind that is to allow the turbulent air from the front wheel to get through the down tube rather than trying to force it around the down tube. In order to get all that turbulent air to realign you have to let it wash. Most companies making aero road frames are trying to make it wash around the down tube. That's great except for that a vertical wing shape on a down tube is not structurally supportive of the head tube or bottom bracket, so your rigidity between the head tube and bottom bracket and for that matter from the bottom bracket back to the drop-outs isn't as good on an aero frame that's got a really severe air foil shape down tube. So not only do we get 100 grams of aerodynamic efficiency with that and we've tested that and certified that in the wind tunnel, that's about a second a kilometre.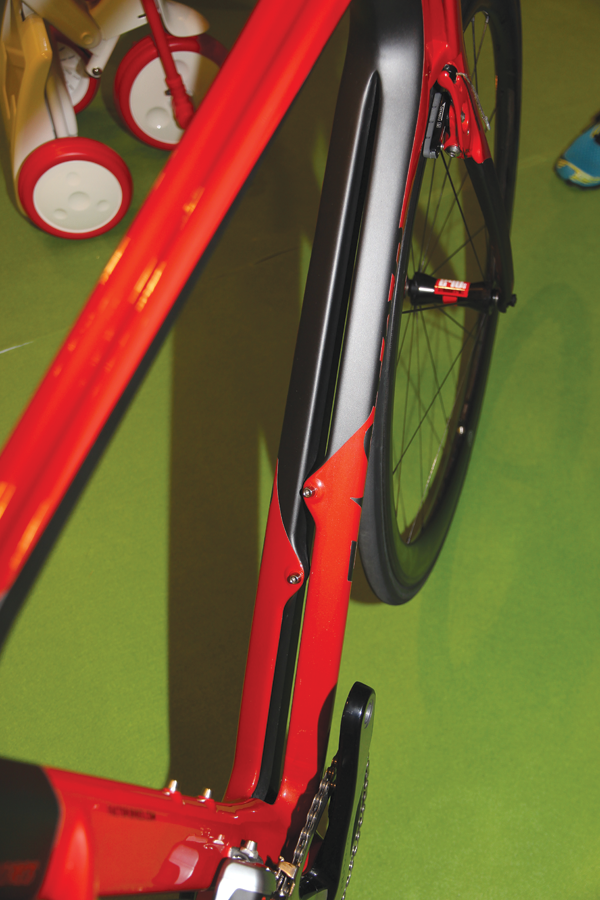 BA: What does that mean 100 grams at what speed?
SD: We test the bike at 20 miles per hour with a wind force of 30 miles per hour.
SD: So 100 grams would equate to a kilometre a second of increase aerodynamic efficiency. If you're putting out 250 watts for every kilometre you're gaining a second.
BA: How important is internal cable routing?
SD: Internal cable routing is very important. It's something that I sometimes see people doing aerodynamic testing on their bikes and I see them doing it without cables attached and I find that not really valid because all those cables cause turbulent air, they break up the flow of energy over the bike, the air over the bike. Once you break it up, once you pause the nuances of airflow to start to be turbulent, it only continues to be turbulent as it continues over the bike. So for me it's invalid testing if you test an aero road bike or any road bike in the wind tunnel without cables on it. It's very important, it's hard to quantify exactly. I've heard stats of 5 grams for each cable that's sticking out but I haven't validated the exact amount of un-aero efficiency that an external cable would have but for me in this project, internal routing was essential. It's part of the integration of it and part of the cleanness of it.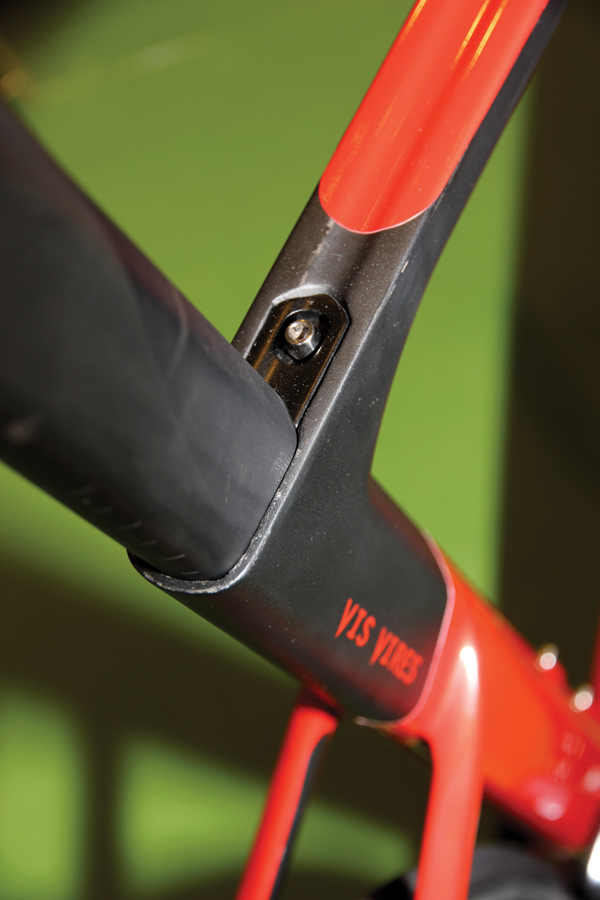 BA: Your own branding of wheels and your own special series of tyres?
SD: Everything on this bike is bespoke; everything on this bike is special. Garmin made us our own computer, Fizik made us our own saddle, Vittoria made us our own tyres and we work for a partner called Black Ink for our carbon clincher wheels that are a 45mm deep dish carbon clincher.
Black Ink, they are a new company. I'm not sure if they've officially launched, we officially have the wheels and they're cobranded as Factor wheels.
BA: How much does this bike weigh in the 56cm frame?
SD: With the power meter cranks it's just over 7kg.
BA: The cost?
SD: The cost is £10,000 for a Dura Ace Di2 bike with power meter cranks and £8,000 with Dura Ace cranks.