Australian riders again spent an extended period of time on the hot seat at the World Championships Time Trials today, the Aussies setting a cracking pace in the Mixed Relay.
Racing the clock and the weather – with heavy rain heading to Wollongong tonight and into Thursday – the Australians looked good prior to powerhouse teams Italy, The Netherlands, Switzerland & Germany taking to the course.
Switzerland were eventual winners, with Italy finishing second and Australia third.
How Does The Team Relay Work? Luke Durbridge Explains It Here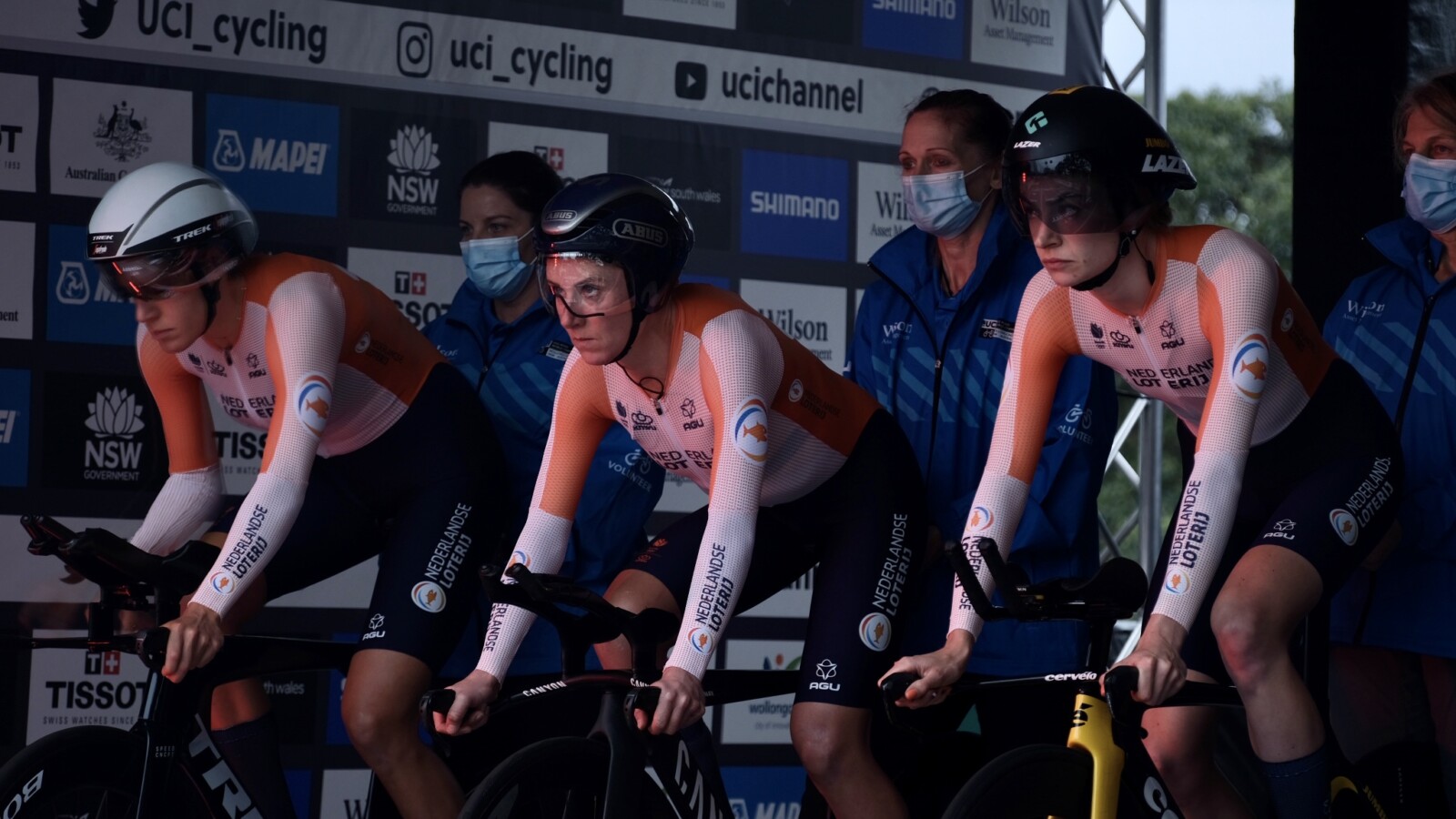 The final podium was not delivered without significant drama, first with Dutch rider Bauke Mollema suffering a mechanical, leaving the team with only two male riders.
Then, moments after leaving the start ramp, a loud bang was heard – the sound of Annemiek van Vleuten's front tyre exploding. Under full power, Annemiek lost control and hit the gutter on the left side of the road.
Teammate Ellen van Dijk was just behind her and narrowly avoided hitting van Vlueten's bike, but did seem to make minor contact with it. Van Vlueten's rear derailleur was later seen to be broken, no doubt after being ridden over by van Dijk's rear wheel.
One of the top favourites for Saturday's Elite Women's Road Race, van Vleuten was heading to Wollongong Hospital for X-rays. Prior to departure she told Dutch media she was in a lot of pain.
"My elbow doesn't feel right and I have a lot of bruises all over my side," she said. "I can't believe what happened and I am worried about Saturday."
A Victory A Year In The Making
Speaking at the Press Conference after their team win, Swiss rider Marlen Reusser was thrilled with the victory and said it was a relief after the 2021 World Championships.
"We missed out on the medal last year by a fraction of a second," she said. "This year … finally … it's so cool."
Teammate Stefan Kung said it was very nice to add this jersey to the collection. "To pull this off you need three good men and three good women – to pull this off in cycling is a great feat," he said.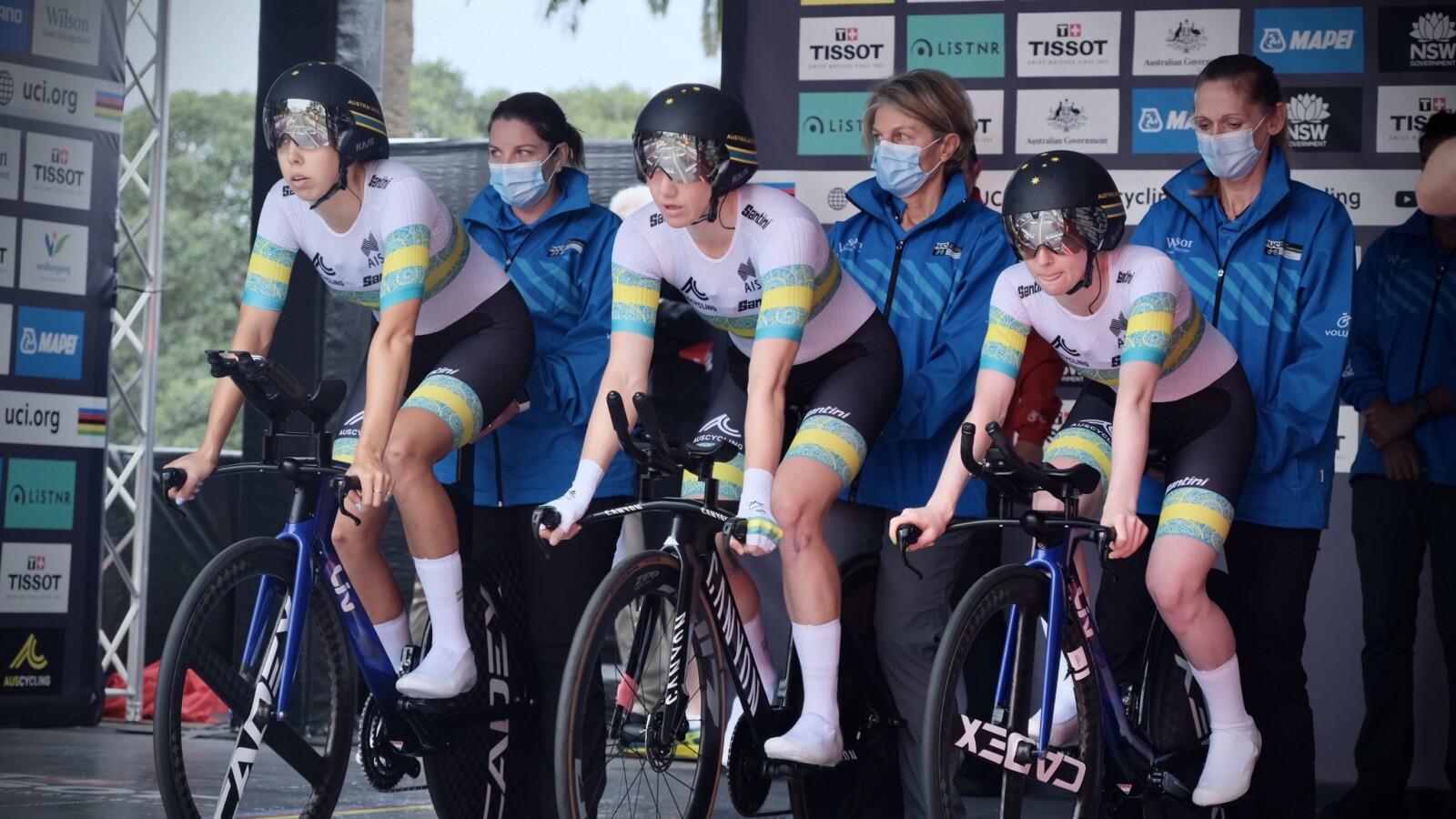 Representing Australia were Georgia Baker, Alex Manly, Sarah Roy, Michael Matthews, Lucas Plapp and Luke Durbridge.
Durbo said "the crowds were fantastic and we were very happy with our performance."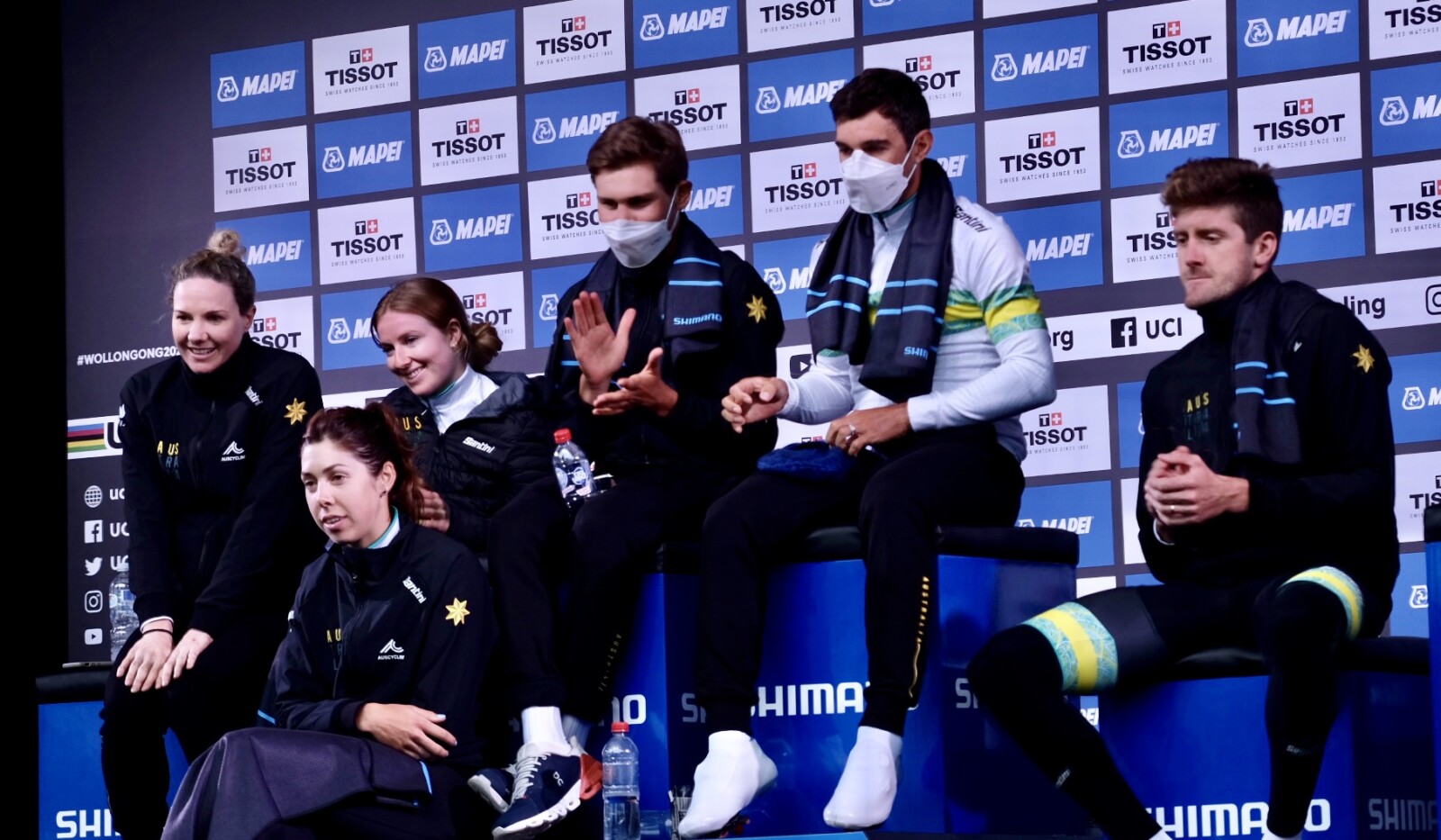 Discussing the logistics of training the the Mixed Relay, he said it was particularly difficult for the men and women to get together to train for the event as they are on different teams and live in various locations.
"It's tricky to all get together during the season," he said.
"We actually only got together yesterday for three laps of the course. But we were all pretty dialled after those laps. In the future I think we can do more work on preparing and training for it."
Sarah Roy said it was a similar situation for the women.
"We had a few practice session in Girona a few weeks ago – not all of this team but various Australian riders.
"Alex and I have been teammates for a number of years and we all know each other really well. We also learned a lot from Georgia who finished eighth in the time trial."
Thursday is a rest day / training day at the 2022 World Championships – but with heavy rain forecast teams and riders will either stay indoors or ride particularly carefully. Racing begins again on Friday with the U23 Men's & Women's Road Races.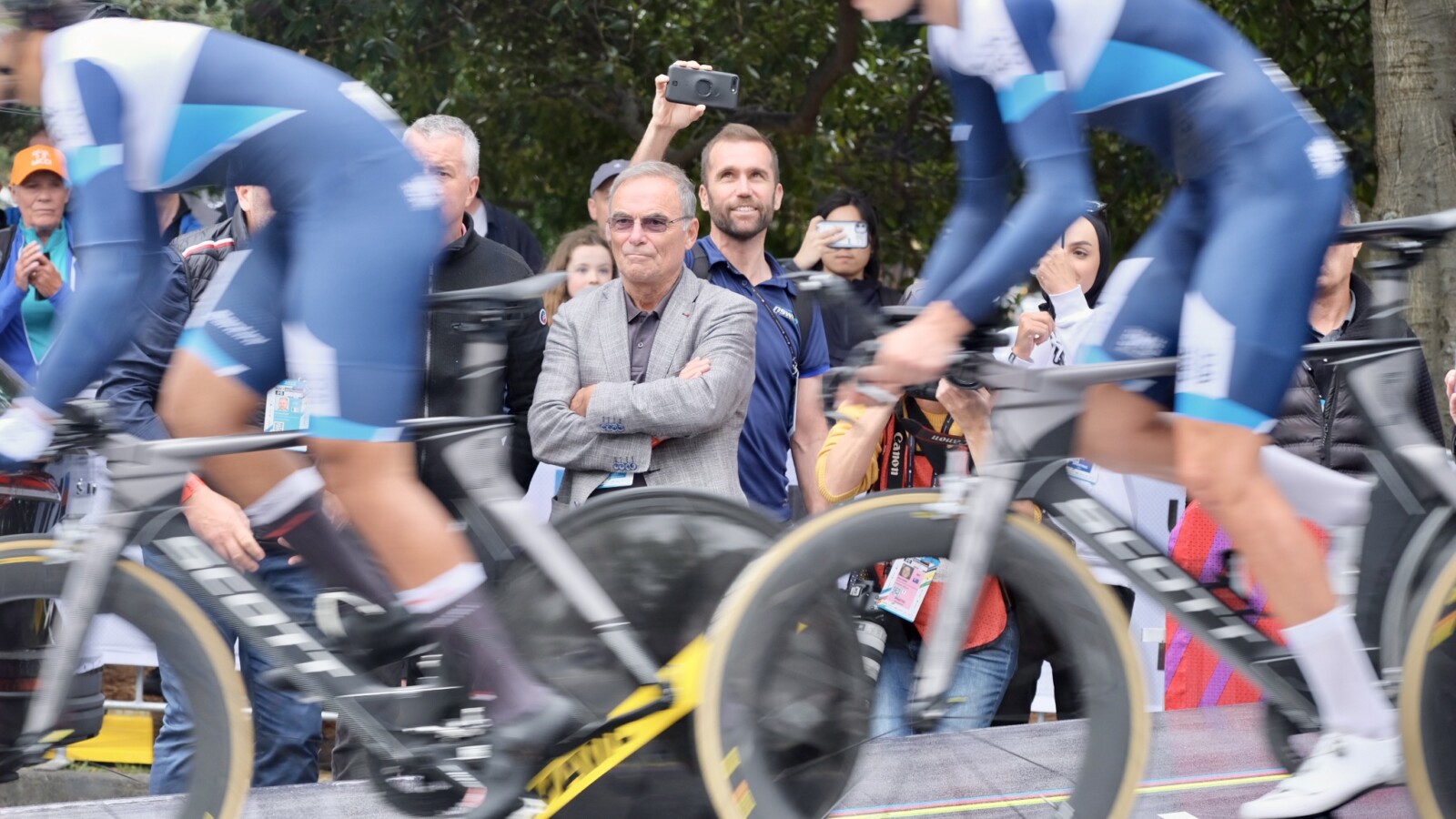 How Does The Team Relay Work? Luke Durbridge Explains It Here
Today's Wollongong World Championships Coverage Is Presented By Wattbike – For More On The World's Best Smart Trainer Visit WWW.WATTBIKE.COM