18yo Tasmanian Hamish McKenzie has come agonisingly close to becoming a World Champion in Wollongong.
Riding the Junior TT, Hamish was 4th rider out and posted the scintillating time of 35m18.45s over the 21.8km course. He went straight into the hot seat and that's where he spent the whole afternoon, right up to the moment the final rider – Team Great Britain's Joshua Tarling – crossed the line. Germany's Emil Herzog finished a further 14 seconds back to take the bronze medal.
Coming in 18-seconds ahead of McKenzie, 18yo Tarling won gold and proved to the crowd the precise reason Team Ineos have signed him for the next three years. It was Britain's second Gold for the day with Zoe Backstedt also becoming a World TT champion in the Junior Women's event.
An Afternoon In The Hot Seat
Graceful in his eventual defeat, McKenzie said his overall objective was a Top 10 position.
"It was a long day, I sat in the hot seat until the very last rider came through," he said.
"I am very happy to come second, I couldn't be more happy. Coming into the event my goal was Top 10. I put a lot of preparation in and knew if I had a good day – which I think I did – I'd be competitive."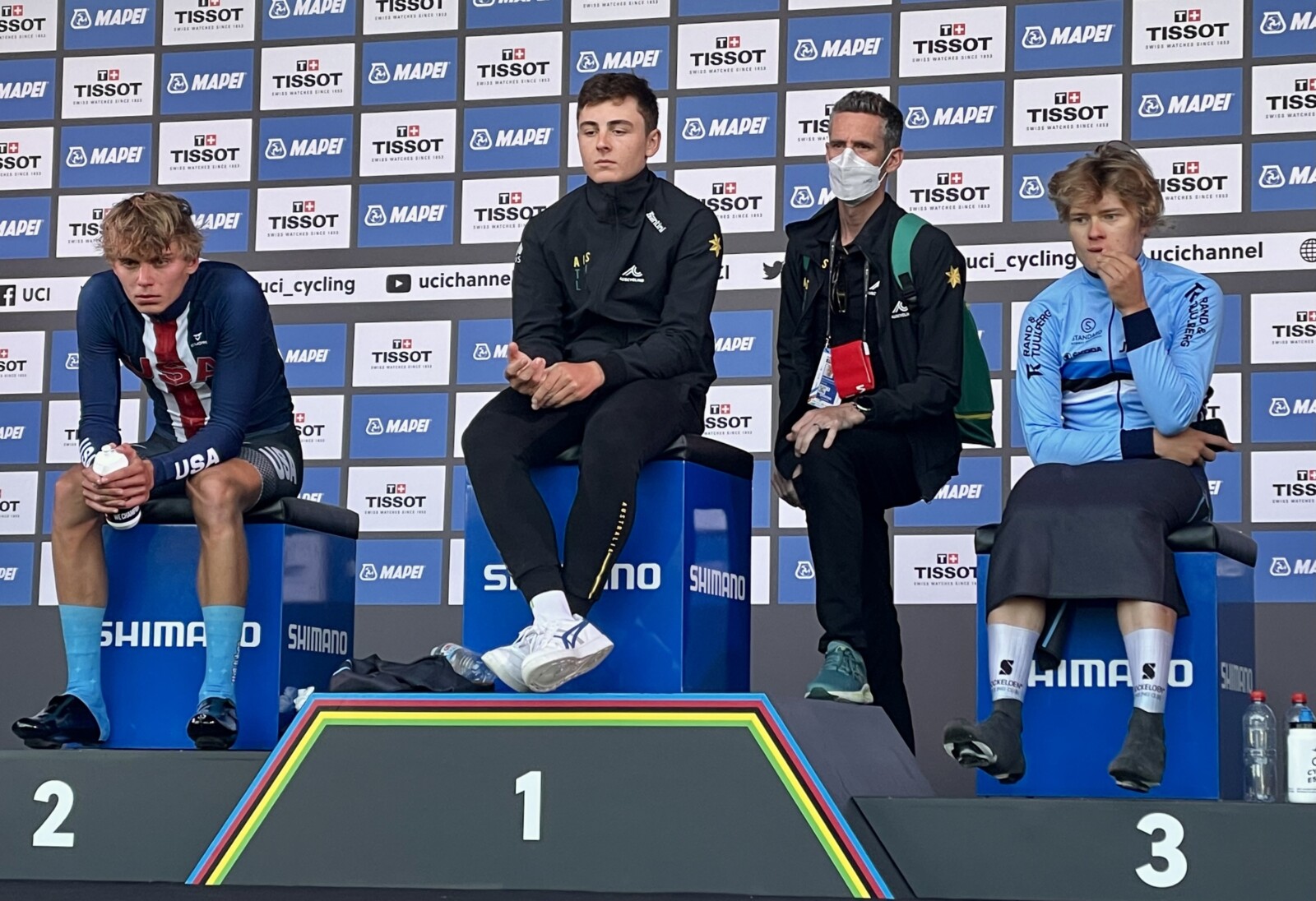 Asked about both Friday's Junior Road Race and his plans for next year, McKenzie said Australia had a strong junior team.
"We're all similar riders, at a similar level," he said. "I reckon it will be a reduced bunch finish. I think – if we all put in as a team – one of us should get a very good result."
As for next year? Hamish will be riding with the successful and ever-active development team ARA Pro Racing Sunshine Coast.
A Junior World Champ At Team Ineos
Welsh rider Joshua Tarling said he was relieved to win as the junior gold medal was his main goal of 2022.
Asked about joining Team Ineos at such a young age, Tarling said he "can't wait to learn from the best."
"It will be a really good place to develop as a bike rider, with the best team mates and the best equipment around me."
UCI Junior World Championship TT Top 3
1: Joshua Tarling (GBR)
2: Hamish McKenzie (AUS)
3: Emil Herzog (GER)