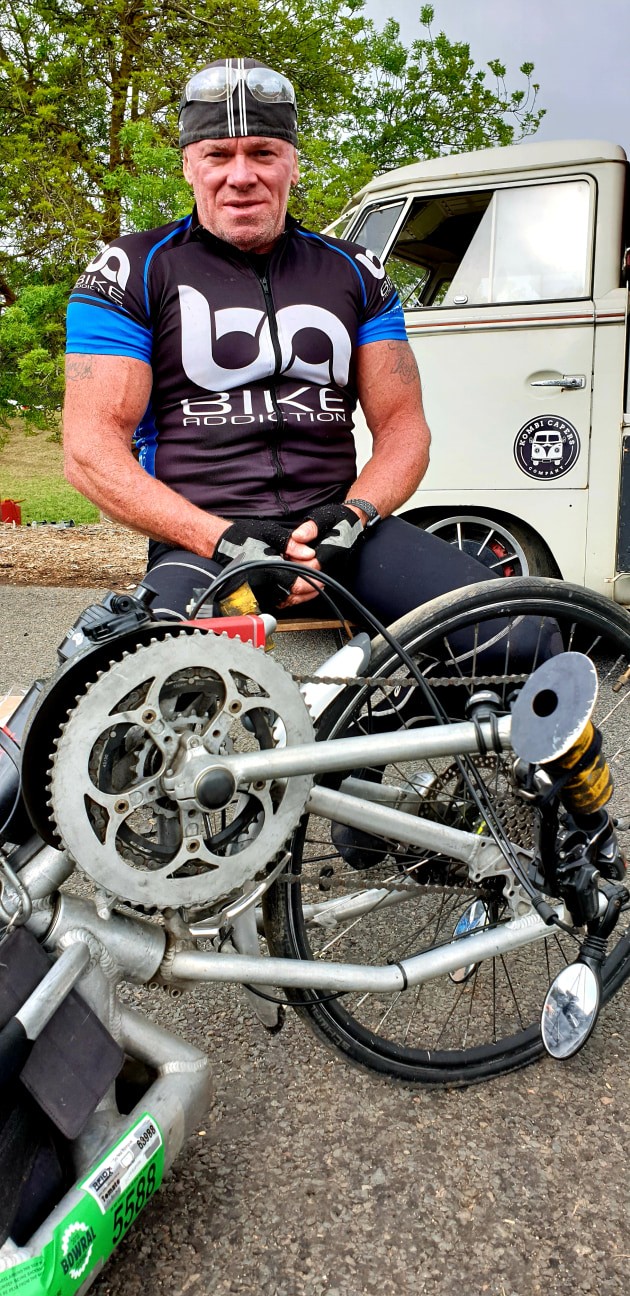 "One of those last hills was asking me some questions…but I got over it."
The words of Todd Philpott who, with partner Susan, completed the 90km Rouleurs Classic in the 2018 Bowral Classic.
"Now for a cup of tea, a Bex, a good lie down…and I will be back in 2019" Todd said with a laugh.
Seriously injured and having lost a leg after being hit by a taxi while riding a motorbike in Sydney in 1992, Todd has one of the most incredible and inspirational tales to tell.
Trained With Schwarzenegger & The Hulk
A national champion weightlifter, he has trained with Arnold Schwarzenegger and The Hulk, bench pressed 500 pounds, completed the New York Marathon 5-times (winning the handcycle category), played competitive Rugby as an amputee, is a Paralympian and world record holder. Most of all he's a bloody good bloke and true blue legend.
"It was a really good course," Todd told us while getting stuck into several bananas after completing the rolling 90km Bowral Classic course on Sunday.
"I've got full thickness tears in the rotator cuff – I've retired from Paralympic competition but still enjoy a lot of charity and other events with my wife Susan. We were actually just commenting on how professional this event was, how welcoming the riders were and how well organised the day was. Overall it was a really good experience."
Bananas And Biceps
And apart from the bananas and huge biceps, Todd revealed the secret to hill climbing success – a stash of Snakes lollies down the side of his handcycle seating position.
"I sure do burn it up," he said. "With the handcycle, and using my arms and shoulders, the lactic acid builds up very quickly. After all, as humans we're not supposed to be using our arms as legs. But I've been doing this since around the Olympics in Sydney in 2000."
"I really do enjoy the sport even though my shoulders are shot to pieces – it's just that fluid motion, there's no ballistic movement so I do need the energy. The handcycle keeps me pretty fit, I really enjoy it," he said.
Over To You
Over on the Bicycling Australia and Bowral Classic Facebook pages, repsonse to Todd Philpott's efforts have been almost as explosive as the power in the man's arms. The comments include –
Peto Jase Absolute champion! It was inspirational seeing Todd out on the course. Respect.
Brian Gardner A heck of a nice bloke too.
Julie-Anne Roche Incredible! You were very impressive heading towards range rd on Tourist rd. Amazing.
Khalid Rosidi Awesome stuff Todd, you made the climbs out of Robertson like a walk in a park..LEGEND.