Anthony Tan sizes up the main contenders for each of the four jerseys at the Centenary Tour.Yellow – maillot jaune
Chris Froome (Team Sky)
For me, Chris Froome is the favourites' favourite to win the centenary edition of the Tour de France.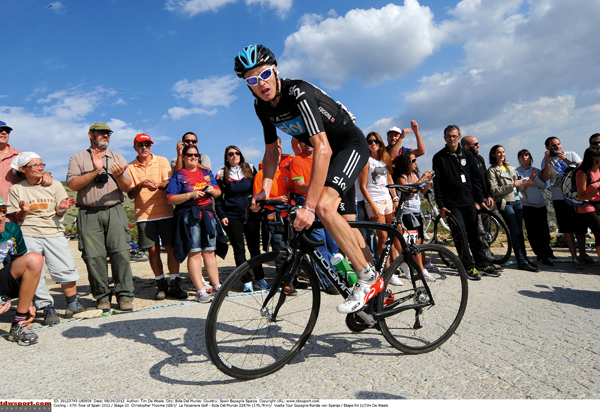 After a much-publicised – at times fabricated, other times not – rivalry with teammate and compatriot Bradley Wiggins that reared its ugly head at the 2012 Tour (despite seemingly riding against one another on certain stages, the pair would nevertheless finish 1-2 in Paris), 'Froome-dog', or 'Froomey', or whatever you want to call him, wants to show the world not just his Grand Tour mettle, but to ride into Paris wearing the maillot jaune as Tour champion.
His early season form, with stage-race wins at the Tour of Oman and Critérium International, is indicative of a man very much on track to not just prosecute but realise such a desire. And what a team to back him up: Team Sky, with Wiggins, Richie Porte, Rigoberto Uran, Sergio Henao, Vasil Kiryienka, Kanstantsin Sivtsov and Edvald Boasson Hagen, just to name seven, is spoilt for choice when it comes to super domestiques.
Just one question lingers… Will 'Sir Wiggo' comply and, following the Giro d'Italia, be the loyal lieutenant? The Kenyan-born Froome certainly hopes so.
Alberto Contador (Team Saxo-Tinkoff)
With his 2010 Tour crown rescinded and awarded to Andy Schleck, his 2011 Giro title and fifth place in the 2011 Tour also revoked, then suspended from competing in the 2012 Tour, expect Alberto Contador to line up in Porto-Vecchio hungrier, angrier, fitter – and more bitter – than ever. Without a skerrick of doubt, 'El Pistolero' will enter edition number 100 on June 29, guns ablaze.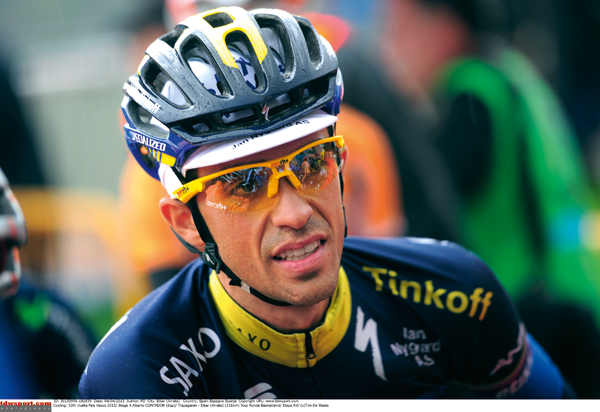 Interestingly, however, Bertie hasn't had things all his own way in 2013.
After a magnificent coup de grâce four days from the finish to win last year's Vuelta a España, robbing fellow Spaniard Joaquim Rodríguez of a trophy he must've thought was already in his carry-on luggage back to Barcelona, he's been good but not great in the season's opening quarter. Second overall in Oman, third in Tirreno-Adriatico, fifth in the Basque Country tour… Contador knew he needed to fine-tune his game post-haste before July, because things start getting vertical very early in this year's Tour, with the second stage in Corsica set to traverse its mountainous interior.
To his benefit, he's armed with a line-up to match Team Sky in the mountains – possibly the only other squad with the resources (read: budget – thanks to billionaire benefactor Oleg Tinkoff) to do so.
Bradley Wiggins (Team Sky)
It seems Bradley Wiggins' predisposition towards accomplishing the Giro-Tour double depends on the weather, because if you believe everything you read, which you probably shouldn't, that is how often he appears to be changing his mind.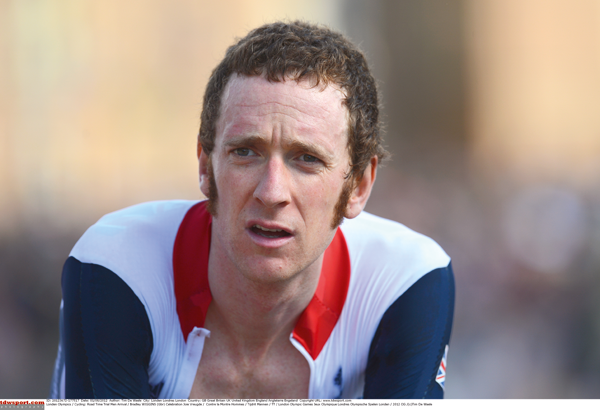 Late March, he said "trying to do a good Giro and then the Tour after is appealing because it's a new challenge".
"There'd been such a build-up for three or four years since I joined Sky to win the Tour," Wiggins said, "once I'd done it it was a case of 'what do I do now?' I'd achieved everything that I'd wanted to achieve. The plan is still to do Giro-Tour and managing that fatigue in between so we're still good at the Tour. And that's the challenge."
Of course, if the weather changes, then Wiggo's mind changes, it seems.
So far, the defending champ has largely flown under the radar, unlike his season previous where he completed an unprecedented quadruple victory run, winning Paris-Nice, Tour de Romandie, Critérium du Dauphiné and then of course the Tour. The low-key build-up is also a result of his Sky teammates Froome, Porte and Henao excelling in the early season stage races and taking Wiggins out of the limelight; as a self-confessed introvert, something he's more than comfortable with.
However he's assured his critics he's been logging more miles than before – "the training we do now I never imagined we'd be doing three years ago" – all with the aim of being buonissimo for the Giro and superbe at Le Tour.
Joaquim Rodríguez (Team Katusha)
Arguably the most exciting rider in today's pro peloton, the good news for Tour fans came early April when Dutch cycling website Wielerrevue reported that Joaquim 'El Purito' Rodríguez would forego a tilt at winning the Giro, where he finished second overall to Canadian Ryder Hesjedal last year, in favour of a full-blown assault in July.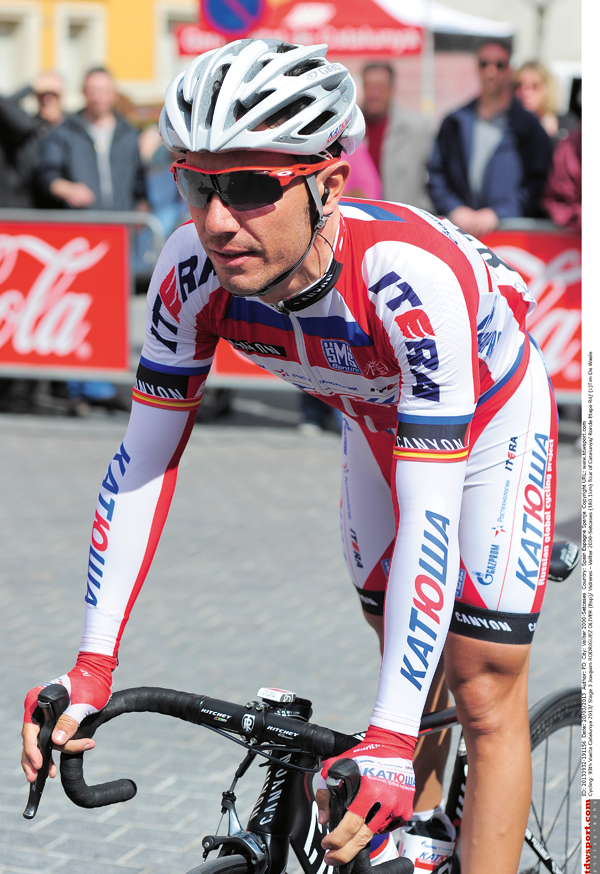 Rodríguez is old school: he races a lot, and races to win. When the road veers skywards, the diminutive Catalan packs an almighty finishing punch that last season saw him podium at both the Giro and Vuelta and net the Flèche Wallonne and Tour of Lombardy classics, which, for the second time, saw him at the top of the individual WorldTour rankings by year's end.
Besides being the Centenary Tour, this year's Grande Boucle bodes well for Rodríguez, whose Achilles heel used to be the time trial but has since much improved – though not to the extent of Froome, Contador and Wiggins. However there is just 55 kilometres of individual time trials, of which the second is four days from the finish and unlikely to be decisive; plus four of the six mountain stages boast hilltop finishes, so while, unlike the Vuelta, no time bonuses are on offer, Purito's unsettling rhythm has potential to place his adversaries into a spot of bother in key moments.
Though compared to Sky and Saxo-Tinkoff, Katusha is a little light in the climbing department when it comes to support in the mountains. Seventh overall in 2010, two Grand Tour podiums last year at the Giro and Vuelta… you'd have to say J-Rod is still in with a good shot, wouldn't you?
Cadel Evans (BMC Racing Team)
It's been a few sessions (or should that be seasons?) between drinks for the 2011 Tour champ.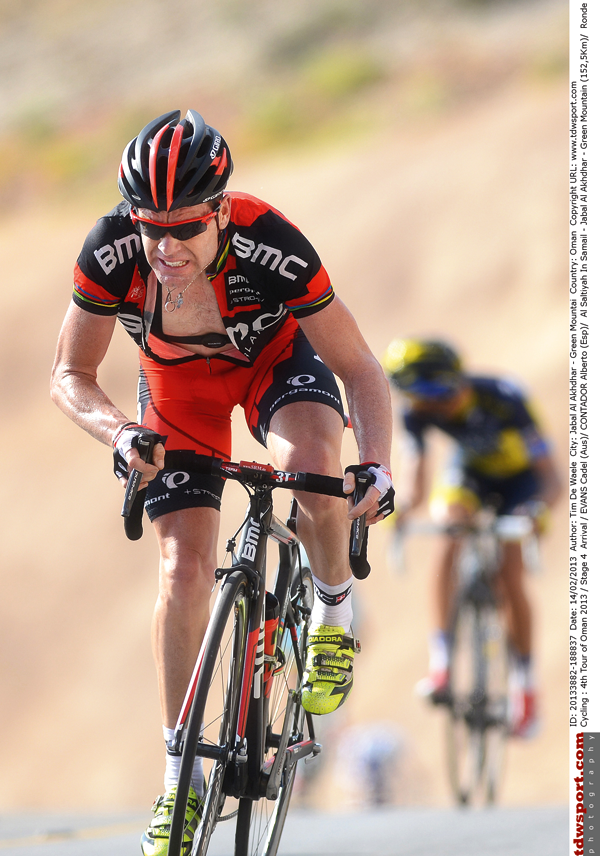 Nothing like the troubles surrounding Andy Schleck mind you, but then again, the Luxembourger broke his sacrum the previous June while Evans was battling a virus for a large chunk of 2012 (including the Tour, where he still managed seventh overall), and has struggled to find his previous best since.
His decision, or more correctly BMC team management's, to ride the Giro in order to shape up for the Tour is fraught with danger. It didn't work for him in 2010; it didn't work for Contador in 2011, and most assumed that if Bertie couldn't do it, no one could. While age may just be a number, the odds are stacked against him based on his 36 years alone. He is already the oldest post-war Tour winner; if – and it's a ginormous if – he wins this year, then he will become the oldest winner bar none.
BMC's heir apparent, Tejay van Garderen, is a better bet. Problem is, the Young American is not quite ready to win, even if fifth place overall at the 2012 Tour confirmed his potential as a future Grand Tour contender.
Green – maillot vert
Peter Sagan (Cannondale)
A precocious 23 years young, last year's winner of the green jersey – at his first attempt, in his first Tour – will only get stronger and more menacing as time progresses.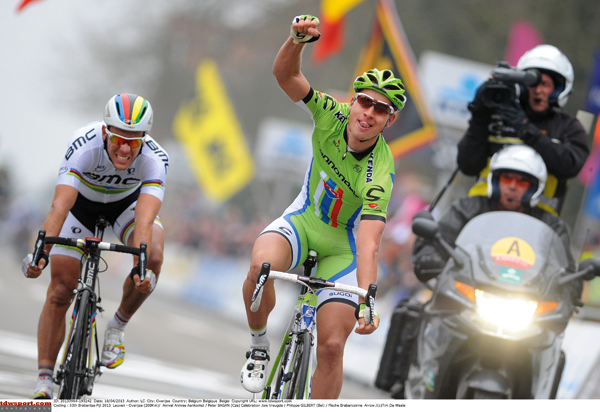 Already boasting a highly enviable palmarès, Peter Sagan nonetheless has a cannibalistic appetite for victory and will come to Corsica frothing at the mouth, ready to repeat his feat of yesteryear. Despite a heavy spring schedule, which saw his 2013 season victories come close to double-digit territory, the speedy Slovak will doubtless be well rested by the time Tour #100 comes around.
Make no mistake, this guy is the complete package: he can sprint with the best, has bike-handling skills that have no peer in the pro road peloton, roll over the puncheur-style climbs as if they were speed bumps and do everything else in between. Over time, one imagines, the only thing stopping Peter Sagan achieving everything he wants to achieve will be Peter Sagan himself.
Mark Cavendish (Omega Phama-Quick Step)
Realistically, the only guy who can overthrow the aforementioned Sagan when it comes to the battle for the maillot vert.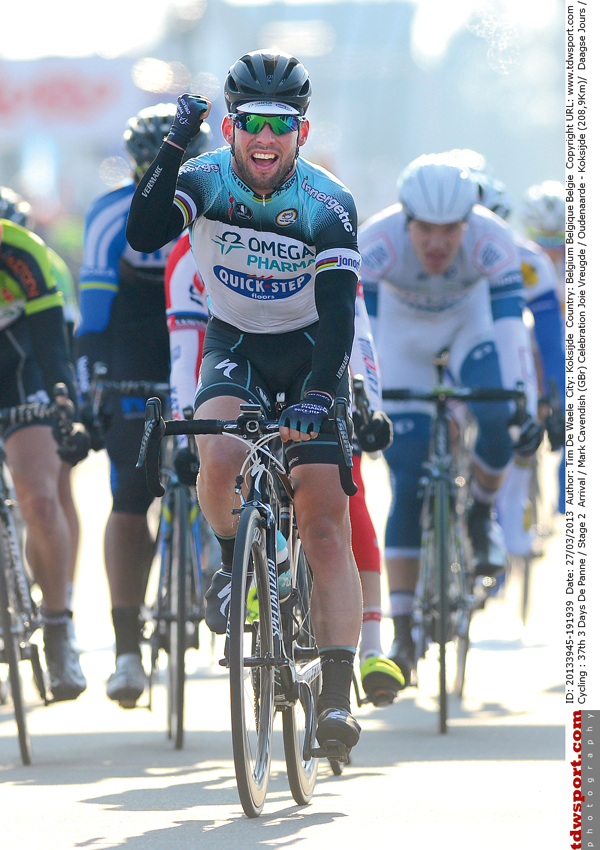 Had Mark Cavendish received unequivocal support he could've easily doubled his hat-trick of stages at last year's Tour. But alas, and as he admitted, he was on a team that was chasing a prize bigger than green. It thus became a question of priorities… his came second.
A move was always on the cards, and so far this season, it appears Omega Phama-Quick Step is a comfy home for Cav'. Unsurprisingly, his lead-out train is nowhere near as well honed compared to those heady days at HTC-High Road and its various name permutations, but come July, he's been assured full support to go for another tilt at the green jersey and extend his TdF stage-win record that already numbers a beefy twenty-three.
In 2011, arguably the most significant change to the points structure in the green jersey competition since its inception (now just one intermediate sprint, with first place awarded half the points bestowed to the stage winner) was initially thought to curtail the chances of a pure sprinter – but the Manx Missile showed if he needs to sprint twice a day, he can, consequently bringing home his first grass-green tunic.
Love or loathe him, if nothing else, you have to admire his combination of tenacity and pugnacity. That and the fact that he's still the fastest man in the world on two wheels.
André Greipel (Lotto-Belisol)
Charismatic André Greipel is not. We've seen bike seats with more pizzazz. But 'the Gorilla', as he is aptly though somewhat brutally monikered, is preternaturally strong, very fast, and, after three years' riding in Cavendish's shadow, insatiably hungry for success.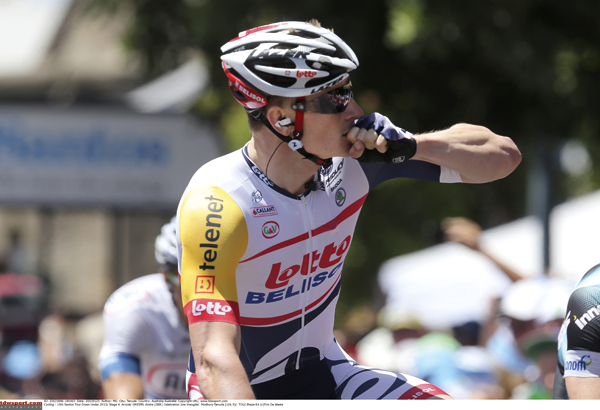 Greipel, unlike Sagan or Cavendish, is a man who needs a lead-out train to win, so to beat the Gorilla you must first decouple the Lotto-Belisol Express. The acquisition of Greg Henderson in 2012, the Kiwi a lead-out man extraordinaire on par with Mark Renshaw, proved instrumental to Greipel's success at the Tour, which saw him take home to Rostock a triplet of stages.
Last year he said ad nauseam the green jersey is not an objective for him. Time will tell whether the Expressionless One has changed his mind.
Matthew Goss (Orica-GreenEDGE)
In 2012 it was Operation Green Jersey for Orica-GreenEDGE at their maiden Tour de France but the best Matthew Harley Goss could do was finish third – a chasm-sized 153 points behind Peter Sagan (notwithstanding his 30-point penalty for irregular sprinting on Stage 12).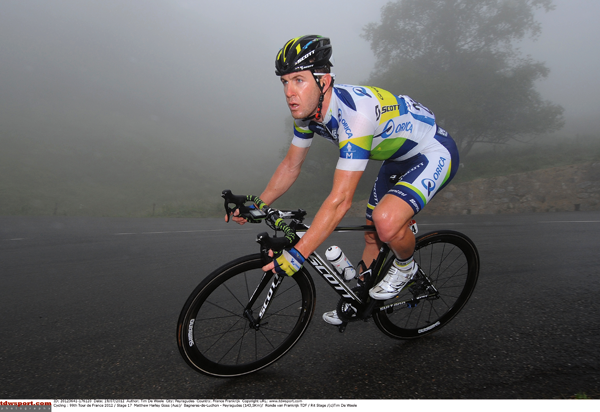 To be honest, it's hard to see Gossy getting the better of Sagan, Cavendish or Greipel in the mass sprints on a regular basis at the Tour, even though the Tasmanian has beaten all three on occasion. With OGE still without a stage win in La Grande Boucle, it seems more prudent to forget about green and go for a stage win with Goss in the opening week, and should that bear no fruit, then switch to Plan B and go for an escape with proven puncheurs Simon Gerrans, Sebastian Langeveld and Michael Albasini.
Polka dot – maillot à pois
Thomas Voeckler (Europcar)
How long can Thomas Voeckler keep riding like he does?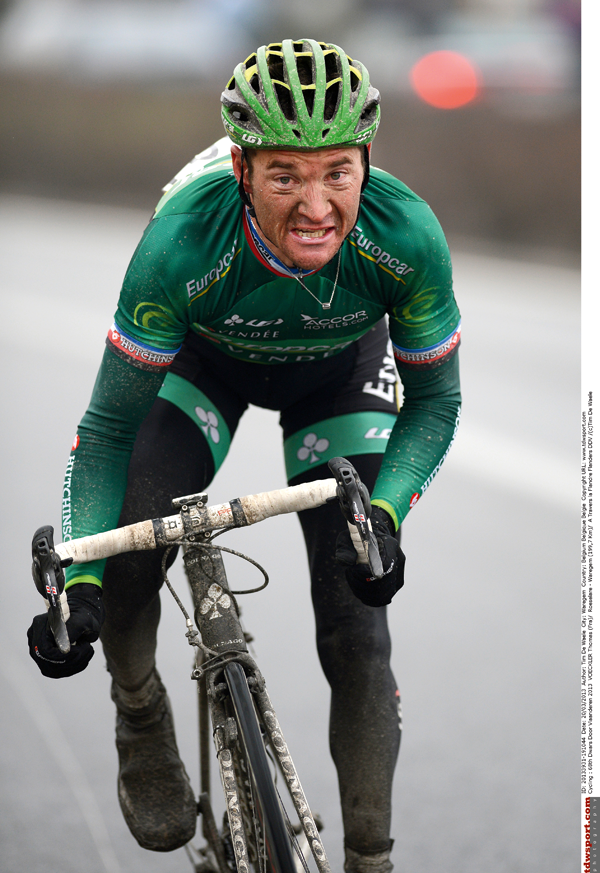 With Tricky Dicky Virenque out of the picture, the French housewives found their darling at the 2004 Tour, where, courtesy of a long breakaway that would soon define him, Voeckler held the maillot jaune for 10 days. Since then, 'Le Chouchou' (meaning 'darling' or 'favourite') has continued to ride with heart and soul more than his legs, and, unlike Virenque, so far without the need for erythropoietin, which the latter abused in copious quantities.
In 2011 Voeckler enjoyed another long spell in yellow and managed to finish a highly creditable fourth overall. And last year he took two glorious stage wins – bringing his TdF tally to four – as well as the mountains classification, enjoying a level of success many (including himself, most likely) never thought possible when he first turned professional in 2001.
Recent years have seen the mountains classification come under criticism, in particular by six-time winner Lucien Van Impe, because the past three winners – Voeckler, Samuel Sánchez (2011) and Anthony Charteau (2010) – have not been the best climber in the race. Rather, they have won by attacking incessantly and being allowed to ride off the front, for they have not posed any threat to the general classification contenders. Van Impe has called for time bonuses to enliven the battle for the polka dot jersey among the 'grimpeurs' but organisers ASO like too much a race contested on pure time only, sans time bonuses.
What ASO did do in 2011, though, was bump up the points offered to the first placegetters on the hors catégorie cols and downgrade the points on the lesser-categorised climbs. Then last year, they skewed the allocation of points further still to grant even more points on HC-rated climbs. As classification winners Sánchez and Voeckler demonstrated, however, where there's a will, there's a way to the maillot à pois.
Andy Schleck (RadioShack-Leopard)
Really, it would be a minor miracle if Schleck the Younger were to even finish the Tour de France, but as they say, anything's possible in cycling.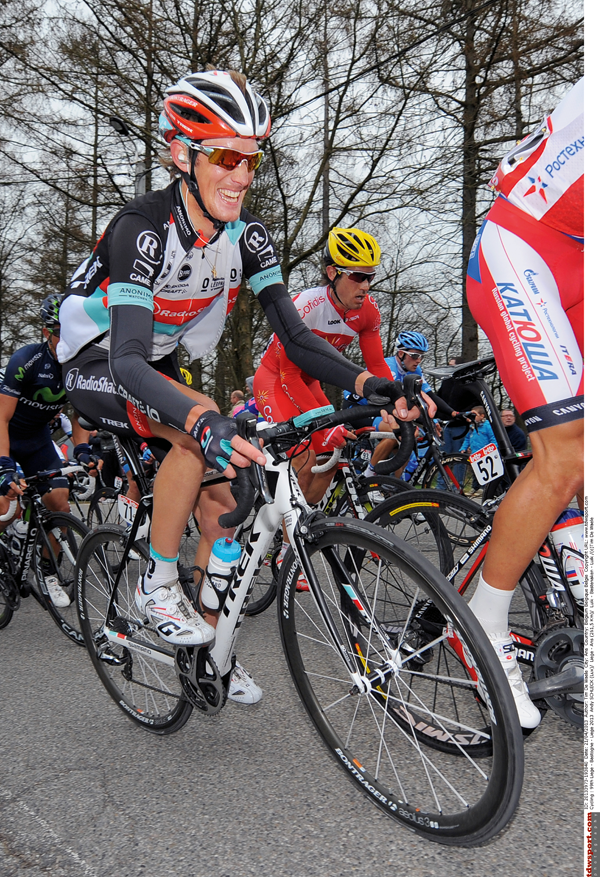 Having completed his first stage race in almost 12 months at March's Critérium International, raced on the same island where La Grande Boucle will begin, the sometimes wayward Luxembourger said rumours of his demise as a rider were greatly exaggerated: "I was never dead, maybe just asleep."
GC is out of the question so if Schleck can get to within some semblance of his former self by June 29, then chasing a spotted tunic may be the fillip he needs to kick-start his career.
And having just turned 28 years young, it is by no means over for Andy. Undeniably, the talent is there, but the will must come from deep within.
Joaquim Rodríguez (Katusha)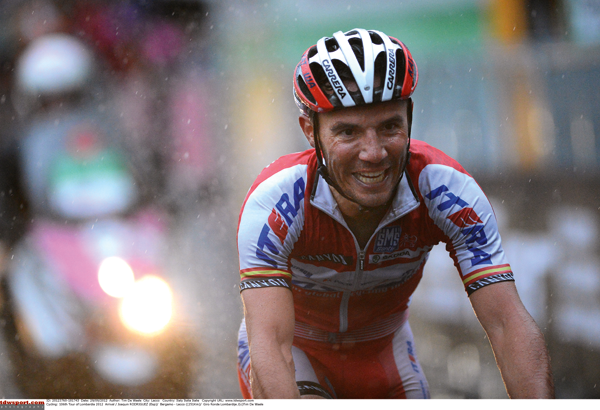 Should Rodríguez's ambitions for the Tour podium fall way short after the opening spell in the Pyrénées, then a change of plans may be in order for the wily Spaniard. And if he finds himself well down the leaderboard, GC protagonists will grant 'El Purito' the freedom to hunt down the hors catégorie cols, and with his explosive uphill sprint, pursuing polka dots should be right down his alley.
Nairo Quintana (Movistar)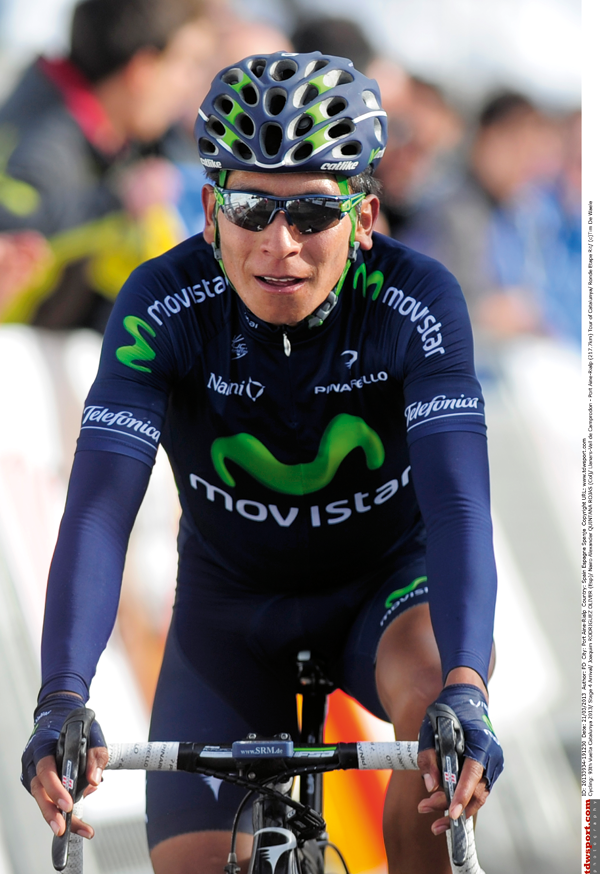 By some margin the most exciting prospect to come out of Colombia in almost three decades, Nairo Quintana has been assiduously moving up the ranks since his pro debut in 2009. And, after his win in this year's Tour of the Basque Country where he upstaged some of the sport's biggest names including Alberto Contador and Richie Porte, people are finally taking notice – before he rides out of sight, that is.
The 23-year-old climbing wunderkind (he can time trial damn fine, too) is set to make his Tour de France debut in Corsica, with Alejandro Valverde, 10 years his senior, as leader. If Valverde falters he may take a crack at GC, but even for one as prodigious as Quintana, it may be too much to ask… So why not the mountains jersey, then, eh Nairo?
Best young rider – maillot blanc
Tejay van Garderen (BMC Racing Team)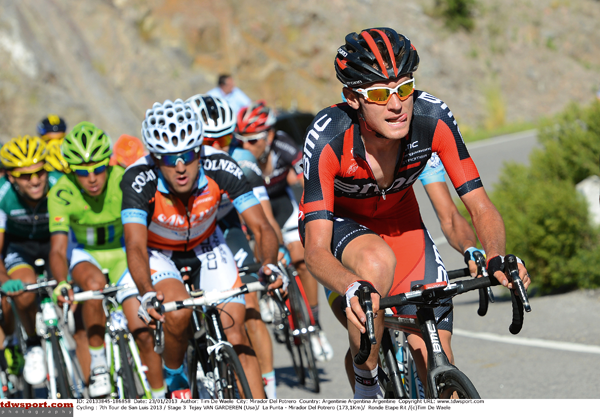 The best youngster at last year's Tour is once again eligible (to qualify, riders must be born after 1 January 1988) to ride himself into the maillot blanc. More than likely, however, after his fifth place overall the previous July where he outshone his erstwhile leader Evans, the 24-year-old from Washington State will have his eyes affixed on the Paris podium.
Thibaut Pinot (Française des Jeux)
Finally in July 2012, after almost three decades without result, the French found their next big thing in Thibaut Pinot.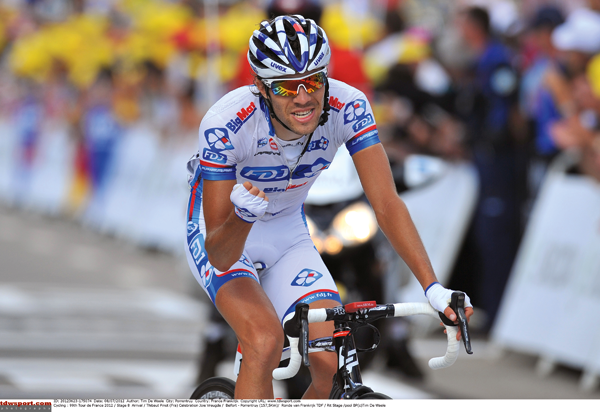 Pinot, then aged 22, was the youngest rider at last year's Tour. Yet on the eighth stage he displayed a physical and mental maturity beyond his years when he soloed into Porrentruy 26 seconds clear of Evans, who led home a select eight-man group of race favourites. The third-year pro from Mélisey, a commune in the Haute-Saône department in eastern France, would hang tough through the Alps then Pyrénées to finish tenth best in Paris, six minutes in arrears of van Garderen, but the youngest man to finish in the top 10 since Raymond Impanis of Belgium in 1947.
So far, Pinot's been quiet in the lead-up to La Grande Boucle. Then again, for the French, perhaps with the exception of Spring Classics specialist Sylvain Chavanel, it's all about the Tour.
It's been 28 years since five-time champion Bernard Hinault won the Tour, the last Frenchman to do so. More than likely, even if Pinot fulfils his early promise, it'll be at least another five more.