Annemiek van Vleuten has won the maiden Tour de France Femmes avec Zwift, the Dutch superstar sealing the victory atop La Super Planche des Belles Filles.
39yo van Vleuten went in to the race as favourite – particularly due to her climbing ability – but got sick with stomach problems during the first few days of racing and seriously considered pulling out. 
But she rode on, went into the lead on Stage 7, and sealed the historic deal on the final stage of the race.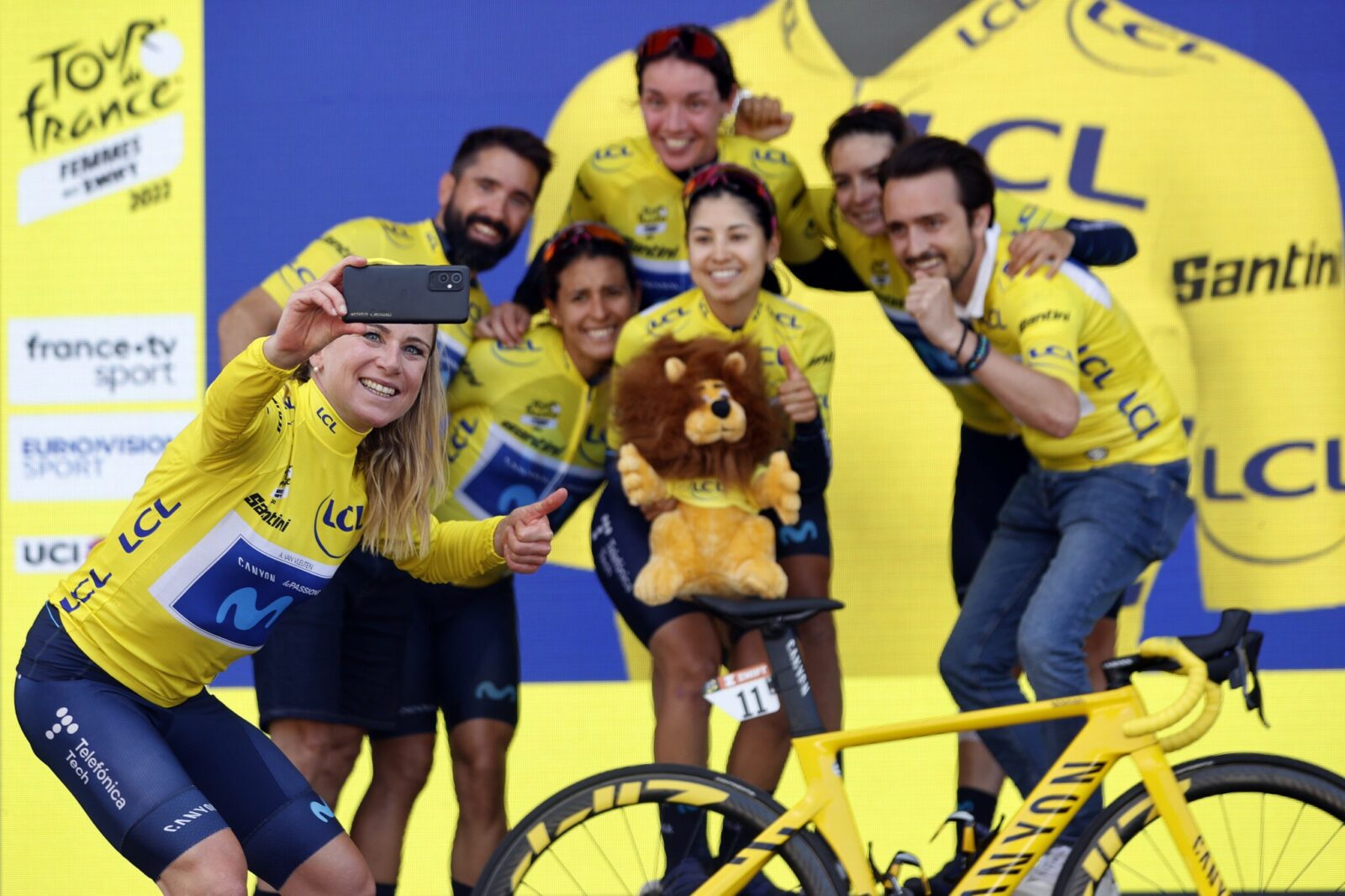 Describing her win as a dream come true, van Vleuten said there was nothing easy about winning in yellow.
"It was not an easy stage, It was not an easy week," she said. "It has been a super big rollercoaster for me. And even today it was not easy. But to finish here in yellow, solo … the best way."
Thirty three years since women were last able to ride their own Tour de France, van Vleuten explained how proud she was to again have the race back on the calendar.
"I hope it is a big start and we can build this event to be a bigger event for the women," she said.
"I think it is a milestone to win the first one of these. I think now it all can to sink in and finally I can really enjoy it. Yesterday, it was an unbelievable day, but I still wanted to keep the focus. I didn't want to celebrate already. But now I can finally go, eat ice cream and pizza tonight, and to celebrate with this team. My team said that sometimes you take too little time to celebrate, that we always continue. But tonight I can celebrate without thinking about tomorrow."
The best placed Aussies in the race were Grace Brown (20th) and Rachel Neylan (28th).
More to come.
Annemiek van Vleuten Takes Stage 7 And Overall Lead
Dutch superstar Annemiek van Vleuten's has leapfrogged from 8th place to the yellow jersey after winning Stage 7 of the Tour de France Femmes.
Ahead with a 3minute 14 second lead in the general classification, van Vleuten was by far the strongest climber on the stage and is only expected to extend that lead on tonight's final stage.
"It has been such a rollercoaster after being sick, so to win like this is unbelievable," Van Vleuten told Eurosport after the victory.
"My style is always attacking, not to wait. I wanted to make the big time gaps which meant going on the first climb. I have a lot of capacity and then it comes down to fitness and that's something I'm really good in. I knew that if I was fit after being sick this would be my day."
Vos Enjoys Her Second Stage Win + Top 10 Going Into Mountains
Queen of the pro peloton Marianne Vos has won the sixth stage of the Tour de France Femmes, the Team Jumbo-Visma legend winning a thrilling final sprint and extending her overall lead.
"This is fantastic … I think I don't quite realise it yet", Vos said after the win. "We wanted to go for the stage win today and with Anna in the breakaway, the situation was in our favour. The peloton rode hard to close the gap and on the Cote de Boetsch, there were several attacks. But the team kept me in the front and ensured I stayed out of the wind. All credits to them."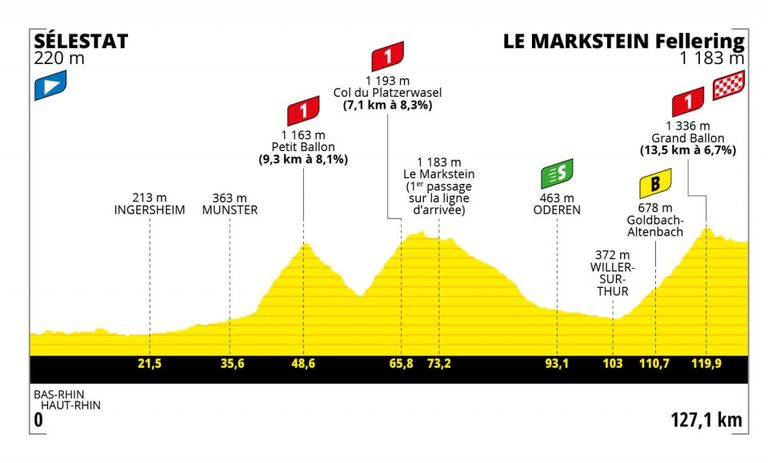 Stage 7 will see the riders head to the high mountains and a serious shake up of the GC is expected to take place.
Top 10 After Stage 6
Marianne Vos (Jumbo-Visma) 19hr 30min 14
Silvia Persico (Valcar-Travel & Service) +30
Katarzyna Niewiadoma (Canyon-SRAM) +30
Elisa Longo Borghini (Trek-Segafredo) +35
Ashleigh Moolman-Pasio (SD Worx) +1min 05
Demi Vollering (SD Worx) +1min 11
Juliette Labous (DSM) +1min 19
Aneemiek van Vleuten (Movistar) +1min 28
Cecile Ludwig (FDJ-Suez-Futurscope) +2min 02
Elise Chabbey (Canyon/SRAM Racing) +2min 34
Lorena Wiebes Enjoys Her 2nd Stage Victory
"I've never done 180km … even in training."
The words of Lorena Wiebes of Team DSM, the winner of the longest stage of the Tour de France avec Zwift.
"For me, it was the longest race I ever did," Wiebes said. "I've never done 180km, even in training. It was a long stage, hectic until the final, but the whole team did a great job."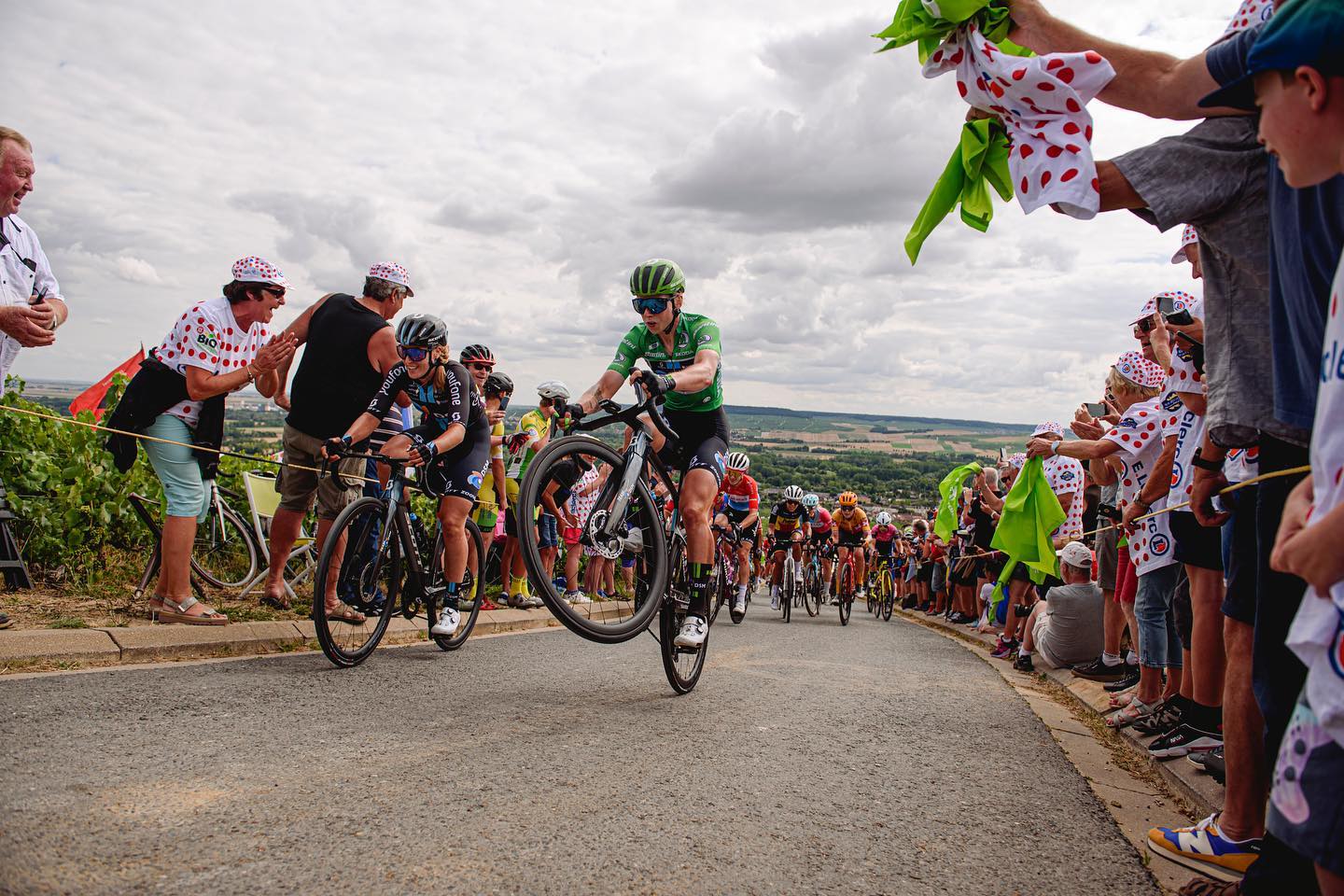 The Dutch sprint sensation, who also won Stage 1 of the race and wears the green jersey, powered across the Stage 5 finish line with a powerful sprint that would even leave the likes of Mark Cavendish green with envy.
"That was the last opportunity for the sprinters I think," Wiebes continued. "I'm very happy I took the win. The team showed how strong we are and it was a real team effort."
Marianne Vos retained the yellow jersey and race lead after Stage 5 – she is expected to come under serious pressure on Stage 8. The epic climb is on Sunday's 123km stage that culminates La Planche des Belles Filles. The steep climb receives the prefix 'Super' as the last kilometre is unpaved.
SD Workx / Marlen Reusser Takes Gravelled Stage 4
SD Workx rider Marlen Reusser has won Stage 4 of the Tour de France Femmes after a powerful 23km solo attack to the finish.
An epic stage that included 13km of gravel, the Swiss team time trial specialist attacked confidently, established a gap, and held it to the finish.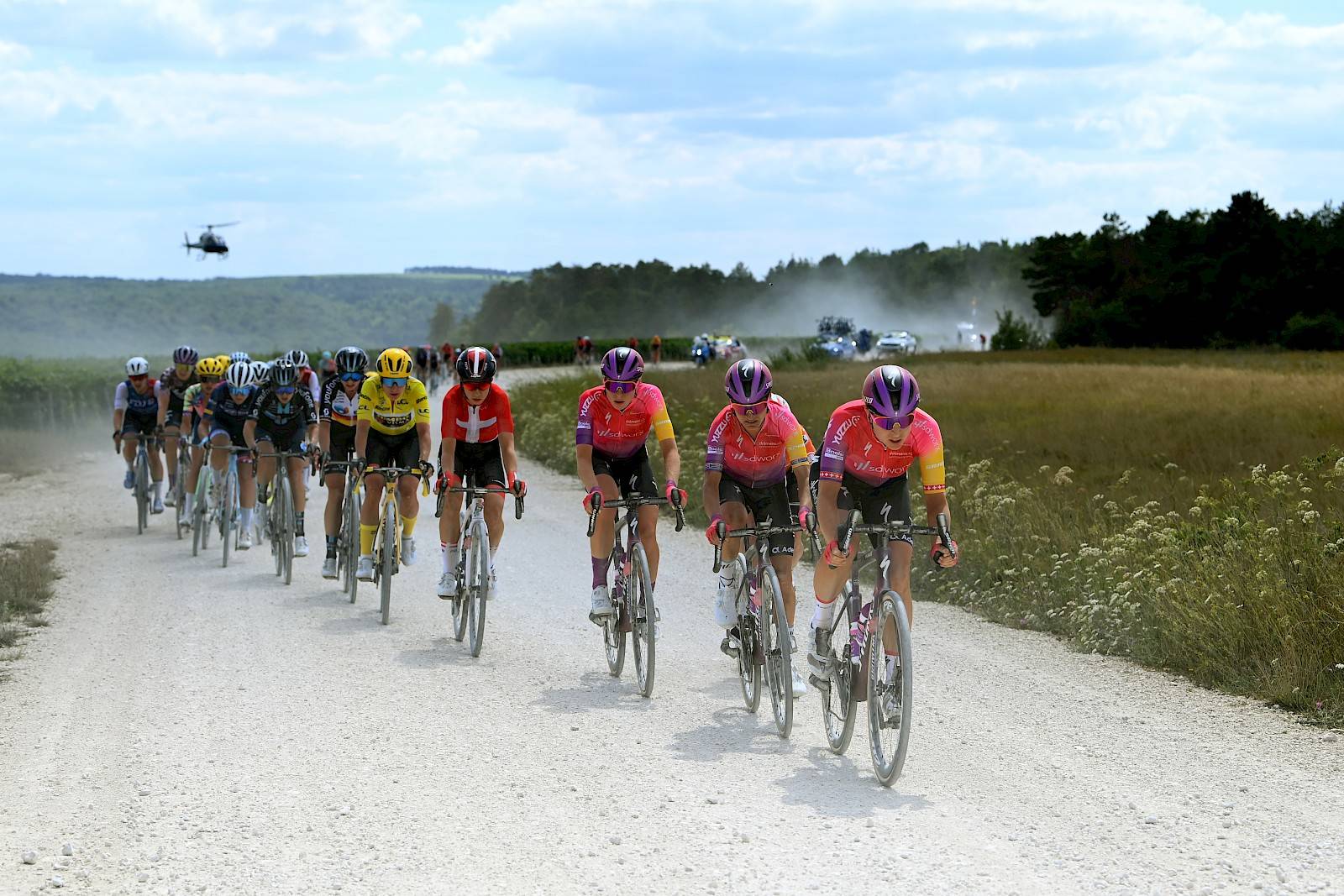 "The tactical plan worked perfectly," she said after the stage. "I don't realise yet that I am a stage winner in the Tour de France," Reusser said.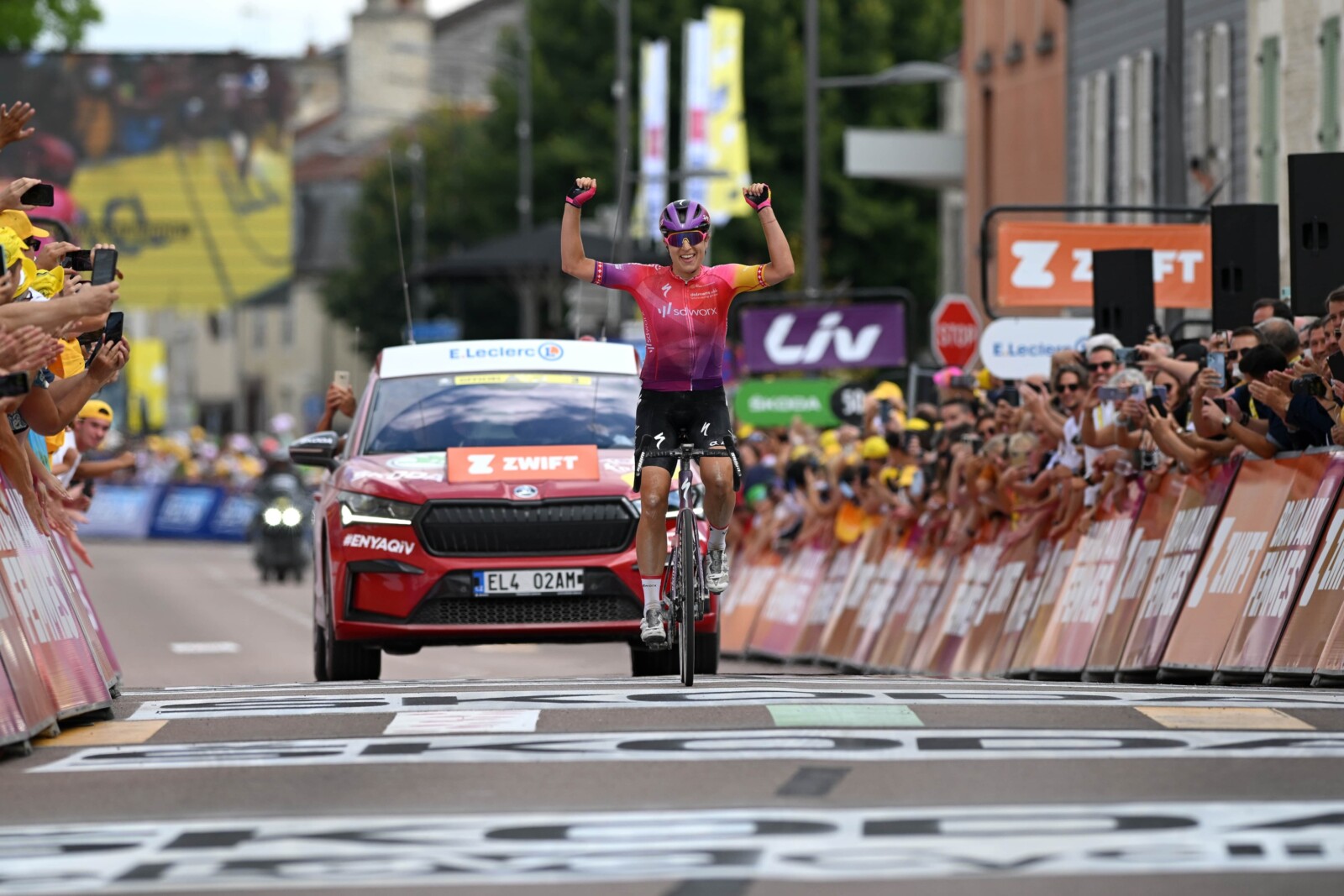 "After I got in front, I knew I had to go full speed ahead. As long as the chasers think they can win, they keep on chasing. I also tried to make a mental game of it by playing with my speed. At four kilometres from the line, I knew they wouldn't get me back just like that."
Marianne Vos maintains her overall lead of the Tour as the riders go into the longest stage – the 175km Stage 5.
A Danish Stage 3 Victory
FDJ-Suez-Futuroscope rider Cecilie Uttrup Ludwig has shown her true emotions after claiming a spectacular victory in Épernay.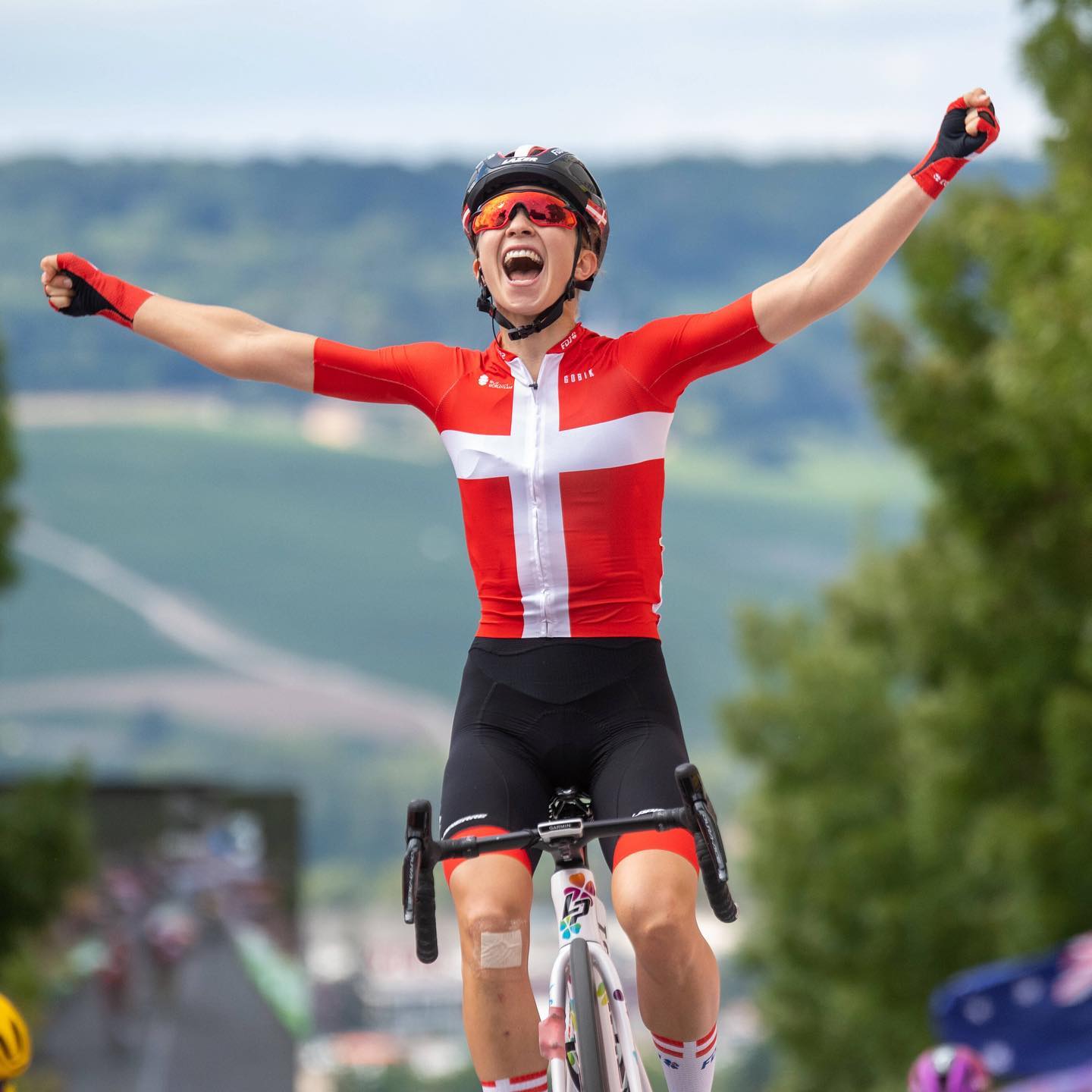 The Danish National champion was the fastest on the final uphill of the day to take victory in front of Marianne Vos (Jumbo-Visma) and Ashleigh Moolman-Pasio (SD Worx) after Stage 3.
Vos retains the leader's jersey with 5 stages remaining.
Marianne Vos Wins Stage 2 And Is Into Yellow
She is the most successful female cyclist of all time and it's only fitting for her to win a stage of the greatest women's race – of course we are speaking of Marianne Vos.
The winner of Stage 2 of the Tour de France Femmes, Vos the 35yo Team Jumbo-Visma beat her breakaway companions and captured the yellow leader's jersey.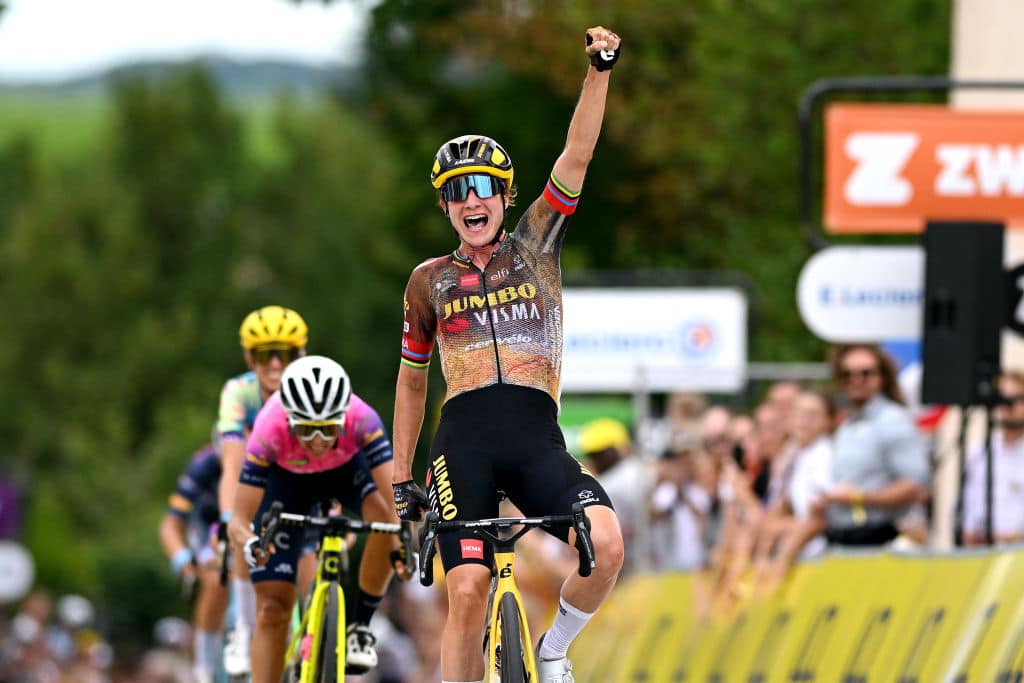 "This is a beautiful day. I still have to let it all sink in", Vos said. "It is extraordinary to win a stage in the Tour de France and to take the yellow jersey. We knew it would be difficult to take a stage win here, but I am thrilled it worked out. Now I will try to enjoy it as long as possible."
Top 3 After Stage 3
1 Marianne Vos Jumbo Visma
2 Silvia Persico Valcar – Travel & Service +00:00:10
3 Katarzyna NiewiadomaCanyon//SRAM Racing +00:00:12
Lorena Wiebes Takes Historic Stage 1 Victory
Lorena Wiebes has won the opening stage of Tour de France Femmes and now wears the first yellow jersey of the historic event.
The Dutch sprinter and Team DSM rider, crossed the line ahead of Marianne Vos and Belgian Lotte Kopecky in stage one of the eight stage race.
"It's incredible. The girls worked tirelessly for me," she said. "It was a very long sprint, but I was expecting it as I was getting ready for Marianne Vos to go early,"