Three-time World Champion Peter Sagan will add a yellow jersey to his colourful collection after taking out Stage 2 of the 2018 Tour de France.
But it remains to be seen if he could have beaten in-form sprinter and Stage 1 winner Fernando Gaviria in a straight sprint, with the Colombian held up by a crash less than 2km from the finish.
Despite his reduced bunch sprint victory Peter Sagan is now now leading the points race as well as becoming the first BORA-hansgrohe rider to wear the prestigious Maillot Jaune.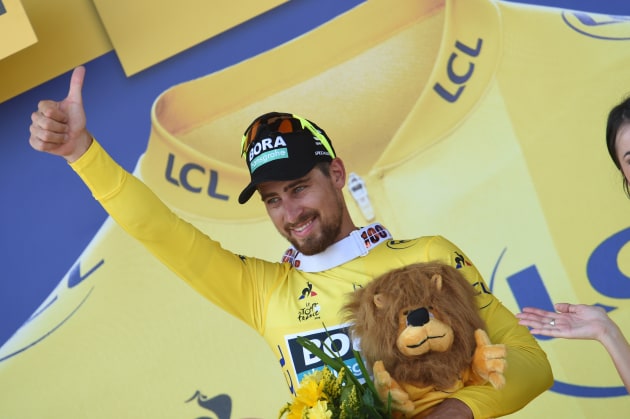 Donning the yellow jersey for the second time in his career, Sagan thanked his team saying "they rode on the front for the last 30km and kept me safe in the finale."
"I expected the last few kilometres to be a bit easier, but it was really tough – up and down, left and right, before climbing again," he said.
"I think starting the sprint later was better for me today Démare started with Degenkolb and I overtook them."
The triple world champion said he was very happy to take the Yellow Jersey today – both for himself and for the team.
"t's the first Yellow Jersey for the BORA-hansgrohe team and I wouldn't be wearing it if it weren't for them," he said.
"I'm very happy to have so many fans, friends and family here. My father is here, as well as my friends from Žilina – my home town – and I want to dedicate my victory to my son, Marlon."
White Jersey For Gaviria
Despite missing his place in the sprint finale, 23yo Fernando Gaviria said "spending the day in the beautiful yellow was a fantastic and overwhelming experience."
"We would have liked to keep the jersey," he said. "But things are as they are and fortunately we escaped that crash-marred finale without any injuries."
Team Time Trial For Stage 3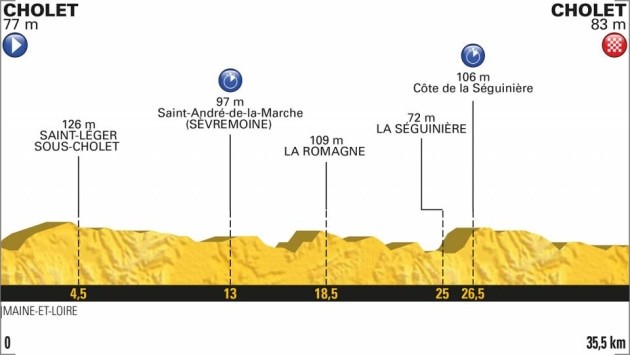 Stage 3 of the 2018 Tour de France will be a Team Time Trial, the first for the event since 2015. It's a 35.5km course around the village of Cholet and features rolling roads and a short climb.
Top 5 Stage 2
1 P.Sagan 4h06'37"
2 S.Colbrelli +0:00
3 A.Démare +0:00
4 A.Greipel +0:00
5 A.Kristoff +0:00