The 2017 Tour de France has begun! 198 riders from 22 teams – including 10 Aussies – rolled down the start shute of the opening stage of the 104th edition of the event in Dusseldorf yesterday.
Starting with a14km Individual Time Trial in atrocious conditions, most riders took a conservative approach given the slippery roads and heavy rain.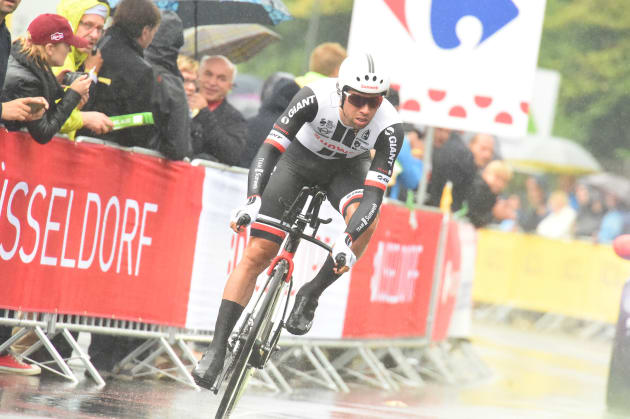 With all eyes on one of the top overall favourites, Richie Porte of BMC Racing Team, the Tasmanian went out hard early but reverted to a more measured pace as the rain continued to fall.
"I've been cautious, it was slippery," Porte said, after posting a mid-field time of 16minutes 51seconds, 47 seconds behind the lead rider, Geraint Thomas. "It probably wasn't the best TT from me … I was nervous and it was better to take no risks," Porte added.
Disappointed with his time, Porte said "the main thing was to come through safely".
While other riders took chances to secure valuable seconds early on in the three-week race, some were not so lucky.
Heartbreak For Valverde
A number of riders came down on the slippery course including ever-popular Alejandro Valverde of team Movistar.
Crashing heavily after taking a left hand corner at high speed, Valverde slid across the road to eventually hit the barrier – solidly and sickeningly. Remaining down for several minutes, it wasn't long before word came through that his 2017 Tour de France was over.
https://youtu.be/t46JY1ur8LA
Team Sky's Geraint Thomas posted the winning time of 16 minutes and 4 seconds over the wet course.
The Welshman will wear the famed Yellow Jersey on tomorrow's 203km Stage 2 of the Tour, from Dusseldorf in Germany to Liege in Belgium.
Bicycling Australia will be in Liege for the Stage 2 action – check back to our website along with our Facebook page and Instagram account for more!