Most keen cyclists could no doubt rattle off a large number of cycling kit manufacturers – these days customers are spoiled for choice with seemingly no end of options available for the fussy and astute buyer.
But one Australian brand stands out from the rest, not just due to it's catchy name, but the look and feel of this unique range of cycling wear.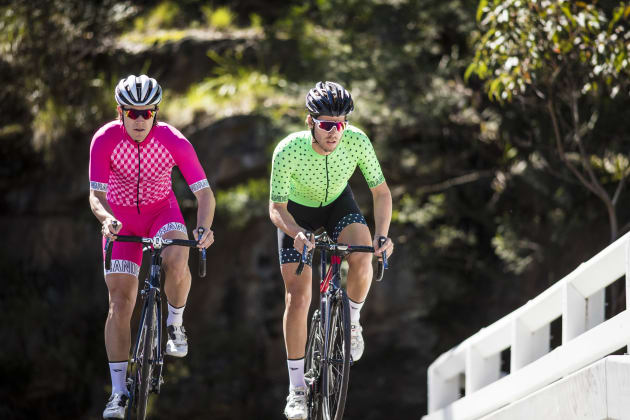 The kit is Unbranded – yes, that's the name. Founded by Sydney-based husband and wife team Elian and Tanya, the couple also have a keen apprentice in 3yo son Rémy who's fast-developing a love of his balance bike.
Currently working from an inner-city apartment, the pair have plans for warehouse type office space and a design studio in the near future with the ultimate goal of a cafe and retail outlet in a large open space. In time Elian & Tanya hope to expand to the point that we'll see Unbranded retail/cafe stores in all capital cities.
Unbranded's vision is for the rider to become the brand and to stand out in a world of plain,
BMX, Track & Road Background

A lifelong cycling enthusiast, Elian raced BMX from age 12 and went on to achieve multiple Australian rankings and titles. At 15 years he represented Australia internationally and went on to become the youngest BMX rider to move to the top level of national racing – on his 16th birthday!

In his early 20's Elian took up track cycling as a sprinter and placed 3rd in the State Championships in his first year. After time on the track he focused on recreational road and mountain biking. In his mid 30's he took up road cycling again and in the first season of one of Sydney's most respected Crit series, placed 3rd overall against some of Australia's best NRS riders.
Elian's ultimate goal is to ride competitively in all disciplines including mountain biking, road cycling and cyclocross as well as undertaking various cycling challenges nationally and internationally. Yes – he lives & breathes the sport.
The Creation of Unbranded
With a vision to bring a high-fashion, runway inspired look to the world of cycling, Elian's desire is to develop cycling wear discreet in it's branding but bold in design – one that sets the rider out from the bunch. Unbranded's vision is for the rider to become the brand and to stand out in a world of plain.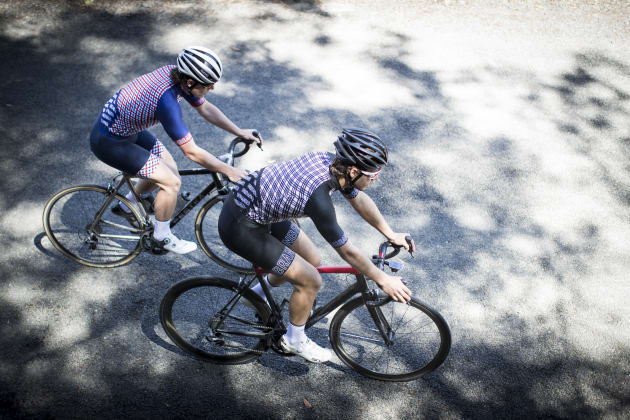 Performance, comfort and unique design are the simple rules Unbranded abide by. The designs are unique, the quality outstanding, the comfort first-class and the fit impeccable. Designed in Sydney, the cycling kit is made in Europe with innovative materials and race fit patterns. Following a 5-step design process, the Unbranded team think it, sketch it, model it, make it and finally ride it.
The Collections
In July this year the company launched two men's collections – the Gentleman's Collection, inspired by a 'boardroom to the bike' thought process and the Conspicuous Collection – which combines bold colours and designs for the braver rider. Their latest limited edition ladies and mens Cubic Pinkzonia will be available for pre-order in coming weeks as a limited edition run of only 250 kits worldwide.
All designs feature a short sleeve race fit performance jersey combining four lightweight moisture-wicking 3D materials that contour to the body for ultimate comfort, breath-ability and reduced fatigue. The racefit jerseys are matched perfectly to the racefit short leg bib shorts. Made from an advanced lycra, this close-fit compression pattern controls lactic acid build up, reduces muscle fatigue, and applies pressure to muscles to limit blood pooling and to keep the legs oxygenated for a painless ride. The bibshorts are complemented by the very best lightweight perforated braces that wick away sweat and never stretch for a tight fit ride after ride. Both jersey and bib shorts are finished with micro beaded grippers the ensure no creep.
Though still a young company, it's not hard to imagine this small Aussie cycling startup making a real impact on the global cycling apparel scene. If initial popularity is anything to go by we'll be hearing a lot more about Unbranded.
For further details visit www.unbranded.me