Indian Pacific Wheel Race ultra-athletes have been riding more than a week with the leaders having now covered more than 3000km of their massive 5500km goal.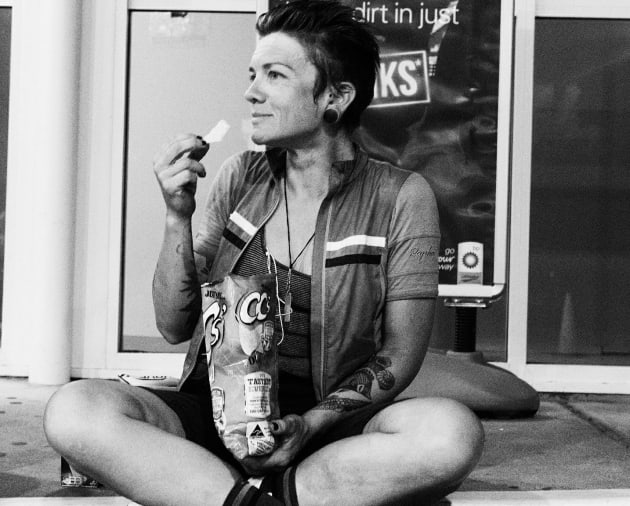 Frontrunners Kristof Allegaert, Mike Hall and Sarah Hammond reached Adelaide yesterday afternoon and evening with fourth-placed Kim Raeymaekers rolling into the city 24hrs after Kristof.
With large numbers of supporters along the route into the city, the Belgian stopped for 20 minutes in Victoria Square. There he was greeted by fans & supporters, along with dignitaries including the Lord Mayor of Adelaide, Martin Haese.
"It's an incredible feat for someone to ride from Fremantle to Adelaide and to average up to 500 kilometres a day, Cr Haese said. "This is quite extraordinary. I understand he's cycling for something like 20 hours a day."
As of noon on Saturday Allegaert had covered 3150km in 160 hours – an average of 20kp/h. He was approx. 80km ahead of second placed Mike Hall, and about 160km in front of powerhouse Aussie, Sarah Hammond.
Podcast: Jesse Carlsson Interview
The Indian Pacific Wheel Race was thought up by Jesse Carlsson, an ultra-endurance cyclist and 2016 Trans-America race winner. Jesse was up there with the leaders of the IPWR until a recurring injury forced him out of the race earlier this week. We caught up with Jesse for this phone interview.
https://youtu.be/CVLz3MV-eG0
Julian Buhring to Re-Start The Race
As we reported earlier, IWPR rider Juliana Buhring was forced to abandon the ride after serious illness. After being transported back to Perth where she rested and was assessed by doctors, she will re-start the 5500km challenge at 6am Sunday morning.
"And it's an all systems clear!" she wrote to her followers on social media on Saturday.
"Apart from being a bit low on iron, everything is looking good. A bit more kanga meat should do it. Doc says I'm okay to go. Starting again tomorrow morning, 6:00am."
Stay tuned to the IPWR interactive map, Bicycling Australia website, our Facebook page and YouTube channel for all the latest IPWR action.