Richie Porte's has ruled himself out of competing in Monday's Olympic Time Trial after fracturing his right collarbone in a high-speed downhill crash during the road race.
Coming down heavily after changing his line to avoid a downed rider, Porte hit a gutter then a post before being caught by netting that was lining the Vista Chinesa descent.
He sustained cuts, bruising and the fractured collarbone in the crash that happened 35 kilometres from the finish of the 237km race.
"We were away with a small group on the descent and on one of the corners I came around and there was a guy on the road who crashed and I had nowhere to go," Porte explained.
"It was fortunate a tree stopped me from going over the side. I'm bruised and battered and sore and I'm disappointed but lucky I'm not worse off," said Porte.
"I hit it with a fair bit of speed and it's really disappointing because the guys were good all day looking after me and then for this to happen, it hurts," he said.
Porte had already endured his share of bad luck in the race, puncturing as well as dropping his chain twice as he crossed a cobbled sector of the course.
"The second time Rohan (Dennis) was bringing me back and I got a puncture," he said.
"I'm definitely out of the time trial," he said when released from Vitoria Hospital. "I won't be able to ride for at least ten days, my arm is in a sling and I can't really move my arm. It's just so disappointing to not be able to do the time trial and not be able to finish the race today."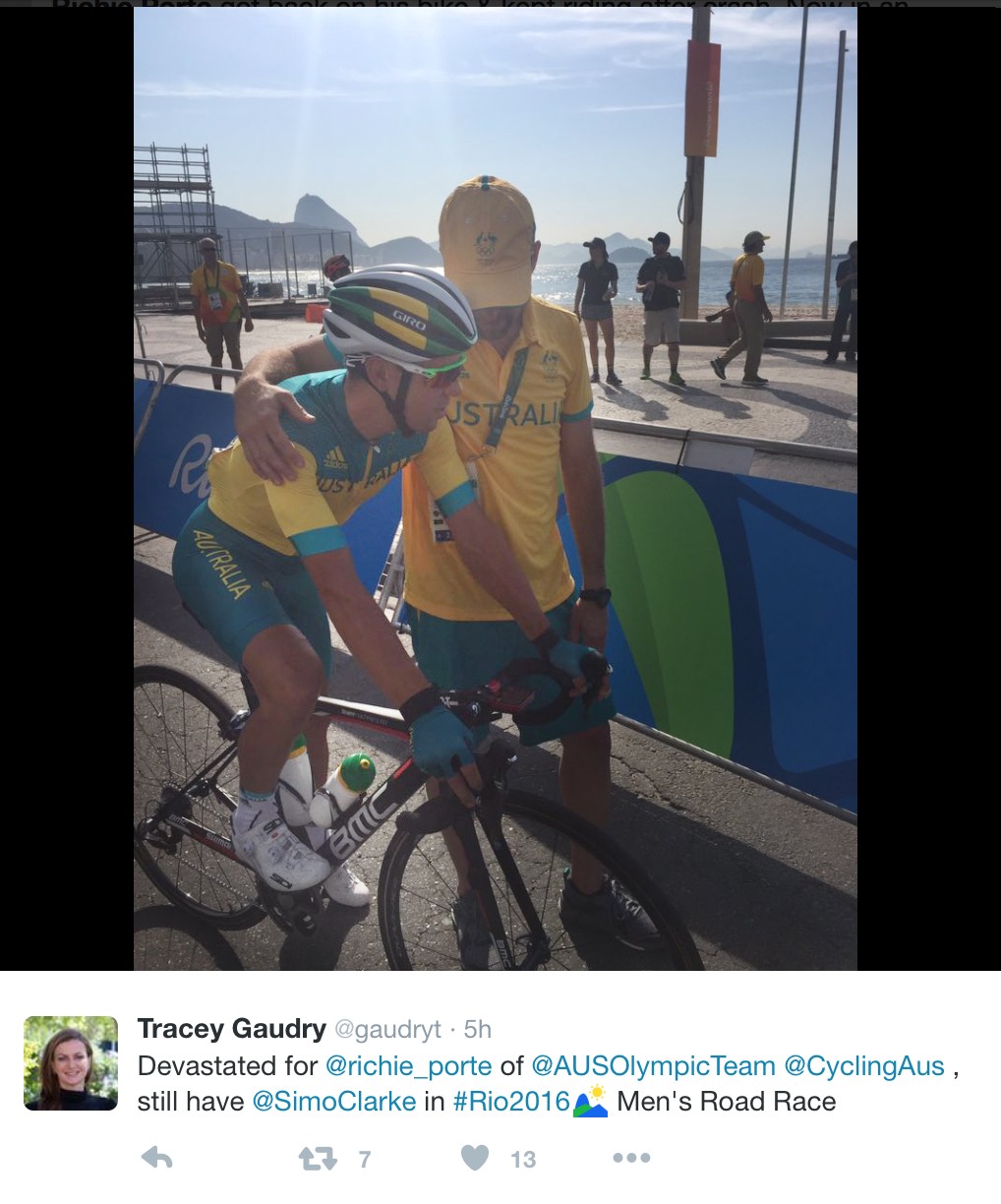 Looking good and on attack moments before to the fall, Australian Road Cycling Team Coach Brad McGee said Richie was in a strong position prior to the incident.
"He's a bloke you'd want to put a medal around his neck," he said.
"He was there ready to shine. We can't really predict what would have happened thereafter. Where he would have ended up we don't know. It's definitely disappointing but he'll be back with his fighting spirit."
What's your message for Richie? Have your say on the Bicycling Australia Facebook page.