Is giving bicycles to Africans just a 'feel good' conscience easer for rich Westerners? Or do they really make a difference? Phil Latz spent a week in Zambia to find out.
Let's start with an admission. Through publishing Bicycling Australia, I've travelled overseas fairly regularly for the past two decades, but until now I'd never visited a true 'Third World' country. The closest I'd come is some parts of China and Mexico, where bad experiences with street hawkers and others looking to extract money had left me a little apprehensive about my first visit to Africa. Now I was about to spend a week in a country where many people earn less than a dollar a day. If you're a regular reader of Bicycling Australia, you may have noticed two previous articles about World Bicycle Relief (WBR). Thanks to those of you who have responded to these, because apparently Australia is the second biggest donor country after the USA. WBR certainly makes sense on paper, but I really wanted to see it firsthand. I'm certainly glad that I made the journey.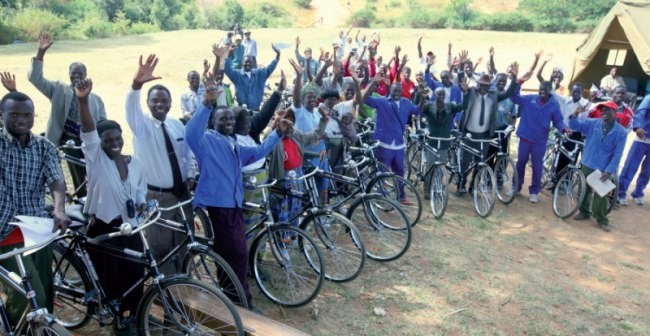 Throughout my visit, WBR's founders, Frederick 'FK' Day, Leah Missbach-Day and all of the support staff were generous with their time and answered my hundreds of questions. Zambia is a landlocked country in the southern region of Africa. Like most African countries, it has had a turbulent history. It was once part of the British Empire, known as Northern Rhodesia. Zambia has been independent since the 1964 and is now a peaceful home to approximately 11 million people. Zambia is sub tropical, with distinct wet and dry seasons. It is a vast country in which most of the population work as subsistence farmers. Space does not permit me to write of a week's adventures in one article, so the stories from other field trips will be held over for other issues. Here's a little of what I experienced… I flew into Lusaka, which is the capital city. Lusaka International Airport is a small, basic set up. Kennedy, a local driver for World Bicycle Relief met me and we headed down the main road to Lusaka—a narrow road with many people walking and some riding bicycles. This was certainly going to be a new experience. We drove down dusty roads, past tiny houses made from concrete blocks. Traditional bush huts are common in the countryside, but not the city. Along the roadside were countless goods for sale—chairs, buckets—all sorts of items. One of the most common was piles of rocks, and bags of crushed rock. According to FK Day, who has travelled extensively through third world countries, a good indicator of a country's poverty is if their children are seen breaking rocks to make a living. I saw young children at work on several occasions. Apparently three bags sell for about US$1. Soon we arrived at my hotel. The Taj Pamodzi is an international five star hotel. It felt a bit surreal to be sitting by the pool that evening, set in manicured gardens, knowing that outside the high brick razor wire topped boundary wall lived millions of people who would never experience the wealth that we from 'First World' countries take for granted. Next day was Sunday, which is a day off in Zambia, where the predominant religion is Christianity. After a morning walk of the quiet streets around the hotel, I was collected by Mr Abson Kufiswe, whose title is 'WBR Project Manager, Zambia.' We went to WBR's head office, which is in a compound immediately next door to the head office of the RAPIDS program being run by a consortium of six charities headed by World Vision. RAPIDS is short for 'Reaching HIV/AIDS Affected People with Integrated Development and Support'. WBR is initially supplying 23,000 bicycles to volunteer RAPIDS care givers in local communities throughout Zambia. We sat down for a planning meeting with F.K. Day and WBR's Chief Mechanic, Baldwin Banda. Baldwin and Abson told me about their backgrounds. Abson studied Economics at the University of Zambia in Lusaka. He has 12 years experience in managing freight logistics companies.
Baldwin is a former top racing cyclist for Zambia. He competed all over Africa and even as far afield as Italy. I was then briefed on exactly how the WBR Zambia project operates. It is a highly disciplined logistical operation that can be broken down into six phases: Design, Sourcing and Manufacturing, Assembly, Delivery, Maintenance and Repairs and finally, Measurement and Evaluation. "The poor have no voice," explained F.K. "They are sold the cheapest, shoddiest junk bicycles from India, which often fall apart within months under torturous African conditions." WBR bikes are actually both heavier and more expensive than bikes that are commercially available in Africa, but they have been designed to be 'bullet proof'. For example the tubular steel rear carrier rack bolts straight to the rear hub axle and is rated to carry 100kg. The twin top tube design, which looks funny to our eyes—makes a lot more sense when 100kgs of grain bags are slung over the top of it. WBR frames are made in India and components are sourced from around the world because there is no bicycle manufacture within Africa. The bicycles are then assembled in Zambia at eight locations strategically spread throughout the nation. This provides local employment and training in each region.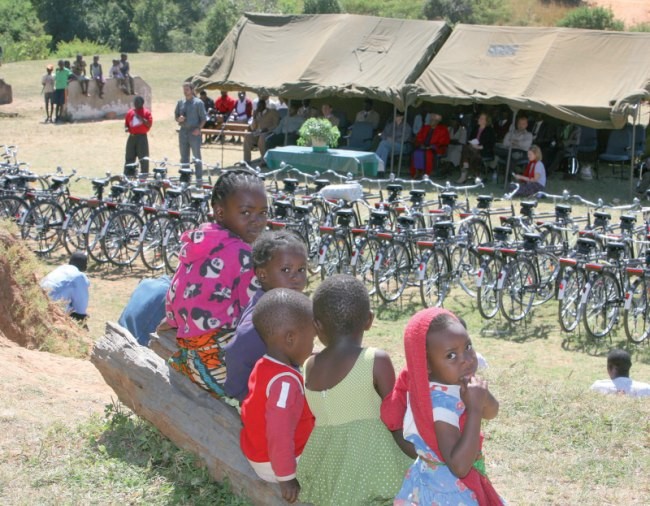 Many of those in most need live at the end of long, rough dirt tracks. There is no suitable existing freight infrastructure, so WBR has equipped its own trucks with specially designed double Decker racks that can carry up to 100 bikes, without damage, into these inaccessible areas. WBR realise that it is pointless supplying bikes without an ongoing support structure. That's why WBR is training 400 field mechanics. Each mechanic attends a one-week training course where they spend two days learning business skills and three days of technical training. In return for this free tuition, and supply of a comprehensive tool kit, the mechanics agree to do the first service on a WBR bike for free. After that, they are encouraged to charge a fair market price and run as micro enterprises. FK is convinced that creating a profitable business model for everyone involved is the only way for their initiative to be sustainable in the long term. WBR is hiring independent, outside experts to quantify the impact of their activity. This not only makes them accountable to donors, but will assist with the roll out of further progress across Africa. Sunday's planning meeting was to discuss a three day Business Seminar to commence the following day. About eight Master Mechanics, who assist in training the Field Mechanics, would be travelling from all corners of Zambia to meet and give feedback on how things were progressing. After the planning meeting was over I went with FK and his family to visit an open-air craft market and do the weekly grocery shopping. I was quickly learning that Zambians are polite and friendly people. That night we had dinner at the agricultural showgrounds, a legacy from the British colonial days. We dined at a fine Italian restaurant next to the Lusaka Polo Club. Not everyone in Zambia is poor. In fact, the economy is growing strongly, with business people from China, India, Europe and America filling Lusaka's international hotels as they come to invest in mining, telecommunications, property development and tourism. But there is a huge inequality of wealth within Zambia.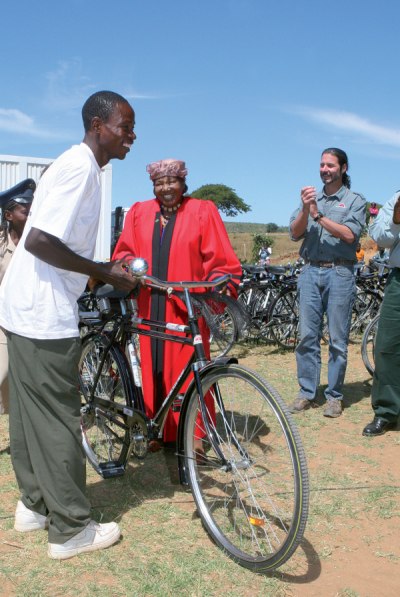 Next day I joined the Master Mechanics seminar. WBR's philosophy is sustainable economic empowerment, not mere hand-outs. In line with this, with every 50 bicycles being given to care workers, one local community member is nominated to train as a bicycle mechanic. The Master Mechanics are the elite group at the top of this tree. Some already have well established bicycle repair businesses, but there is a critical shortage of bicycle spare parts in Zambia, which is holding them back. It was fascinating to listen to their discussions. A representative of Harmos, which is a commercial microfinance organisation set up by World Vision, came to speak to the mechanics about offering them loans so that they could buy initial stocks of parts and bicycles. The interest rate of 4.25% flat per month, (51% per annum), would be outrageous in most western countries. But in Zambia, it is very competitive for loans to poor people who usually have no assets to offer as security. Initially the mechanics are encouraged to borrow as a group of five, with each one being responsible to the group for repaying their part of the loan. Once they have a good track record, they can borrow in their own name. At first the maximum amount is about $500, but on subsequent loans it can increase to about $4,000. By the time the mechanics reach this this point, their businesses should be well enough established that they can secure loans through one of the major banks that operate in Zambia, such as Barclays, who charge a slightly more affordable 26%.
The mechanics were very excited at the prospect of expanding their fledgling businesses and discussed at length the need for good quality bicycles and parts. They all agreed that the current products available are of very poor quality and that good parts would revolutionise their industry and the economy in general. That afternoon I attended a planning meeting involving senior management from both WBR and World Vision, the lead charity responsible for the RAPIDS project. WBR's Project Manager, Africa, is Dave Neiswander. Until just over a year previously, Dave was an investment banker with one of the world's leading banks, based in Chicago. He heard about WBR and came to Africa to volunteer for two weeks. Dave arrived armed with a pair of gloves, thinking that he would be assembling bicycles. He soon found out that there was a need for someone with his management and negotiation skills. Within two months he'd swapped the high flying corporate world for the Third World, and is now living in Zambia helping to steer WBR's course into other African nations. FK Day is certainly happy that someone of Dave's calibre has been prepared to come on board, notwithstanding the significant pay cut! At the meeting I attended it was unanimously agreed that the provision of bicycles to Care Workers had been a huge success. The initial program of 23,000 bicycles is due to be complete by October 2008. While I was in Zambia, FK was busy refining the specification for a shipment of 9,000 bikes, which would include the final 5,000 to complete the 23,000 bike Phase 1 of the RAPIDS program plus 4,000 to be sold through Harmos with microfinance loans. But in addition to a planned new phase of the RAPIDS program, WBR and World Vision have already identified a range of new areas where bikes can dramatically improve lives. I visited two of these projects during my stay, which will be the subject of separate articles.
Celebration Time!
On Wednesday I attended what WBR terms a 'Distribution'. This somewhat routine sounding name certainly did not do justice to the celebration I witnessed. We drove in convoy to the Chikankata Salvation Army Mission, which is about two hours' drive south west of Lusaka. Riding in her bullet proof Toyota Landcruiser was the US Ambassador to Zambia along with the Director of USAID for Zambia. The drive was an experience in itself. There were too many sights to detail here, but some included: people carrying extraordinary loads either on bicycles or on their heads, cars, vans, and trucks crammed with people, killer potholes, police checkpoints, roadside stalls, tiny thatched huts and farms interspersed with huge, prosperous 'white farms', chaotic towns and livestock on the road herded by young boys with sticks. Of course to the locals, it was just another normal day. Chikankata was established by the Salvation Army about 60 years ago. The mission itself is home to about 2,000 people, but the hospital and high school that they run are relied upon throughout a vast area containing around 90,000 people. The ceremony began with songs and dancing, followed by a solid hour of speeches. One of the most intriguing dignitaries was Chieftess Her Royal Highness Mwanda. She is a descendent of the Chiefs who granted the Salvation Army the large tract of land upon which they began building their mission 60 years ago. To us, 100 bicycles worth about $10,000 in total would not be such a big deal, but to each recipient, who typically earns about $1 per day through subsistence farming, it was like being given a brand new car. Each recipient had to sign a contract committing to continuing their part time Community Care Giver volunteer work for two years after receiving the bicycle. There was a big crowd in attendance, with plenty of applause and more singing and dancing as the bikes were handed over. The Distribution, like several other experiences I had during my visit, was something that I will never forget. How can I sum up such a journey in a few words? Humbling. Exciting. Empowering. I was humbled to see how friendly, happy and generally positive so many people could be when they had a tiny fraction of the wealth that we have. I was excited to see the improvement to lives and sheer joy that WBR and other well considered; well targeted, well executed programs are delivering. Finally, I was empowered to see firsthand how a relatively small amount that I might chose to give can make a real, sustainable difference, not just to the bicycle recipient, but to their family and wider community.
Edna Hapoale of Chikankata has been a RAPIDS Care Giver for four years. Throughout this time she has walked up to five kilometres to visit her patients. She has never been able to afford a bicycle in her life. Edna is 23 years old, married with two sons, aged five and 21 months. She is the daughter of a subsistence farmer who has seven children, three girls and four boys. Currently Edna looks after sick people from 10 different families. "I will continue to help my friends who are sick because maybe in the future if I get sick, they will look after me," she explained. She usually visits each person two to three times per month, but possibly more often, depending upon their condition. "We have no money. We are poor, but we just try our level best to help them," she said. About three quarters of her patients have HIV/AIDS; some have tuberculosis and other diseases. Fortunately, malaria is not common in this region, although Edna says that it mainly affects children under five years of age. After a couple of uncertain starts and a lowering of her seat height, Edna was flying along on her new bike with a grin from ear to ear.