A few years ago it was safe to assume that only cheaper bikes were made in China, but these days, bikes from $100 to $10,000 are made there. Although most of you don't own folding bikes, BA took up an invitation to visit the world's leading folding bike manufacturer as part of their 25th anniversary celebrations.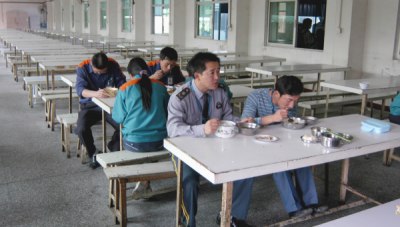 During those 25 years Dahon have made over three million folding bikes, including 380,000 bicycles in the past year alone. I was particularly keen to visit this company because of the remarkable story of its founder, Dr David Hon. As you can read in the sidebar, on page 115, Dr Hon is a scientist turned bicycle manufacturer whose passion is inventing solutions to global environmental problems. Dahon's China factory is on the outskirts of the Shenzhen special economic zone, which is about a one hour ferry ride and one hour car ride north of Hong Kong. If the sky looks grey in these photos, that's because it was. It is rare to see a clear sky or bright sunshine in Asian industrial sites. Staff amenities at Dahon's factory might look a little basic by Australian standards, but they're actually way above average for China. New labour laws introduced from 1st Jan 2008 across China have improved workers' pay and conditions. This combined with increased materials and energy costs, mean that bicycles from China will be going up about 15% in price this year. About 800 of the 1,000 staff who work at the Shenzhen factory live in huge company dormitory buildings on site. This arrangement is commonplace, as most workers are from peasant farming communities further inland. They typically earn the equivalent of $220 Australian per month. That's $50 per week for a 40 hour week. With overtime, paid at time and a half rate, they can boost this to perhaps $300 per month.
It doesn't sound much by our standards, but they also get all meals and dormitory accommodation provided free. Compared to their previous life back on the farm, this is 'big money'. Whenever I see Chinese factory workers in action, I'm reminded how they've been able to take over so much manufacturing that was once done in Australia, the USA or Europe. They seem to have a mindset that allows them to do repetitive tasks quickly and accurately for hours on end. Dahon's factory is spread over several buildings, most having three or four levels. It is clearly bursting at the seams, trying to cope with the exploding global demand for folding bikes.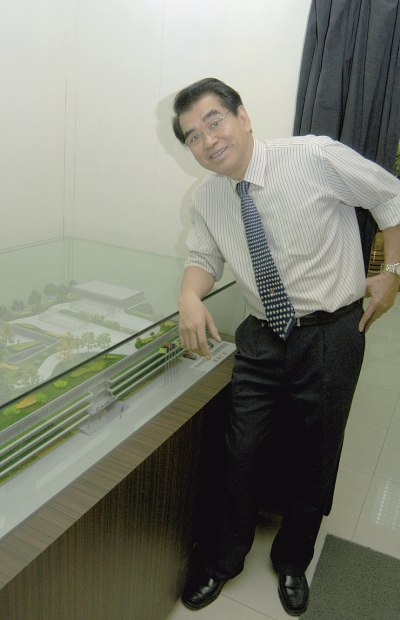 Meet Dahon's Founder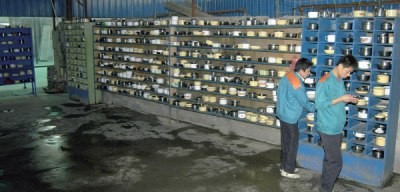 Dr David Hon is a unique individual. Although Chinese by ancestry, he is a US citizen, who speaks fluent English with an American accent. In fact he was a laser physicist, living and working in Los Angeles, California until he began his second life as a bicycle manufacturer. Dr Hon was well ahead of the pack when it came to global environmental concerns. He was already thinking hard about the problem in the 1970's and saw folding bikes as part of the solution. Unlike most of Australia, in crowded Asian and European cities, space is critically scarce and sales of Dr Hon's Dahon folding bikes are booming. Unlike most bike company owners, Dr Hon lives at the factory too. He enjoys playing basketball with his staff most evenings, which may explain why he looks so much younger and fitter than the average 65 year old. Dr Hon's vitality is at least partly driven by his passion for science and invention. He has created over 170 patents, many of which are licensed to other companies around the world. His latest project is designing a new 'green factory'. It will have a unique spiral design where raw materials are delivered to the top and gravity will help the production line work its way to the bottom. Mirrors will reflect natural light through the building's open core, saving electricity. The building design itself will be another new patent, which Dr Hon hopes can be used for thousands of other factories, not just bicycle manufacturers, to help save energy and resources. Dr Hon hopes to use their own new five storey factory, planned for completion by 2009, as a prototype and demonstration model for others to copy.
In the meantime he's also working on a range of new bike designs including a special 25th Anniversary bike, which will use top of the range components such as Shimano Dura Ace gears, and magnesium frame. Although magnesium has had a bad reputation for corroding and cracking, Dr Hon says that new coating technologies will give this lightweight metal a second chance in the bike industry. He predicts that in time, magnesium frames could become as common as aluminium, but lighter, stronger and cheaper, as magnesium ore is abundant.
Visiting factories in China always makes me grateful, as a typical Australian, for the standard of living and lifestyle that we enjoy at home. But we should be mindful that China has played a big part in adding to our prosperity in recent years. They not only provide us with high quality products such as bicycles at low prices, but their demand has also driven the resources boom. China has clearly proven itself as a nation capable of manufacturing and exporting vast quantities of goods. The next challenge will be the hardest of all—to do so in an environmentally sustainable way. To meet this challenge, the vision of Dr Hon and others like him will be crucial.