18-year-old Charlie Condell's dream of completing a round-the-world record-breaking adventure came to an abrupt end during the week, his beloved bike stolen from the Townsville hostel he'd been resting in.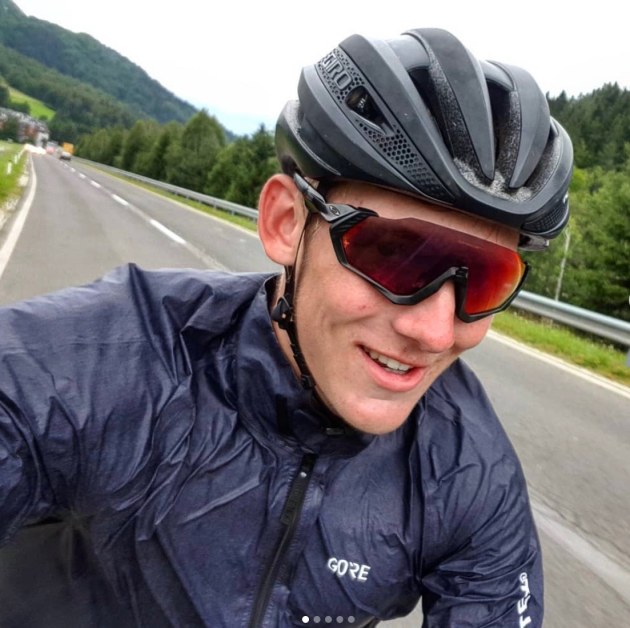 On his way to setting the record for youngest person to cycle around the world solo, Charlie had covered 20 countries over 102 days when his dreams – and Cervelo R5, passport & personal effects – were dashed.
His story went viral, with supporters from Australia and around the world expressing sorry, venting outrage and offering help.
New Bike Coming
Upon hearing the news bike manufacturer Cervelo have come to Charlie's aid with Graeme Moffett of the Australian arm of company saying he felt for Charlie and the predicament the theft had put him in.
"We wanted to support him with the same bike to finish his world record attempt – the Cervelo R5," Graeme told Bicycling Australia. "Charlie is a great young guy, he is super-motivated and we are sure that he will achieve his goal."
"He loved his R5," Graeme continued. "We wanted to make sure he was equipped to finish his ride on the same bike. It is a testament to the engineering of the bike that it can win stages of grand tours with our world tour teams, but can also stand up to a round the world trek that we are sure Charlie will complete."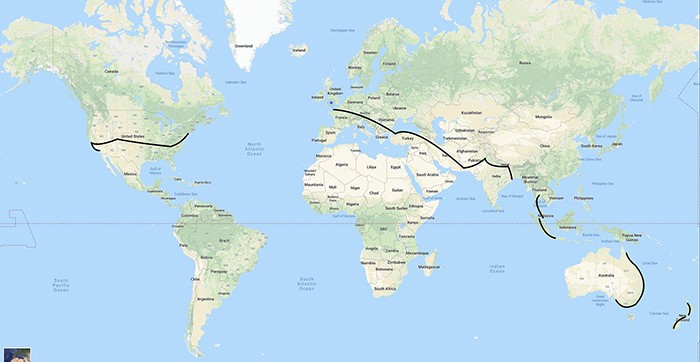 Huge Thanks After Immense Support
Speaking to Bicycling Australia from Townsville, Charlie thanked all who have rallied behind him in his time of need.
"Without all the public support I wouldn't be back on my trip next week – it's as simple as that," he said.
"After my bike was stolen I posted to one group on Facebook and that was shared until it made the wider media – radio, TV, newspaper everything. I'm immensely grateful," he said. "I'm so gassed to have a bike back and particularly that bike."
Around halfway into his global adventure, Charlie's Australian leg started in Port Douglas and will finish in Adelaide.
"I'd been averaging 200km a day in Australia," he told us. "Then I go to New Zealand and then fly to San Fransisco in the US."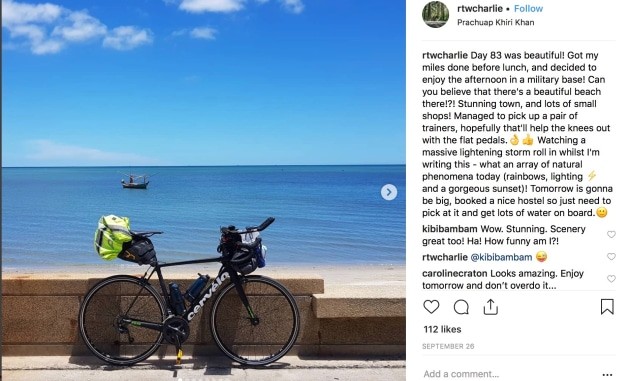 Sets Off Day After Finishing School
Setting out from his home city of Bristol in the UK on July 6 – the day after school finished – Charlie told us he didn't have time to properly prepare for the round-the-world ride.
"I had A-levels all the way and couldn't really train," he said. "I finished my last maths exam and left the next day," he said.
"This is my gap year, I wont get the chance to do this again I don't think. So I'm not setting the fastest pace but do aim to be the youngest rider around the world."
Charlie will receive the new bike next week and Bicycling Australia hope to catch up with him as he continues his epic adventure.
Want to see more of Charlie Condell's global ride? Follow him on social media via #RTWCharlie