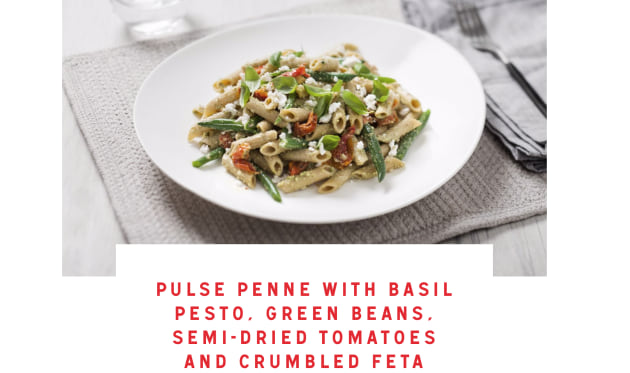 Anna Meares OAM is considered by many to be the greatest Australian cyclist of all time and made history in Rio in 2016 by being the first and only Australian athlete from any sport to have ever won individual medals at 4 consecutive Olympic Games.
During her 22 year career, 15 years of those elite senior, Anna won 18 gold, 16 silver and 10 bronze medals at Olympic, World and Commonwealth Games Level including 2 Olympic Gold medals.
Her haul of 11 world titles makes her the worlds most successful female track sprint cyclist. Anna was named the Australian Flag bearer and Team captain for Glasgow 2014 Commonwealth Games and Rio 2016 Olympic Games.
Proudly supported by San Remo, one of Anna's favourite recipes is Pulse Penne Pasta with green beans, semi dried tomatoes and crumbled fetta. Here's how she makes it.
Ingredients
250g pack San Remo Pulse Pasta penne

150g green beans, trimmed

½ clove garlic, roughly chopped
1 ½ cups basil leaves
½ cup almonds, pistachios or hazelnuts
1/3 cup parmesan, grated

1 tablespoon lemon juice

¼ cup extra virgin olive oil

½ cup semi dried tomatoes, drained and sliced
¼ cup smooth feta, crumbled
basil leaves, extra, to garnish
Method
1. In a pot of boiling, salted water, cook pasta following the pack instructions. Add the beans for the final 2 minutes of cooking. After 2 minutes cool beans down under cold water. Reserve 1/3 cup of cooking water and drain.
2. Place garlic, basil, almonds and parmesan together in a food processor and blend to a fine crumb. While the food processor is going, slowly add the lemon juice and olive oil until the pesto is a smooth paste or to a consistency of your liking.
3. Return pasta and beans to the saucepan. Add pesto, tomatoes and cooking water, tossing until combined.
4. Divide pasta between two bowls and top with feta and extra basil and enjoy!