We flew into Queenstown over Lake Wakatipu with the soaring, snow laden Remarkables just to the south, excited at the prospect of the week of cycling and sightseeing ahead. Our hire car was just a tiny 'rent a dent' special, but that added to the adventure, somehow taking us back 20 odd years to when we were first married. We loaded up luggage and headed south through green farmland bisected with massive manicured pine hedgerows, towards Invercargill to register for the first stage of the race that kicked off the next morning in Bluff. A crowd of lean, fit-looking middle aged men and few women milled around the rego tables all clearly champing at the bit. We'd be riding in around 10 hours' time! Still, there was time for dinner and Speight's Alehouse Invercargill with pasta and their Gold Medal Ale was a great place to settle into the feel of holidays and relax.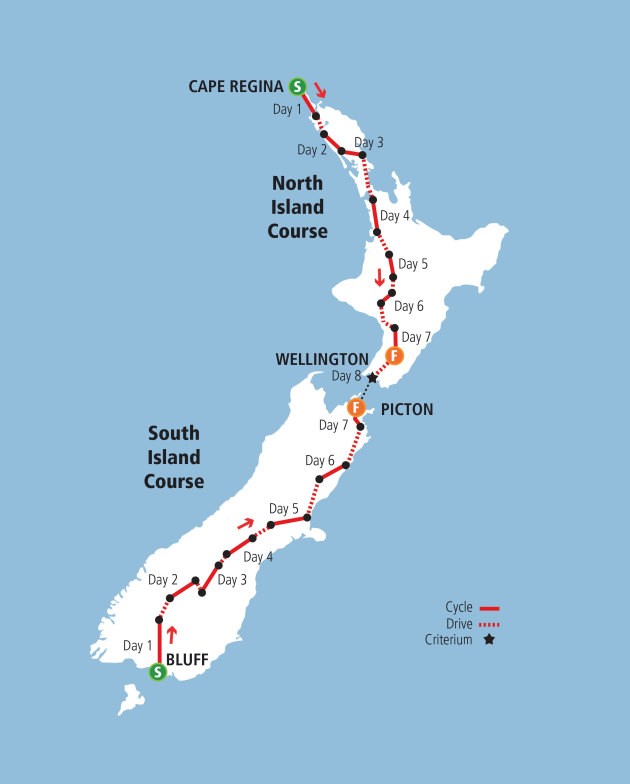 In the grey early morning light first impressions of Bluff were of a bleak austere town, home of small-time fisheries and seaborn freight, wind-swept and bitterly cold. Around 150 riders filtered in to the start area at the southern tip of the island, before a speech by the local pollie and a group photo for posterity. At the same time, the northern bunch assembled at Cape Reinga for their first day riding south. We were destined to meet at Wellington in a week's time for a celebratory criterium around the 'Beehive', New Zealand's parliament house.
We rolled out of Bluff heading back to Invercargill and a stop at the velodrome before a drive to the second stage of the day. Drizzle, muddy spray and traffic at close quarters left us cold and wet. You have to be prepared for all conditions when you sign up for one of these events and we got some of the worst that first day.
But clear sunny skies greeted us for the afternoon leg though for a 60km ride into Queenstown alongside the deep blue waters of Lake Wakatipu. The Lonely Planet describes the area as "heartbreakingly beautiful" and I cannot disagree. Some scenes from The Lord of the Rings were filmed not far from the centre of town.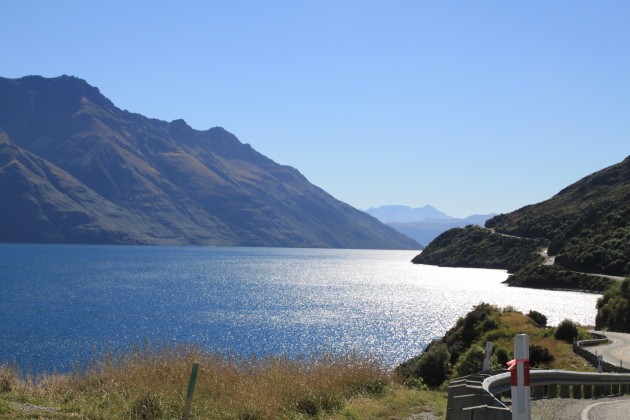 Weather reports had a massive cold front heading for the west coast in the next couple of days. And indeed the weather turned for the worse. Local thinking was that this sort of weather was a month early! Queenstown airport was snowed in and closed for a week and wild winds and snow were unleashed overnight as riders prepared for a cold climb over the Crown Range into Wanaka.
Day Two had south island riders take on the Cardrona Pass; a 12km climb at average 5.6% in some particularly nasty weather. Cold, driving rain and a blustery descent from the 1,200mm peak down to Lake Wanaka had many riders looking for warmer kit.
A couple of Kiwis who had moved to Brisbane decades ago had returned for the event, and were riding, while their partners were following the bunch at their leisure in a hire car; my wife was doing the same. One of the guys was small and wiry, a speedster somewhere north of 50. I rode with him for a while (till he left me in his wake) on the first day. He made good time over the pass but his light build offered little defence against the elements. He made it into Wanaka though his body was beginning to shut down to the point where he was having trouble thinking clearly. He found a hotel where the staff were alert enough to see he was in trouble with early stages of hypothermia and got him into a warm shower, where he recovered and was fine to continue the race the following day.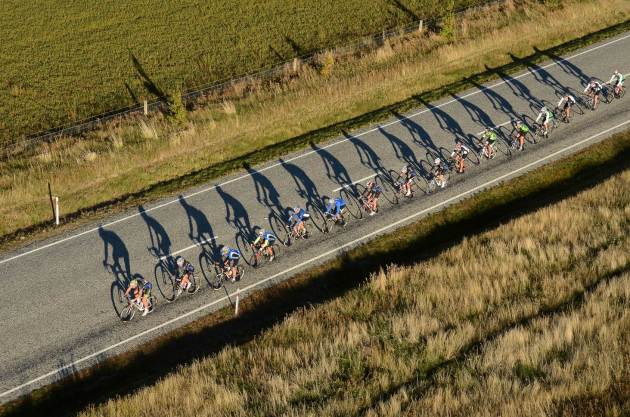 Day three —Lindis Pass, another climbing day held more extreme weather in store for the southern bunch—at least for those finishing at the back of the field. Early riders had sun and clear skies while the last riders up the pass battled on through wind, flurries of snow and low visibility to the finish at Omerama.
Driving to the following stage the tour passed through stunningly beautiful landscapes, around the base of Mt Cook covered in a fresh layer of snow, past deep blue lakes and treeless alpine paddocks before arriving for the afternoon in Tekapo. Locals in the tiny ski town are clearly used to low temperatures and snow, unfazed, while tourists chatter and snap photo after photo. Indeed this town is home to one of the most photographed attractions in the whole of NZ, the solitary stone Church of the Good Shepherd on the edge of the lake.
The church carpark was to be our starting point for stage four, a long gradual descent to the town of Geraldine. Again the cold is quite a shock—it's a frosty minus three degrees for the start! A decent clip heading uphill out of town is just the ticket and clouds of warm breath are soon streaming from heaving lungs. The tour has stages that suit many riders; it's not all climbing or all flat, but mixes of both. The road surface is usually coarse metal chip, designed to provide traction for vehicles in wet and icy conditions. The cold was soon forgotten as we hunkered down under chilly blue skies, and cranked up the speed for the next 88ks.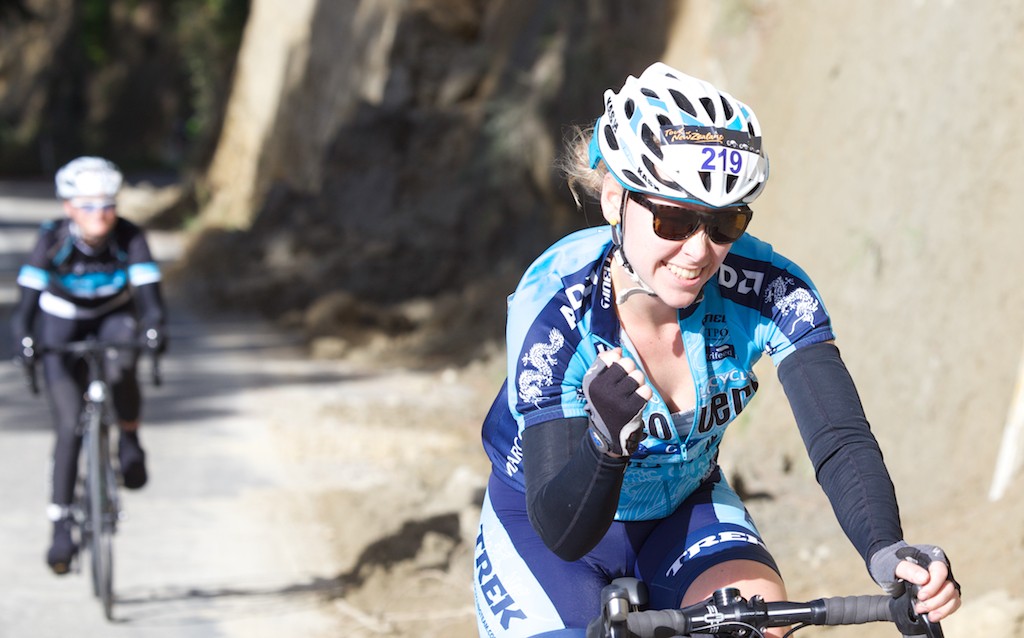 During the tour I borrowed a bike, rather than take one over the ditch, fittingly, from the locals Avanti. Their Corsa DR that we reviewed two issues back is a real time machine, stiff and fast. I had an absolute blast, time trialling solo a lot of the way to Geraldine, occasionally pairing up with someone I'd catch or who'd catch me.
From Geraldine we bid the south island bunch adieu and headed north to meet the others at Mt Ruapehu. The relatively warm drive up from Wellington is a welcome relief, and one accompanied by a clear change in scenery and landscape. Laid back coastal towns, and lush riverside bushland and thick pine plantations take the place of bare yellow alpine paddocks. To my great delight it becomes evident that we are going uphill for a long while as we near the Chateau; there's going to be some serious descending tomorrow!
The Chateau Tongariro is quite a stunning throw back to a different time and it seems quite a coup for the event to be staying here. Set in expansive lawns with the backdrop of two snow-capped volcanoes, the stately old mansion is a sight to behold. Inside massive fireside armchairs overlook the impressive peaks which are now glowing a soft pink, tinged by the setting sun. A grand piano plays, luxurious drapery and grand chandeliers adorn the lounge. Think Wes Anderson's movie The Grand Budapest Hotel and you'll be right on the money.
Day six: Chateau to Pipriki is the first day of riding with the north bunch for me. I settle into the group fourth or fifth off, and roll out. Head and cross winds buffet us, and for the first 20km I make my way through the riders from the first few bunches. Before long I am on the tail of the lead car and have just one youngster on my wheel. We chat for a while and work out a partnership. He's a climber who likes a sprint and tells me how he mixed it with the Ricoh team in the dying stages the previous day. I know the long gradual descent will play into my hands for the most part today, and given he's doing it tough in the wind and we're losing speed on these long exposed false flat downhills, I'll be the one who needs to dig in here. It's also clear that he'll easily get away in the hills at the end, but no matter, this is a superb day for a ride through some beautiful country. So I settle in to a pace I can hold and tell him to enjoy the ride. I smile quietly to myself … ah, such is the lot of the domestique. After another 30km I am feeling the pinch a little and he says "they are only a couple of kilometres back, maybe we should sit up and wait." I prefer to hold on for as long as we can, he can make his own choice. In the end we make it another 10km to the base of the hills and they haven't caught us. But for me the jig is up and junior says "thanks for the tow". I reply "so long mate, go hard".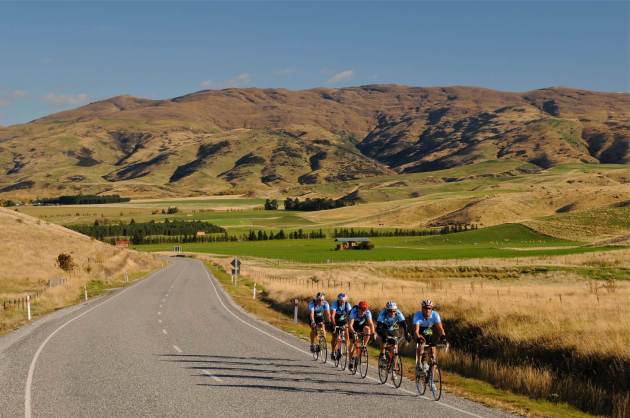 The hills are not my natural habitat but I push on. There are steep pinches and some longer climbs followed by a fair bit of downhill through lush rainforest alongside the river. Sweeping and some sharp turns sometimes hold the surprise of embankment falls onto the road; some recent and still piled up there, others now cleared away. I feel like I am flying downhill but still don't catch my youthful accomplice. Suddenly there's a sign, just two kilometres to go, and I almost laugh, maybe I'll get a place! I finish a minute or two after the winner and am followed by the hard charging bunch shortly after. It's just the first leg of today's race, but what a blast! After lunch is another fast stage and I join a guy from Adelaide and a couple of Kiwis and we push hard towards Wanganui taking turns in the wind, making up ground on the lead group. There's a steep uphill coming and our coach in the bunch Paul Odlin says I'll pay for my turn on the front. I know it's true. I take the climb easy and my group gets away. But I make it over the top without cracking wide open and hurtle down the other side before grinding along an extended flat stretch into town. Tired legs are tightening by the minute so I take advantage of the massage available at the finish line … a very welcome relief after today's all out stages.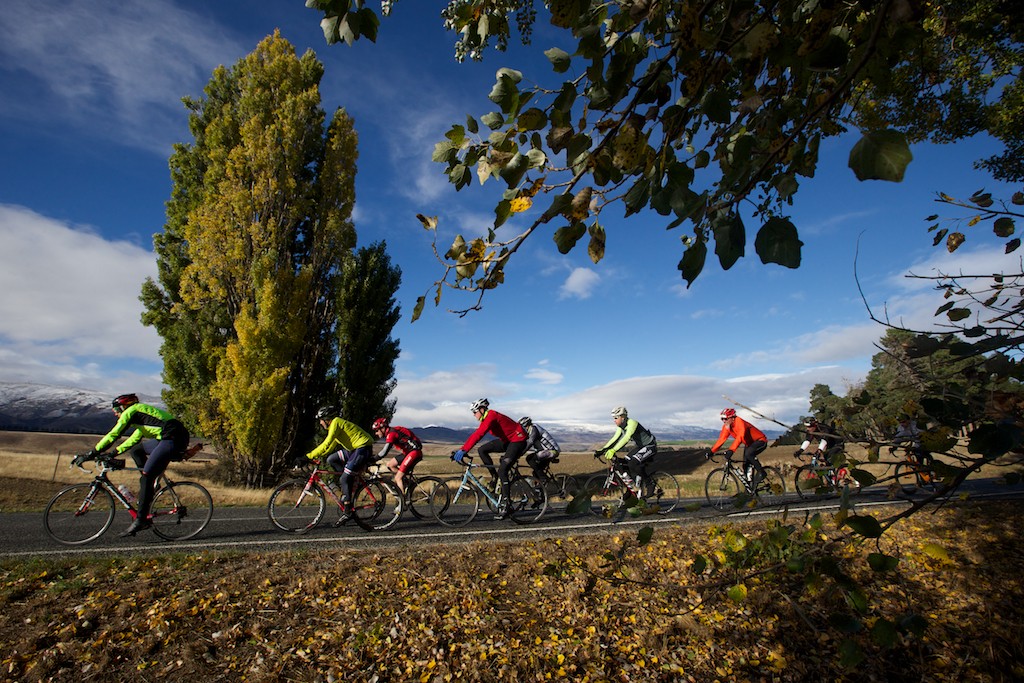 Day seven from Palmerston North to Masterton is another splendid ride …glorious sun and scenery. I find myself in a small group and we're pacelining nicely for a while but these guys are a bit too fast for me, so I have to let them go. I find my rhythm and am caught by a group setting a nice tempo and join in. I spot Peter Yarrell,the powerhouse organiser behind the Tour in the group—he's clearly enjoying the ride and easily keeping a pace with the group on the climbs at a pace that belies his age.
I spoke with Peter after the stage.
Why do we run the Tour? What else do you do when you are 71 and you are sick of fishing? Joking aside … Motivational Guru Ziggy Ziggler once said that if you work hard to make other people successful then you will be successful yourself. When I see the abounding joy on the face of the riders as they boggle at the scenery and dig deep to race hard, it is a payback that is far more valuable than dollars in the bank. And then to know that after the racing is over and the final peloton party disperses, charities we love will collectively receive $250,000 plus … how could you not get excited by that?
The Tour rides every two years. Next Tour of New Zealand, 2017. We are passionate about our courses and organisation. We want to keep the feel of family on Tour. At the moment we need two years to plan and prepare and we have started that already for 2017.
We are constantly refining the Tour and yes we will be building package options with travel company, "Adventure South" beyond what they provided this year. These will be available in 2017.
New Zealand is a unique little country on the world map. Indeed we see the Tour of New Zealand "as a race like nothing else on planet earth". It was fantastic to have a great showing of riders from Australia in Tour 2015 and a huge thanks to Bicycling Australia for encouraging their Kiwi cousins with your presence, not only checking us out but riding the Tour too. Entries will be open in due course for the dates Saturday 22nd to Saturday 29th April 2017. Visit tourofnewzealand.co.nz.
Stage eight was unfortunately cancelled this year due to bad weather, but a casual ride was planned on the side by some riders in its stead.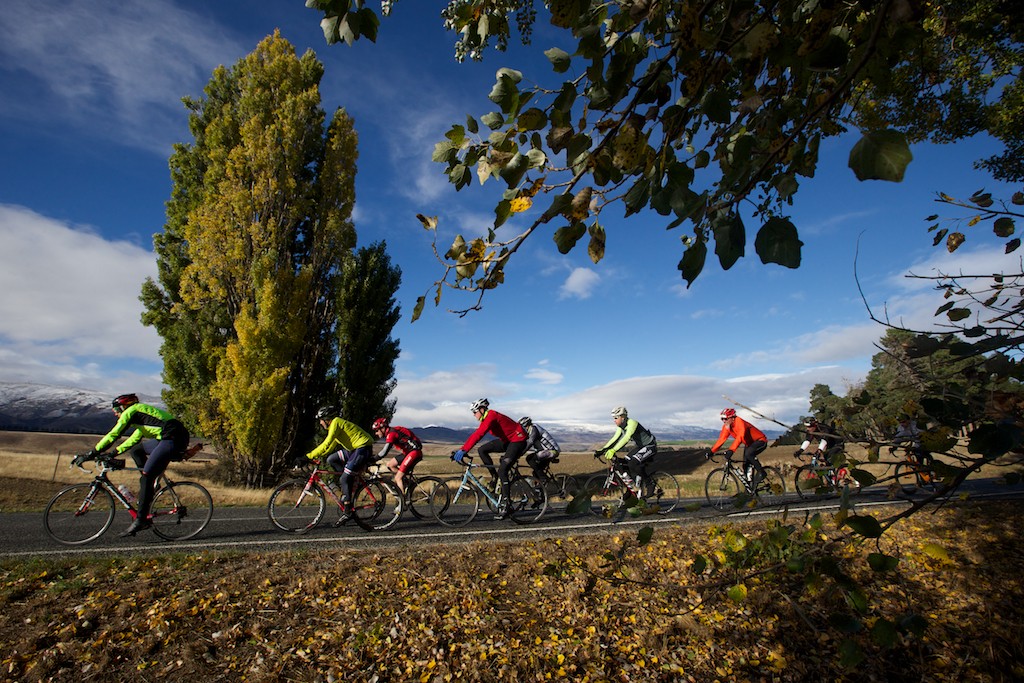 The tour of NZ is a scenic cycling spectacle. I found the event to be well run and the course was great fun to ride, and as challenging as I chose to make it. It was a fun way to see a lot of the country, meet some friendly people and spend time with your partner, on or off the bike.
PARTY TIME
After each day's riding there was a get together of riders; the 'peloton party', where you could catch up with mates—old and new—about the day's ride and get an update on the following day from the organisers. Dinner was sometimes part of the package although you could easily choose to go your own way and make alternate arrangements. The party was always a great atmosphere though, with raffles and sponsor awards and some banter amongst contenders. Competition was pretty serious at the top end, with teams vying for the win not giving any quarter to their rivals. Having said that though, the tour is not only for the elite racers. There was a number of entrants who were in it just to finish and some stages were a real challenge for them. The whole event was electronically timed and batches of riders were sent off at intervals each morning.
TEARFUND
The Tour is aligned with five charities and riders are encouraged but not obliged to sign up sponsors for their ride. As motivation, every rider who generated more than $250 went in the draw to win a Honda Jazz! This year the winner was actually one of the Kiwi national cricket selectors who took part in the tour! In an act of spontaneous and commendably noble generosity, he immediately donated the car to his charity of choice, Tearfund! Chapeau to you, sir!
Amongst other initiatives Tearfund works to rescue people from a desperate life of sex slavery in South East Asia. Sex trafficking and modern slavery is the fastest growing criminal industry in the world today, with the UNHCR putting the number of victims at over 12 million, while other organisations claim the figure is up to 38 million people at any one time. Sadly it's estimated that only around 1% of these people manage to escape the situation. Beth Harper from Tearfund gave a very powerful presentation during dinner one night detailing the rescue of a young orphaned Burmese girl sold into sex slavery by her aunt. Tearfund staff were able to rescue her, and relocate her to a life of safety and care. They run the 'Poverty Cycle' raising awareness of the issues and funds to combat trafficking. The 2015 ride will take place on August 29th just a week after this magazine goes on sale. Go to povertycycle.org.nz to help via donations or get involved.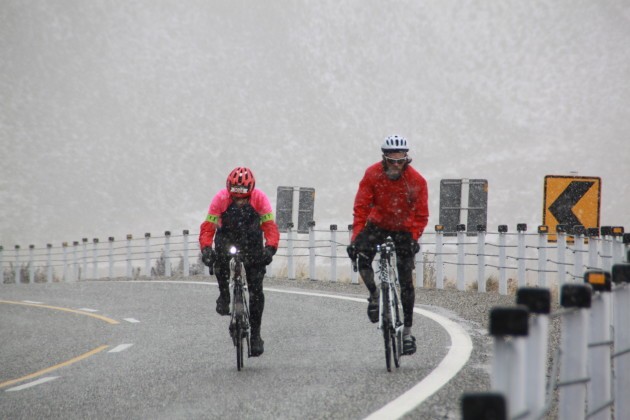 COACH BY EXAMPLE
One really thoughtful feature of the Tour was the addition of Paul Odlin, an elite level rider from NZ who was enlisted by the organisers to take part. He'd ride each day with the peloton, continually working his way through the pack, sometimes starting at the front and filter back chatting and offering encouragement and training tips to riders, sometimes lending a pushing hand for those doing it tough in the hills other times pacing riders up to a leading bunch. He was a standout guy, friendly and clearly a talented rider. He'd ride all the driven transport stages and even took on the mighty mountain pass between Featherstone and Upper Hutt as the rest of the pack drove back towards Wellington. During prize giving in the peloton parties some lucky riders even scored training sessions with Paul for after the Tour.
DEGREES OF SEPARATION
There is no denying it. Your position on the planet plays a big role in determining the weather you'll experience. The northern tip of NZ at Cape Reinga is located latitudinally at 34.420 degrees south, while Sydney is at 33.865. One degree is equivalent to 60 nautical miles (nmi) which is equivalent to 111.120km. A 'second' of latitude is one nmi, or 1.852km. So Sydney is about 61km to the north of the north-eastern tip of New Zealand, albeit back across the ditch. Auckland is around 429km further south, think Merimbula NSW, while Wellington is roughly the same latitude as Launceston, and Christchurch as the southern tip of Tassie. From that southernmost point of Australia, the windblown town of Bluff is 340km closer to Antarctica. Suffice it to say, it can get cold in the south of NZ. Cycling is a great way to warm up! Joking aside the weather was changeable—so you need to be prepared; in the end it turned out to be a great way to spend a week.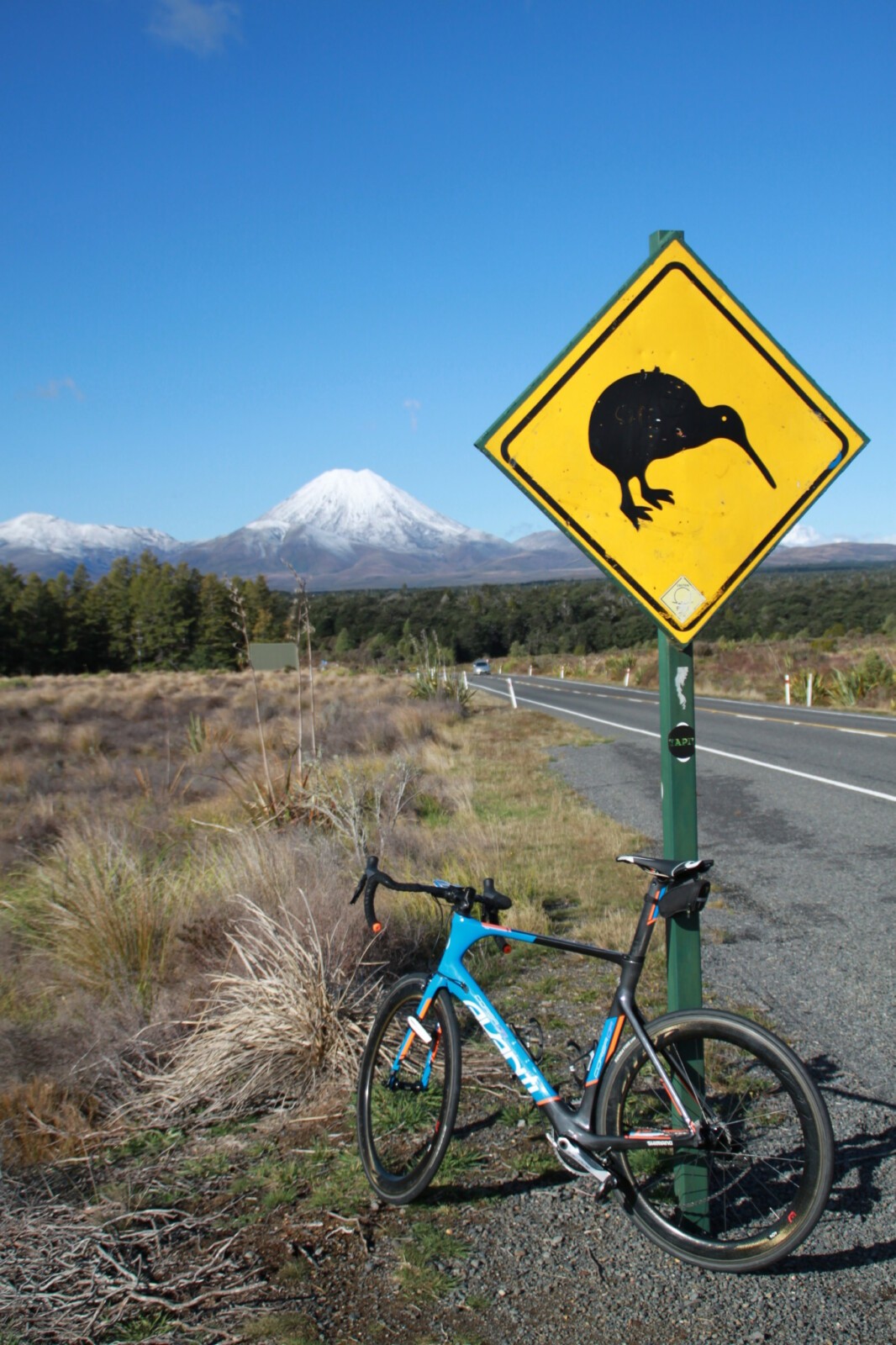 AFTER THE TOUR
New Zealand's MTB trails are extensive and a prime option for some dirt action after the Tour winds down. Rotorua has the Crankworks festival every Easter hosting visitors from across the globe, who revel in the network of high class trails.
Stepping away from cycling altogethe
2015 ROUTES AND DAILY STAGES
NORTH ISLAND
Race Course (668 km)
Day 1. Cape Reinga Seeding Trial (24km), then Kaitaia to Kohukohu (65km)
Day 2. Omapere to Daragville (79 km)
Day 3. Dargaville to Brynderwyn (70 km)
Day 4. Tuakau to Raglan (84 km)
Day 5. Te Kuiti to Taumaranui, then National Park to The Chateau (86 km)
Day 6. The Chateau to Pipriki, then Ranana to Wanganui (133 km)
Day 7. Palmerston North to Masterton (106 km)
Day 8. The Beehive Criterium, Wellington
SOUTH ISLAND
Race Course (637 km)
Day 1. Bluff to Invercargill, then Athol to Queenstown (89 km)
Day 2. Arrowtown to Wanaka (76 km)
Day 3. Wanaka to Omarama (113 km)
Day 4. Tekapo to Geraldine (88 km)
Day 5. Methven to Oxford (80 km)
Day 6. Hanmer Springs to Kaikoura (126 km)
Day 7. Blenheim to Picton (65 km)
Day 8. The Beehive Criterium, Wellington