It's time we took a look at some of the nation's iconic bucket-list climbs; ascents that instil fear in mortal man, and command the respect of hardened pros. There's usually some chance of a view, but always an unforgettable experience. Local climbing stalwart, David Heatley, takes us up Mt Hotham.
Mt Hotham is brutal climb classically approached from the Bright side. The township of Bright is centrally located to the three iconic, and world-class cycling climbs the region has on offer. Mt Buffalo, Falls Creek and of course Mt Hotham; the toughest of them all. Bright also has a wide range of accommodation options and plenty of restaurants, cafes, pubs, a brewery and two supermarkets.
During spring, summer and autumn there are plenty of opportunities to get to the top. Be mindful though as even during summer it can snow on the top of Hotham. Mt Hotham is an alpine resort, so it makes it very dangerous to climb due to the heavy snow traffic and treacherous icy conditions during winter.
Wind & Weather
Mt Hotham can also become dangerously windy. So, when you check the weather take note of the expected wind speed and gusts at Hotham. Anything over 35 km/h will mean that you have a higher chance of getting blown off your bike if you are caught by the winds that funnel through some of the narrow passes that you'll encounter on the climb towards the top where it opens up.
Mt Hotham is around a 30km long climb that will take the average rider between two and three hours to ascend. From Bright, it's a 110 km round trip. To get to the base of the climb, you'll ride from Bright up a false flat of a 1-2% gradient for around 20km till you reach Harrietville where you can get a coffee and have a toilet stop.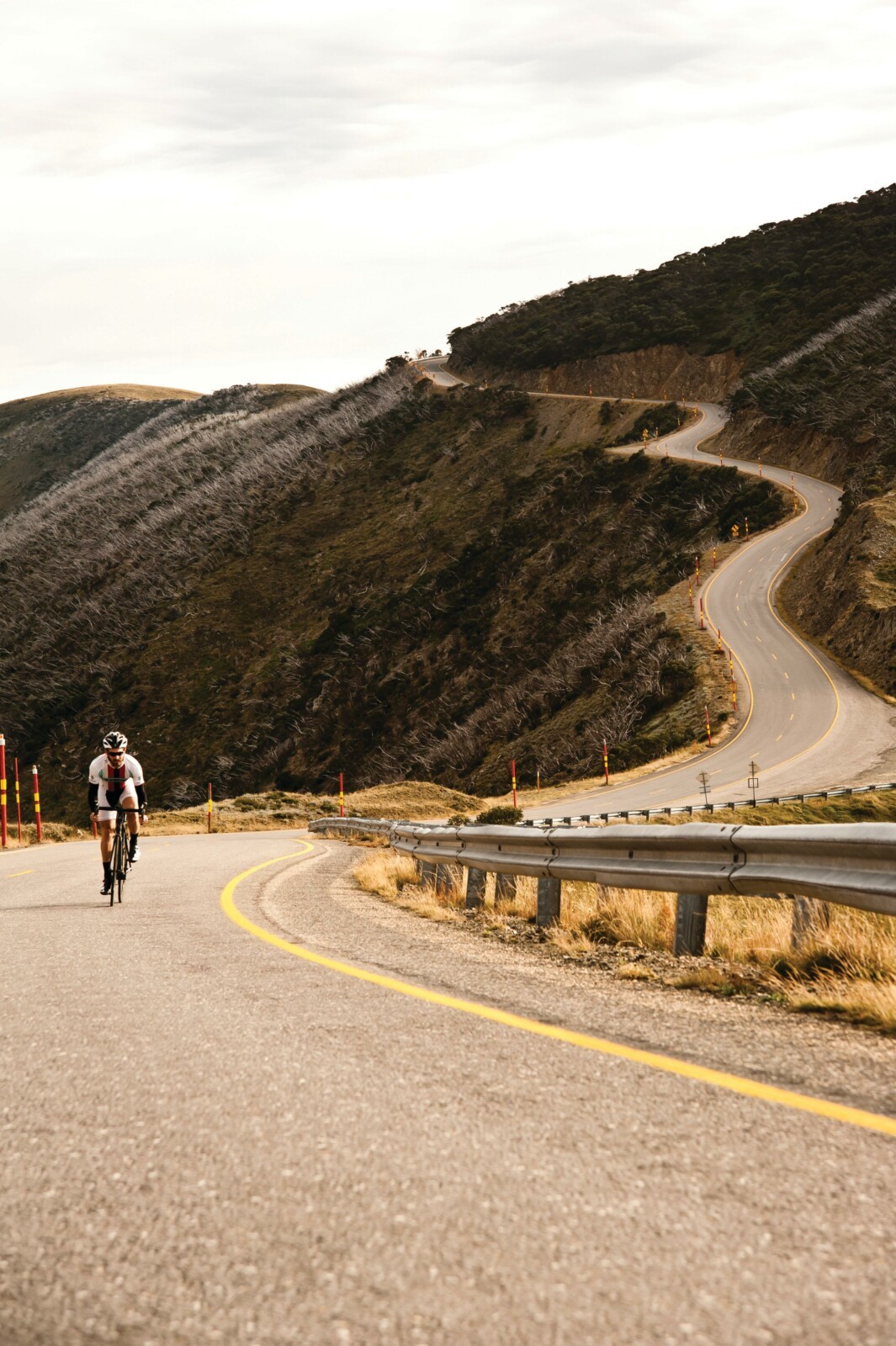 Preparing For 'The MEG'
Once you leave Harrietville, you'll encounter a sharp bend to the left with a gradient of around 6-7% which then flattens out after around 800 meters as you ride through lush alpine forest, as you head up towards the first major gradient part of the climb, the Meg. The Meg is around 400m at around 9%.
After the Meg, it reverts to around 4-6% for several kilometres of winding road that diminishes to 2- 3%, 9km false flat as you near the toll gates at around the 19km mark. Once heavily forested, fires in 2013 have opened this section of the road which now provides a stunning view of the surrounding ranges that are punctuated with eerie trees.
'Dr Jekyll and Mr Hyde'
Once you leave the toll gates, you'll enter the Dr Jekyll and Mr Hyde part of the climb. The gradient quickly steepens up to 6-8% then settles into a 6% climb which breaks through into the famous moonscape views. Then you'll traverse through a short flat ridge line that provides you with almost 360-degree views before you pass by a small equipment building then plummet down to confront the iconic CRB Hill. At 1.1km with a 10% gradient, it's one of the most talked about and quoted sections of the entire climb.
Sting In The Tail
The next major part of the climb is where you come around Little Baldy Hill and encounter another sharp 600m descent that leads into the last major sustained part of the climb. A few km's up this last section is the Diamantina. This 9%, 1.4km section of the road is the last thing Mt Hotham will throw at you. Once you crest it there is are breathtaking views to your left as you descend to the Alpine resort via the Hull Skier Bridge. It's a great time to catch a picture.
Once you have a rest in the village where there is a public shelter, it's about forty-five minutes to an hour long descent back to Harrietville. If the wind is favourable, you might even get a tailwind back down to Bright. 
Mount Hotham: Key Stats
Current KOM: 
Brendan Canty, 26.6kph, 312W, 1:07:42, Dec 2015.
Current QOM: 
Justine Barrow, 21.1kph, 194W, 
1:21:21, Dec 2016.
Distance:
 29.99km
Avg 
Grade: 6%
Lowest Elev:
538m
Highest Elev:
 1,850m
Elev Difference:
 1,303m