If there's one positive from the lack of overseas travel it's the renewed focus on Australia's many fine destinations. This is part one of a two-part series where we ask three of our writers their favourite Aussie climbs.
Lee Turner: The infamous WTF Corner & Climb
Anyone who has completed the Peaks Challenge event knows about the infamous WTF Corner and the climb that proceeds' it. If you look at the segment on Strava it doesn't look that daunting. In fact, you could argue it looks quite easy and straight forward.
The climb starts on the corner of the Omeo Highway and the Bogong High Plains Road in Victoria's high country. This is around 400km, or a comfortable 4 to 5hr drive, from Melbourne.
According to Strava it's 25.11km @ a mere 3.8%. Easy right? The challenge is when you get to WTF Corner you already have 200kms in your tired and screaming legs. I always say when you hit the corner it's like being smashed in the face with a baseball bat. Nothing can prepare you for what is to come.
The start of the climb is pure torture because the first 500 metres is around 10%. The fun doesn't stop there because the next 9kms has an average gradient of 8-9%, OUCH! I let out a couple of "Bangs" to fire myself up and try and kick on, but most of the time I'm stuffed and fire blanks.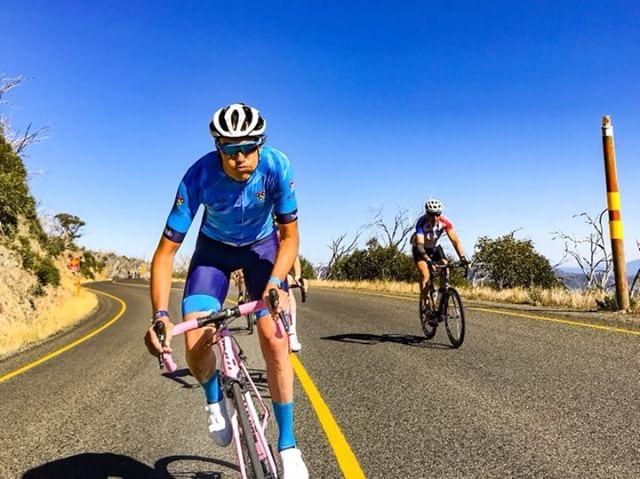 It's just so hard to train for it. You'd have to ride 200kms first and then find some horrible climb to replicate it, you just can't. When I do try and train for it I make myself as fatigued as possible around the Dandies (just 100-150kms at first) then I will do loops of the Hughes Street climb in the Dandenongs.
That one's only about 2kms long but it gives you that horrible sensation of what the climb to Falls will give you. I hate it but I know it's good for me, or that's what I tell myself when I'm grovelling up it.
When you start the climb from WTF Corner your legs will scream at you and beg you to stop. You will zig-zag all over the road like a postman, you'll look at the head unit on your bike and it will read 204kms and what feels like an eternity. When you look at it again it will read 204.8kms, it just breaks your heart. You feel like you are going nowhere.
Over the years I've got easier and easier gears for the climb. What started 10 years ago as a 39/25 ratio has ended up as a 36/30. You've got to use your gears and not your legs. Spinning your legs as best you can, instead of grinding and crunching will help you get through. The number one rule to this climb is DON'T GIVE UP!
It's a mental game as much as anything else. Every year I fight the voices in my head and vow never to do it again. I tell myself how much I hate it, but I don't give up.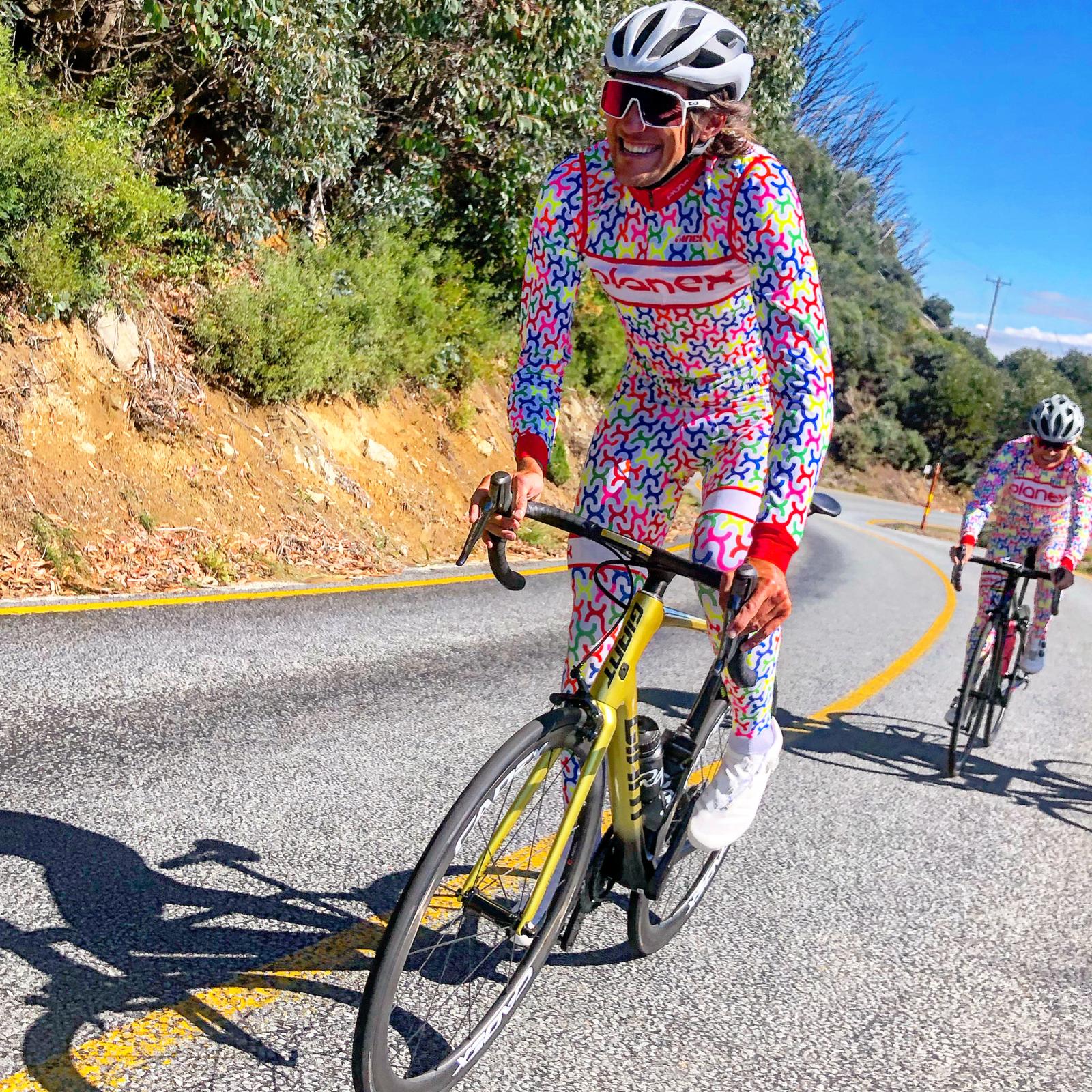 The first 10kms are the hardest after that you will have small opportunities to take a drink, sit up and stretch out the legs. The worst part is now behind you. There are even some little downhill sections that your legs will want to last forever. There are some up and downs until you get to Trapyard Gap where if you are doing Peaks Challenge you will have the best can of Coke of your life. It's one of the very few times of the year I'll have a Coke and believe it me it tastes amazing. This is the only place I recommend stopping on the climb. It's important to get fluids and a small amount of nutrition into you before you ride on to the finish.
The final 10kms to the finish is very rewarding as the road opens up. It almost feels like you're riding on the moon in some sections. When you see the lake you know you've made it and you're almost at the finish. It is one of the most rewarding rides you'll ever do. If you can conquer that you can conquer anything.
Of course, there are many other great climbs and rides all over Australia – the Bicycling Australia Classics have many iconic climbs across their events. A lot of cyclists hate climbing, but still love to do it. Climbing is rewarding, it's tough and you can't hide or fake it on the way up. The way to improve your climbing is to get stronger and climb more. The more you climb, the more you get used to the feeling and the sensations it brings.
For any event that includes a fair number of hills, the number one tip is to attempt to drop a couple of kilos prior. It makes a huge difference. I waste money on shaving grams off my bike here and there, but the cheapest and most effective thing you can do say no to dessert and be disciplined with what you eat.
Climbing is as much mental as it is physical. You have to push through, you can't give up.
Lee's Top Climbing Tips
1 Use your gears and not your legs
2 Don't give up. It's as much mental as it is physical
3 Don't get off your bike and walk. Fight through it.
Karen Forman: NSW Snowy Mountains – Thredbo to Tom Groggin and back.
Where: Alpine Way
Distance: 45km return
Elevation gain: 1493 metres
Maximum elevation: 1589 metres
Gradient: 6% average. 15% top.
Most well-known rides start at the bottom of climbs, head up a hill (or a mountain) to a designated turning point, and then come back down. My favourite climb in the NSW Snowy Mountains goes the other way. What goes down, must come up…right?
Soon after I moved to the Snowy Mountains of NSW the words of the local cycling club president started to echo in my ears: "There are no flats around here. You watch, you will grow to enjoy climbing.''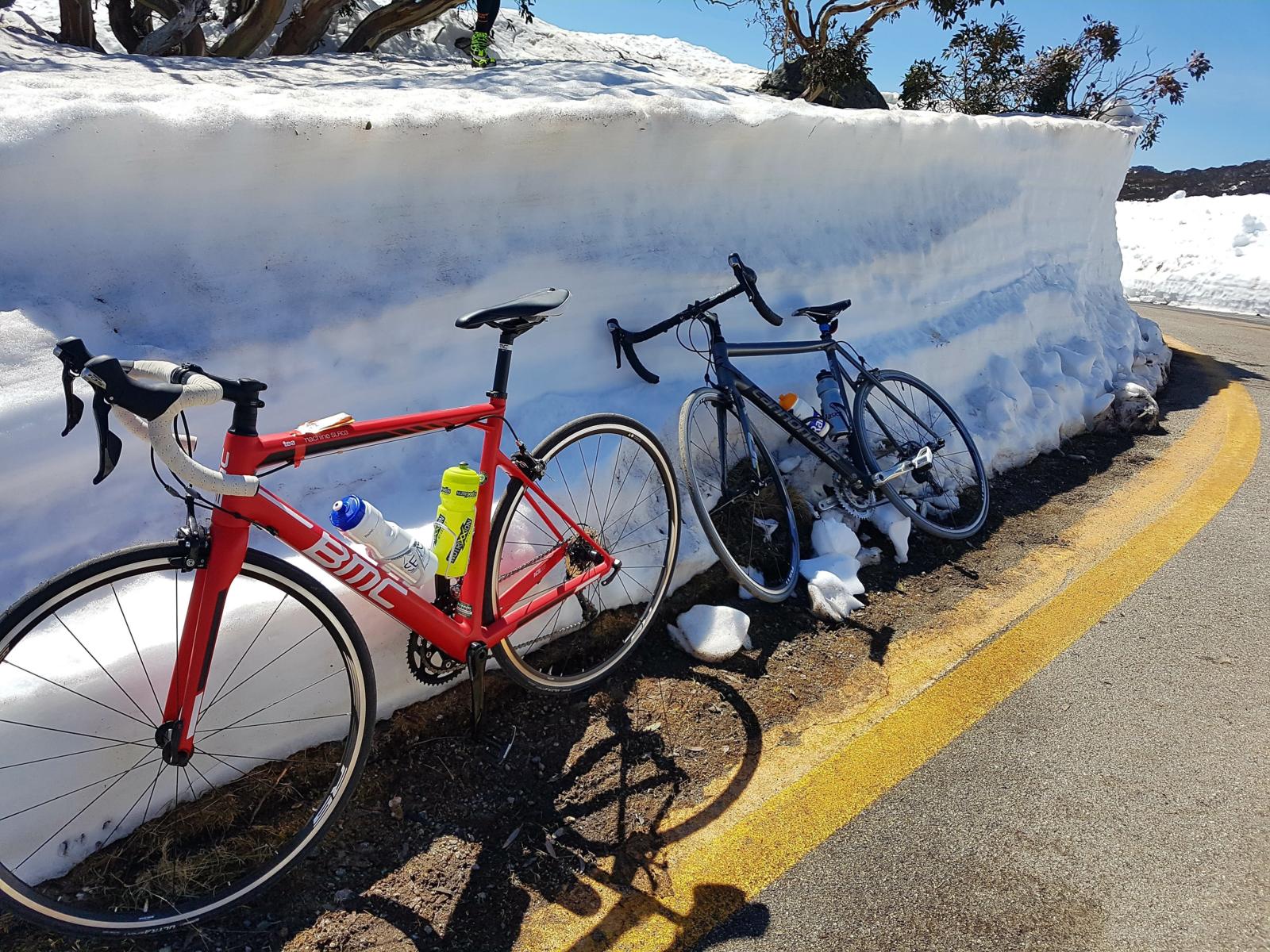 Stunningly, he was right. I grew to love the climb from Jindabyne to Charlottes Pass (84km, 900 metres to 1800 metres). Then, I found another climb that is even more challenging, more scenic and more rewarding That one is Thredbo to Tom Groggin to Thredbo and it's 45km with 1493 metres of climbing.
The Tom Groggin ride involves a ski resort. In this case, Thredbo village at 1365 metres, but with ski and mountain bike runs and routes spread to Australia's tallest mountain, Kosciuszko, at 2228 metres.
The bustling alpine village is a good place to start your ride. Park the car at Friday Flat, grab an energy-giving espresso at the Bakery or the Avalanche Café, and head back up the hill onto the Alpine Way and turn right towards Khancoban which is 77km away.
Tom Groggin is a campground on the banks of the Murray River at 531 metres. The region has a cattle property which has operated since the mid-1800s. It was visited by Banjo Paterson and offers farm stays.
Before you get there, however, you will climb up the Great Dividing Range to 1580 metres and encounter a narrow road with steep drop-offs, hairpin bends, and rough patches of bitumen from being under snow for most of the winter. You will ride through thick forests and see both blackened trees from the summer 2020 bushfires and bright green new growth.
You will find your phone has no service for most of it. That and you will see few cars but perhaps a lot of motorcyclists, and may encounter the odd slow-moving caravan.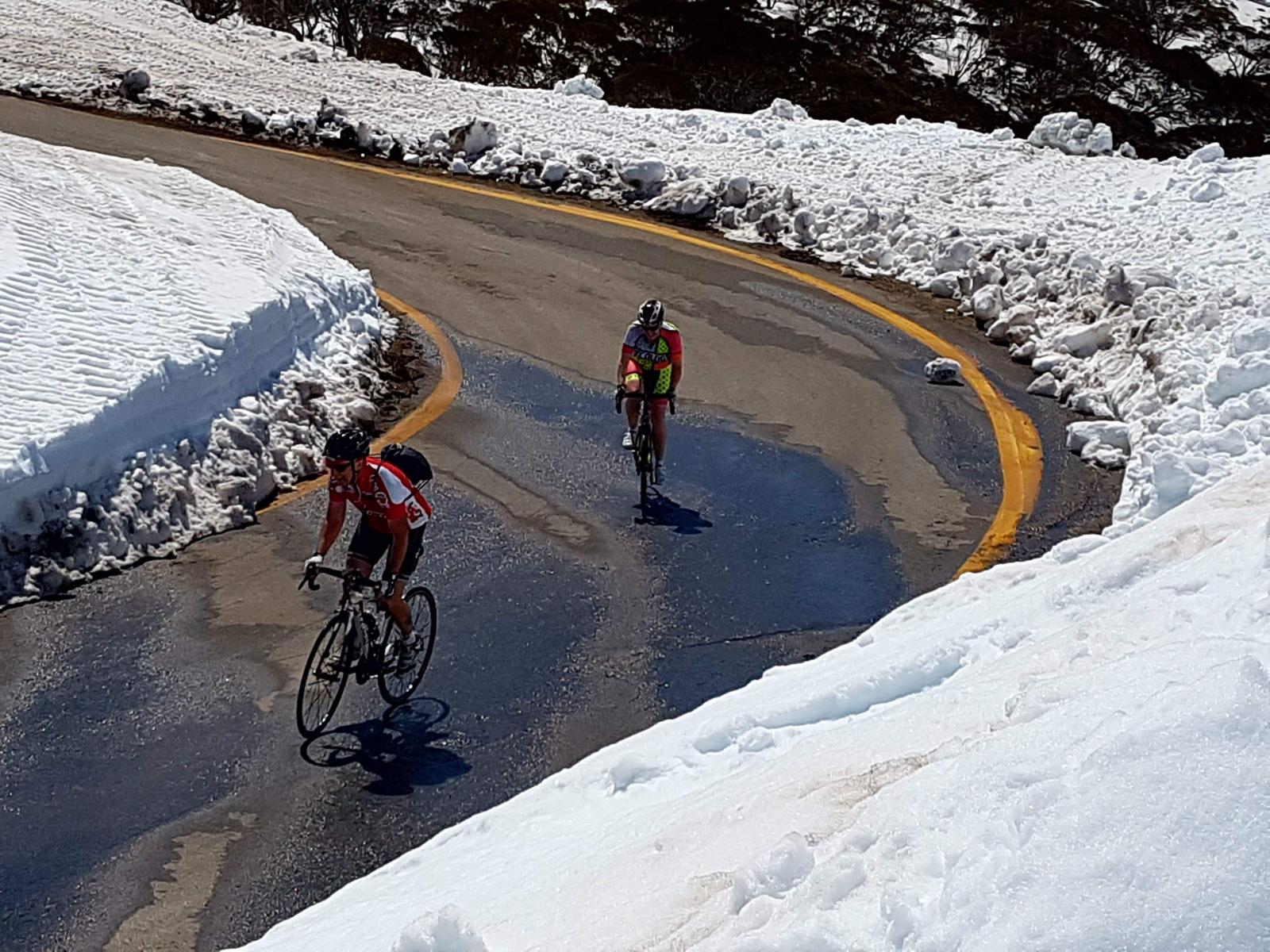 GOING OUT (AND DOWN)
Heading out of Thredbo, you will head straight up the hill, so get that granny gear ready. Past the warning sign indicating there are no services until Khancoban, past the 80km signs, and the road narrows and loses its white centre line.
With the ski fields (or MTB trails in summer) on your right, you will climb steadily, noting the snow markers on both sides of the road. This road is usually open in winter but typically under snow and is very icy, especially between the Cascades and the Wattles.
Climb on and listen to the Thredbo River on your right, check out the snow gums on both sides of the road. Watch for the brumby warning sign, too, you may well ride into their dung or see some on the sides of the road, along with deer, kangaroos, wombats and echidnas.
Four kilometres in, you will reach the Cascades carpark at Dead Horse Gap, where two well-known hiking trails begin. You can also ride a mountain bike on the Cascades road to the famous Cascades Hut, part of the Australian Alps Walking Trail.
From here, you will climb steeply to 1580 metres, enjoy a brief flat respite, then continue for another two kilometres on a very windy road.
Welcome to Siberia! Yes, we have Siberia in Australia and it is 7.5 km into your ride. After this, there's a steep descent that totals a glorious 8km.
At 9.3km, you might find some strength in those brake weary hands to stop at Pilot Lookout for stunning views of the valley. Yay for guardrails, there is a steep drop to the left and the road surface is somewhat bumpy right on a sharp left hairpin turn.
At 10.5km you will reach the Wattles where you will your brakes will get another workout. Watch for sticks, bark and stones on the road.
There is a steep tight pinch at 14km and then a chance for a quick break at Leather Barrel Creek rest area before another knuckle-wrenching descent to a one-lane bridge followed by a 15kph corner. From here there's 1km of climbing, then another full 7km of descending to the Tom Groggin Camp at 528 metres.
COMING BACK (AND UP)
It has been said by many, that the climb out of Tom Groggin is probably the toughest climb of the ride.
This is where the gradient nudges 15%. There are steep pinch turns and no chance to rest for about 7km. Then, at the 30km mark, you will be blessed with a 1km descent to cross Leather Barrel Creek again. You will keep climbing until you reach The Wattles.
Good news though, the final 5km is downhill to Thredbo. And any number of venues serve up great food and cold beer.
Karen's Climbing Tips & Local Knowledge
1 You are riding in an alpine area, so check the weather! We can have snow, lightning storms, high wind, rain. Make sure you have wet and warm weather gear.
2 Let someone know where you are going and when you expect to be back. This is a remote area and phone service is barely there from Thredbo onwards. It may not be possible to call for help.
3 Take plenty of water and wear sunscreen especially in summer, when the temps can get up around 35 and the UV rating beyond 10. You can get water out of the Thredbo, Leather Barrell Creek and the Murray River at Tom Groggin, but you might want to take some purification pills.
Pat Jonker: Old Willunga Hill
3.5km 7.1%. 252m
Old Willunga Hill has to be one of Australia's most iconic climbs. It's on my list simply because of its importance as a deciding factor in the overall classification of the Tour Down Under. But its history goes back a lot longer than the race.
Growing up in the southern suburbs of Adelaide during the 80's, my ultimate goal in life was to ride the notorious Willunga Hill. I was a 12 to 14year old juvenile cyclist and mainly raced crits and the track. Venturing out to ride real roads and the hills wasn't a done thing. "It would ruin your speed, " the older cyclists used to say.
And, with limited gearing at the time, 42 x 24, maybe they were right.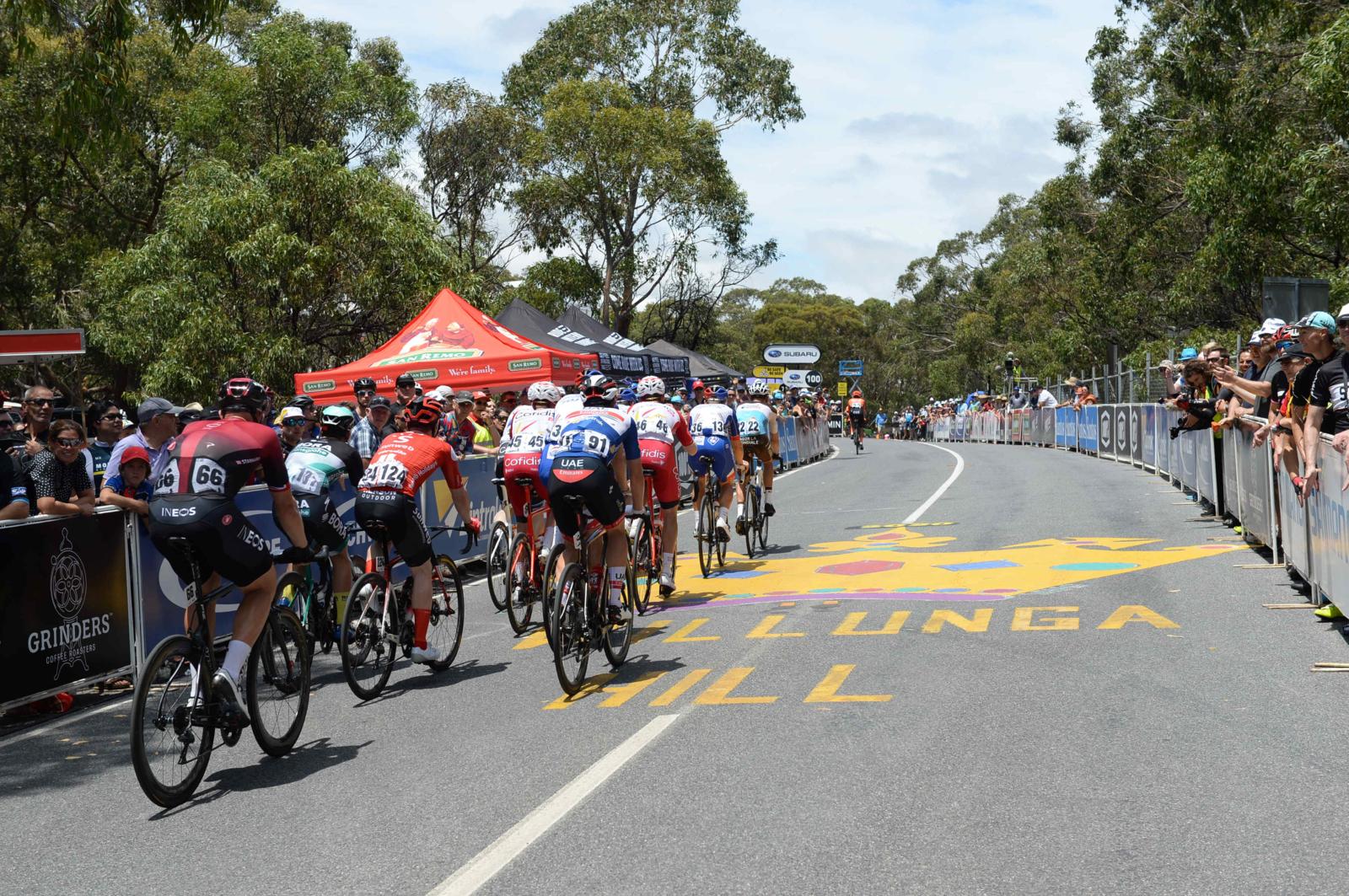 It wasn't until I was 14yrs old that one night over dinner, dad told me of the next day's plans.
"Son, tomorrow morning we will ride Willunga Hill," he said. I couldn't wait … it seemed I had wished for this for an eternity.
Local cyclists would tell you that Willunga Hill was like a mountain pass back then, only much shorter. It is so steep that you could not ride it on the saddle … you had to dance on the pedals to the top. And, with gearing of 42 x 24, they were pretty much right. It was a mystical climb for us junior and juvenile riders at the time.
The climb is only 3.7km in length starting from the main street of the town where some great cafes and restaurants are located, and the average gradient is 7.1%. One of the climb's other unique qualities is you never see more than 50-80 meters ahead … so after every bend there's a surprise in store. "Will it get steeper or ease up?" a newbie may wonder. And, with six bends on the climb, the surprises keep on coming.
Back to Dad, and I remember him saying "Son, it's a very long climb for a youngster so take it easy. Ride the first kilometre with ease and build up the pace as you get closer to the top."
So, as we hit the bottom of the climb, I did the same thing most 14yo riders would do and went full gas. I was so excited, and so full of adrenalin, that I dropped my dad and his fellow riding buddies. And yes, some of them were ex Olympians, but I was on a mission. I had never ridden up a climb longer than 800m before, a 3.7km climb would be an epic challenge.
I recall not riding any of the climb seated, not for the first two kilometres. I was shocked that after the first bend it actually got steeper, so around a 10% gradient, and the road surface was very bumpy. It was rough back then, not as smooth as it is today, and there were many corrugations. It was almost like riding on dirt with a 10% gradient.
I soon started to feel the lactate build. But, with dad and his buddies on my tail, I had no choice but to persevere with the suffering.
…Not even todays TDF winners will come close. Will it ever be beaten some day? Maybe during the next century…
I looked down at my gearing and was already in the smallest ring of 42×24. That was unsettling as I was certain I had a bailout, one to go. Being a positive thinking 14yo I was sure it would get easier after the next bend. It didn't.
The first two kilometres of Willunga Hill are brutal and it just gets steeper after each bend. I recall the taste of blood in my mouth, my lungs were on fire, and my legs felt like concrete. But with the knowledge that my dad and his buddies would be laughing knowing that I had gone out way too hard, I did my best to visualise success.
As it turns out dad and the chase group didn't catch me. After the last sweeping left-hander, at around two kilometres, the gradient subsides and I was able to find my rhythm and keep on top of the gears. I had completed my first Willunga climb solo. Dad and his mates were impressed and said I may become a club champion some day. The addiction to climbing had certainly set in from that moment on.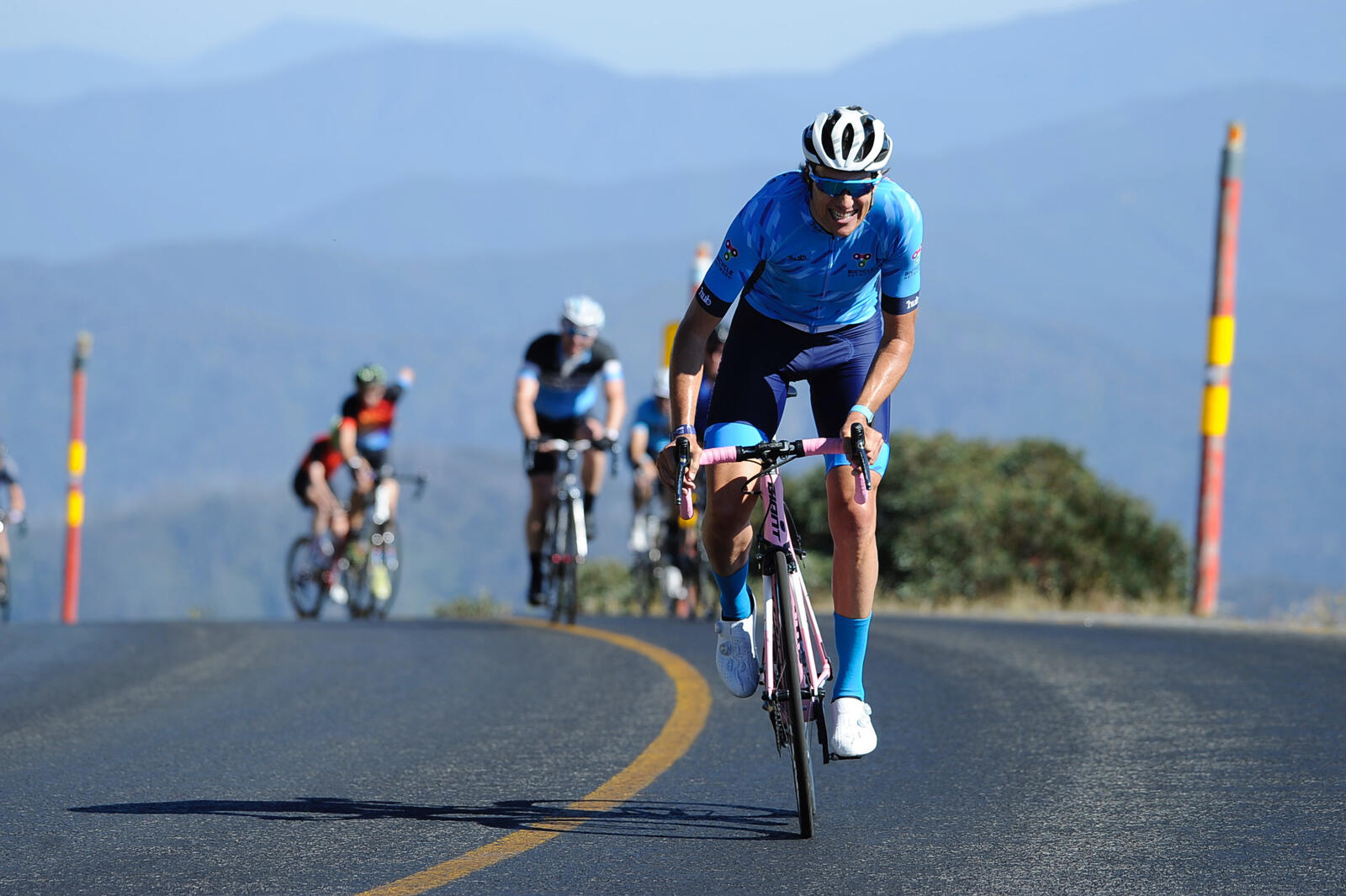 That was way back in 1984. In 2004 I was racing up Willunga in the ochre leader's jersey of the Tour Down Under. There was a helicopter above, a TV moto in front, and tens of thousands of spectators shouting my name. It was such a change from being that 14yo on old school gearing. I was fighting to defend my lead as the Italians Figueras and Giunti attacked up The Hill, just like Dad and his mates had. It was an all or nothing assault on the jersey … who would have thought?
With the help of my UNI SA teammates, and with the likes of Olympic champion Luke Roberts onside, we were able to defend my lead and win the Tour Down Under. Who would of thought, way back in 1984, that this would play out some two decades later.
An important note. "Ritchie Porte's record time up Willunga Hill will not be beaten for decades to com," says Pat Jonker. "6min 34 second is pretty much extraterrestrial. Not even todays TDF winners will come close. Will it ever be beaten some day? Maybe during the next century."
Pat's Top Climbing Tips
1 A climb is a journey. Ease into it don't start out too fast get on top of your gearing and breathing keep in mind Spinners are winners.
2 Climbing is also a mental game, especially on the longer mountain passes. Fight to stay in a positive mindset as soon as the negative thoughts creep in you have been beaten.
3 Make sure that you come equipped with the right gearing. Back in the day we had no choice, a 42×22 is all that we had. Today there are no excuses and no shame in spinning a 36×32.