Showcasing the beautiful rural and coastal views of South Gippsland the Bass Coast Cycle Challenge is about as far south as you can go on the eastern mainland.
Aside from the four main course options in the Challenge (121, 85, 53, and 40km) there are plenty of activities to keep the whole family entertained. Inverloch is a cute coastal town blessed with the picturesque outlook over Anderson Inlet and stunning surf beaches; a brilliant place to surf, swim, paddle, fish, sail, snorkel and dive. It's also great for kite surfers.
Although Inverloch is increasing in popularity, its beautiful beaches and shoreline, lush rural hinterland and easy village vibe are unruffled by the annual influx of summer visitors that descend each year.
Various boardwalks and tracks provide tranquil places for shorter and longer strolls or bushwalks and hiking activities.
Along with the lure of serene riding routes through the lush farmland, support from event sponsors including Pentana Solutions, the RACV Inverloch resort and other local business has seen the event grow from 200 riders in 2011 to 550 in 2014.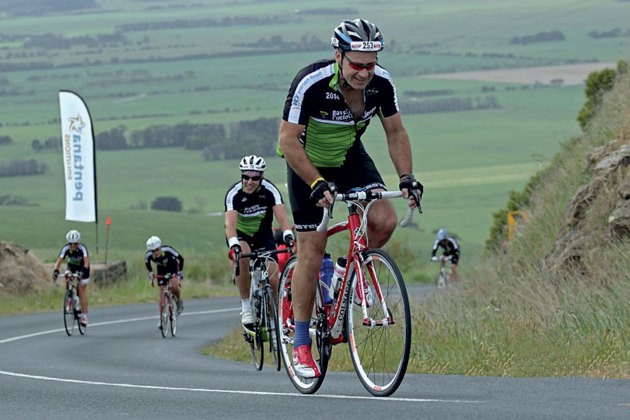 The 2015 event will join forces with the Inverloch Family Fun Festival, with even more family friendly events on the program, such as 5km kid's ride and three fun runs. The main street of Inverloch will be closed to traffic so you can easily meander round the town, pick up some local produce or a boutique gift at the market stalls, or enjoy a meal in one of many cafes and restaurants.
The Ride
A week out from the ride in 2014 the weather was forecast to be only six degrees and raining, but as the event neared things looked slightly less gloomy. By the time we lined up for a start it was cool but cloudy. What do they say about fickle weather in Melbourne? Four seasons? I think it's the same or maybe even more so down here. We wound up riding in partly cloudy conditions through the morning and the afternoon was warm and sunny! Pack some warm gear just in case.
The starter called riders to the line for briefing, and shortly after the bunch rolled out. Everyone soon found their place and settled in to their own rhythm, some talking with friends, others obviously keen to leave their mark on the event. As with all rides like this you can make it as tough as you like simply by pushing a bit harder. Conversely, making the ride easier by going slower only works to a point, beyond which you'll be walking; and some took that option 18km into the ride on the slopes of Mount Misery. It's a decent grind of around three kilometres at an average of 6%—but with scenic distraction to offset any unpleasantness.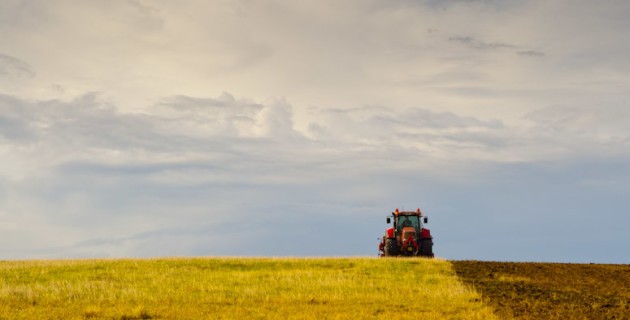 There's a feel of community involvement with locals volunteering to marshal the course or dress up for a bit of fun, like the trident wielding, red satin clad Devil who spent the morning taunting riders and cavorting on the upper slopes of Mt Misery.
Misery is followed shortly after by a sudden burst of anger on Andersons Inlet Road with its 1.4km of 7%. But there's no time for dismay … you're out on your bike in some of the most spectacular countryside Victoria has to offer. It really doesn't get much better than this! The views here and riding experience are good for the soul … farmhouses tucked into stands of trees, dams dotting the gullies and Friesian cattle grazing the paddocks across rolling green hills.
Throughout the ride the road surface was typical of Australian country roads … bituminised blue metal, coarse and fairly dead, but in good repair. Club racers and regular bunch riders will find the course fun and moderately challenging—testing if you are looking to set a good time. But the constant undulations will be enough to take the wind out of your sails if you've not done some distance in the weeks or months prior. It isn't called the Bass Coast Cycle Challenge for nothing. If you're a solo rider it can become fairly lonesome out there with enough road for one rider per two kilometres, and given the loop course you might potentially face a hard slog into headwinds at some point. So it could pay to get neighbourly with those alongside you in the early stages, so you can take turns in the wind later on.
The long course has a couple more climbs in store for you, most interestingly the five kilometre climb on Dalyston –Glen Forbes Road at the 70k mark. And of course there's plenty of descending to match the climbs. Beyond this the road continues to roll along and gradually flattens for the picturesque coastal run back into Inverloch.
The event is well coordinated with full medical and mechanical support en-route, there is electronic timing, refreshment stops and professional photographers along the way.
85KM COURSE PROFILE

121KM COURSE PROFILE

Register for 2015!
Entries are limited so don't wait around, book in early. All 53, 85 and 121km riders receive a jersey to mark the event. Don't forget to register before October 26 to have your ride jersey mailed out before the event!
www.basscoastcyclechallenge.com
Ride For Ryda
The Bass Coast Cycle Challenge started in 2011, to raise funds to provide an education program for the local community based around road safety and cycling awareness. Rotary Youth Driver Awareness (RYDA) program is a charity aligned with the BCCC, which has to date put over 1,000 year 11 and 12 students through the RYDA program. These are people who are approaching that crucial time in their lives where they start to drive independently or are travelling as passengers of novice drivers. As father of a son about to get his P's and daughter soon to begin on her Ls, and having been through the early days of driving myself with some near misses, I'm very aware of the risk thye'll face; I applaud the work the Rotary movement is doing in this field.
Down Time
Down time in a busy life is a precious thing, and getting away with family or friends to ride an organised event is a great way to regroup and recharge. A bit of R and R and being able to withdraw even just for a day or two from the demands of work pressure, the financial goals, deadlines, office politics, and external competition … you know what they say "all work and no play …".
My wife enjoys the whole vicarious pre-event planning process, researching accommodation options, places to go, things to see before we actually head off. So a weekend away in the lush Gippsland region and specifically the Bass Coast of Victoria around Inverloch and Wonthaggi was something to look forward to. We both love a good road trip; travelling through the countryside experiencing different terrains like heading south through the wide open farmland on the Monaro Highway south of Canberra, or diverging into the expansive beach and estuarine networks around Marlo and Lakes Entrance, or cruising the lush pastures near Rosedale is a favourite way to unwind. Coffee or lunch in small town cafes, or taking a break just to stretch the legs. There's plenty of time in the car chatting, laughing, and reconnecting with the people who are important in your life.
Where to Stay
There are plenty of accommodation options in the township of Inverloch. From premium accommodation options at RACV Inverloch Resort to campgrounds, bed and breakfast offerings and holiday houses. With Bass Coast Cycle Challenge taking place on a Saturday it's a fantastic opportunity to combine your ride with the perfect family getaway. We stayed at the RACV resort, one of the sponsors of the BCCC, in one of their spacious modern cabins that looked out over Andersons Inlet and Bass Strait. These are very comfortable and well appointed, with modern kitchen and bathrooms, a gas fireplace, double glass doors that open out onto the veranda and provide that brilliant ocean view. It's a short stroll down the hill to the resort restaurant or along the boardwalk through the wetlands to the beach.