Peter Maniaty decided to test ride the local bike share program during a recent work trip to Taichung, Taiwan. And he lived to tell the tale.
U-Bike. U-beauty.
Roughly 120km south of Taipei, Taichung is Taiwan's second biggest city, mostly flat, and very rideable. The local bike share program, U-Bike, is readily accessible with docking stations across the city and, assuming you enjoy a thrill or two along the way, a great way to explore this eclectic and fascinating city. Getting your bike is simple. Just find your local docking station, pick a bike and enter your credit card details at the U-Bike kiosk nearby. They'll take a 2000NT deposit (AUD$100) which gets refunded as soon as you return your bike later at any U-Bike docking station. Cost-wise, it's pretty cheap, as are most things in Taichung. Up to four hours is 10NT per 30 minutes, that's roughly $4 an hour.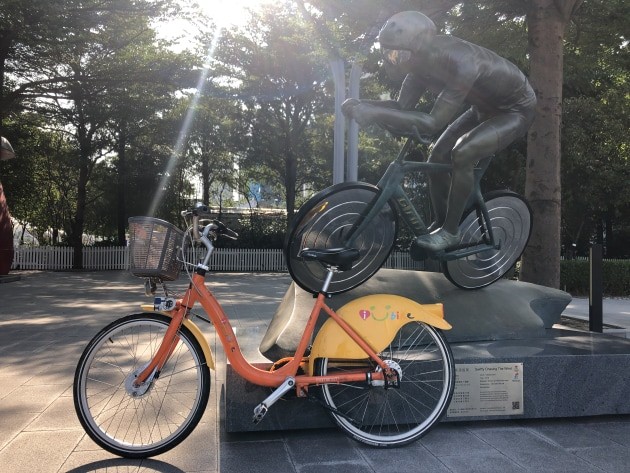 Solid Urban Commuter
The bikes are made by local Taiwanese mega manufacturer, Giant – although curiously mine had quite a few Shimano components – and are pretty much what you'd expect from a bike share program, robust and functional. While a little heavy they were still surprisingly manoeuvrable – very handy given the undercurrent of chaos that constantly surrounds you – and most importantly the brakes were good. The three gears on offer were also more than adequate for the local terrain. There's even a cable lock if you want to hop off and do a little sight-seeing by foot.
A Super-Busy City!
Not long into my three-hour cruise it became clear riding in Sydney has prepared me well for this place. Anything goes in Taichung, so you certainly need to keep your wits about you. Helmets are entirely optional as, it seems, is obeying the road rules. On the flip side, the locals are very welcoming and, unlike Sydney, genuinely don't want to punish you for being there. Just show a little caution and courtesy and you'll be fine.
Oh, and if I could give you only one word advice, look LEFT!! In an act of self-preservation I stuck to the footpaths as often as possible, and mostly no-one seemed to care. On a couple of occasions, however, I'd clearly strayed into 'no cycle' areas and was greeted by security people shouting and waving their arms, not in anger mind you, more a mild panic at the idiocy of this strange foreigner before them. i.e. me. A quick smile, apologetic wave and all was good again. On my way.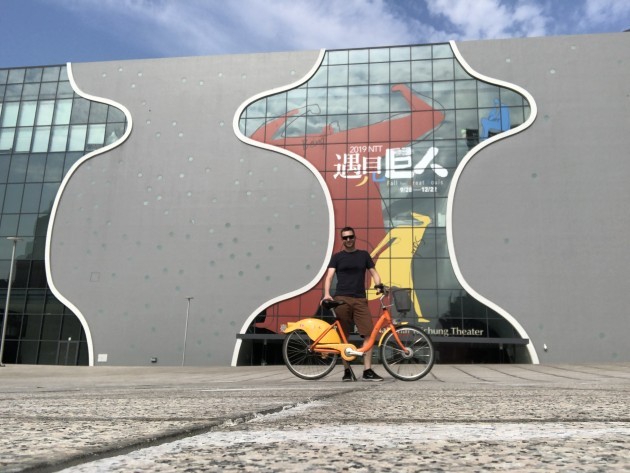 Perfect Way To Sightsee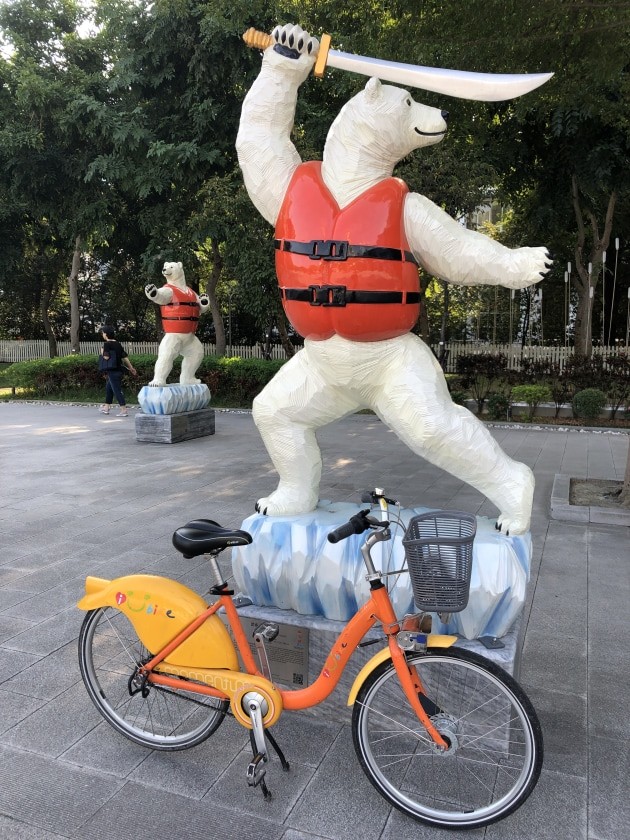 One of the things to be aware of in Taichung is the footpaths are not only for pedestrians, they also seem to function as moped paths at times, so be careful with that. They also tend to stop without warning, vanishing before your eyes, which can necessitate a little improvisation. On more than one occasion, for example, I found myself carrying my bike down sets of stairs and over monsoon-sized gutters that seemed a little too deep to safely bunny-hop, especially on a bike weighing in the vicinity of 20kg. With so many of the main sights, and even more hidden gems, within 5km or so of the city centre, U-Bike is the perfect way to get around Taichung – especially coupled with every tourist's best friend, Google Maps. Give it a try if you ever come here. Just remember…look LEFT. You're welcome 😉
More details at www.youbike.com.tw/intro.html
Peter Maniaty travelled to Taichung courtesy of TAITRA (the Taiwan External Trade Development Council) and TAIPEI CYCLE 2020, which runs from 4-7 March, 2020.