Mastering the cut and thrust of criterium racing's gladiatorial demands is a finely tuned act of magic, and Anthony Giacoppo is one of the finest short circuit wizards in the land; here he shows us inside his box of crit tricks.
Criterium racing is without a doubt the sharp edged sword and glitzy showpiece of road racing. It's an all or nothing, blood and guts discipline that demands the utmost in bike handling skills, intense high-end physical powers and nerves of steel.
For many of us these short-length circuit duels are where we first cut our bunched bike racing teeth; they could be considered to be at the very core of the sport – worldwide. Be it an early morning park battle or a cobbled Belgian nocturne, criterium racing is a huge part of many of our racing schedules and mastering these short-circuit shockers is crucial.
Crits can range from 45 minutes to more than two hours in duration, but the intensity rarely varies; it's eyeballs out from the raising of the flag. With such intensity it's vital to prepare thoroughly; mentally, physically and technically—there is very little room for error.
During the past few years, WA's Anthony Giacoppo (fondly known as 'AJ') of the Huon-Salmon Genesys Wealth Advisors team has made a name for himself as one of the best sprinters and criterium riders in the country – a skill that earned him the national criterium title back in 2012.
The Perth fast-man is a prime product of the thriving and competitive WA race scene, which has produced many of our top pro riders in recent years. With a few ounces of luck on his side, he will be on the road to the big league shortly.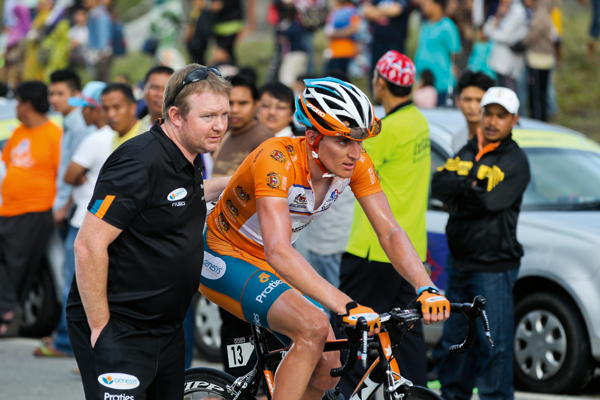 Hold on tight and pedal hard to grab the wheel of AJ as he takes us on an all-out ride of guts for glory on the twisted and intense criterium circuit, showing you how he masters the art in the process.
Rolling Stock
"There's nothing really different that I do to my regular road bike set up for a criterium that isn't done for any road race – just make sure that everything is spot on and working, as the gears and brakes are going to get a lot of very fast action.
"One thing I do pay attention to is my tyres – or rather tyre pressures. Conditions (both road and weather) have to be taken into account and I decide on this after riding the circuit. If it's wet, I do ride a slightly lower tyre pressure and I always prefer a little less pressure in the front tyre (5-10 psi less) as it doesn't carry the weight quite as much as the rear.
"Your position on the bike is important too, as it's an aggressive style of racing and you will need to be able to pretty much stay on the drops for the whole race, so you need to be comfortable with that."
Speeding Up
"With quite a busy racing schedule these days I don't get too much chance to put in specific crit training – my regular training and racing takes in the high end physical and technical demands needed. That said, I do make sure I do some fast sprint efforts on a regular basis.
"But, when I first started out my coach had me doing a lot of high-end interval training. It wasn't too technical, straight up and down a stretch of road doing 12-20 second flat-out sprints, turning around and doing 40-second wind downs. I did these for up to 30 minutes a time, and I would recommend anybody to do a fair amount of high intensity work before considering riding crits – it's flat out the whole way and very intense, especially coming out of corners, and you need to be used to that repetitive high end effort."
Around the Bend
"One thing people don't often pay attention to in training is cornering, which is an essential aspect to work on for crit racing.
"Circuits can be very tight and technically demanding, and you have to be able to really push things in and out of corners and hold your position – especially before a sprint. It's pretty cut and thrust, and if you don't push things in training you'll be way out in a race, and races are often won and lost in and out of the corners."
Fuelling the Beast
"With the racing being pretty intense it's not easy to eat, or even drink during a crit. It's important to fuel up well in the morning, or at least I like to do things that way. On the start line I often take a couple of energy gels and am sure to drink enough.
"If it's a long race, and many NRS crits are, I will carry a bottle, maybe even a gel, and drink when I get the opportunity."
Firing Up the Engine
"I'm not someone who really does a lot of warming up for a race, I keep my efforts to a cruise around, maybe four or five laps or so.
"My usual approach is to try and get to a race with plenty of time, and then go out and do a few laps alone, come back and prepare whatever I need to do, and then to go out again with my teammates. This gives a better feel of how and where to ride, we also use that time to talk tactics and plan how we'll race.
"During my pre race laps I look out for any potential hazards; manholes, potholes, drains, grit on corners, road markings. As a sprinter I make sure I have a good idea of where I want to hit out from too; where the last corner is in relation to the finish and where I can make up ground and where others could cut in. You really do need to be aware of this.
"I like to get to the line relaxed and just chill out a little bit, because you won't be able to do that during the race – so saving my mental energy."
A Starter for 10
"During the first few laps it's generally very fast, and quite a few people will attack. In most NRS crits there's a sprint with points or seconds after about six laps, and early in a race the whole field will probably be intact, and so you have to decide on what you want to do – save your legs for later in the race, or go for it early on.
"Either way you do need to try and stay fairly close to the front during this initial part of the race, in order to stay out of trouble. Things are generally pretty controlled by the bigger teams, and you'll soon figure out what's going on and formulate a plan for the race."
The Right Position
"In a crit it's always best to try and stay near to the front. It's a bit like a descent in many ways – at the front you're less likely to crash, not miss any action and you don't have to keep fighting to close the gaps like the guys at the back do.
"I like to ride in the first 10-15 wheels, that way you get a nice clear run through a corner without coming to a standstill and having to sprint out every time. And if anybody does unfortunately crash, they're probably behind you. As a sprinter I try to stay away from the front if I can, saving my legs.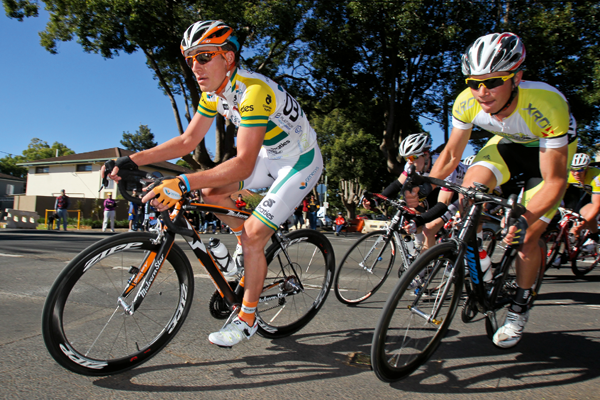 "Not holding a position and drifting back is probably the biggest mistake I see riders make; once you go too far back it's almost impossible to get back up."
Holding Your Own
"Personally I like to stay relaxed during a race, but also hold my position. There may be some riders you want to stay clear of; riders with a bit of a track record for crashing or dangerous riding.
"It depends on the race, the riders, who's who and I guess there are (written and unwritten) rules that you have to follow and be aware of (a pecking order), especially when it comes to the sprint – like not taking your hands off the bars or moving from your line.
"If the crit is part of a tour or stage race and you're leading, and getting pushed around by a non-sprinter or a rider who is not up there on GC for example, then it can be irritating. I suppose it's a respect thing and it depends if they're going for the win – but we're all there to race, and so sometimes you have to turn a blind eye and just hold that position firmly.
"In a crit it's all about position when it gets close to the finish. The risk factor can be quite high, as you have maybe 150 riders all going full-on into those corners, and it often comes down to who can hold their nerve.
"Into that final corner when there's a whole bunch of guys, you just have to find a way and go through gaps that maybe aren't quite there, hope that your tyres grip the road and that you can get around faster than the guy next to you.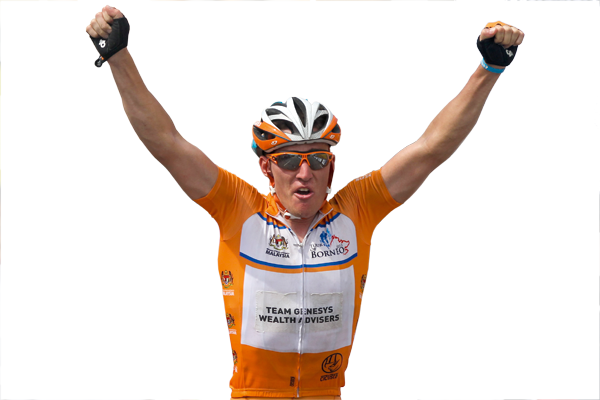 "This is all of course assuming that you're in contention – if not, you do need to hold back on the reins a little for safety's sake – both yours and the other riders."
Go In Deep
"Corners are where most incidents will happen, but they are also the best places to move up – by 'dive bombing'. If you can do it on the brakes and not the pedals you're saving a lot of energy – by deviating from the line. If you can brake later and move up inside or outside then it's much easier than pedalling for it, but you do have to be able to do this within your limits and know that it's safe for the other riders."
Get In Gear
"For a crit, I do ride a lower gear than I would normally so that I have a higher cadence and can jump and accelerate out of corners easier and faster.
"Coming into a corner I usually brake, or wash off a bit of speed and then change down two, three, maybe even four gears so that I can really crunch out of it. It becomes second nature, but you need to figure it out when you pre-ride the course and remember that."
Prime Mover, or Not?
"We only really ride crits at the nationals, the Bay Series, in stage races or NRS races and they all have different formats, which affects how you ride them.
"At the nationals and in regular crits I never go for primes; you end up with a big Mars Bar and a tee shirt! I prefer to save my legs for the finish.
"I used to go all-out for primes, but my team manger wasn't happy about us spending our energy so early on.
"In an NRS race it's a completely different story – it's a 3,2,1 points and time bonus system. It all depends on how things are going overall. In the early stages we watch other teams to figure out their tactics, and to see who's lining up for what. Usually we wait until later in the race and let the other guys use energy going for the early primes.
"Ideally I prefer to save everything for the final sprint, but in one stage race last year (The Great South Coast) I went for maybe 11 primes and took 36 seconds in bonus time, this gave me the yellow jersey which I held on to and won the GC, so it's always different."