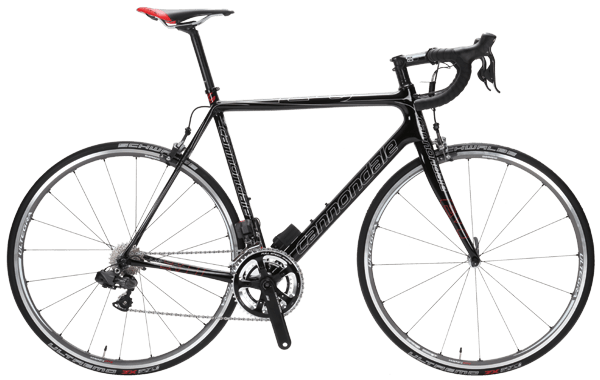 As Cannondale announce their own pro cycling team, Bicycling Australia tests their Ultegra Di2 race machine.
For many riders, especially those just starting out, the ideal bike is one that suits us in as many ways as possible. A bike that will require little maintenance and upkeep. A bike that matches our abilities and is able to take us from being a beginner to a fully-fledged addict of this amazing sport. Well, look no further. The Cannondale SuperSix EVO is that bike. It's the perfect blend of all the key factors of performance, weight, stiffness, strength, compliance, handling and aerodynamics.
Cannondale has launched its own World Pro Cycling Team this year and have chosen to use the SuperSix as their 2013 bike of choice. Although the team version uses a hi-modulus carbon, the frame shape and technical advances we talk about below are the same.
Cannondale has a huge range of road models: CAAD 8, CAAD 10, SuperSix and SuperSix EVO. SuperSix EVO sits in the top group of the stable and with it, the company has developed their own carbon construction methods known as BallisTec Carbon, which allows them to achieve very low weights without sacrificing stiffness or strength. They have also developed 'SPEED SAVE' Micro-Suspension Rear Stays. This unique gives the bike subtle flex zones which are built into the chainstays and seat stays and are designed to allow the rear wheel to track the ground, improving speed, handling and comfort. This bike is also fitted with Cannondale's SPEED SAVE fork, another technical frame development which has a 1 1/8" to 1 ¼" tapered steerer for balance of weight and stiffness. They also sport offset dropouts, which allows for more fork angle and compliance without affecting handling.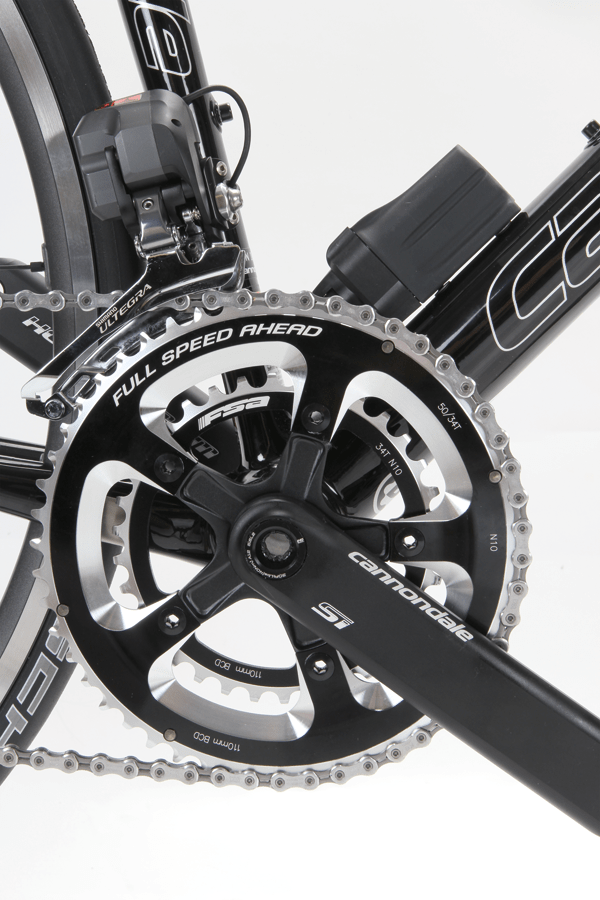 One factor that made testing a pleasure was the tubeless wheels and tyres which come standard. Tubeless wheels have been popular in mountain biking for many years, but they have been slow to gain a following in the road market. After riding the SuperSix Evo I have been converted, at least as far as a training tyre is concerned. Never once did I have to use a spare tube or pump in over 600km of testing. To anyone starting out in the sport and not having great knowledge of how to change a tube on the side of the road, these tubeless wheels are the perfect inclusion to any new bike. The wheels also withstood plenty of punishment and were more than suitable for use in any conditions. The tyres did feel a little soft compared with race tyres, but they were never an issue for the testing or requirements here.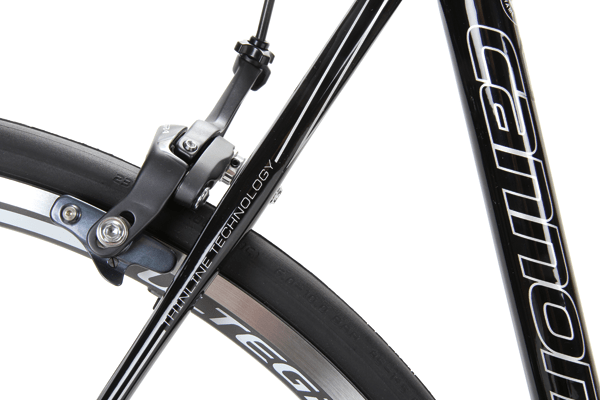 Another concession towards this bike being the ultimate all-rounder is the fact that it comes standard with two sets of chainrings, one 53/39 combo and a compact 50/34 set. This allows you to fine-tune your riding preference or be prepared for overseas holidays or days with multiple climbs. The cassette is a 12-25T, so combined with both sets of chainrings it should cover any eventuality.
With the world of cycling moving towards electronic gear shifting, having Shimano Ultegra Di2 fitted to this bike made the test a pleasure. This technology makes any gear change simple and easy and going back to mechanical gear changing was a major letdown once testing was complete. Anyone who has had the pleasure of using electronic gear shifting would know and understand the great advance this technology has made to cycling. The smoothness of the rear derailleur and knowing you will never drop the chain off the front chainrings is a comfort zone all should experience. Cannondale have included their own new Hollowgram SI Cranks with a pressfit bottom bracket and FSA chainrings, which more than met requirements. It was pleasing to see that there were no problems with the Cannondale cranks and the Shimano derailleur. They worked fine.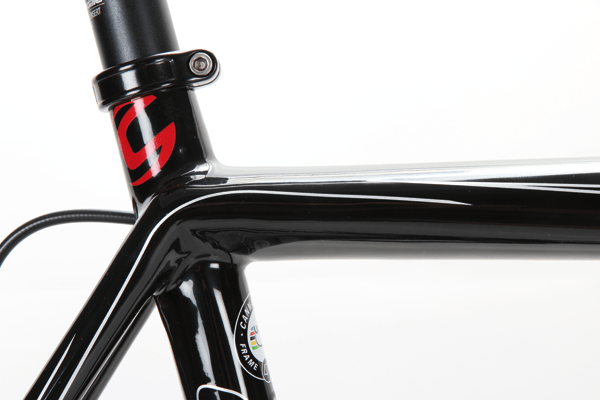 The handlebar and grip combination is another good inclusion. With the shallow drop Cannondale road bar and gel tape attached, comfort appears to be the obvious aim. The Cannondale six-degree stem combined with the generous number of spacers which come with the bike, can be adjusted to suit any height requirement.
Once set up to my liking, the comfort of the bike was superb. Its subtle flex zones were never noticeable while climbing, accelerating or sprinting, which was ideal. Also, while grinding in the big chainring over rough and uneven roads, there were never any issues with comfort or excessive vibrations which can often happen in these conditions. The fork had a little more rake than I'm used to, but it did provide extra comfort through the bars.
For a bike that weighs just under 7.2kg, its stiffness and strength was very good. The EVO always met my requirements when sprinting or accelerating hard. Climbing and descending on this bike was a pleasure and I chose some tough mountain passes to truly test its abilities. The ease of changing gears also made this part of the test a breeze. I had to go a little easy when beginning my descents as this bike does have a slightly longer wheelbase than I'm used to. This took a bit of time to adjust to, but the bike, assisted no doubt by the flex zones in the chain- and seat stays, does track extremely well.
The price tag of $5,200 is leaning more towards the upper end of the price range of bikes fitted with Ultegra Di2, but the technical advances in this frame and the small extra inclusions do add some merit. This bike will do everything you expect and more so it will be some time before you begin even thinking of another one.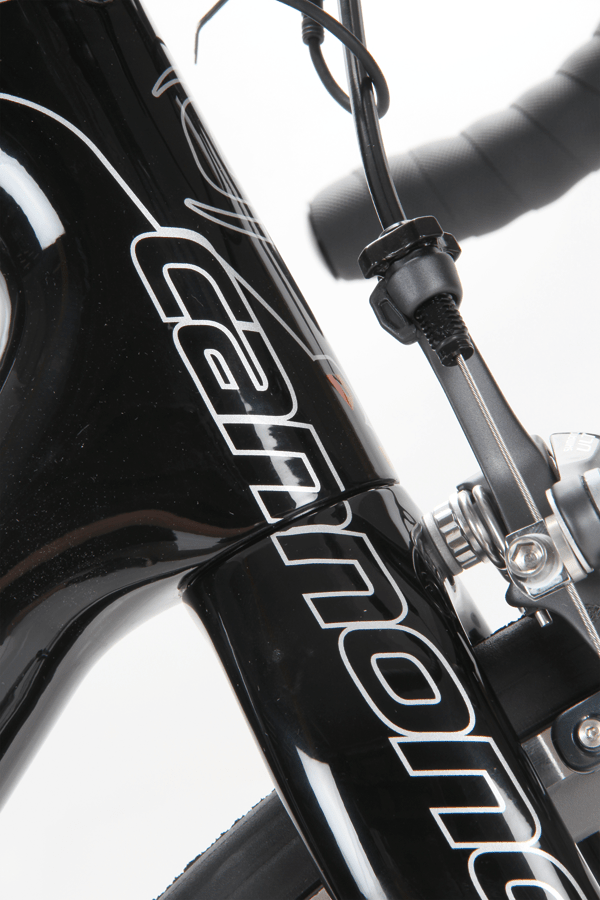 This bike comes in two colour combinations, the black shown here and also a white version. If looks are a big part of your choice of bike, which for most people they are, then rest assured – this machine looks great. So if you are looking for a bike that can suit you from your first day till race day, climb aboard a SuperSix EVO. You won't look back.
Summing Up
Quality
Cannondale bikes have always had plenty of quality attached to them and the SuperSix EVO is no different. The bike has great inclusions and has been finished off nicely. Good quality from top to tail.
Performance
The EVO has come through all testing very well and took everything I threw at it. With technical advances in its frame construction and good quality components, this bike was a winner.
Value
Value can still be considered as an aspect of this bike. It is at the higher end of its componentry price range, but you are getting an extremely good frame; the same that the pro team will use. All the latest technology and some little extras such as two sets of chainrings and tubeless wheels, this bike will still keep you happy despite the price.
Overall
A very good bike that will see you enjoying riding, forgetting about punctures while looking the part. It rides well and looks great whether you're a part-time racer or a solo warrior. The comfort levels will appeal to the everyday rider, while the performance will appeal to the racers.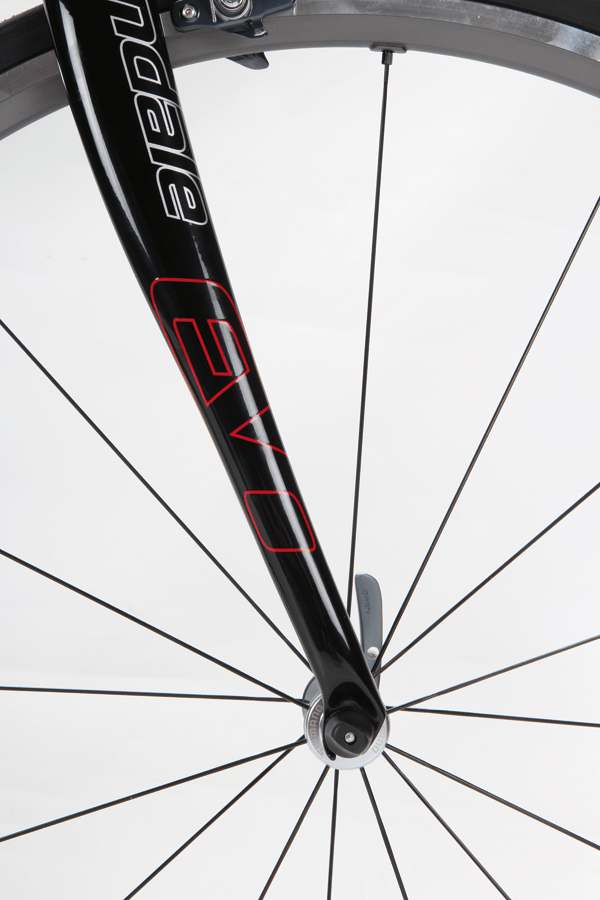 Specifications
Frame: SuperSix EVO Carbon
Fork: SuperSix EVO Speed Save Carbon
Stem: Cannondale C1
Handlebars: Cannondale C1 compact
Saddle: Fizik Antares with Magnesium Rails
Seatpost: Cannondale C1 alloy
Shift levers: Shimano Ultegra Di2 6770
Brakes: Shimano Ultegra 6700
Front Derailleur: Shimano Ultegra Di2 6700
Rear Derailleur: Shimano Ultegra Di2 6700
Cassette: Shimano Ultegra 6700 12-25 10 speed
Chain: Shimano Ultegra 6700
Crank Cannondale Hollowgram S1
Bottom Bracket: SRAM Pressfit BB30
Wheels: Shimano Ultegra 6700 Tubeless
Tyres: Schwable Ultremo Tubeless
Pedals: N/A
Weight: 7.1kgs
Price: $5,200
Distributor: Cannondale Australia
www.cannondale.com
www.cyclingsportsgroup.com.au