HTech Bikes is an Australian brand known for innovation and pushing the boundaries of wooden bike frame design and development. Recently announced, the new Juncture range has been introduced for those who want for a more affordable performance wooden bike frame.
"The Juncture is revolutionary not just for the niche market of wood bikes but also entry level road bikes," said HTech Bikes.
"(We're) bringing the comfort and performance advantages of a timber frame to more riders around the world at a lower cost. A lower price doesn't mean lower quality, the HTech Juncture comes with the same level of build quality and craftsmanship as HTech Bikes premium frames without sacrificing HTech's signature smooth performance ride characteristics."
According to HTech, the Juncture range is designed to be built as efficiently as possible while still allowing the levels of customisation expected from a small manufacturer.
"Built as the little brother of the HTech Aeriform, the Juncture shares its base geometry and some design and construction features with the Aeriform," they said.
"It's compact frame and short wheelbase leads to exceptional handling capabilities. As with every HTech since 2016 the new Juncture frame uses HTech Bikes 'Selective Carbon Reinforcement' technology creating a lighter yet stiffer frame unparalleled in its price bracket."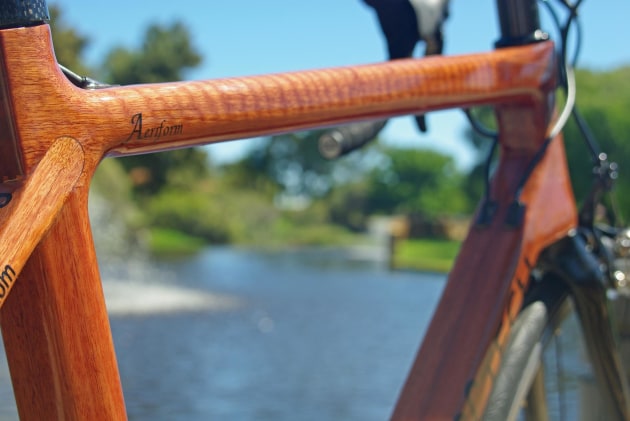 Full Jarrah Construction
The Juncture J and JX top out the Juncture range with their full jarrah construction. With the P1 made of plywood and the P2, P3 from combination of plywood and jarrah.
The P1 is the lightest in the range while the JX is said to be the stiffest and best handling of the range bridging the gap, but not outdoing the race ready, premium Aeriform. The Juncture frame weighs in at 2.5kg. Jason Francis of HTech Bikes says a current 'show build' Juncture with SRAM weighs in at 10kg.
"This Juncture is designed to reach more riders and has been priced accordingly," Jason said.
Fitted with a standard 68mm BSA Bottom bracket, traditional headset and clamp-on front derailleur, each frame can be fitted with standard road bike parts.
The HTech Juncture can be optioned with a selection of colours including HTech Green, with clear as standard and available in 4 sizes (50cm-59cm) with multiple complete bike build options. All frames and complete bikes can be purchased directly from the company with the JX frame available from $1975 and P1 frame from $980. The HTech Aeriform is available from $4120.
HTech bikes will have on display the Juncture J and new AF Aeriform at the Handmade Bicycle Show in Melbourne being held on April 27-29.