Now I don't for a minute claim to know everything. I am married, and I have a wife who constantly reminds me of how little I do know. But I thought I had a pretty good handle on bike brands, be they the common ones, the bespoke ones, or even the downright rare and exotic ones but I will have to confess to hitting Google when I heard I was going to be testing a Macini. I was surprised to find that the name dates back many years but doubly surprised to find that it was an Aussie brand from South Australia. The brand seems to have been in its heyday in the 80s a time when most cities with a riding scene would have a multitude of frame builders and each builder would have their loyal customers and groups or clubs who would gravitate to their brand. This would tend to ensure that many brands were seen in abundance in a particular area but were often a rarity too far from the builder's factory. So, being a Sydneysider who hasn't spent a lot of time in South Australia I'm claiming that as my excuse for not having come across the Macini brand before.
The model delivered to me was the Macini Criterium, which according to their website is one of three basic configurations on which their various iterations are built, the other two being the track frame and the road frame. As soon as you put a name like "Criterium" on a bike there are immediately certain expectations put on that frame. Most Criterium races come down to a bunch sprint where getting as much power as possible effectively to the ground is the ultimate goal. Therefore, it is expected that the frame be capable of utilizing every watt generated by means of a stiff and responsive frame. A cursory glance over the Macini Criterium reveals that it falls in line with what one would expect of a frame designed for maximal power transfer.
The down tube and top tube appear to be much more voluminous than is the case on many current range bikes and the seat stays certainly buck the trend for spindly, minimalist stays by opting for seat stays that are about 30mm in width. The junctions of these tubes also appear to have been given some substantial reinforcing with the seat tube junction, bottom bracket junction and head tube area all carrying plenty of carbon and the fork is suitably sized to fit in with the rest of the package. All this, combined with some decent legs, a bit of training and a dash of luck should add up to you being able to blow the doors of your competition at your next Criterium right? Wrong! One thing I didn't mention is that this is the Macini Criterium Disc Brake model, which means at the moment you can't use it in any sanctioned race and currently that won't be changing anytime soon.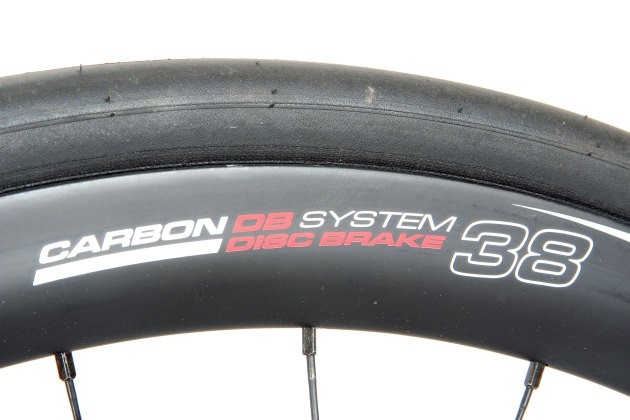 For a minute let's pretend we live in a wonderful world where car drivers respect our right to be on the road, it never rains on your bike rides, there is always a tailwind and the UCI have realised that the 6.8kg weight limit and banning disc brakes is a silly idea and should be done away with immediately. In this magical world (in which I am also super fit and have a killer sprint) I would be able to squeeze every last drop out of myself and be sure the Macini would make the best use of it. I would be able to throw the Macini Criterium into corners knowing its stiff and responsive front end would track truly and the SRAM hydraulic disc brakes would allow for a consistent braking response.
For those not familiar with road disc brakes, and I will count myself among this group, the idea of greater stopping power seems like it is unnecessary, and for the most part this is correct. Any decent groupset currently available will afford you more than enough stopping power to pull your bike up as quick as need be, or on the odd emergency occasion, possibly quicker than you are prepared for. What disc brakes bring to the table is better consistency in all conditions, better feel throughout the lever stroke and less effort required to activate and hold that stopping power. That becomes evident on long descents where you try and modulate speed by dragging the rear brake. By doing this from the hoods on standard brakes the power available and the sustained hand strength required make this a difficult task whereas the hydraulic levels don't require nearly as much effort, so can be easily activated from the hoods. Granted this is not a common scenario and could easily be overcome by using a bit of front brake but it does demonstrate the advantage of hydraulics.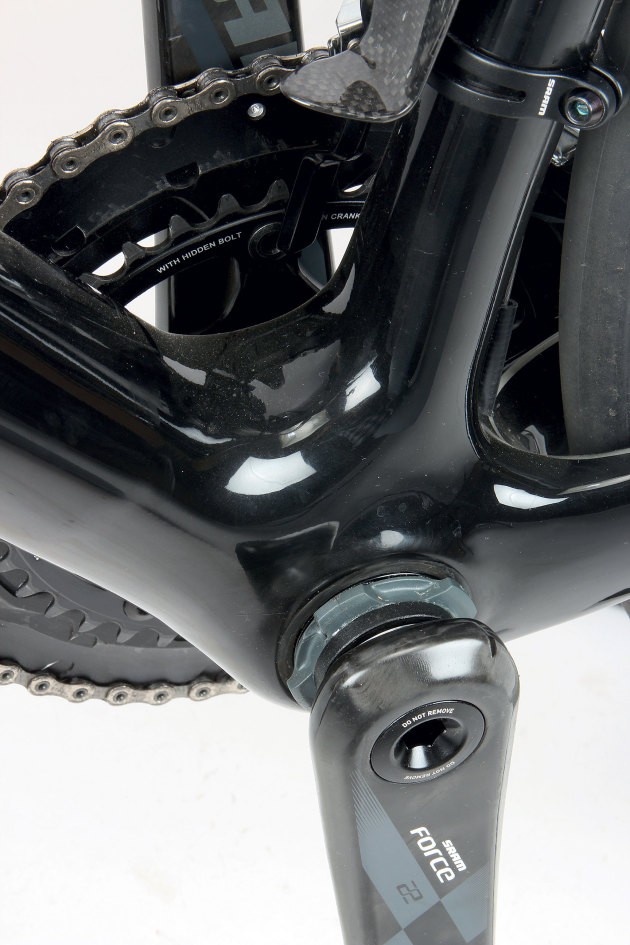 SRAM's workhorse Force groupset works as you would expect, shifting flawlessly throughout the range. The hoods of the hydraulic shifters do have a slightly different feel to the standard shifters. The SRAM hydraulic shifters are taller to accommodate the hydraulic reservoir and bleed valve and also are longer than standard shifters which does increase the overall reach of the bike which needs to be taken into consideration when getting fitted to your bike. Having hydraulics however does come with a slight drawback on the Macini. The visible hydraulic lines especially on the fork take some getting used to after the clean lines of internally outed cables featured on most current bikes.
The Macini rolls on Irwin wheels, another Australian brand. The 38mm carbon, hand built wheels roll nicely and freewheel with a distinctive tune thanks to the 6 pawls and 60 ratchets in the rear hub which are said to give quicker engagement. The braking surface of carbon wheels, in this instance, is of course a non-issue due to the disc braking system and the wider rim coupled with 25mm Schwalbe One tyres provides a quality ride.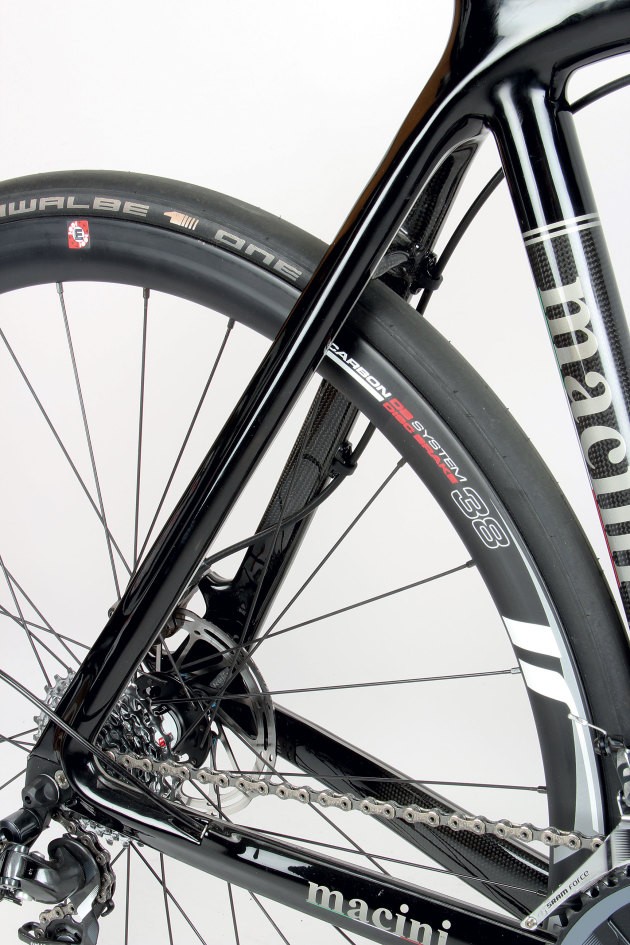 The Macini certainly looks the goods, the retro styling is a nod to the frames heritage and the gloss finish makes it easy to maintain. The downside of high gloss finishes though is that it can highlight the slightest imperfections and in the right light the seat stays where they adjoin the brake bridge do show some signs of rippling in the carbon under the clear coat. Not a structural issue, but a light distraction from what is otherwise a well finished bike.
The finishing kit consists of stem, seat post and cages from Macini's own brand "Prophecy" which were very capable. The stem is reminiscent of a Zipp sprint stem and certainly falls in line with the Criterium theme. The bars are 3T's Ergosum LTD, a premium bar and my own personal choice so it made feeling at home a little easier.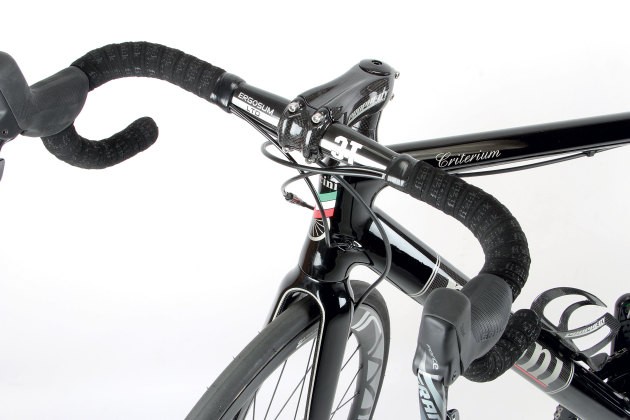 Macini said they created the Criterium Disc to show that they were on top of the technology and were keeping up with the times, while still producing frames with a classic appeal. Whether or not the Criterium was the right frame to choose to apply disc brakes to with the current regulations is really a moot point as Macini pride themselves on customising each bike build to the customer's desired specification.
Having said that, with the summer Criterium season in full swing, I would have enjoyed being able to put the race legal Criterium Classic with its rim brakes through its paces in a race setting. The training miles on the disc version indicated it would be a great race track performer and with its classic good looks you'd stand out even if you didn't podium.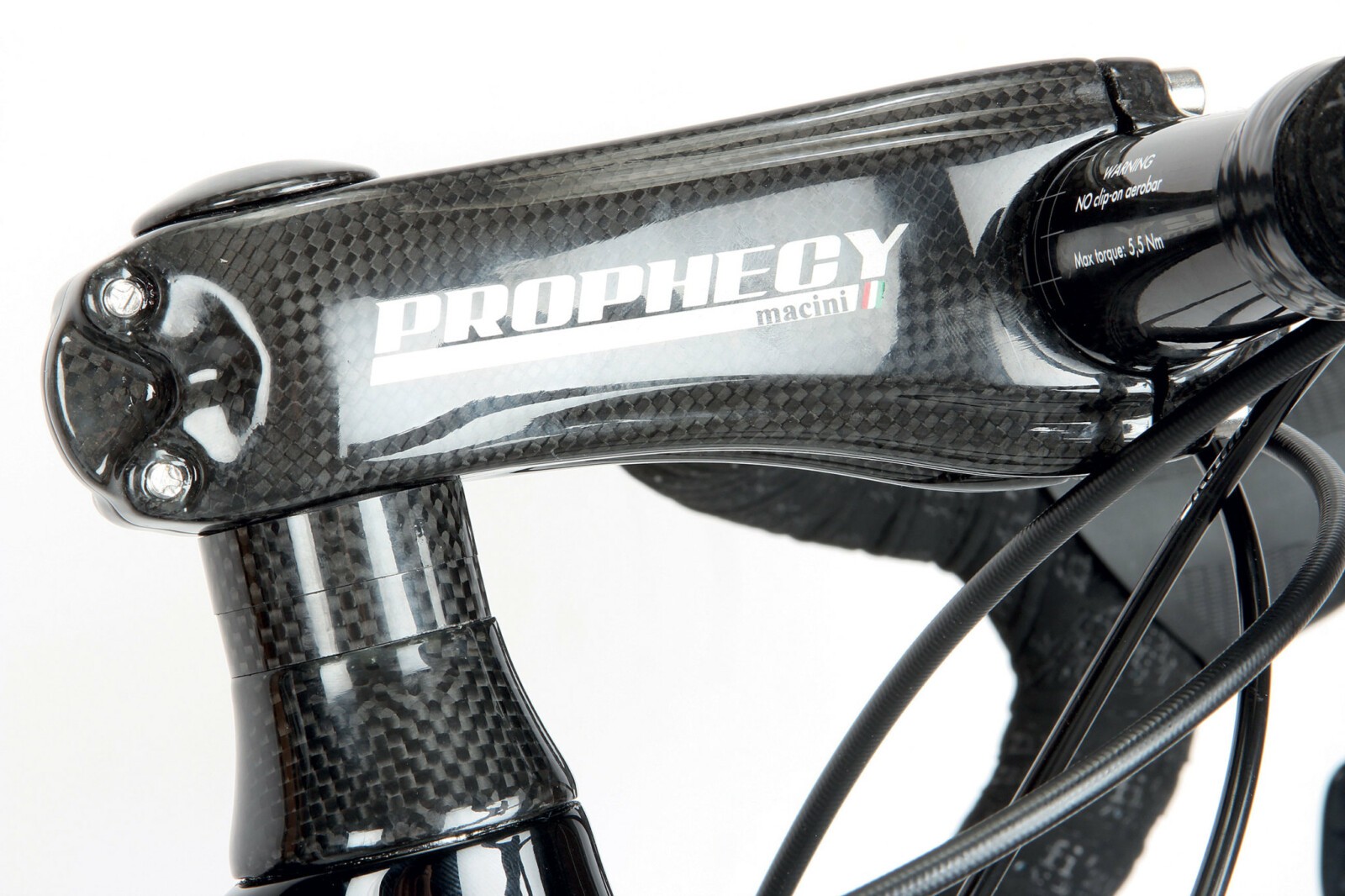 Summing Up:
Quality
While it may seem harsh to say this is a race bike you can't actually race, it is true, unless you are racing your mates to the coffee shop. However if you like the racy feel of a crit style bike but don't feel like pinning a number on then the Macini could fit the bill.
Performance
The Criterium performs as you would expect of a Criterium bike, it is stiff fast and sharp. Long days in the saddle are not its forte, but those hat enjoy a stiff responsive ride will enjoy the feel of the Criterium.
Value for money
On face value at $6499 the Macini is a lot of money for the component set on offer. Macini say that for that money you are getting a more personalized service than you would get by buying "off the peg", how much you value that proposition compared to buying a mass production frame from a normal bike shop is something only you can value.
Overall
Classic styling, a modern frame and the brakes we will probably all be using in a few years. The Macini will stand out in the crowd and give you an air of exclusivity but at a bit of a premium.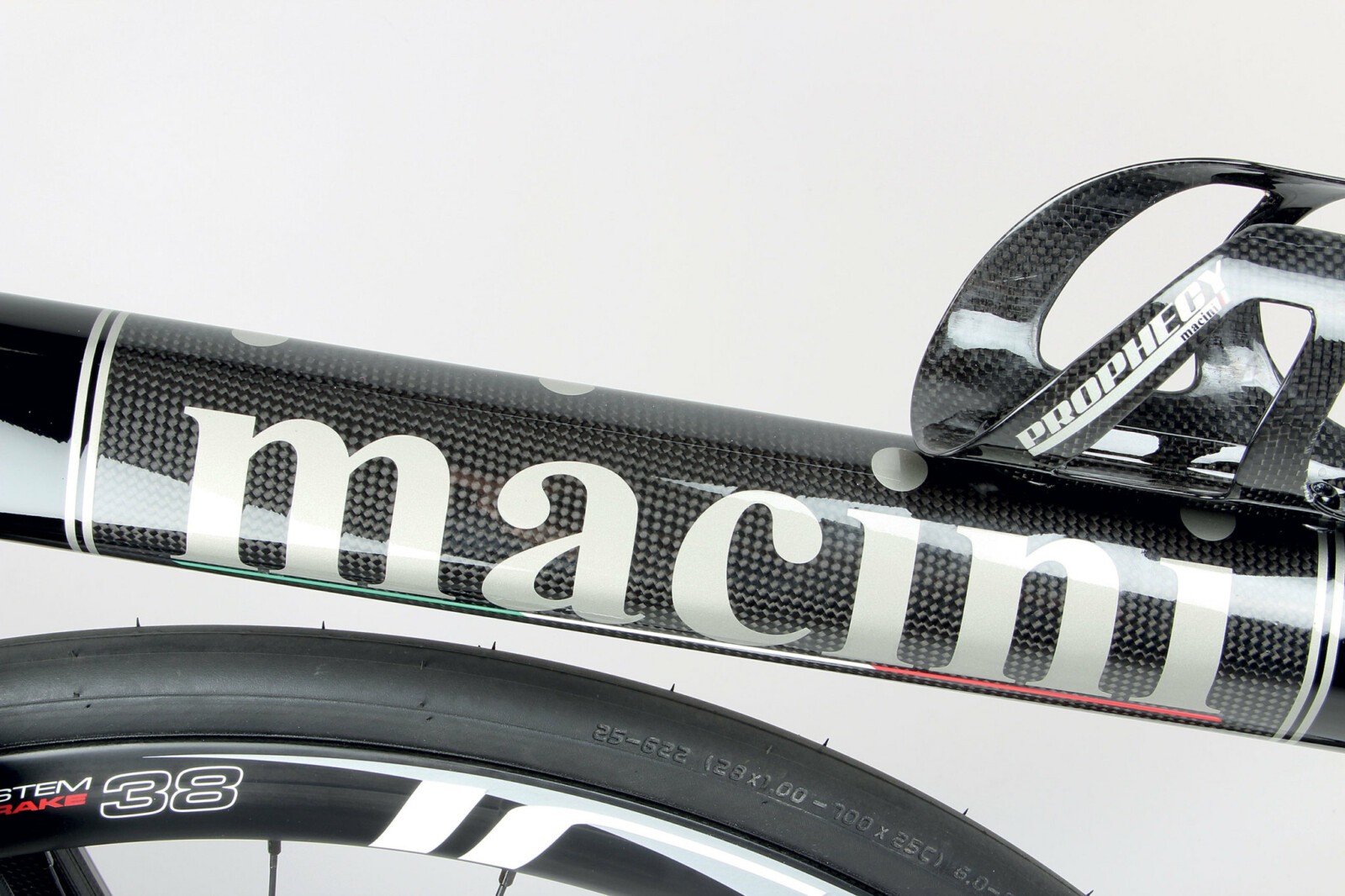 Specifications
Frame: Macini Criterium Carbon
Fork: Macini Carbon
Head Set: Integrated
Stem: Prophecy Carbon
Handlebars: 3T Ergosum LTD
Saddle: Prologo Nack
Seat post: Prophecy Carbon
Shift Levers: SRAM Force Hydraulic
Brakes: SRAM Force Hydraulic
Front derailleur: SRAM Force
Rear Derailleur: SRAM Force
Cassette: SRAM 11-28
Chain: SRAM
Crank: SRAM Force 172.5
Bottom Bracket: BB30
Wheels: Irwin full carbon ICW-38D clincher
Tyres: Schwalbe One 25mm
Bidon Cag:e Prophecy Carbon
Pedals: n/a
Weight: 8kgs
Price: $6499.00
Distributor: Macini
www.macinibikes.com