When it comes to finding one of the most nutrient dense, protein rich superfoods, in particular for busy athletes, eggs are one of the cheapest and easiest to prepare protein-rich foods that can also be enjoyed for breakfast, lunch and dinner!
Nutritionally eggs are among the most nutrient dense foods available not only offering high biological value protein but also more than 20 other essential nutrients including iron, zinc, selenium, iodine, Vitamin A, folate, the brain boosting nutrient choline, and lutein and zeaxanthin, two powerful antioxidants known to reduce the risk of developing macular degeneration.
Despite this extensive list of key nutrients, eggs have copped a beating and been limited in many a diet with concerns raised about their effect on blood cholesterol levels. The good news is that the belief that eggs increase blood cholesterol has finally been dispelled – it is now known that it is the overall nutritional profile of the diet, along with an individual's lifestyle choices and their genetics that are more likely to have a direct impact on an individual's cholesterol levels. In food terms this means that we can all enjoy an egg or two every day without any negative health consequences.
Perhaps the greatest benefit associated with eating eggs, in particular eggs for breakfast is the direct and indirect impact they have been shown to have on weight control. A couple of eggs teamed with a slice or two of grain based toast contains close to 20g of protein. It is this amount of animal based protein which provides the body with plenty of leucine, the amino acid directly involved in regulating insulin levels in the body. The more tightly we control our insulin levels, the better it is for weight control and appetite regulation – indeed this may explain why we feel full until lunchtime when we have tucked into a hearty egg based brekkie.
There is more and more research available to support the benefits of including eggs as part of a healthy diet and in place of other breakfast choices. A study published back in 2013 in the European Journal of Clinical Nutrition found that an egg based breakfast increased fullness and resulted in a lower calorie intake for the remainder of the day compared to a breakfast cereal or croissant breakfast. Nutritionally it is thought that it is a lower carbohydrate load associated with eggs and toast for breakfast, along with the fact that egg breakfasts are up to 80% higher in protein than other bread and cereal only based breakfast options that gives this effect.
For an athlete while a couple of eggs offer almost 20g of high quality protein, another key reason they are a great choice nutritionally is that you can often include extra vegetables and salad as part of any egg meal – tomatoes or mushies served with poached eggs; a mix of vegetables added to a scramble or even salad vegetables added to an egg brekkie wrap can go a long way in boosting our daily nutritional intake of veges, fibre, vitamins and minerals. And don't even think about throwing away the yolks! While the yolks do contain some fat, the total amount of saturated fat is relatively low while the fat soluble vitamins including Vitamin A and E are found in the yolk.
For cyclists eggs along with wholegrain toast can be a perfect recovery meal after a long ride; a great protein addition to salads or sandwiches at lunchtime; 
a protein rich snack teamed with some fruit for a mid-meal snack and a quick and easy evening meal when you are pushed for time. One of the most common barriers to preparing eggs for breakie is a perceived lack of time and the good news is that your daily egg boost does not need to take a lot of time – try hard boiling your eggs the night before and enjoying on toast mashed with avocado or teamed with some salad on a breakfast wrap; if you are super organised you can prepare mini breakfast fritttatas and heat one up each morning as you rush out the door, or even scramble your eggs and veges the night before and heat up once you get to work and enjoy with some wholegrain toast. 
It will be the best food decision you make all day and your muscles and waistline will agree.
My Favourite Egg Breakfast Recipe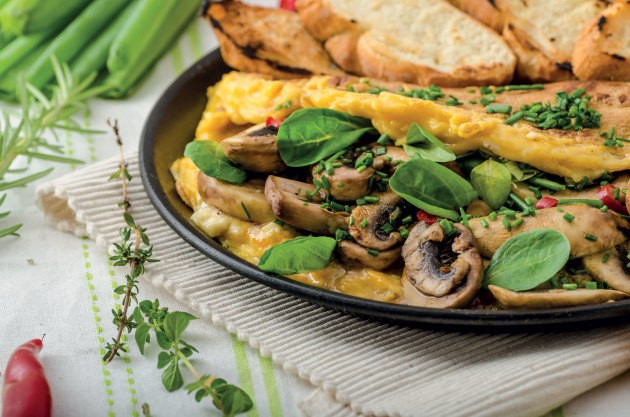 Egg Scramble
Serves 1
• 2 tsp. olive oil
• 2 eggs, lightly beaten with milk as desired
• ½ small zucchini finely grated
• ½ cup chopped mushrooms
• 1 tomato, finely chopped
• ½ red capsicum, finely chopped
• ¼ cup white cheese or grated cheddar
1) Add olive oil to pan and lightly cook vegetables for 2-3 minutes until zucchini is cooked through.
2) Add egg to mix and cook for a further 2-3 minutes until egg cooked through.
3) Add cheese and serve with wholegrain toast.