"You can bring any bike …. So long as it's made from steel, has downtube shifters, and is at least 30 years old."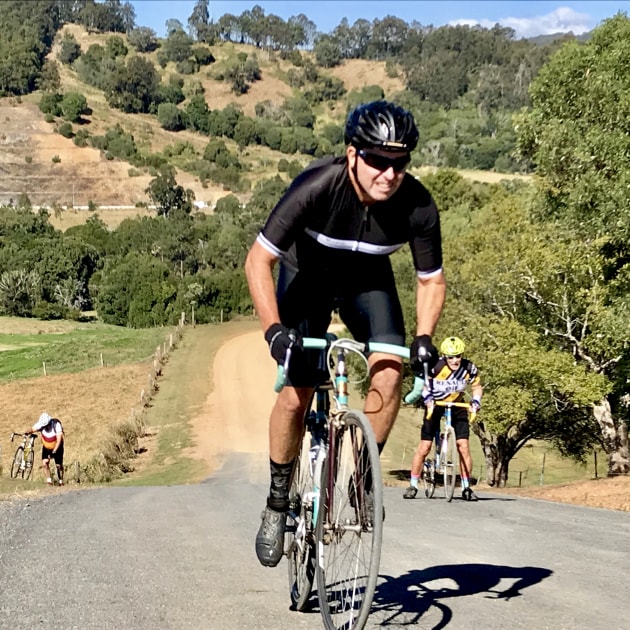 That was the general jist of the eighth annual Noosa Strada Bianche, an inspiring event held in the glorious environs on the northern Sunshine Coast on the weekend of August 11 & 12. Growing in popularity since its inception – a simple Sunday morning ride involving a few steel bike enthusiasts way back in 2010 – more than 300 people were involved in this year's get together of all things retro bikes.
Participants started proceedings with a 35km 'Piccolo' ride followed by a Show & Shine on Saturday, then the 85km Medio and 135km Fondo rides on Sunday.
Seamlessly organised by a passionate group of steel bike aficionados, group spokesman Warren Smith explained a little about how the event continues to virtually double in size year after year.
"It started with just 20 or so friends going for a ride on their retro bikes," he said. "At the end of the ride we had coffee and said 'let's do this again next year.'"
"The next year 40 riders turned up with some putting their bikes on display by the river after the ride. In the third year we had more … last year we were overwhelmed and this year it's even bigger hence the number of full bike racks we had out there today."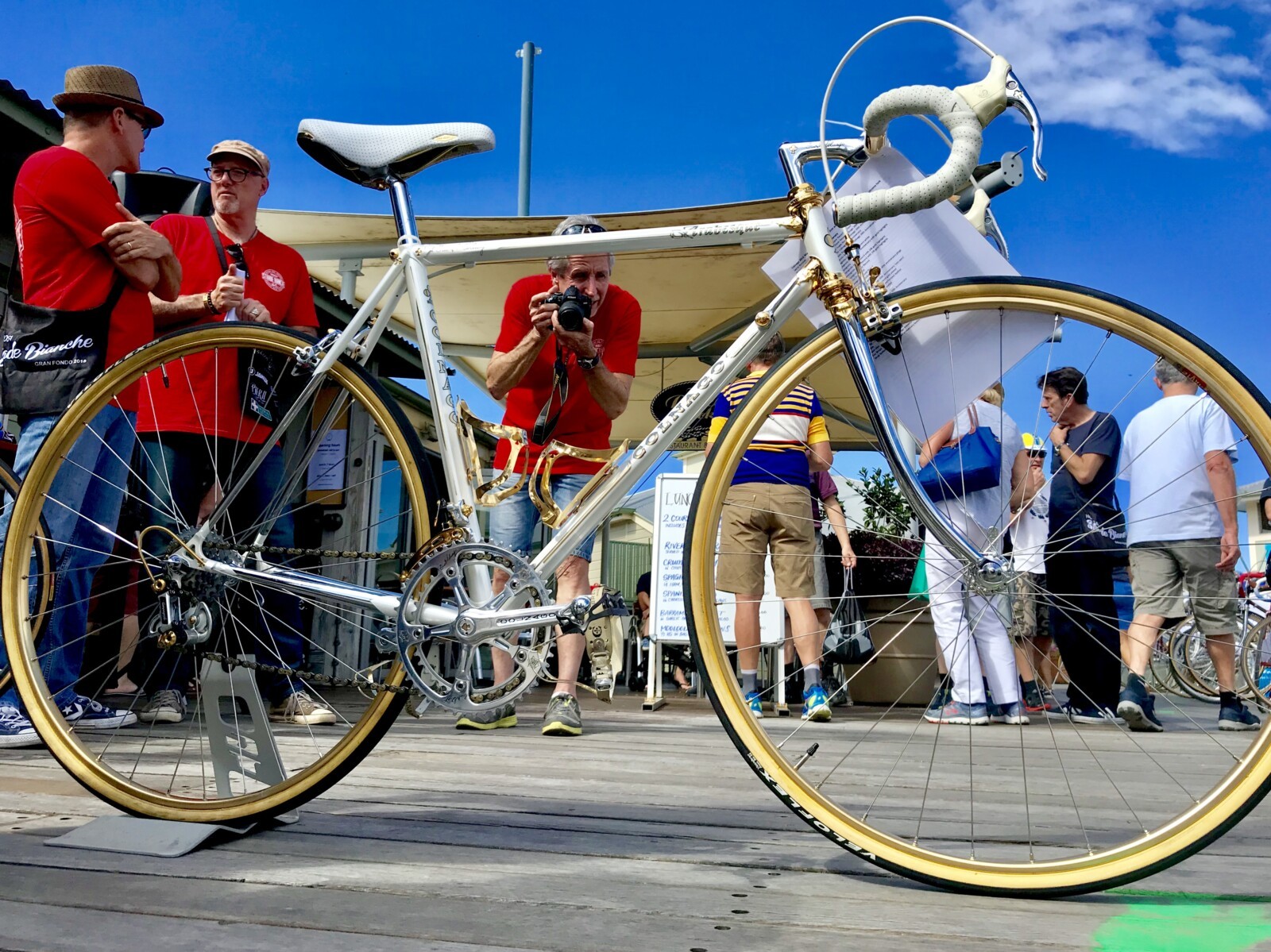 Explaining that the event is open to any steel-framed bike so long as it's fitted with downtube shifters, Warren said predominantly the bikes were built up to around 1986.
Over the years the Noosa Strade Bianche has attracted enthusiasts from as far afield as Alaska, Canada and Britain as well as all Australian cities, and after the ride on Sunday Warren said the event had a wide reach and strong following.
"The l'eroica movement is worldwide," Warren said. "They have events in France, South Africa, Japan, the UK… That's what we are trying to become a part of – l'eroica worldwide. But our contact with that organisation so far is …well we don't know if he is totally legitimate. According to the person we've been speaking to we have to pay 30,000 euros to become part of the organisation. We don't know if we are talking to the right people or the Mafia," he said with a laugh. "We're still investigating that – but that's our ambition."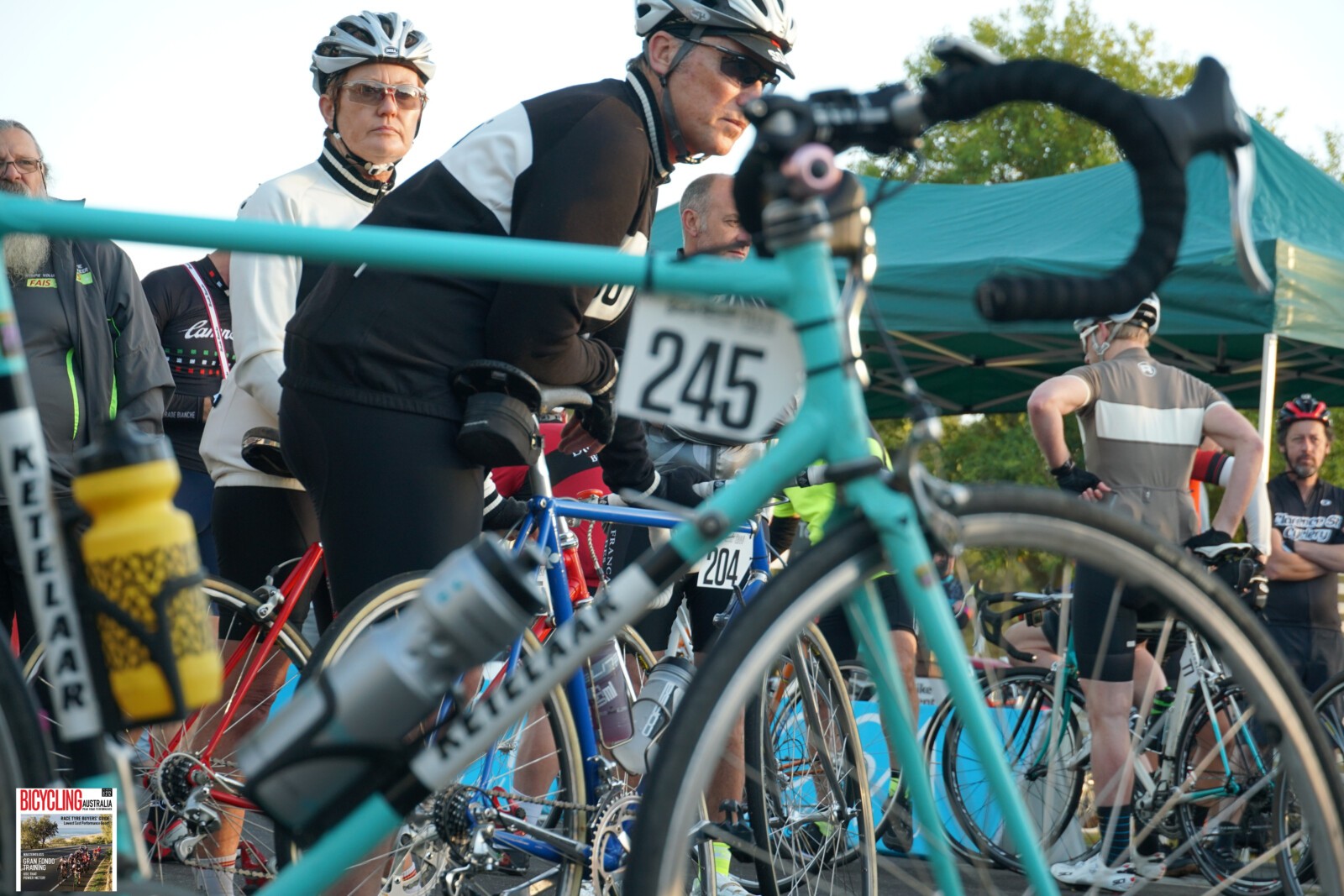 Paul Blom On The Strade Bianche
One rider who wouldn't miss the annual celebration of all things steel is 71yo Paul Blom, the respected and well-known frame builder and lifelong cyclist.
"I started racing in 1961," Paul told us after completing the 85km ride in a perfectly respectable time. "I went on to race in Europe through the early 70's, then raced right up to the year 2000. Apart from that I have been building frames for many years. Now at over 70 I did it on the climbs, but enjoyed the day a lot," he said.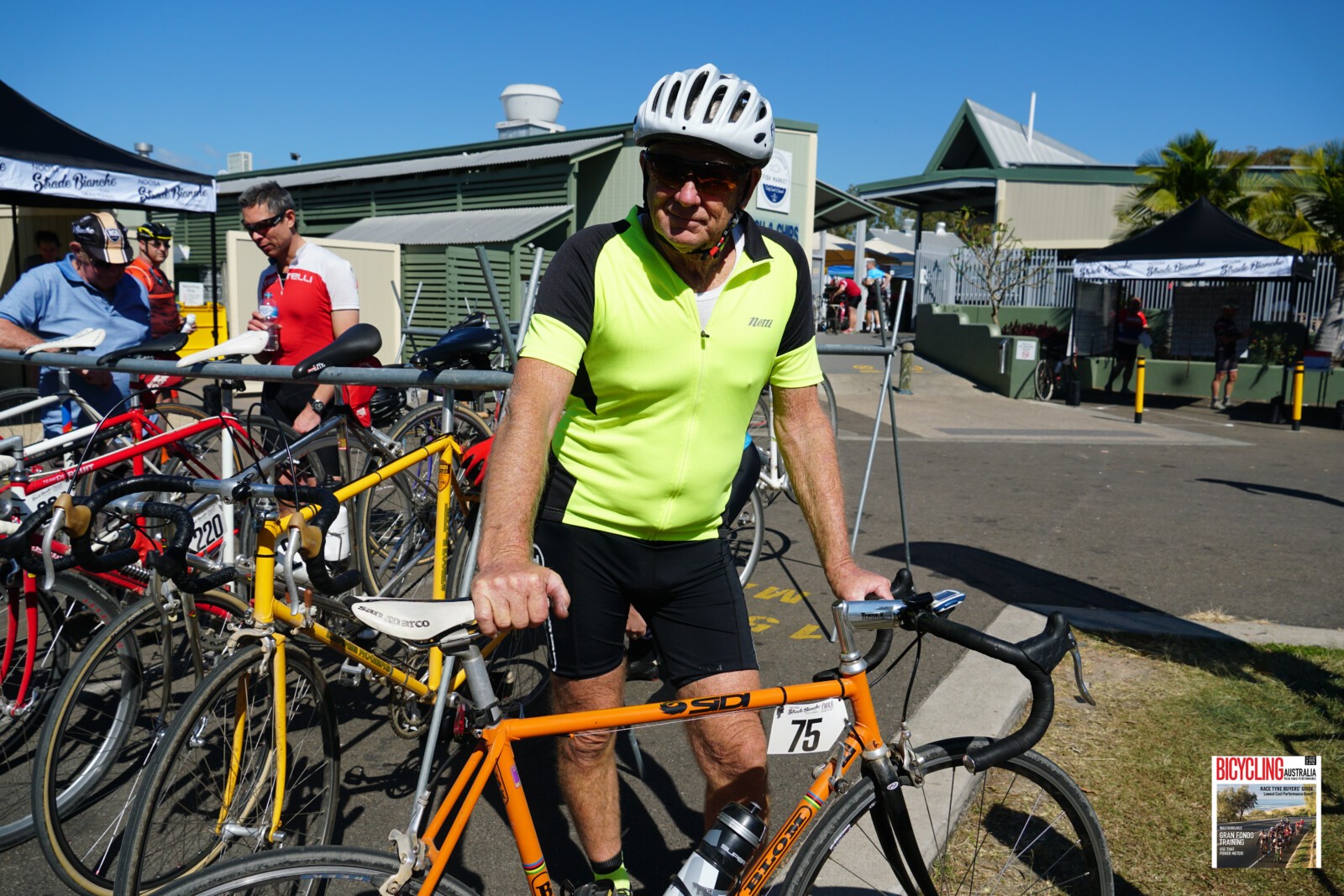 "My two sons are also riding the event this year, both on bikes I built," Paul continued. "I started building bikes in Denmark in 1971 … built them all freehand – no jigs back then. I met Jeff Scott – that was a funny story – we were both in the same bike race and he fell over in front of me. I landed on top him and we were mates ever since."
On bike handing and design – and comparing old-school steel to modern-day carbon fiber – Blom said he doesn't see too many major differences in the two.
"I find a bike handles the same as the rider is game to handle it," he said. "If you want to pull it around a corner it will go round. I do like some head angle and seat tube angle – but I don't feel a major difference in the bikes I ride."
"Overall, I think it's been a wonderful event," Paul continued as he glanced over the classic bikes. "Everything is carbon fiber these days. All these guys go home and ride their carbon bikes – and so do I – but this bike here I built it in 1973. Yes it's had most of its tubes replaced but it's still going strong."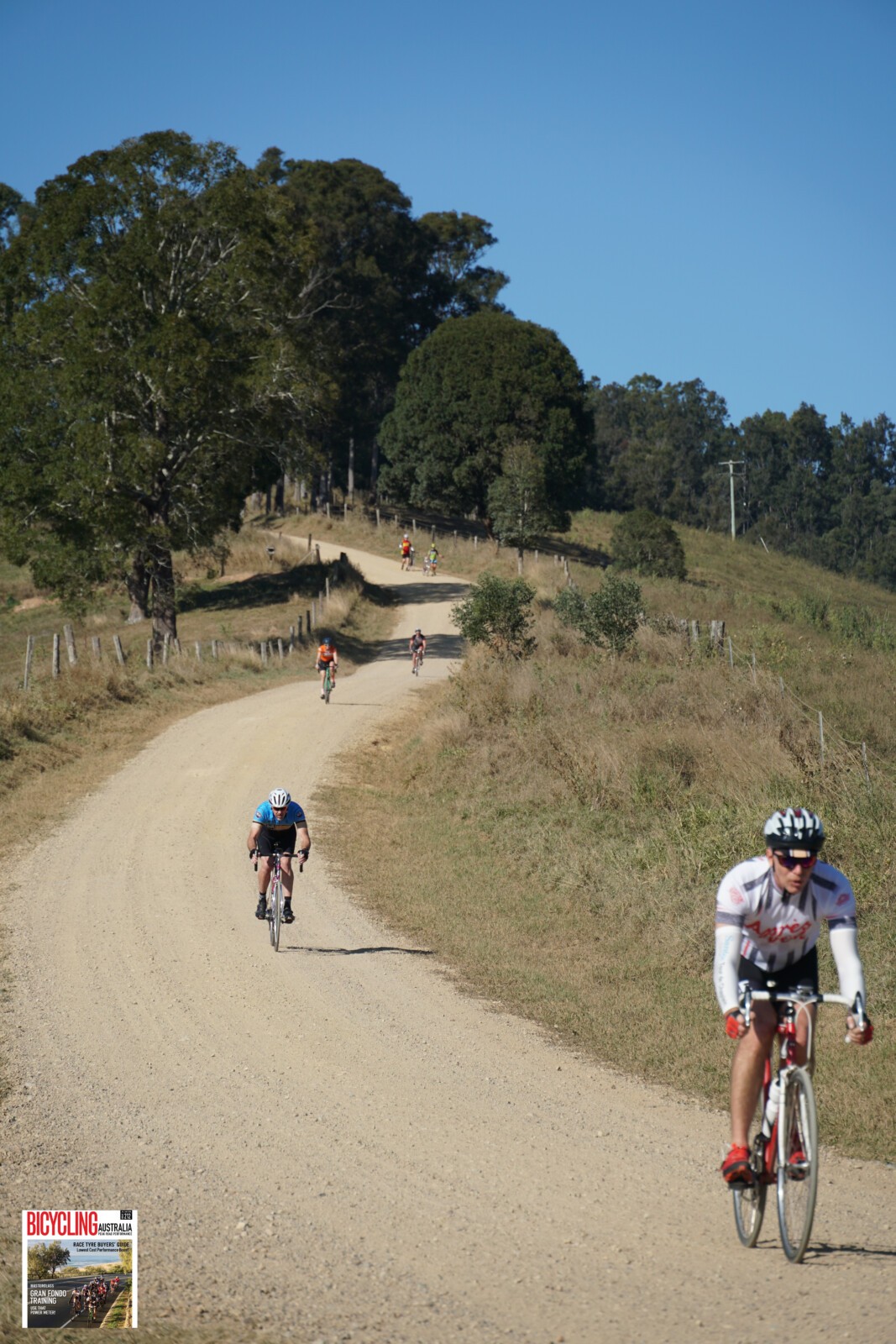 All Roads Lead To Noosa
Having ridden some of the most exotic destinations in the world thanks to his business Ride International Tours, Pat Fitzpatrick flew himself and a family heirloom from Melbourne to Noosa especially for the event.
"This was my grandfather's last race bike," he said, while showing us the classic steel Raleigh he'd just ridden 140km and climbed 2000+ vertical metres aboard.
"He ordered this from Australia in 1984, then went over to the UK to pick it up," Pat told us. "I've still got the original order with all the custom measurements specific to him. It was a very special occasion for me to ride this today – we have a long family history of 110 years in bike racing. To ride this bike here today was a truly memorable experience."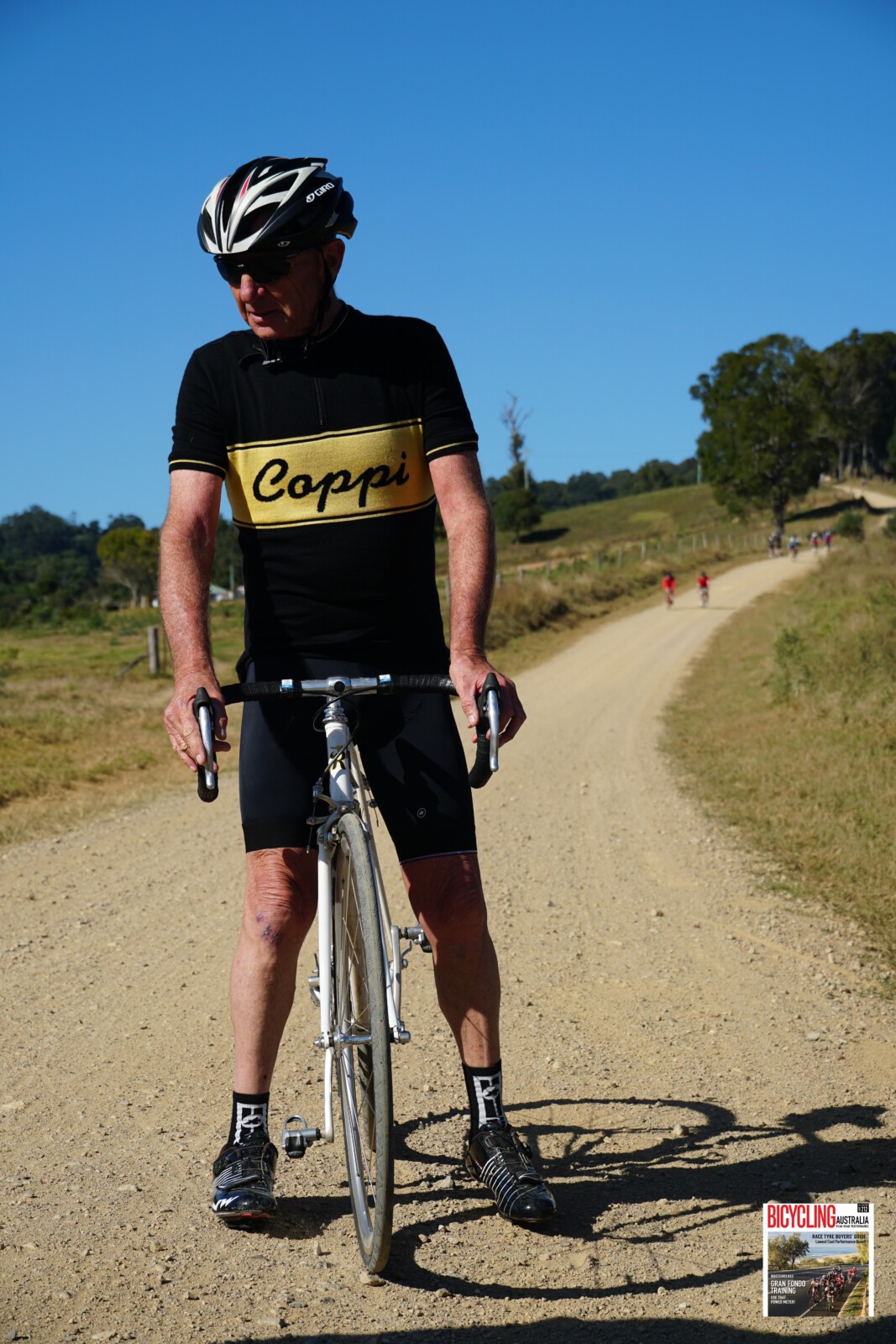 Fresh back from Europe and having ridden some of the world's most iconic roads, routes and climbs, Pat said the Noosa Strade Bianche was one of the best one-day events he had done.
"I rate it, I really do," he said while sipping a post-event beverage. "It is a really tough and challenging course – up some bloody steep climbs on those gears and especially on these old bikes – the amount of climbing and gravel and dirt – this is as Euro as it gets and that's pretty darn cool for right here in Australia."
Enjoy reading about or riding the Noosa Strade Bianche? The next Grand Fondo event for Noosa is Bicycling Australia's very own Noosa Classic on August 26. For further details on the Noosa Strade Bianche you can follow their Facebook page via this link.