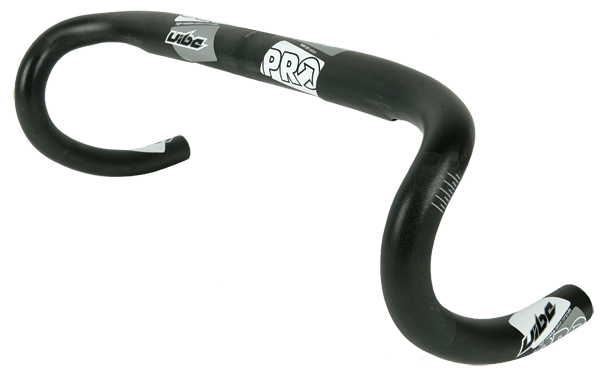 PRO are the parts and accessories line for Shimano and they make a range of products including handlebars, stems, seatposts, bar ends, tape, saddles, forks, wheels, computers and many more. The company collaborates closely with professional riders, tweaking a design here and changing something else there with the idea of making their products faster and stronger. While they were originally released to allow non Shimano drive train using teams to still use Shimano's products, they have now become parts and accessory leaders in their own right.
On test here are their new Vibe handlebars, stem and seatpost. Vibe is a case in point, being a series that has been around for some time, but regularly gets updated to be lighter, more aero, or hopefully, both. It's interesting to watch cycling fashions change. When carbon fibre first became popular it was mandatory to install a carbon weave outer wrap so that you could see it was carbon fibre. It didn't actually do much structurally, but did add a certain amount of durability. This has now changed and unidirectional is the in thing. Unidirectional is able to take a greater load than woven carbon fibre due to its filaments being aligned along its axis. A carbon strand is strongest when it is straight and this makes it perfect for items such as posts, stems and bars.

The three items on test here are partially designed to work together, if only from an aesthetic point of view. Let's begin from the most disappointing and head to the most impressive. A couple of years back we tested the original PRO Vibe carbon post and for the most part we were impressed. This new model is along similar lines, sleek, a reinforced tube and at 170g for the 350mm/27.2 version is a pretty good option. One of the features of the original post was the clamp, which, once tightened, will not move. It's smooth contact area also allows for microscopic adjustments, something that other seat clamps with ratchet style teeth do not. However, the construction of the clamp was a bit of a puzzle, being made up of three separate parts, plus the screw. Installing a saddle was difficult until you figured out how and for those struggling, the trick is to turn it upside down and use the saddle as a third hand. The real problem though, was that the clamp was very susceptible to cross threading and I was informed at the time that Shimano had received a number of these back for that very reason. This new incarnation has actually complicated things even further by constructing it with two bolts, thereby doubling the chance of stripping the thread. Sure, your saddle isn't going to move, but make sure you put the kettle on before you begin to install it. Apart from the clamp, I think it's a pretty good seatpost.

Moving onto better things now, the stem is very, very good. Made from a combination of 7000 series allow and unidirectional carbon it has titanium bolts and is available in 80mm-140mm lengths. Two things that really stand out are the triangular shape along the barrel and the front cap. As you'll remember from high school tech drawing, a triangle is a very strong shape and allows less materials to be used without loss of strength. The front cap is an interesting design, fitting over a 'latch' on the main stem. As you tighten the two bolts the cap pulls closed. This spreads the load across the handlebar surface instead of just at the pressure points. Nice.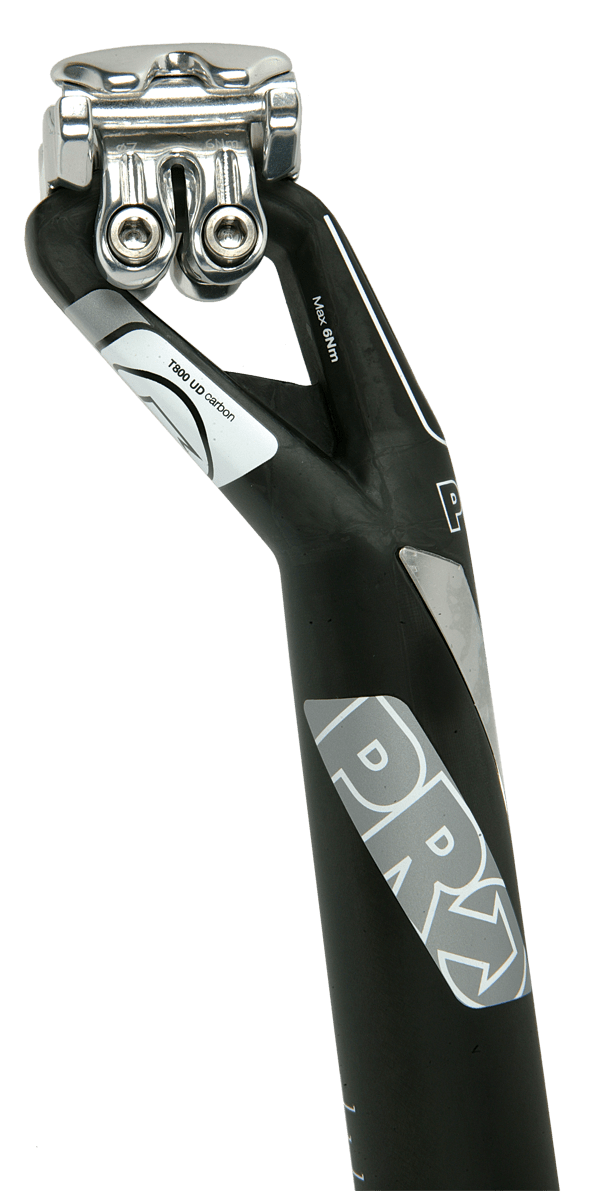 The bars are an oversize monocoque construction using T800 unidirectional carbon. These puppies are a hot looking item. They come in round, anatomic and compact bends and come in the standard 40cm. 42cm and 44cm widths. Reach in the compact versions we tested is a fairly standard 150mm while the drop is 100mm. The bars have dual cable routing and will suit Di-2. I found they gave a number of good hand options and I liked the way the oversize clamp is extended further towards the sides than many bars. This slightly mimicked the feel of flat topped bars without sacrificing grip and when they did thin out it was done gradually so there was no unevenness. Similarly the hood area sat in my palm in a natural way with no sign of pain hour after hour. Personally I am a fan of compact drop bars. They allow a much easier transition and it's no wonder we see many more of them these days. The 42cm bars on test here weighed a respectable 295g and were very comfortable throughout the testing period.
Price: Handle Bars $399
Stem $229
Seat Post: $299
Distributed by Shimano Australia
www.shimano.com.au