The most disrupted year in decades, not a lot has gone to plan in 2020. WorldTour racing stopped, trade shows were postponed and even club racing came to a complete standstill. But the major manufacturers are still releasing significant new models as we see here.
With three premium road offerings – the Emonda, Domane and Madone – Trek's product cycle for their climbing, endurance and aero platforms is three years. So, you don't need to be a maths wiz to work out that each year one model of this triumvirate of Treks enjoys a fair amount of extra attention.
It could easily be argued that a three year product cycle makes sense in many ways. It treats buyers and owners with more respect, recognises the investment put into a new bike and allows time for genuine and significant technological advances and enhancements.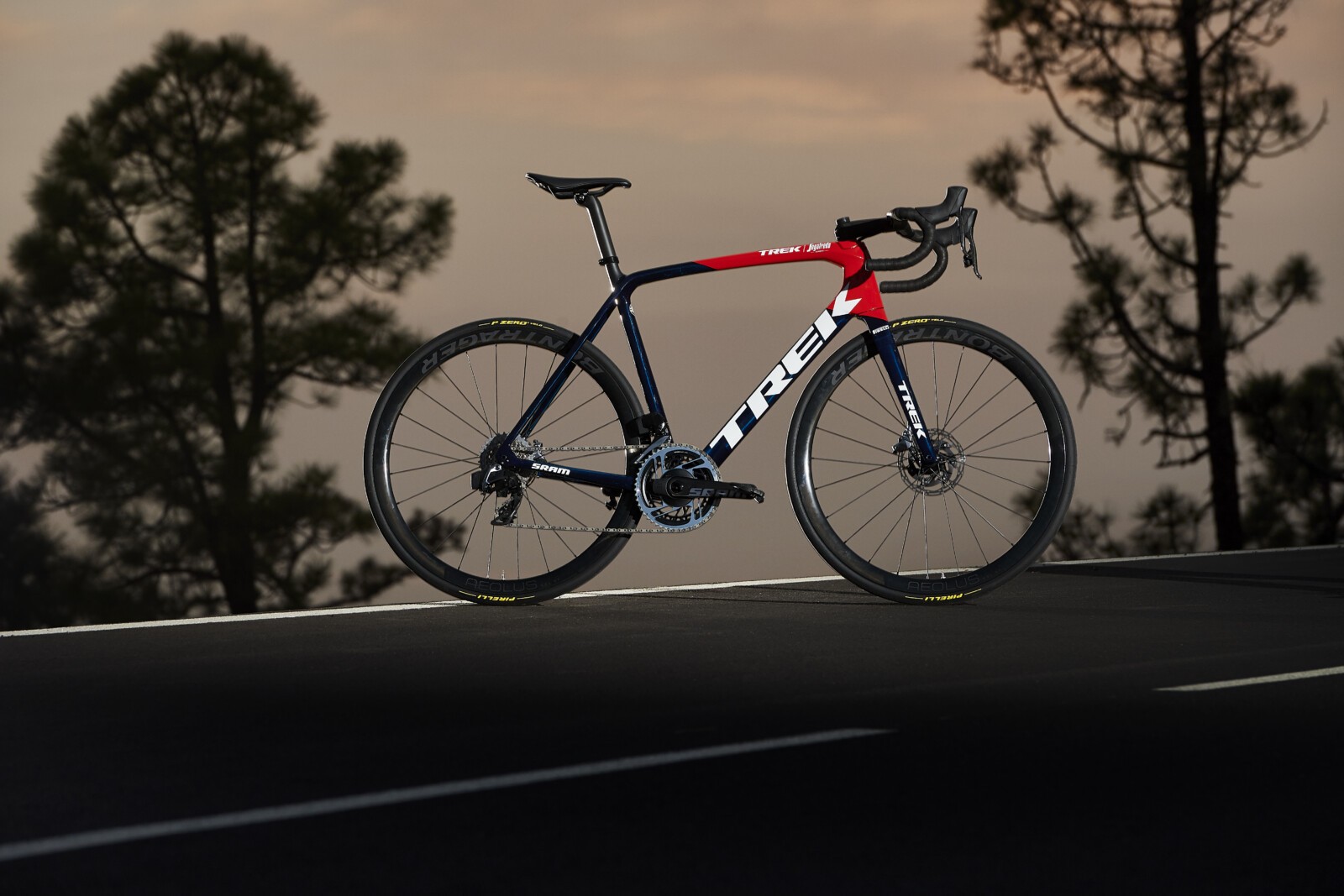 A lightweight climbing bike, the new Trek Emonda was to be launched at legendary Alp d' Huez and in time for the Tour de France. COVID-19 changed that, instead the bike was presented to the world via an innovative digital debut.
…it certainly is the most impressive all rounder and specialist climbing bike we've ridden…
An informative and interactive hour-long presentation was made via a closed YouTube channel. A few partially sleepless nights later, we picked up a top-of-the-range test rig from a dodgy car park in Mona Vale north of Sydney.
Gleaming in Trek's Project One 'Amplified Alchemy' colour scheme, the bike literally looked fast standing still. A variation of the oil slick colourway, iridescent blue on the lead edge of the fork seamlessly morphed into purples, blacks and golds through the frameset, as if mimicking the sculpted aero shaping clearly obvious from front to rear.
Lightest Emonda Yet
A true superbike (and with a pricetag to match – more about that little later), one of the first things you'll notice about the new Emonda is its headline feature of it's sub 7kg overall mass. In size 56 and fitted with the new top-level Aeolus RSL 37 TLR wheels, the new Emonda pulls the scales to 6.75kg.
Mixing a lightweight build with a truly aerodynamic frameset is a difficult balance for any manufacturer. It wasn't that long ago that aero frame design came at a cost … that being weight. But less is more, as they say, and this does appear to be the case with the 3rd incarnation of this purist's climbing bike.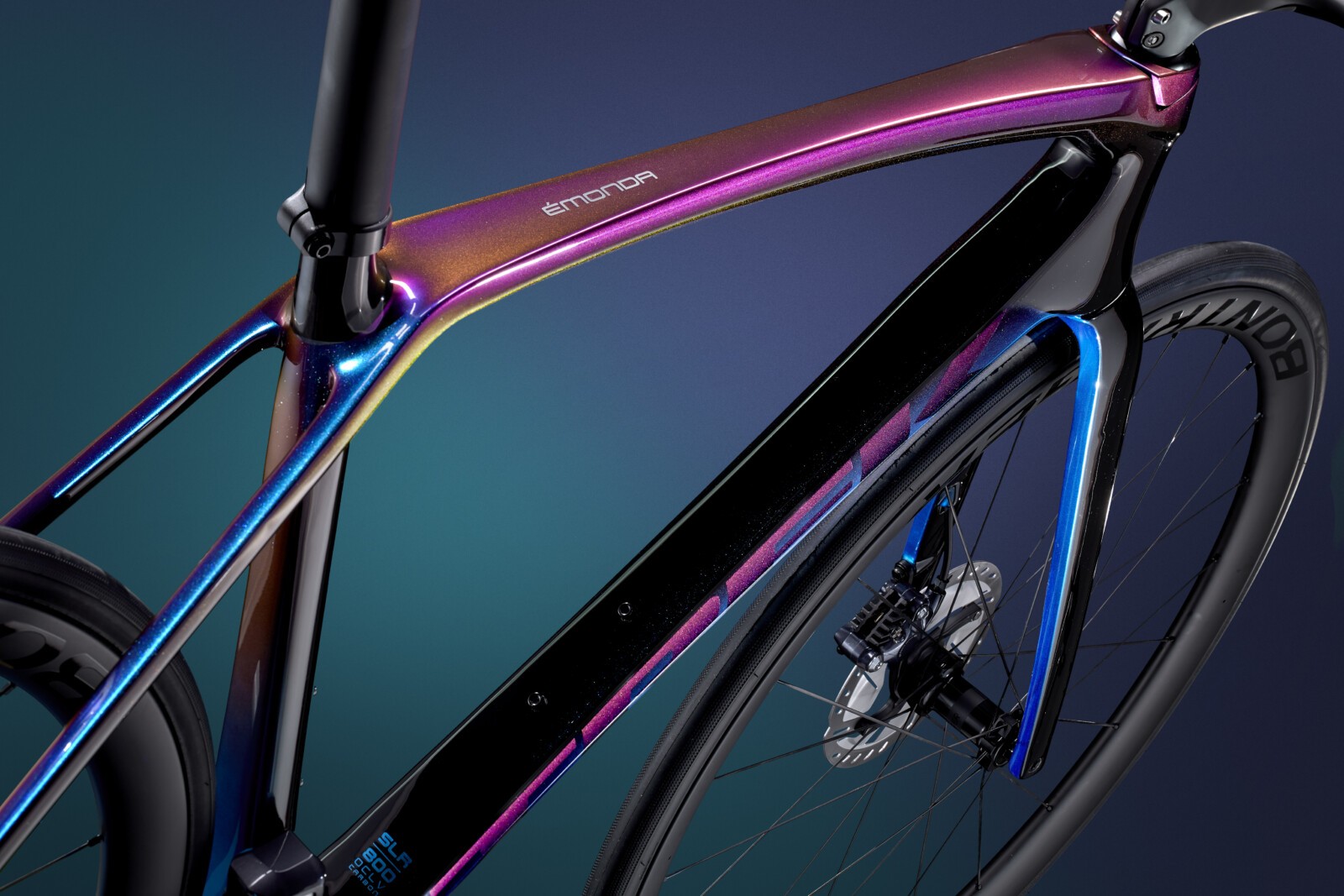 Starting with the new Aeolous wheel set, to the fork, steerer, handlebars, top and down tube shaping, right through to the seat post and rear triangle, every edge of the Emonda has been designed with aero in mind.
In comparing the bike to its predecessor and during testing, Trek measured the new Émonda SLR as 60 seconds per hour faster on flat roads and 18 seconds per hour faster when climbing an 8% grade.
That was obviously in controlled testing, but how does it translate to the road?
In a word … fast. This is a bike that accelerates hard, eats up undulations and really holds its speed. Get it on a climb and that sub 7kg build weight comes into its own – my only complaint here was regularly lifting the front wheel off the road on a particularly steep Northern Beaches 'berg.
Where's The Weight?
Replacing OCLV (Optimum Carbon Low Void) 700, the latest Emonda is based on an OCLV 800 carbon frameset for a sub-700g frame with the fork weighing in at 365 grams (less than a can of beer).
To the wheels and the aforementioned Aeolus RSL (Race Shop Limited) 37mm TLR (tubeless ready) aero wheel set pulls the scales down to a teeny 1,325 grams.
Further weight saving and aero gains are made via a new integrated handlebar design, the Aeolus carbon 1-piece bar / stem includes hidden cable routing for a slick and fast finish.
One area the weight is not saved is in the brakes – the new Émonda is available in disc brake only build.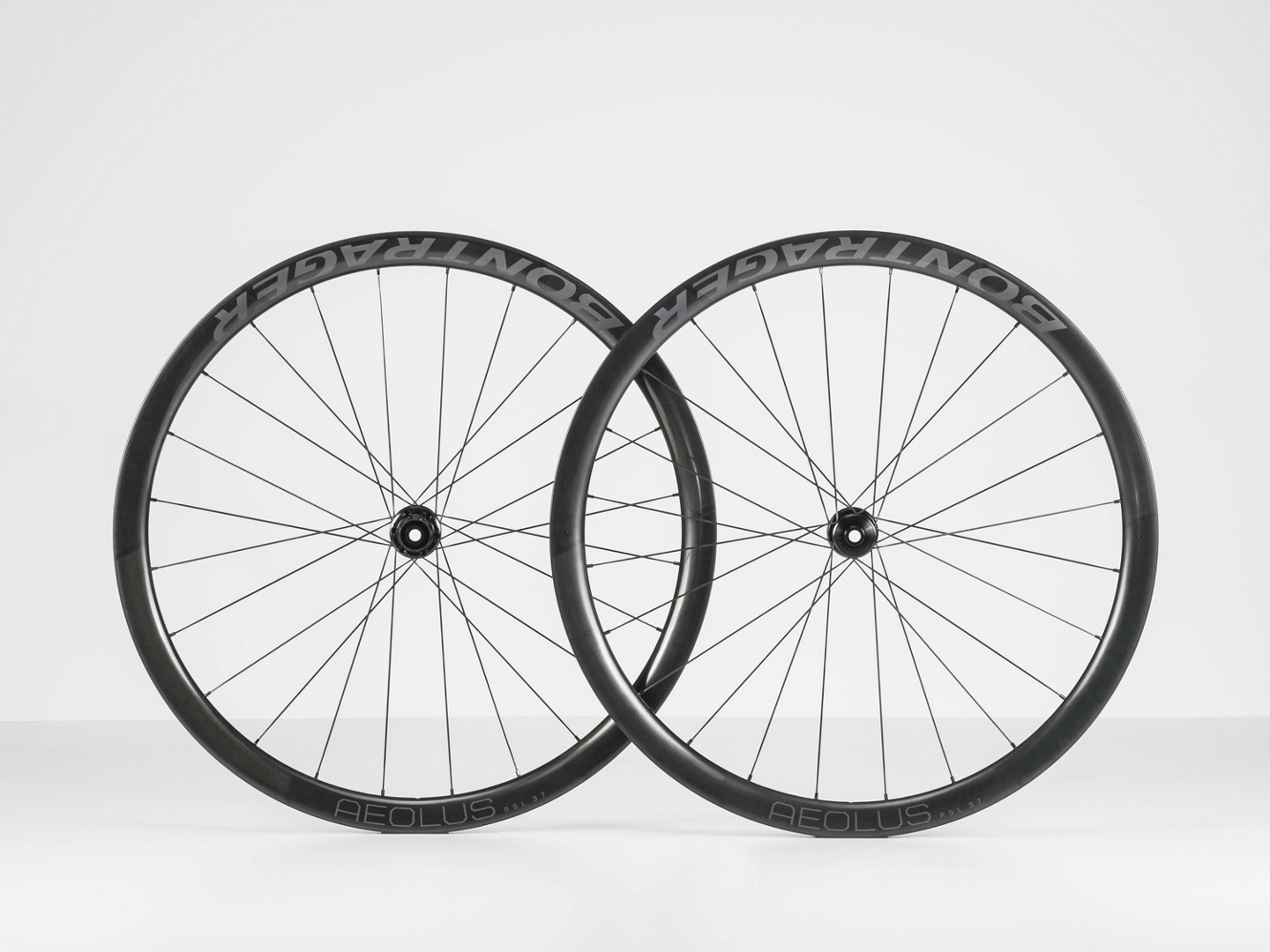 How Does It Handle?
Out on the road and you might think this stiff and aero weight weeny would bounce along like a rigid little hot hatch. With 90psi through the tan wall Bontrager Hard Case Lite R3 tyres (200grams in 25c), the ride was surprisingly forgiving.
Retaining the traditional frame design and electing not to lower the seat stays (like just about every other new bike), Trek say this assists with overall compliance and comfort. The chain stays are also thicker when compared to many other models – and the seat post extends above the top tube
again aiding comfort.
It's not #1 so far as the best handling bike Bicycling Australia have tested over the past few years, the Merckx EM 525 gets that gong, but the Emonda is right up there as 2nd or 3rd. That said, given its confidence around corners, its stiffness with much thanks to a beefy bottom bracket, it certainly is the most impressive all rounder and specialist climbing bike
we've ridden.
While on the topic of the bottom bracket – and Trek have done away with the old BB90 press-fit design. In place is the T47 threaded shell that's way less likely to creak and a lot easier to service and maintain – a smart move all round.
In addition to launching the new Emonda, Trek have released an updated Domane featuring the same OCLV 800 carbon for an overall weight saving of 450grams. And that T47 BB is also fitted to the Domane.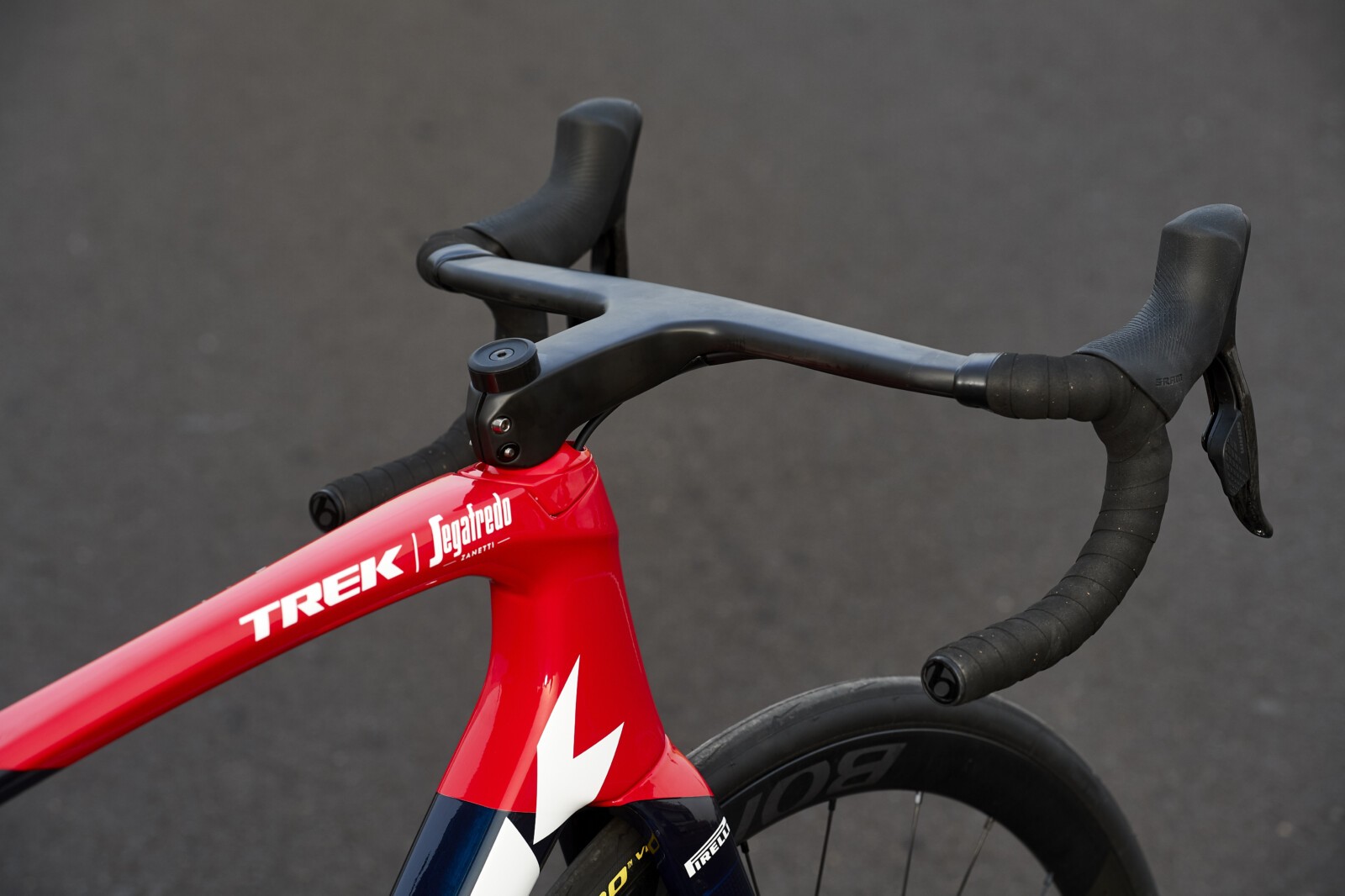 Shedding overall weight isn't all in the carbon mix, a new wheelset known as the Aeolus RSL 37's also have a fair bit
to do with it.
…The wheels feature the legendary DT Swiss 240 hubs and will spin you into the next suburb…
Targeting a broad section of the market, the range of carbon disc hoops include 37 to 50mm rim depths ranging in price from $1500 through to around $3700 for each wheelset, with available models including the RSL 37, Pro 37, Elite 35 and the Elite 50.
The top-end RSL 37mm tubeless-ready wheelset as fitted to an SLR 9 Emonda. The cream of the crop, this is as high-end as you can get. After several local rides on long flats, medium-length climbs and short, sharp hills, these wheels are right up there with the best from Zipp, ENVE and other premium manufacturers.
They feature the legendary DT Swiss 240 hubs and will spin you into the next suburb. These wheels are noticeably faster and more efficient than any other wheels we've recently ridden. This translates to smoother and better rolling, a trait that was particulalry noticable on the shorter, punchier local climbs.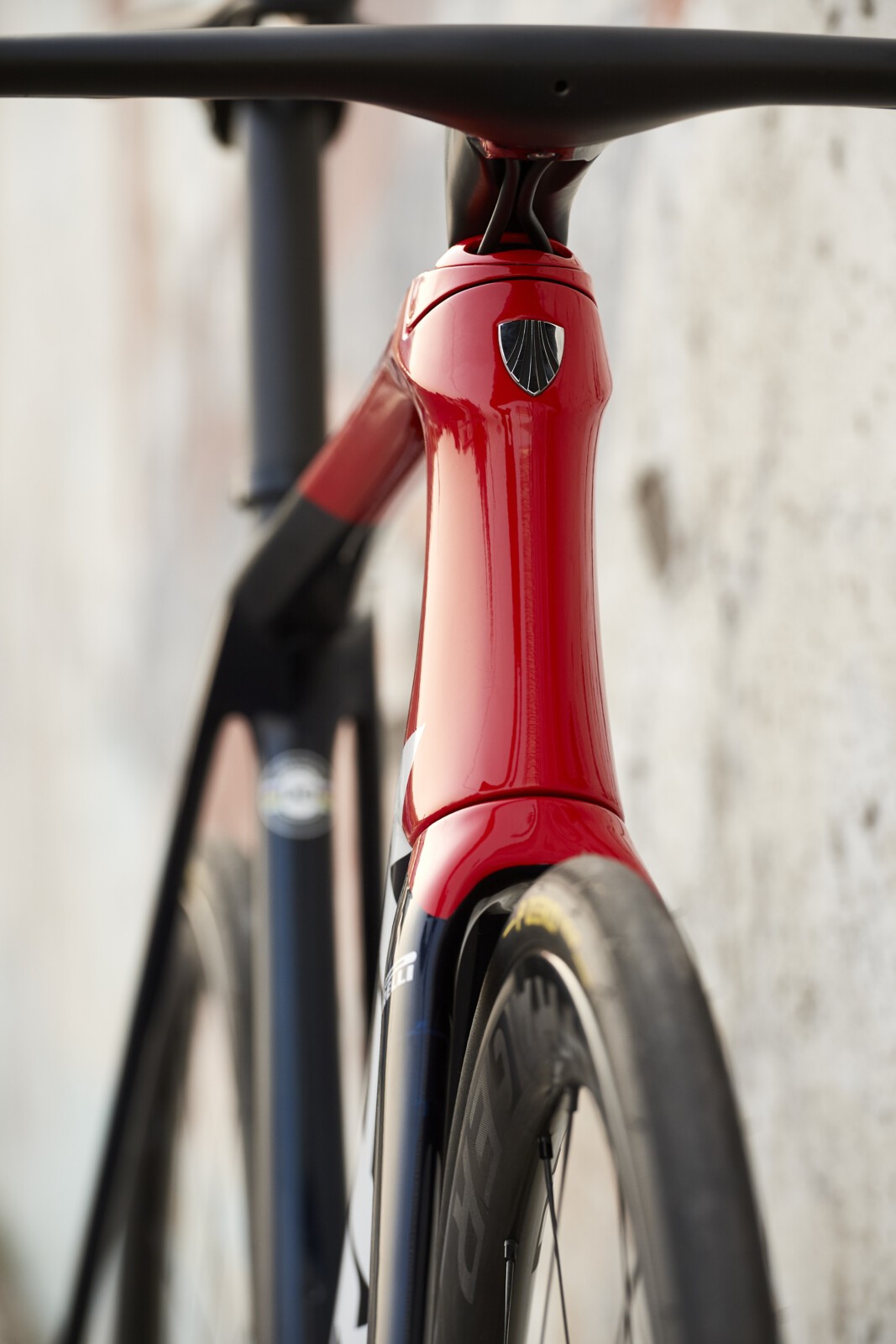 RSL 37 Wheels by Gordon Haywood
It's not often our readers write to rave about a new wheelset, but we received the following out of the blue review from Gordon Haywood.
'I recently took a 2020 Domane SLR 7 for a 100km ride over a range of roads, surfaces, hills and descents. The goal? To form an impression of the new RSL 37 wheels.
Part of the ride included 2km of tarmac with larger aggregate in the surface, my previous Strava PR for this segment was 4:45. With the new wheels I did it in 4:29 … it was as if the surface had been filled in, the lumps and bumps removed.
Silent
The DTSwiss 240s hubs with Ratchet EXP 36-point engagement made for a silent ride. On a shared path I didn't need a bell, those rear hubs are noisy!
Climbing
The lighter weight is certainly noticeable when climbing at speeds above 20 km/h. The wheels are easier to turn with their lower rotatonal mass, but 15% is still 15%. They wont turn me into a Richie Porte but they do give me more from my cycling.
Descending
The most obvious difference with the RSL 37 is the instant feedback in direction changes, and picking a line and it stays there. There was some slight understeer with my older wheels above 50 kmh – that just isn't there with the RSL 37. They follow the line and inspire confidence.
Average Riding Speed
Strava confirmed that I was at the top end of my fastest times on most segments. For the most part I rode in a smaller cog on the cassette (eg 19t rather than 21t), or I was spinning faster – the average cadence for the ride was up 2RPM. To add to the speed / aero discussion the RSL 37 have a definite benefit above 20 kmh, more-so the faster you ride. This benefit was worth at least two teeth on the cassette.
Riding in the Wind
Cross winds had no significant impact on the RSL 37 – my perception was the RSL 37 wheels were less impacted and more aero.
Summary
At the end of a 100km ride, and a good bit of it into a decent headwind, and me riding at 47% tempo and 43% threshold. I was tired. However the smooth ride has resulted in noticeably less shoulder pain and far greater efficiency.
The wheels have changed the feel of the Domane for the better. It's faster, smoother, less tiring to ride. Now I need to re-learn how to get the best from it.
Specifications
Frame: Ultralight 800 Series OCLV Carbon, Ride Tuned performance tube optimisation, tapered head tube, internal routing, DuoTrap S-compatible, flat-mount disc, 142×12 mm thru axle
Fork: Emonda SLR full carbon, tapered carbon steerer, internal brake routing, flat-mount disc, 12×100 mm thru axle
Wheels: Bontrager Aeolus RSL 37, OCLV Carbon, Tubeless Ready, 37 mm rim depth,
12 mm thru axle
Tyres: Bontrager Hard Case Lite 700 x 25c (takes up to 28mm)
Groupset: SRAM RED eTap AXS, 12-speed
Crank: Size: 54, 56, 58 SRAM RED AXS Power Meter, 48/35, DUB spindle, 172.5 mm length
Bottom Bracket: SRAM DUB, T47 threaded, internal bearing
Cassette: SRAM RED XG-1290, 10-33, 12-speed
Weight: 56 – 6.74 kg
Weight limit: Maximum total weight limit of 125 kg
RRP: $15,799 (plus $1500 for custom
Project One colours)