In June 2011, Specialized launched their improved S-Works Amira road bike. After a week of riding the pre-production model through the hills of Bilbao, Spain, I was offered the opportunity to put this machine to a long-term test. With eager anticipation I awaited its arrival. The model ridden at the media launch was not fully spec'd and although it certainly left a good impression, I was keen to test the bike as it would appear on the showroom floor.
Named the 'Amira', which translates as 'Princess', this bike is distinctly beautiful and powerful. The Specialized S-Works Amira is a women's specific, high-performance race machine. It uses the same materials and technology as the Tarmac SL4. The key features for improvement over the 2011 model were increased stiffness and decreased weight. The 'FACT IS' 11r carbon frame also underwent a major facelift which incorporated a new flared top tube, nicknamed the Cobra, which ends in a bulbous tapered head tube (1-1/8in upper, 1-3/8in lower). This new design served two purposes. One, it looks awesome and two it is said to prevent local deflection. This is achieved by the frame's dome shape. Think of the egg shell theory, ie: when you can place a lot of force on the top off the egg it has minimum effect compared to force applied at the side. The dome shape of the Amira's top tube is similar, which means the frame can 'breathe' when you put pedalling force into it. So by preventing this local deflection Specialized has added a lot of stiffness and strength to the bike, without adding weight. There is actually a claimed 27% increase in the stiffness to weight ratio, compared to that of the previous model Amira. Inside the head tube you'll find carbon headset cups and a raised crown race. This combines with the tapered steerer to give the fork the optimum blend of stiffness, strength and compliance. The seat tube takes a 27.2mm post which tapers down into an asymmetric square shape for added stiffness. The Amira S-Works uses Specialized's new OSBB 30 system, which uses an all-carbon shell with a press-fit composite bottom bracket assembly. It's 35g lighter than the previous alloy OSBB, minimises flex under load and allows for better power transfer. Specialized has engineered a wide, triangulated stance between the brake bridge and seat stays and by using a large diameter down tube and oversized BB, have created more rigidity into the frame, which results in faster acceleration. In keeping with the lightweight components that come with this bike, I added a set of Shimano Ultegra PD-6700 Carbon Road Pedals that weigh 260g for the pair. Now I'm ready to ride!
About the Ride
It had been two months since the media launch, and I could hardly wait to get the Amira on the road. Instantly I remember how ridiculously light this bike is. I'm riding the 52cm frame and without pedals it weighs 6.2kg. This is a welcome attribute on the hills, and the stiffness in the front end makes for faster than usual climbing. When talking to a friend about the Amira I was asked if I was competitive. I initially thought he was talking about racing, but he clarified his question to ask if I was a competitive person. Then it started to make sense. On every ride, social or otherwise, there are parts that trigger something in your brain. For whatever reason you just feel like you have to go—take off—give it all you've got! Be it that certain hill or that long flat stretch or maybe a certain person. That's when riding the Amira came into its own. Although it's not an endurance bike it can still purr along at a decent speed, but when you need it to perform, it doesn't disappoint. It's almost a waste to not push this bike to its limits and in turn also push yourself. Slowly, whether you're aware of it or not, your riding style and skills improve. A big part of this is the confidence this bike gives you. The fact that you will want to ride it more is evidence enough.
The Saddle
The S-Works Amira comes with the women's Body Geometry Oura saddle. I can
honestly say this is the most comfortable saddle I have ever ridden. It is magnificently shaped to give the overall impression that you are sitting on air. No jokes! I haven't stopped raving on about this saddle since the bike arrived. After thinking it was just me that liked it, I had a few of my riding buddies try it out. It was unanimous. This saddle has a large cut out which has been medically tested to reduce soft tissue pressure. It has a stiff carbon-reinforced shell with ultralight and strong oversized FACT™ (Functional Advanced Composite Technology) carbon rails. Weighing in at 177g for the 155mm and 169 for the 143mm. The saddle has been designed with a gentle curve. This puts the rider in a position that allows for maximum power transfer and the narrow nose and shorter size ensures riding comfort, especially on longer rides. Two words: get one.
Gearing
My Amira arrived with an S-Works crankset fitted with 52/36 chainrings and a SRAM Red 11-28 cassette. This combination worked well, although at times on the flats I found it hard to choose between 52-22 and 52-25. I was either grinding arduously or spinning too fast. I found the gaps between the ratios at the top of the cassette too big. Changing to the 11-26 Force cassette seemed to fix this, as the difference between these gears was only two teeth instead of three. Although, this did add weight to the bike overall.
Bars
I was impressed with the Specialized Women's SL carbon handlebars. I have smaller hands with quite a short reach, yet I found the access to my gear levers and brakes pleasantly adequate. This was true when in the drops or on the hoods. And with the adjustable shim in the stem, I could change the position of my bars if I desired.
Performance Tested
This bike has been raced successfully by the HTC-Highroad women's squad, which has now morphed into Team Specialized-lululemon. The team has maintained 75% of the HTC team with riders including Ina-Yoko Teutenberg, Evelyn Stevens, Amber Meben, Ellen van Dijk, Emilia Fahlin, our own Chloe Hosking, Ally Stacher, Charlotte Becker and Katie Colclough. Riders Judith Arndt and Amanda Millar have moved on and joining the team is Clara Hughs. With their new sponsor lululemon the Amira has taken on a unique look with a custom team paint job. Although not available to the
public in this colour it is essentially the same bike. Awesomely light and fast!
The Long-Term Review
The idea of a long-term review is to see how a bike stands the test of time. After riding the Amira on a variety of terrains, in all weather conditions over a period of five months, we want to be able to answer a few questions:
If I bought this bike, is it going to be hard to maintain?
Is servicing the bike something I can do myself, or a job for my local bike shop?
Were there any specific wear issues or funny noises?
Very soon after the bike arrived I decided to make a change. I found that the rear cassette was quite noisy whilst pedalling. This is largely due to the SRAM Red cassette being one piece. With its dome shape it acts like a mini amphitheatre. It should be noted that the Amira was not running a SRAM chain. It comes fitted with a KMC X10 SL chain. After four months of riding it is showing signs of wear. It weighs in at 240 grams so it's in the lightweight range.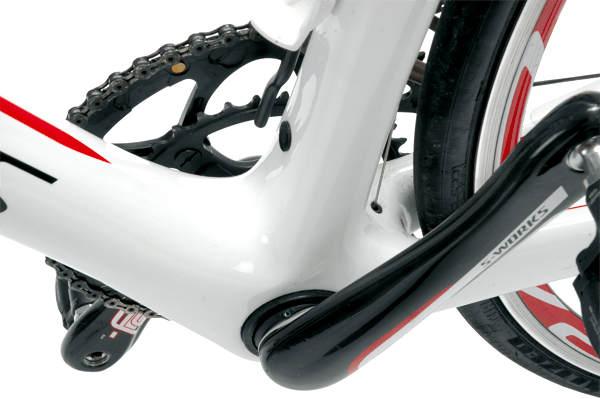 The Amira is fitted with SRAM Red and the rear 1090 cassette weighs in at 169g. My decision to change this to a 1070 SRAM Force cassette cost me 75g. The noise was reduced but I had now added weight to the bike, but as I mentioned above I was more comfortable riding on the flat. At the end of the day it really comes down to what is important to you when riding and what sacrifices you are prepared to make.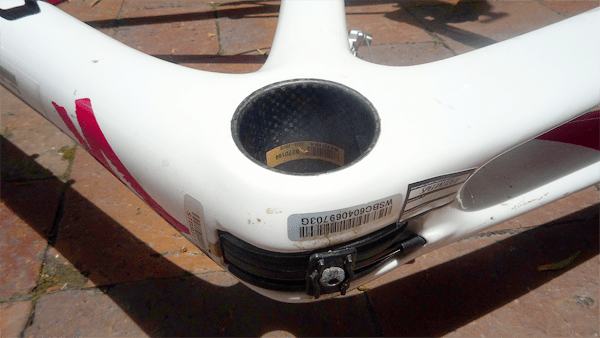 I also started to notice a noise coming from the bottom bracket, especially during out-of-the-saddle climbs. This would require further investigation. Fortunately my partner is a bike mechanic and loves nothing more than taking bikes apart and then putting them back together. So, armed with camera, pen and paper we decided to have a look inside.
The Amira has a fully moulded Pressfit 30 bottom bracket with an all carbon shell. It uses hollow delron press-in cups specifically for wear purposes. So if something bad happens to your bottom bracket, you're not damaging your frame and you can just replace the plastic cups. Removing the cranks revealed discoloured grease around the bearings, which would suggest that some moisture had penetrated the seals. And although the ceramic bearings spun quite freely from new, they now needed to be replaced and you could clearly see that they had been damaged. This was most likely the cause of the noise although grit between the press-fit cups and the frame could also have been the reason. We cleaned and injected ceramic grease into the bearing, which ideally should be done every 2,000km. This would definitely increase the lifespan of your ceramic bearings and is probably a job best done by your LBS.
The three-piece bottom bracket cable guide is a very cool feature – my bike mechanic was quite pleased with this inclusion. It has a removable cover and allows you to change your front or rear derailleur cable independently. Removing this cover was slightly difficult, as it seemed the bolt had been rounded out in the factory. After persisting, the first thing we noticed was the oversized hole that the cable feeds into. This made re-routing the new cables back through a lot easier. Specialized have also included seats for the cable outers to sit in the frame. There wasn't, however, internal tubing. Although this could be seen as a negative mechanically, it is a positive for smooth gear changes as it eliminates drag, which can often make shifting stiffer. Another improvement Specialized made was to have the internal routing underneath the bottom bracket. This in turn meant the down tube could be lowered to get straighter cable lines for better shifting. Additionally it opened up the front triangle, which is great for smaller frames, and allows for an extra bottle cage or proper fit of an electronic-shifting battery. I did wonder why a separate battery mount wasn't included on the bike, as with the bottle cage mounts.
Cable guides direct the cables around the frame. This makes for smoother lines and improved shifting quality.
As we moved onto changing the brake cables, it was noted that Specialized had put Teflon tubing around the either ends of the cables to guide it through. Without this inclusion, the shape of the Amira would have caused the cable to sit against the frame. It's these small but significant inclusions that make you realise the amount of thought that has gone into the smooth running of this bike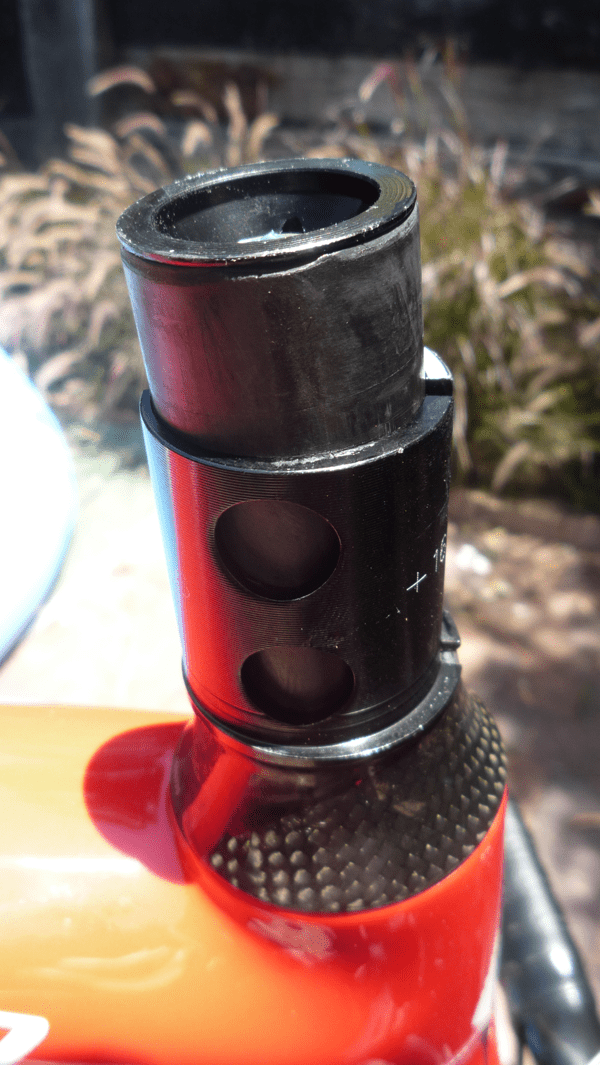 It was a real eye opener to see the internals of this bike. With the headset removed you could truly appreciate the immaculate finish on the carbon. It was clear of any loose fibres, which not only would add weight but also be the potential cause of annoying rattles. I was also impressed by the inclusion of the adjustable shim, something that Specialized have had for a while. This enables you to change the angle of the stem from 8 degrees to a racier 16-degree drop. It was also cool to see the raised crown race. The idea of this is to enable the bearing to sit in line with the bottom of the down tube (see photo). The forces are transferred into the frame as opposed to the crown race siting lower, causing the forces to be transferred straight into the head tube only.
There were no abnormalities noticed in the head tube and a standard clean and re-grease was carried out. Out of curiosity, while the bike was in pieces we weighed the fork – 354g.
Even though tyres are something you can easily change when you buy a new bike, I thought it noteworthy to mention the ones that come with the Amira. The Specialized S-Works turbo tyres are said to have 'Blackbelt puncture protection'. In short this means a strip of cross-woven material is tucked directly under the tread to reduce punctures and improve cut resistance. They weigh around 193g and at the time of review I had worn of 5g of tread. They endured several cuts and I had three punctures on the rear and one on the front. Not bad odds I guess, as this is a super smooth tyre that rolls extremely well. And given that I had ridden over rough dirt and gravel terrain, I was probably asking for a puncture anyway.
Summing Up
This is truly a beautiful bike all round. It's quite pleasant to look at and also performs spectacularly. The attention to detail by the designers is typical of Specialized. From the inclusion of their BG fit components right through to the tweaking of the design, largely driven by rider feedback, Specialized have covered it all. This top-end bike is aimed at the serious rider. Whether you race competitively in your local club or at larger events, or want to take your abilities to the next level, the S-Works Amira will tick all the boxes. The bike as it comes off the shop floor is fitted with the best of the best, as would be expected of a machine in this price range. As with most bikes, regular maintenance and finetuning will ensure your pride and joy runs smoothly on every ride. And given that this is a bike that you will want to ride a lot, it goes without saying that the obvious things like tyres and bar tape will at some point be changed. Other than that, a regularly scheduled trip to your LBS should keep your Amira in top condition.