In June Specialized announced the launch of their new Tarmac and invited some of the Australian cycling media to attend. We left Sydney's Indian summer and headed south for the winter launch to hear about, and ride, their latest creation.
How does a manufacturer continue to better their best, to develop their products and once more raise the standard of their premium product? The SL series of bikes have become more refined, stiffer and lighter with each iteration. But the SL4 is one of the winningest bikes ever, made so how could Specialized improve on the Tarmac to achieve even stiffer and lighter design?
Specialized asked this question of themselves after the success of the Tarmac range. Despite the history of wins, Alberto Contador had even claimed the SL4 was too stiff for his liking. And riders of the larger frames were seeing the frame as not stiff enough. How light and how stiff do we need to make this bike?
The answer that came back was to break away from the 'logical' incremental gains in stiffness and lightness that had characterised the progression of the SL series since its inception in 2006. They'd pursue improvements in other areas optimising stiffness and handling across the range of sizes, even at the expense of increasing weight! Along with this rationalising Specialized chose to move away from the 'SL' nomenclature altogether and this bike is known not as the SL5, but simply as the 'new Tarmac'.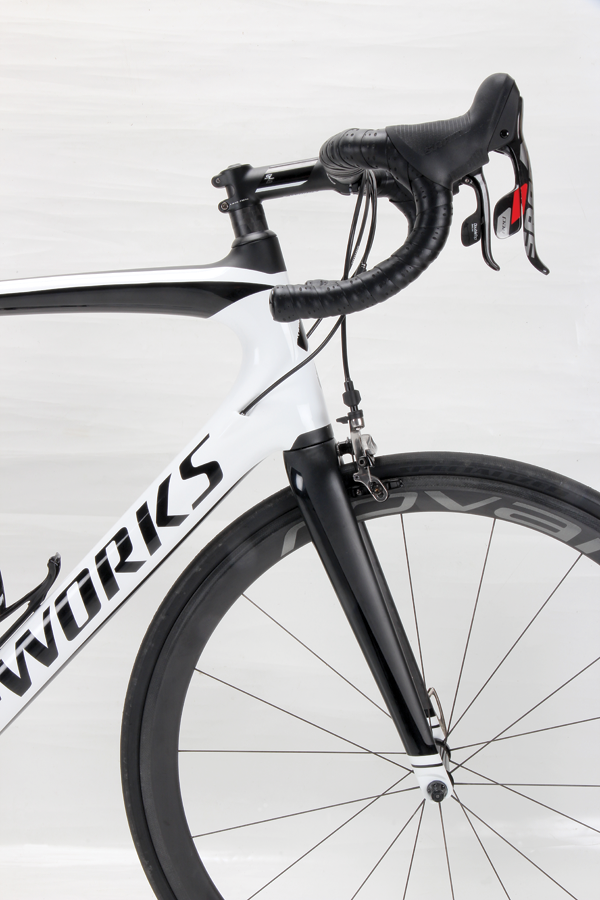 Pushing design beyond a certain level of stiffness and economically viable lightness does not make sense, so there comes a time to pursue advantage in other areas. Sure it's still stiff and light and there's no questioning this new model and the SL4 are next of kin but the redesign of the new Tarmac has taken a different route to its final iteration.
While some brands choose virtual testing and computer modelling and others get feedback from their riders, Specialized have rider feedback plus their 'data driven design' process. They have worked with the McLaren F1 team for several years now and had the benefit of their considerable budget knowledge and facilities to assist in creation of their high end bike designs.
A range of on-board gauges and cameras were installed on their test 'mules' to assess forces on the bike in use. They had their test rider (a pedal powered Stig) ride the bike in various conditions and terrains to create this data and along with the pro rider reviews were able to revise their production modelling.
In the bike market the 56cm frame is the highest sales volume frame size. It's the benchmark for design and manufacture so plans for stiffness and weight of the regular frame manufacturer are usually optimised around this modal size. In contrast, Specialized have developed the carbon layup and tube spec of each size to meet two stiffness targets; one for the front triangle—the desired level of steering control and handling, and one for the rear—to meet power transmission targets. They have worked to eliminate the disparities that come at the extremes of frame size with the 'just base it on 56cm' method, and deliver a range of bikes with the same factor of stiffness proportional to the typical rider for each frame size. This means your 49cm frame Tarmac will provide the same power transfer and torsional stiffness proportional to its size of rider, as will the 56cm, and the 61cm for their larger more powerful riders.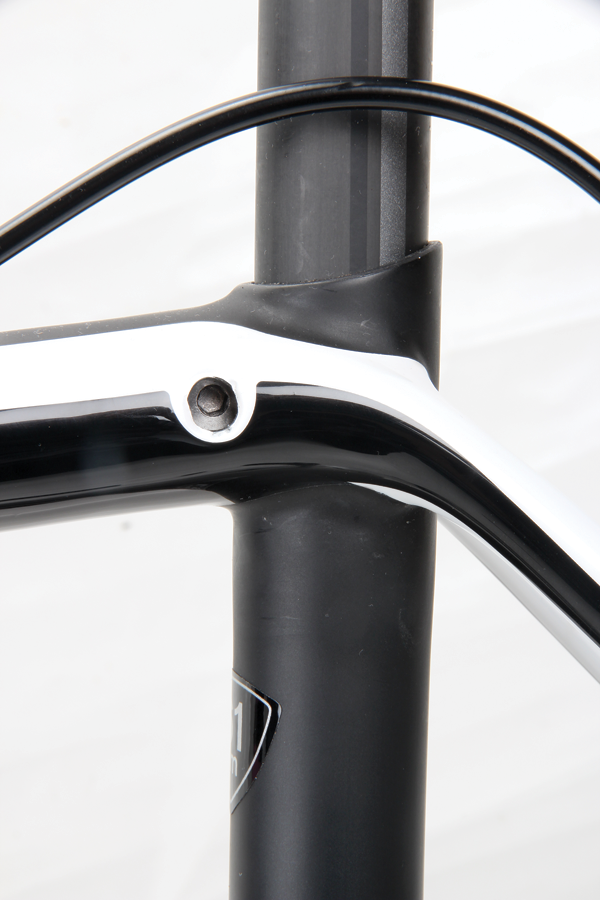 One of the results of this is that the smaller frames in the range have actually seen less carbon used to retain the same stiffness level while larger frames required more to attain the desired stiffness factor. The variation in carbon volume has seen the 49 and 51cm lose a few grams and the 58 and 61cm frames gain a few compared to previous models. But even then, with that extra weight, the 61cm bike weighs in at just 6.78kg.
New tube profiles of the Tarmac include something of a 'massif centrale'—the down tube is enormous (68mm wide at the top cable ports!) and shaped to smooth airflow for reduced drag after it passes the headtube and fork crown. While the down tube in particular takes oversized to a new level, the frame doesn't look disproportioned. Some large framed bikes can look like a farm gate but the fat tube dimensions of this 61cm Tarmac make it look quite normal. The headtube is equally burly, with frame size specific bearings, and the fork legs too, are the largest I have seen on a road bike. It's impressive that they are able to keep the weight down despite the dimensions of these tubes. Direct tactile steering is the prize you get along with these chunky front triangle tubes.
The rear triangle too has quite healthy looking stays to complete the other half of Specialized's pair of stiffness factors. Specialized claim the new Tarmac is 15% stiffer than the SL4. As a result the ride is not supple or particularly forgiving even though they have taken the edge off sharp, chattery bumps.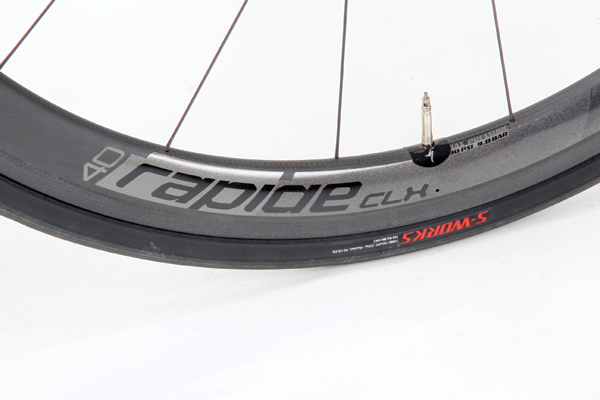 The 27.2mm round profile seat tube adds a level of comfort to the ride—damping vibrations effectively and softening big hits to a tolerable level. I generally ride a 58cm frame with a 110mm stem. For this review I rode a 61cm, as on the 58cm frame the standard 350mm post was extended beyond its minimum insertion length to achieve the 82cm seat height I need.
A simple switch to one of Specialized's after-market 400mm posts would have done the trick but one was not immediately on hand.
The seatpost clamp is a very tidy design, completely invisible and internally housed within the top tube and adjusted by allen key through an inconspicuous port on the side.
Specialized branded components, like their bikes, are well designed for form and function, and look entirely at home on the Tarmac. From the S-Works handlebars and stem to the fork, seatpost and 'Toupe' saddle, the whole bike features the big S with pride.
S-Works cranks spinning on Ceramic Speed bearings combine with SRAM Red 50/36 chainrings and a lightweight SRAM Red 11-28 cassette to make short work of the local climbs while RED callipers put the squeeze on Specialized's Roval Rapide CLX 40 carbon clinchers in the brake department.
Roval's Rapide CLX 40 carbon clincher wheelset (which retail on their own for $2,699) is a fine set of light and fast rolling stock at just 1380g (610/770g) including tape. The aero rims are laced to a Roval carbon hub on the front with 18 spokes, and the rear alloy hub with 24. The 24mm S-Works Turbo Blackbelt tyres weigh just 190g each, while the tubes at 50g tubes and 110g for the skewers complete a total package of 1,970g.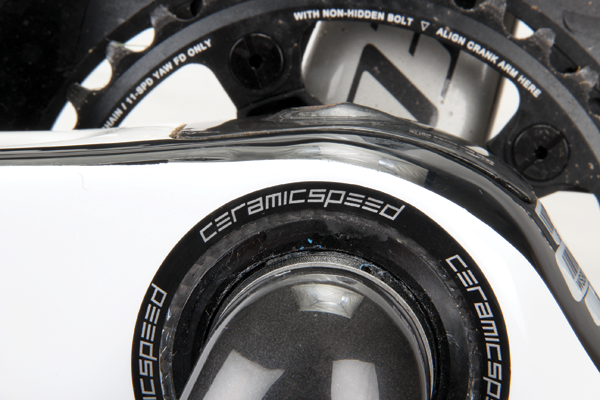 While many brands are following the zeitgeist from 23 to 25mm tyres for all the touted benefits (improved ride, speed and handling with lower pressures and greater traction), Specialized has charted a middle course speccing their own brand 24mm S-Works Turbo Blackbelt. The soft and tacky rubber states "For racing only" on the sidewall so you might imagine they corner well, but will also wear quickly. They also state inflation limits of 110-125psi, though Nick Van der Linden the tech guru at Specialized's product training university in Melbourne recommends running these at 90psi for great traction and low rolling resistance. And the result is quite exceptional traction.
On my first ride of the Tarmac in the Dandenongs on a Specialized media day (and for the several weeks that I was able to ride the Tarmac afterwards) I was impressed with the climbing response of this bike. Even considering the large 61cm frame size this bike is below UCI legal race weight at just 6.78kg. The claims of exceptional power transfer seem justified as I jump out of the saddle and stomp on the pedals, chasing the skinny young Specialized staffers who are along for the ride. There's no flexing of wheels, or frame, no rubbing of brake pads or twisting of forks while I am reefing on the bars and driving all of my 93 kilos into those S-Works cranks. There's no discernible deflection, no lag, just silent, efficient, satisfying propulsion.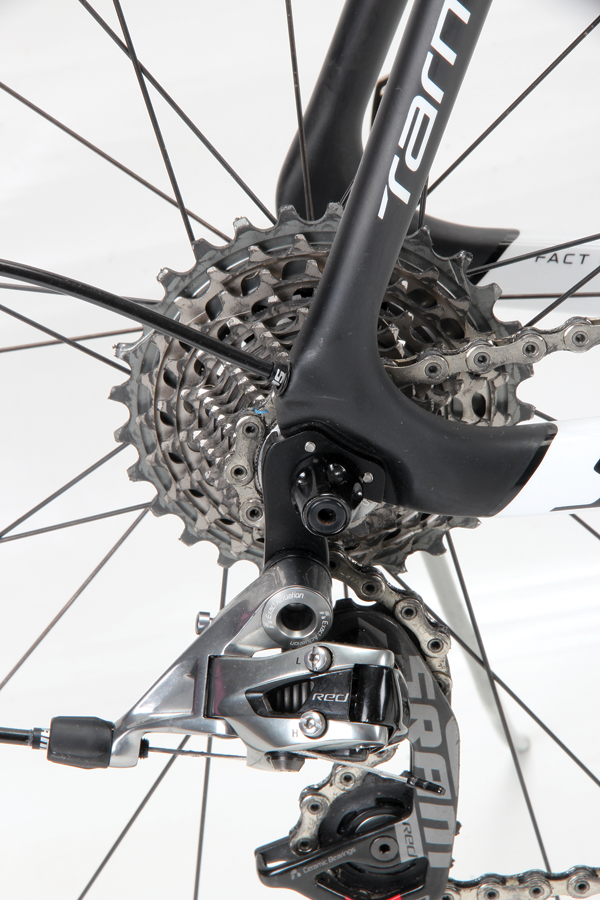 It took just a couple of rides on the Rovals to become familiar with the braking feel they deliver. Dependable and confidence inspiring under hard braking they occasionally emit a sharp squeal but there's no doubt when you pull on the levers that they'll pull you up as required. Their snub-nosed profile appears similar to several other high end carbon designs on the market currently so they certainly look 'fast'. Of course the aerodynamic credentials of the wheels are virtually impossible to quantify in terms of outright speed gain outside of a wind tunnel, but riding in gusty crosswinds with these wheels gave little cause for alarm.
Those 93 kilos I mentioned before usually define me as one less fully optimised for climbing and more as one at home on the downhill or sprinter at a pinch, so when the descent began on the Tarmac I was in my element. If it weren't so light you might think this bike with its massively oversized frameset tubes, stiff wheels and tacky tyres was built specifically for the downhill run. The bike tracks perfectly through sweeping bermed corners and flicks easily through hot-mix chicanes with speed and accuracy. While they startled me at first, even mid-corner bumps don't unsettle the ride; it continues to track predictably through the turn and charges for the next. Braking later and harder, diving deeper into corners I wondered how much further I can lean this machine and how much more tightly it can possibly turn. I didn't find the limit; I don't think I even got close.
Specialized has created a bike that delivers a big payload of fun. It's a gratifying mix; good looking, great climbing, and assured at speed, descending and cornering.
The new Tarmac is here.
Summary
Performance
This bike is built to outperform. The torsional stiffness and power delivery from the Tarmac's oversized tubing and the top shelf component spec make it a fast and stable racing bike. A light and stiff wheelset and the grippy tyre package provide cornering ability that complements the Tarmac frame perfectly.
Value
The S-Works Tarmac Red costs $9,499. It's a lot of money, potentially the third highest priced item most people would buy in their life. It's a very good quality and high performing package though from every angle, so I think for a racer or serious social rider who's looking for a race winner or trophy bike, it represents good value.
Quality
The Tarmac S-Works combines a very light, stiff, and aesthetically pleasing frame that is well finished with high level components. It is a very high quality bike.
Overall
In the S-Works Tarmac, Specialized has created a bike that's hard to fault. It looks good, performs well and attracts a lot of comment from other riders. It is a pleasure to ride, will bring out your best, and will make you want to ride more. It'll also deliver plenty of pain—but only to your rivals in the bunch or at the start line.
Specifications
Frame: S-Works FACT carbon monocoque
Fork: S-Works FACT carbon monocoque
Stem: S-Works SL, alloy, 4-bolt
Headset: 1-1/8″ upper, size-specific lower, hybrid cartridge lightweight bearings
Handlebars: Specialized Fact carbon
Saddle: Specialized Toupe
Seat Post: Specialized Fact carbon
Shift Levers: SRAM Red 22
Brakes: SRAM Red 22
F Derailleur: SRAM Red 22
R Derailleur: SRAM Red 22
Cassette: SRAM Red 22 11-28
Chain: SRAM Red 22
Crank: S-Works with SRAM 52/36 chainrings
Bottom Bracket: FACT construction with bottom bracket with CeramicSpeed bearings
Wheels: Roval Rapide CLX 40 carbon clincher
Tyres: Specialized S-Works 24mm Turbo Blackbelt
Pedals: N/A
Weight: 6.78kg
Price: $9,499
Distributor: Specialized Australia