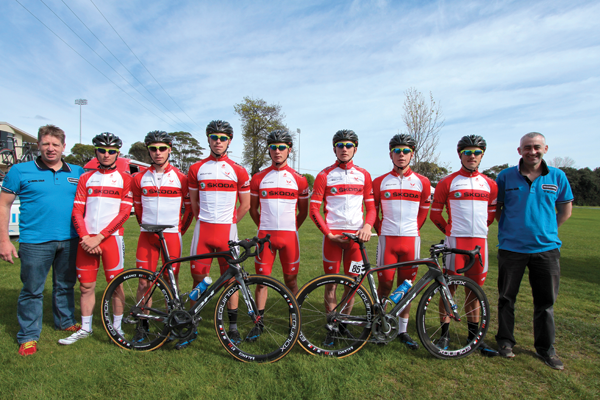 A desire to retain talented riders as members of the Sydney based St George Cycling Club – rather than lose them to other clubs and teams as they chase their dreams at national and international level – was the driving force behind the birth of the St George Merida National Road Series Team.
The team is believed to be the first club-focused NRS team that aims to develop riders from the local community in order to support both the club and juniors alike.
Other than the focus on providing opportunity and developing aspiring cyclists, it has a simultaneous focus on the education of the athletes and creating good people – not just good cyclists – with everyone in the team either at university, final year of schooling or already pursuing careers in the workforce.
And while sourcing and then spending "a lot of money" to set up, register and maintain a team to travel to as many of the 11 or so NRS events held in every Australian state bar Northern Territory each year may appear to be somewhat of a gamble for a suburban cycling club, it has so far – according to team director Brett Dutton – paid off.
In fact, Dutton – a former Olympic and Commonwealth medallist who after competing in the 1986 Commonwealth Games and 1988 Olympics has continued to play an active role in the cycling community – says the initiative has worked out so well that the club is prepared to make another step into the wide world of cycling.
"We want to send a few riders to Europe to race for a stint each year," he says, enjoying a coffee at his good mate and fellow coach and club-mate Ken McMillan's cycling shop in Kirrawee.
And there's no reason to think that is merely a pipedream.
St George CC has produced more than 100 national representatives like Gary and Shane Sutton, Geoff Skaines, Kevin Nichols, Steve Wooldridge etc. Since 1956 no Olympic or Commonwealth Games cycling team has taken to the track without a St George Cycling Club representative in the team – a statistic that no other sporting club in Australia can match, according to Dutton.
Active members of the club include Chris Sutton (Team Sky), Graeme Brown (Rabobank), Matthew White (DS Orica GreenEdge), Kaarle McCulloch (2012 Olympic Medallist and Multiple World Champion) and Ashlee Ankudinoff (National Team Member, Medallist 2012 World Track Championships, Former World Champion).
"Our aim is to continue this feat, as we focus simultaneously on developing riders both on the road and track environments," Dutton said.
With 200 members, St George CC is one of the larger clubs affiliated with Cycling NSW, with the highest proportion of membership – as much as 60 per cent – being held by Masters category riders.
The club is one of the few to have use of both a velodrome (at Hurstville) and a closed criterium circuit (Oatley Park) and has a busy junior development program which starts with the under nines and goes all the way – now – through to its NRS team, with three club coaches offering riders training and advice. It has also recently begun to focus on the recruitment and encouragement of female riders of all ages.
"We have a clubhouse and we have equipment including three watt bikes and disc wheels, etc, for our members to use," Dutton says.
"We are working hard to ensure that kids are still riding when they are 25 – and still riding for St George CC. Our success has been fantastic but also a bit of a problem because a lot of riders go off to the regional institutes or overseas which means the younger kids don't see them again, which is one of the reasons we thought that having our own NRS team might be a good idea."
That said, the club isn't out to steal members of other clubs or promise them a ride in the NRS if they sign on as members.
"It's definitely something that is earned," Dutton says. "Part of our rules of membership is that all members must support club, state and national events. They have to support the State structure, ride the country handicaps, wear the club kit, and make a contribution in other ways to the club, before we will even look at elevating them to the NRS team.
"Along the way we are there to support them, give them guidance on training both on the bike and in the gym, and encourage them to keep up with studies or work. We like to limit the amount of kilometres they do each week – the idea is to train smarter, not longer."
"The reward for making it onto our team is full support. A lot of NRS teams are smoke and mirrors that promise a lot but provide nothing. People pay their own way. But we give them everything – accommodation, flights, food, wheels, tyres, clothing, mechanics and the right people to support them.
"The club fundraises and uses sponsorship funds – we have been extremely fortunate to now have Flight Centre and Merida come on board with many of our local club sponsors.
"These sponsors are not purely focused on commercial return or results – their main interest is to see kids riding bikes and maintaining a balanced lifestyle and picking up good habits that you can learn through sport.
"Our sponsors would rather see the kids riding bikes than out making a nuisance of themselves on a Friday night."
The team was registered for the first time in 2012 after many months of planning and putting a system in place.
Although some Masters members do ride in the NRS, the club team membership is pulled from its under 19 and under 23 riders. A maximum of eight are selected at the start of the season, but the membership changes from event to event according to results, rider availability and other factors including commitment to training.
The team is coached by McMillan, although about half of the riders have their own individual coaches as well.
"In our first year our goal was to get to the finish and it went well," McMillan said.
"Then last year, 2013, we picked up some podiums and most aggressive rider jerseys and finished top 10. This year, if we have all hands on deck, I think we should finish somewhere between sixth and 10th in the series."
Rider Jordan Davies says the team builds upon the history of St George CC by developing young riders and providing great opportunities for racing.
"It works well because all the riders and support staff share a common bond, that being St George CC," he said. "The riders are able to learn about training, racing and the history of the sport through many of our senior members who have passed on much of their wisdom and time to help the next generation come through."
Teammate Alex Hersey sees the team's priority as developing young riders, with an emphasis on the steady, healthy progression of the athletes.
"This is achieved, in large part, by providing us numerous opportunities to push our boundaries at races across Australia," he says.
"In addition, the tireless efforts of senior members of St George CC, who provide coaching, financial support and advice, are really what distinguish this team, and help us to continue the proud history of racing at St George."
Jay Dutton, another rider, has been impressed by the positive environment the team has created.
"Other than the aspect of racing and training, the St George NRS team has also fostered a really positive environment for us all to be a part of," he says.
"Quite a few of us have essentially grown up together over the last few years, and we're a group that really gets along and enjoys being with one another. I think this has been important for us as a different approach to our riding – there's no real pressure placed upon us, it's just the riders having fun and being competitive that has been reflected in our successes so far."
With the men's team concept going so well, Brett and Ken have considered setting up a women's NRS team but say that is a few years away. "We just don't have the depth of numbers at the moment," McMillan says, "and the cost would be considerably more." The club, has, however, started recruiting new female members and has begun running an introduction to cycling course for new women.
For the time being, they believe establishment the men's team was "good all round – good for the riders, good for the club and good for the cycling community".
The 2014 line-up:
Jordan Davies – NSW U23 Road Race Champion
Jay Dutton – NSW U23 Time Trial Champion, 2013 under 23 Cyclists and Roadman of the Year
Ben Harvey – 3rd – National Individual Pursuit
Nick Yallouris- 4th- National Kilo
Jack McCulloch – 8th Stage 7 Tour of Tasmania
Sam Nelson- 6th Stage 4 Tour de Perth
Harrison Wiles
Alex Hersey
Joshua Cornish
William Andersson
Contacts:
Twitter – @StGeorgeNRS
Facebook – http://www.facebook.com/StGeorgeNrsCyclingTeam
Palmares
1st, 2nd, 3rd and 4th at the NSW U23 Road Race Championships 2013
1st and 2nd at the NSW U23 Individual Time Trial Championships 2013
4th place NSW Elite Road Race Championships 2013
Most Aggressive Award for Stages 7 and 8 of Tour of Gippsland (NRS) 2013
3rd place National Track Championships Individual Pursuit 2014
Winner Tour de Polynesie 2013
5th in Team Classification Santos North Western Tour (NRS) 2013
2nd Stage 5 Santos North Western Tour (NRS) 2013
Fastest Time at Cootamundra Annual Recovery Handicap 2012 and 2013
Fastest Time at Wagga to Albury Cycling Classic 2013
6th Stage 4 Tour de Perth (NRS) 2013
4th and 9th in U23 Oceania Road Race Championships 2013
11th in U23 Oceania Individual Time Trial Championships 2013
5th Goulburn 2 Sydney Cycling Classic (NRS) 2012
Current Leader Tour de Polynesie 2014
Top 5 Lifetime Results –
Six separate NSW State Team Track Representatives
Current NSW Road Race and Individual Time Trial Champions, including a clean sweep of the U23s State Road Championships
Seven Riders who have competed at National Road Championships
Top 10 Ranking in the Teams Category for the 2013 NRS
Under 23 Cyclist and Roadman of the Year 2013