"Race-smart" and "comfortable over distance" are two attributes that you don't often find in the one bicycle. Especially in women's specific models. In my experience over 28 years of cycling as an amateur at elite (young) and now masters (not quite as young but just as competitive) levels, a visit to the bike shop to buy a new steed usually meant choosing between comfort on long rides and being able to go quicker, in more streamlined and responsive fashion, in races.
There always has seemed to be a compromise. Choose "either" "or", or buy two bikes.
Even when I returned to cycling a couple of years ago, an enthusiastic salesperson was successful in selling me a sleek and beautiful racing machine perfect for crits, that I unfortunately wasn't destined to get the most out of because it took me couple of years to get my head and body prepped to race again. In fact, it was downright awful to ride over my local potholed and bumpy route. Paris Roubaix eat your heart out!
I sold it (at great financial loss) and bought something more comfortable. But then, when I suddenly found myself with a race licence and a hankering for something that would be stiffer, more responsive when cornering and lighter for hill climbing, I sold that something more comfortable (at great financial loss), and bought a race bike. My new bike is beautiful. But I am not so sure that it would be comfortable for the longer sportif events that I was doing and still enjoy when I am not racing or training to race – and it really doesn't like our local potholes too much.
As the sportif, entry level triathlon and women's markets have grown in recent times, various bike manufacturers have endeavoured to come up with the Holy Grail – a compromise between race-smart and endurance comfortable all packed into a women's specific frame.
Not to be left behind, the girls, apart from being typically concerned about colour, style and branding, are seeking both comfort and speed. And as more bike shops and clubs run women's camps and women's bike mechanical workshops, women are getting more interested in componentry, materials and weight as well.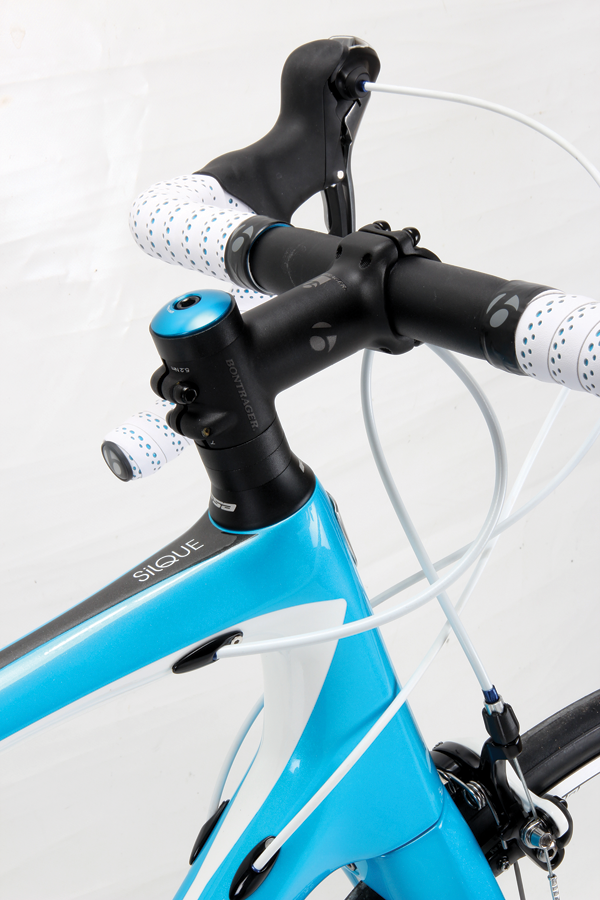 We have recently seen a number of brands targeting female consumers, and many have moved into the "women's" market with products specifically designed to better fit women's torsos and limb lengths.
The question has been: How do you build a bike that is responsive and stiff, corners well, rides itself uphill, feels secure going downhill, is comfortable over distance and protects the rider from bone jarring and saddle sores? And then there is the weight factor… how do you produce an entry level bike that that is light, fast, comfortable, boasts the latest in design technology and materials, but doesn't cost the earth?
American company Trek has taken up the challenge and come up with its new range of aimed-at-women bikes called Silque.
While developing the women's design, Trek found that women and men of the same size generally have different power outputs and weights. This is nothing all that new, but Silque engineers went a step further and put their data to use creating unique carbon layups to optimize tube sizes and shapes specifically tuned to women at each frame size.
And if the test model Bicycling Australia was presented with to ride is anything to go by, it has come mighty close to bridging the gap.
The guys at Simple Cycles in Wollongong put the bike together for us and I have spent a month testing the base line model, the Silque (recommended retail price $2199) on all manner of terrain and conditions. You can also buy three other models moving up the food chain through SL ($3100), SLX ($3999) to SSL ($6999 which incorporates an electric Shimano Ultegra Di2 drive train).
The first thing you notice about the Silque is the colour. Some women love blue, but others seeking a women's specific bike, might be turned off by blue and prefer something more girlie. They can achieve this with the next model up, the SL, which is black and pink.
The second thing you notice is its modern look design. The bike is carbon; the top tube is angled, almost reminding you of women's bicycles from a couple of decades ago. This, Trek refers to as its WSD (women's specific design). The third thing is the weight. It's light, weighing just over 7kg, making it good to ride and easy for a female to pick up and put onto the car roof rack or into the boot.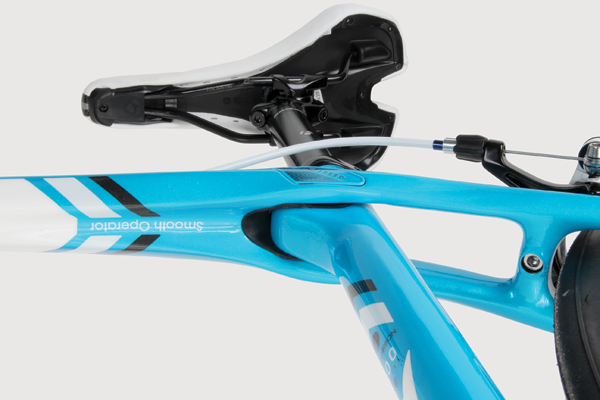 Stand back and take a further look and you will see Trek has chosen Bontrager alloy front and rear hubs, rims from Bontrager with tubeless ready disc, Bontrager tyres, Shimano Tiagra 10 speed shifters (with a 12-30 cassette guaranteed to get the rider over any climb, Tiagra front and rear derailleurs, Shimano Tiagra 50/34 compact crank and Bontrager seat post, handlebars, stem and saddle.
Of these technical matters, the saddle merits a mention. It's very comfortable and over a longer ride of 60km or so, we found the sit bones naturally found a comfortable position.
Moving on. How does it ride? The answer can only be, smooth as Silque.
Trek promises that its innovative IsoSpeed Decoupler and women's ride-tuned OCLV carbon frame deliver the perfect balance of smoothness and power
Company engineers developed its Optimum Compaction, Low Void carbon manufacturing process two decades ago, enabling it to produce carbon bikes with consistency and quality previously thought impossible.
Now Trek claims to lead the industry with its Trek OCLV, offering what it believes is the best ride for the money thanks to an optimal balance of areal weight, stiffness, and compliance. "The 'areal' weight range and modulus mix of 400 Series OCLV puts ultra-high performance within reach, providing an exhilarating sense of acceleration and confident handling", it says.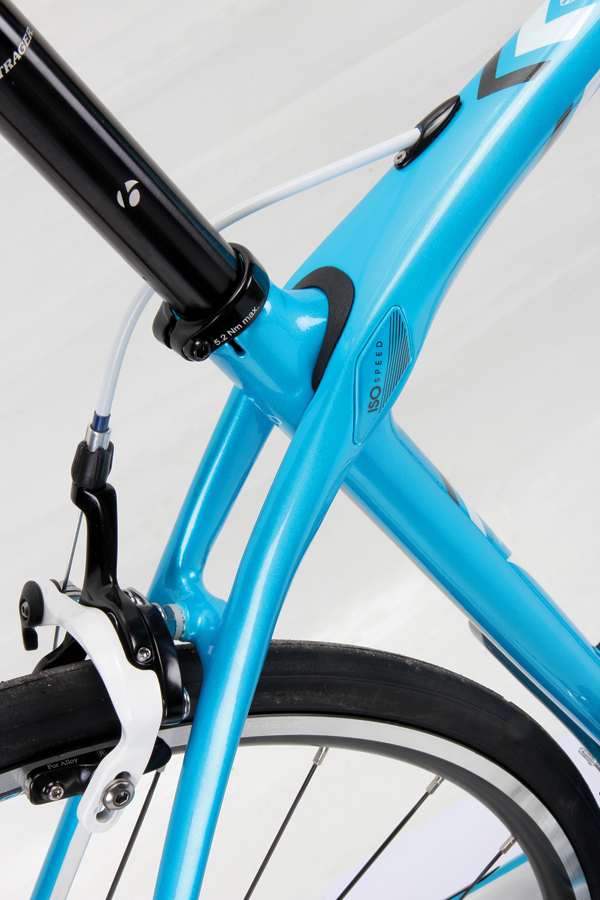 "Areal weight is a composite industry term for the weight of carbon material over a given area. The lighter the material, the more expertise required to work with it and the pricier the resulting frame. "We can work magic with the lightest materials in cycling. We also know when a slightly heavier material will make the best frame for the price."
What does that mean in practice?
A recently resurfaced local road race route known for its potholes, ragged road edges, dips and bumps, with a new layer of gravel added, was the perfect testing ground for these claims and the Silque lived up to its name.
It seemed to absorb the bumps better than my current race bike, and I found that I was barely aware of the vibrations in the saddle area, while my wrists and shoulders were barely suffering. The bike felt like a favourite arm chair, safe and secure. All I had to do was steer it and keep on pedalling. Similarly, I was impressed at the lack of road noise in the bike. Nothing rattled despite the pave.
This feature comes from the IsoSpeed decoupler, the result of an 18-month study of how a racing bike performs over rough roads, and how that performance affects the rider.
Trek engineers designed a decoupler that allows the seat tube to rotate independently from the top-tube-to-seat stay junction, increasing vertical compliance to twice that of its nearest competitor.
Meanwhile at the pointy end of the bike, the E2 head tube tapers from a 1.5″ lower bearing to a 1-1/8″ upper bearing, and is wider side-to-side than front to back, making for smooth steering around corners while absorbing the bumps from the road.
The asymmetric steering system is intended to minimise weight while maximising power transfer and keeping the fork stiffer under cornering loads, resulting in a potentially more powerful and confident ride. I didn't find the steering as direct and responsive as my own race bike, but it certainly was truer and felt more secure than many a bike I have ridden.
Going uphill was a joy. We all know that the right relationship of stiffness to weight is critical to frame performance. Trek runs rigorous tests to ensure that it has achieved the proper stiffness/weight ratio at every part of the frame to maximise handling, pedalling performance and ride feel.
While the Silque doesn't quite have the feeling of running at a hill and lithely cantering up as some of the much more expensive racing steeds, it certainly felt light and stiff, both in and out of the saddle, pedalling up hills of between three and eight per cent. It felt powerful and when riding on another day with a bunch at race pace, never felt like it was losing speed for any other reason than rider fitness.
Going down, it felt incredibly stable, without any sense of the death wobbles that sometimes occurs when moving at 60kmh plus. This would make it the idea entry level bike for a nervous newcomer to cycling, with enough mod-cons to carry her through the various stages of sportifs, triathlons and racing over some years without feeling like her bike was going out of fashion.
Moving through the gears was simple and accurate and the Tiagra shifters were a credit to the Shimano name.
I was grateful for the 30 cog on the 14 per cent climb I encountered on the way home after one ride and surprised that even when panicking on a particularly steep part and changing up as far as possible, there were no issues with the chain.
Trek's 3S chain keeper is integrated directly into the bike frame and provides an elegant solution that results in flawless gear shifting even on rough roads and under heavy loads. The idea of no more standing on the side of the road, covered in grease, unwedging your dropped chain as your mates race by is very appealing.
Another very appealing feature is the DuoTrap which seamlessly integrates the computer sensor into the frame to measure speed, distance, and cadence with no added aerodynamic drag.
It works with all the major ANT+ wireless technology players, including Bontrager, Garmin, PowerTap, and SRM.
SUMMING UP
QUALITY
High. The Silque is typical of what we would expect from Trek – ready to ride or race with plenty of mod-cons and the ability to upgrade componentry if desired. Well finished frame, nice to look at, smooth to ride. Perfect entry level ride.
PERFORMANCE
Excellent when the road surface is less than ideal (common); confidence inspiring on climbing and descending, secure in cornering.
VALUE
Excellent given the high quality of the carbon frame and the design work and thought that has gone into it.
OVERALL
A very good choice for an entry level cyclist or triathlete, especially those lacking confidence, that would carry them through to racing at club level, whether juniors or masters.
SPECS
Frame – 400 Series OCLV Carbon, WSD-tuned IsoSpeed, E2, BB90, performance cable routing, DuoTrap compatible, vanishing mudguard mounts, 3S chain keeper
Fork: Trek carbon road, E2
Sizes: 44, 47, 50, 52, 54cm
Frame fit: WSD Geometry
Front hub: Bontrager alloy
Rear hub: Bontrager alloy
Rims: Bontrager Tubeless Ready disc
Tyres: Bontrager R1 Hard-Case Lite, 700x25c
Shifters: Shimano Tiagra, 10 speed
Front derailleur: Shimano Tiagra, braze-on
Rear derailleur: Shimano Tiagra
Crank: Shimano Tiagra, 50/34 (compact)
Cassette: Shimano Tiagra 12-30, 10 speed
Chain: KMC X10
Saddle: Bontrager Affinity 1 WSD
Seatpost: Bontrager Alloy, 2-bolt head, 27.2mm, 8mm offset
Handlebar: Bontrager Race VR-S, 31.8mm
Stem: Bontrager Race Lite, 31.8mm, 7 degree
Headset: Integrated, cartridge bearings, sealed, 1-1/8" top, 1.5" bottom
Brakeset: Alloy dual-pivot
Grips: Bontrager Microfibre Tape