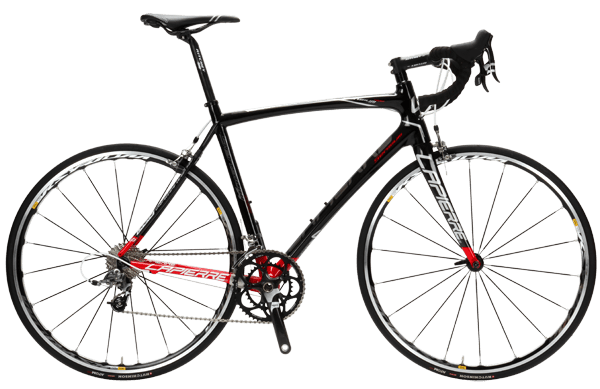 Need a bike with style and comfort? Lapierre's Sensium 400 CP fits perfectly into both these categories.
With the eyes of the cycling world recently focused on France, it's a perfect time to road test a true French racing machine. The Sensium 400 is a bike with looks, performance, and comfort, upon which any cyclist at any level, would be more than happy to be racking up the miles.
Lapierre have been involved in frame building and bike technologies for more than 60 years. The French cycle building company have been involved with elite level cycling teams including FDJ for a number of years. FDJ continue to use Lapierre race bikes and work with the company to help develop and innovate their racing machines to suit the requirements of the riders using them.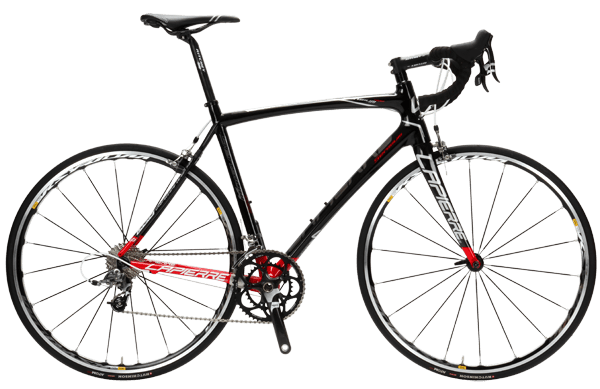 Lapierre have categorised their bikes into a number of different levels with the Sensium 400 landing in the performance category of the Lapierre range. This second generation Sensium 400 has some significant improvements over the previous version. This enables it to stay in the race of providing great value and innovations that all carbon bike producers strive to offer. The frame has been coated with a high gloss paint finish which is becoming a little less common, with many other carbon manufactures going for more flat coated finishes. With the additional white and red colouring to the mainly black gloss frame, the bike looks superb. It's definitely going to stand out when parked against all the other latest road machines at the local coffee shop.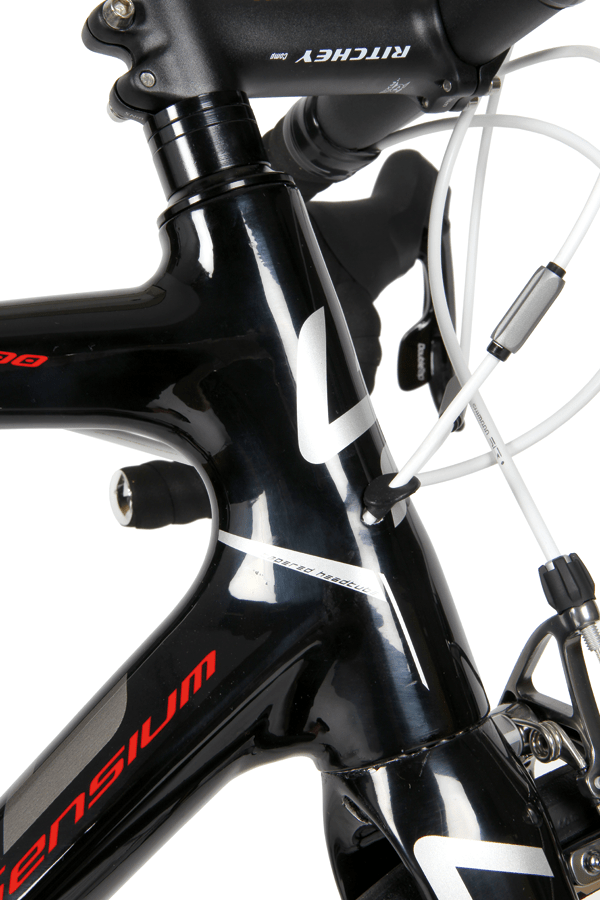 The Sensium 400 is lighter than the previous model, coming in at 7.5kg, which seems to be one of the more standard numbers in the world of carbon road bikes nowadays. Most notable is the elastomer connection where the saddle stays join the saddle tube. Lapierre says this helps to absorb and dissipate vibrations while still allowing you to transmit all your power to the rear wheel via the bottom bracket and chain stays. It is vaguely reminiscent of Specialized's Zertz inserts, though they don't appear here on the forks.
Lapierre also claim to have made improvements in the vertical flex to this frame to keep the bike solid and responsive under all conditions. I found the Sensium 400 to be a super comfortable machine with a very relaxed saddle and head angle. The bike is ideal for those longer days out in the saddle, but still gives the rider plenty of performance when it's required. Cornering, descending, and climbing were all a breeze. If there was one small, yet noticeable problem I could find, it was during a big aggressive sprint. While out of the saddle, a small amount of flex was evidenced in the rear stays. I did give the bike some real torture to be able to feel this and during normal treatment and riding, this would never be noticed. And of course, one man's flex is another man's comfort.
The carbon monocoque frame is combined with a straight blade, carbon tapered aero fork, that provides great steering and balance at the front end of the bike. Cornering and descending were a true indication that the Sensium was perfectly set up to allow the rider to choose any line required when and where needed. The alloy headset tapers from 1 ½ to 1 1/8 which is a feature of many good quality carbon bikes around these days.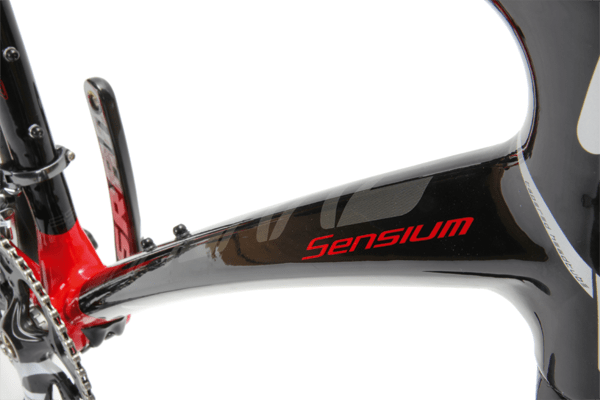 SRAM Force is the groupset of choice on the Sensium 400 and not having used this group before, I was very surprised by the performance despite it being an 'entry level' model. I would be quite happy to race with Force on my bike. The bike is fitted with a SRAM GPX threaded bottom bracket and attached to this were a set of SRAM Force compact cranks. The 175mm carbon cranks were a super inclusion on this bike. The enjoyment of the extra length crank made this bike a true pleasure to climb on. SRAM have added 34 and 50 tooth chainrings to these cranks, allowing any big berg to be easily overcome with the combination of the 12-28 cassette. This is a very user-friendly spec.
Lapierre have also combined this frame with a great set of wheels. The Mavic Ksyrium Elite is a wheel that has stood the test of time. They are super strong and more than good enough to race on. Attached is a set of Hutchinson Equinox 2 tyres and this inclusion makes for a very satisfying part of the test. Often wheels are the place where bike brands try to save money, resulting in heavy and unresponsive hoops. It's great to see that this hasn't happened here.
As mentioned earlier the comfort level of this bike was superb. A good reason for this was also the quality saddle that was included. The Selle Italia X1 was one of the most comfortable saddles I have ever used. Small inclusions like this one can make a huge difference when riding a bike for the first time and more emphasis should be put into this area as we spend more than 90% of our riding time on the saddle during a normal ride. Lapierre have used Ritchey to supply the stem, saddle post and bars to this model. I found them to be capable and they helped piece together a smooth and comfortable ride.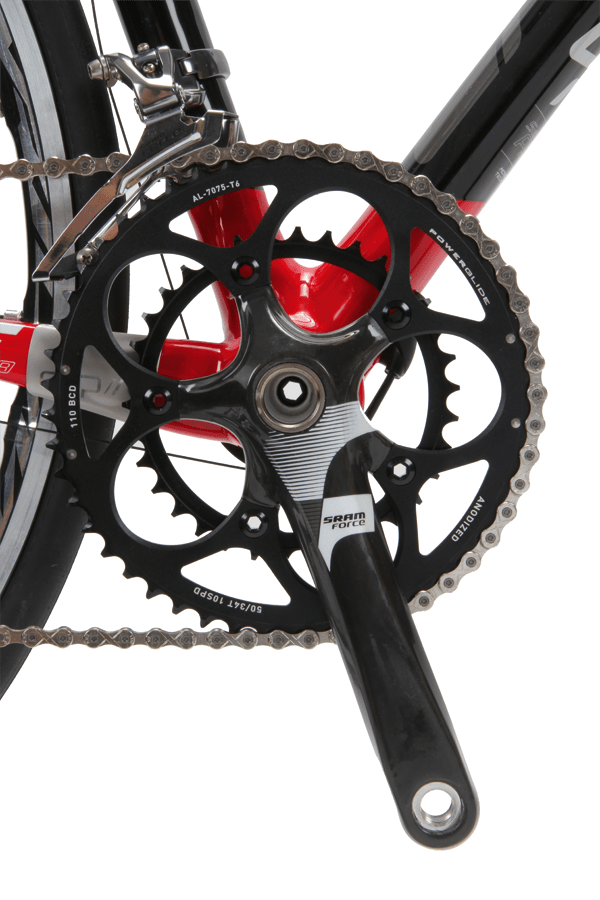 The performance category from Lapierre has six Sensium models with the 400 CP the top level machine in this range. There are also five different sizes on offer from 46cm through to 58cm. There are three different models to choose from in the 400 range and Lapierre have developed an amazing website in which you are able to see exactly how your bike would look if you were to buy a frameset only, then build up the bike with your own personal components. This includes everything from wheels to paint to every other changeable component on offer. The monocoque frameset comes in at $2799, including bottom bracket, headset and derailleur hanger.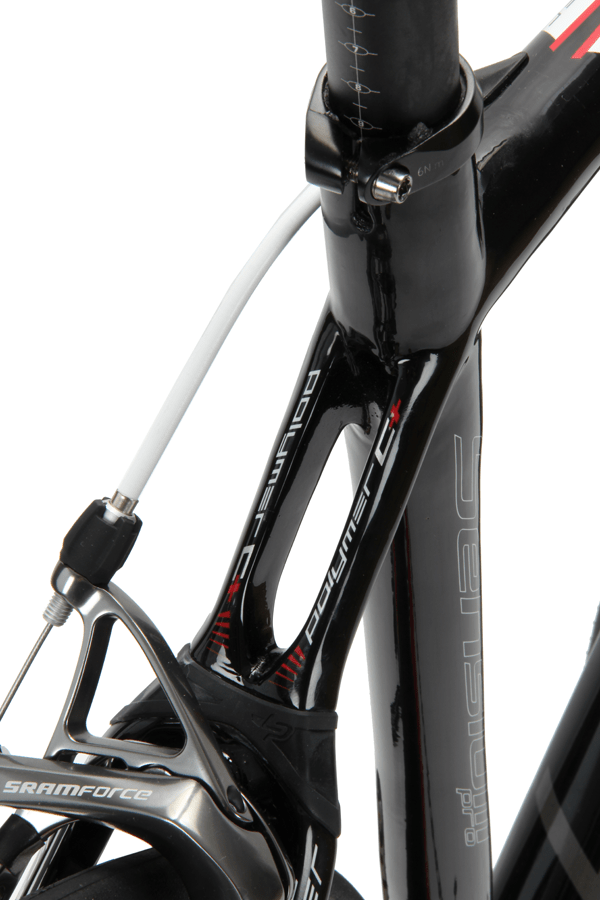 Overall the Lapierre Sensium 400 SL will be a bike that can suit most bodies and riding styles. It was very impressive in all levels of testing and was full of good quality inclusions. This bike may not come out of the top level of the Lapierre stable, but it does tick all the boxes without having a hefty price tag attached to it. Have it built for you, jump on and enjoy the personalised touches.
SUMMING UP
Quality
Lapierre have continued to be at the cutting edge of true race quality bikes and although this machine is outside their race spec category, the bike is of a high quality throughout. It could easily be used as a race bike with its quality components and wheels.
Performance
Very good. As Lapierre are so heavily involved with the FDJ WorldTour Team, this bike benefits from the huge amount of input from some of the best road riders around the world. The Sensium 400 lacked nothing in any one area and it had a comfort level second to none.
Value
At under $4,500 for a full carbon frame with quality components and wheels, this bike is reasonable value. It has been built well without leaving the rider short in any area. You could jump on and be ready for any long ride or race of your choice.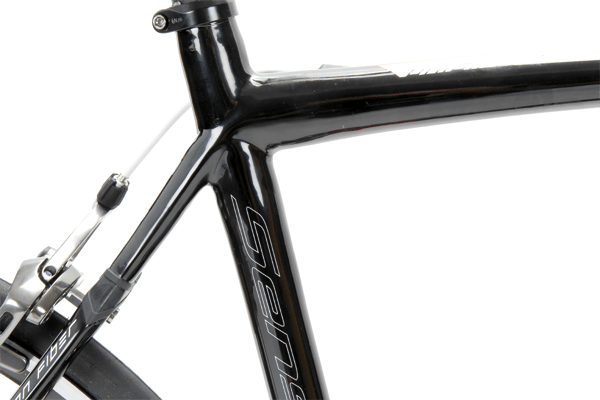 Overall
This bike was a real comfort machine, and with the more relaxed angles of the saddle and head tube, any rider of any age could cruise around for hours on this bike and be comfortable doing it. Good components in all areas made this bike one to look for in the ever increasing choice of good quality carbon bikes on the market. Having the opportunity to customise it is an added bonus.
Specifications
Frame :Lapierre Carbon monocoque
Fork: Lapierre Carbon Tapered
Headset: Alloy intergrated1.5-11/8
Stem: Ritchey Comp 4 Axis
Handlebars: Ritchey Road Compcurve 31.8
Saddle: Selle Italia X1
Saddle Post: Ritchey Comp 2B 27.2x300mm
Shift Levers: SRAM Force black
Brakes: SRAM Force
Front Derailleur: SRAM Force
Rear Derailleur: SRAM Force 10 speed
Cassette: Shimano Tiagra CS-4600 12-28
Chain: Shimano Tiagra
Cranks: SRAM Force 50/34 175mm
Bottom Bracket: SRAM GXP Threaded BB
Wheels: Mavic Ksyrium Elite M10 Black
Tyres: Hutchinson Equinox 2 TS 700x23c
Weight: 7.5kg 56cm
Price: $4,499
Distributor:
Advance Traders
www.advancetraders.com.au
Ph.1300 361 686