Geographical linkages aside, the name VALE (Middle English – valley; Latin – be well, be strong) and the Peregrine Falcon logo also evokes the idea of the freedom and challenge of riding through hills and valleys nearby.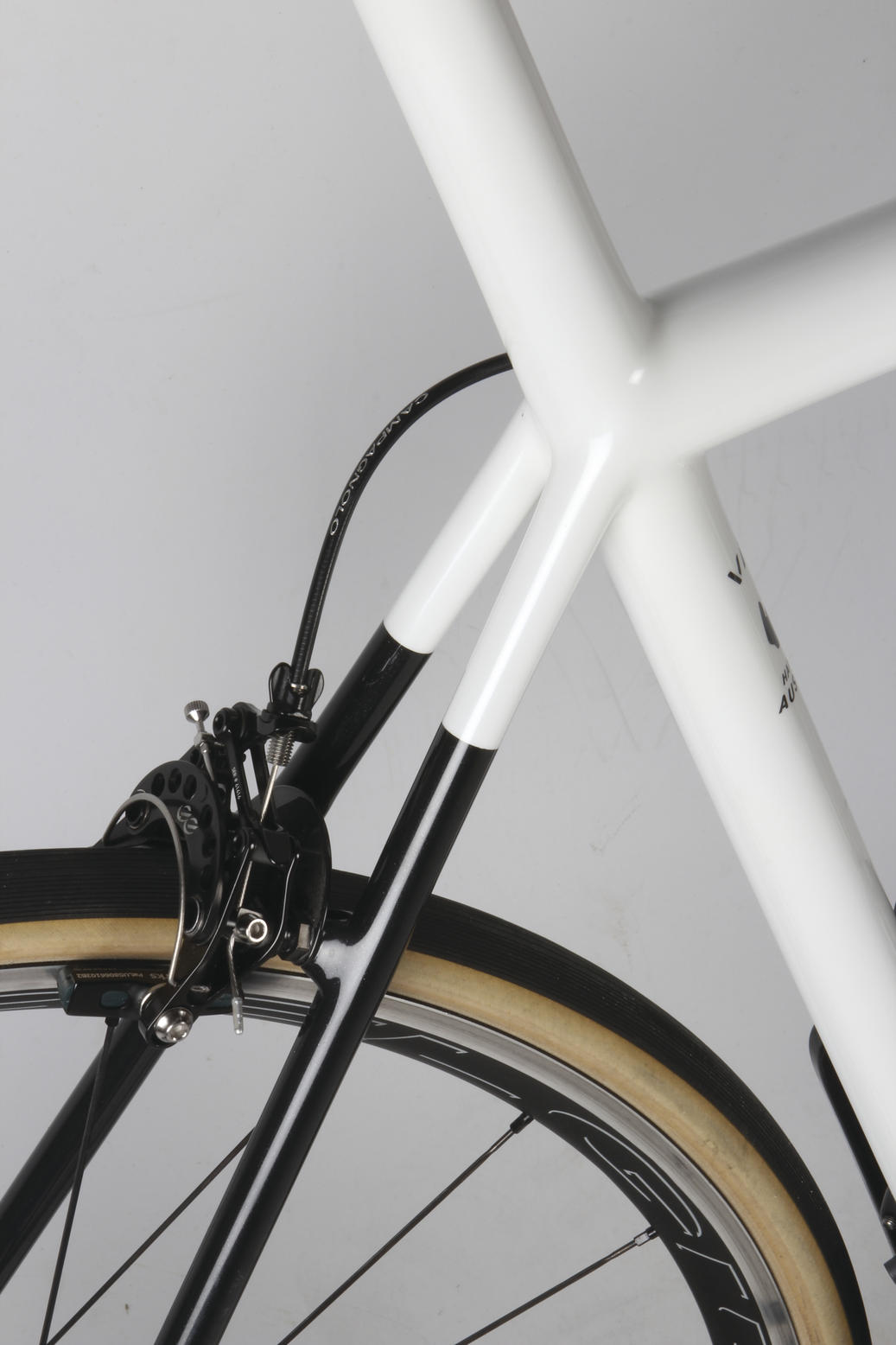 Tristan Tucker cut his carbon fibre teeth building high performance Grand Prix maxi yachts including Wild Oats and Alfa Romeo and America's Cup class yachts overseas, as well as boats for the Volvo Ocean Race in Sweden. Creating and repairing components for these high pressure, big dollar race outfits has given Tristan an understanding of carbon fibre that few others possess, and he brings this mother lode of experience and real-world application of carbon fibre construction and repair to the bicycle world.
Meet The Carbon Bike Doctor
A lifelong cyclist, Tucker returned to Australia after his many stints overseas and began contracting to Teschner Bikes developing their handmade carbon fibre frames. He soon realised that there was a need for a specialist carbon fibre frame repair service in his hometown of Sydney, so again he moved on, founding his Carbon Bike Doctor business to get riders with broken bikes back on the road.
While I was visiting his facility I saw a dozen frames at various stages of repair…brought in by 'Joe on the street', bike shops, even the NSWIS. Some had just arrived, suffering cracks and diabolically fractured tubes, and others stripped back, and still more finished, once again gleaming and good as new.
A Handcrafted Machine
But repairing frames was not Tristan's main goal; it's been a stepping stone towards the creation of his frame building business, one that creates frames of exceptional quality, customised to create the high performing bespoke trophy bike his (growing list of) clients desire.
This bike on review is Tristan's own. His first bike. A product of his own design, crafted with his own hands, it's one of a kind, literally the only Vale in existence. Not yet a father of children, this is his proudest creation. Needless to say riding this bike carries a burden of responsibility far above a run of the mill review. Best not put it down.
Precision & Comfort
Tristan has worked on geometry of this frame with internationally renowned cycling physiologist and bike fit guru, Steve Hogg. Longer chain stays add stability at speed while a low bottom bracket also helps on this front dropping the centre of gravity. The head tube is tallish eliminating the need for spacers while preserving a more pleasing aesthetic. Beyond the 'comfort and efficiency' mantra that Hogg brings to the table it was clear during my talks with Tucker that precision is a crucial facet of his philosophy in bike building and one that I know Steve would also endorse.
Enve supplies all the frame components for Vale; tubing of different diameters and wall thicknesses is chosen to achieve the riders' desired balance of stiffness and compliance.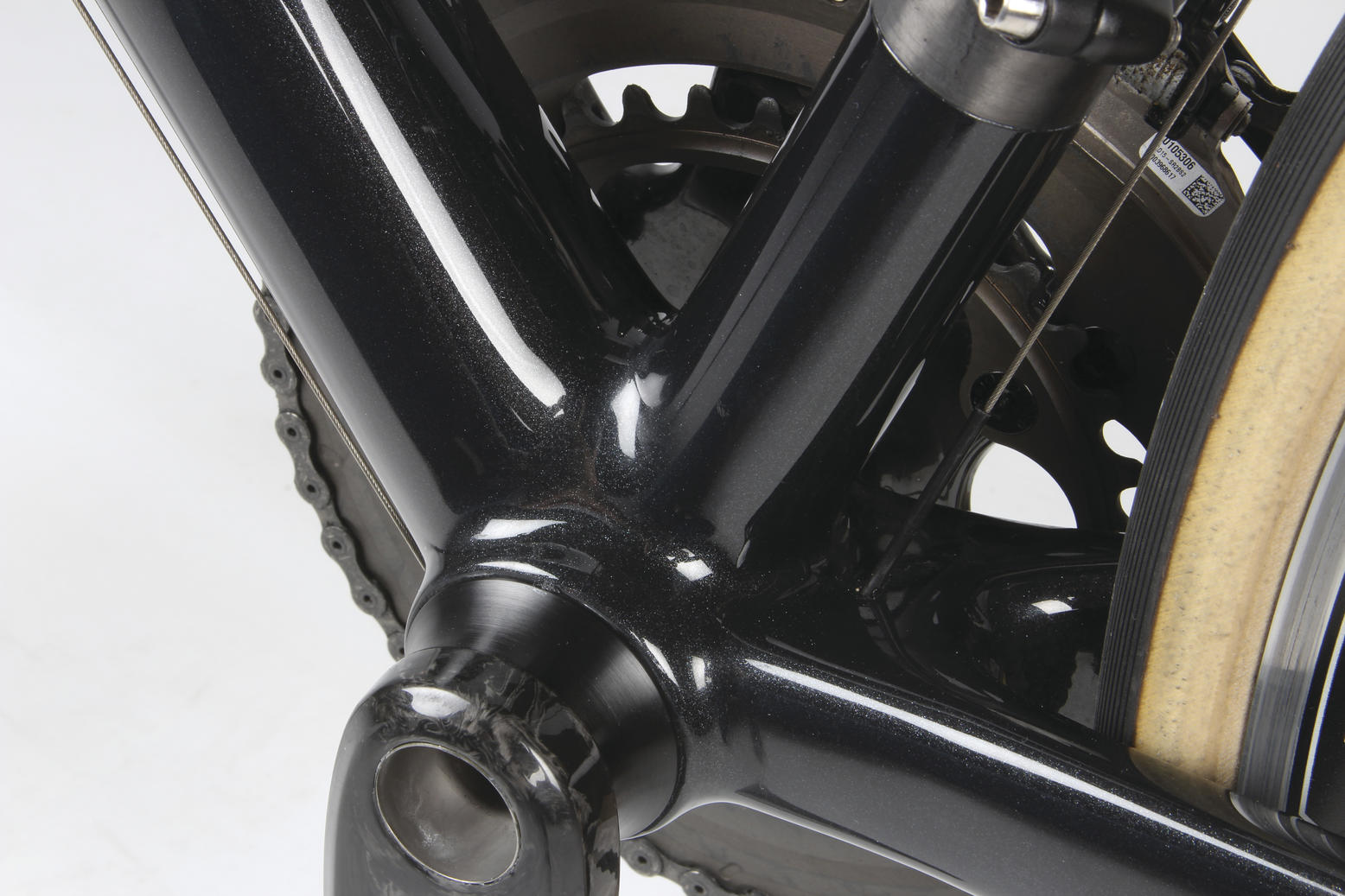 Strong Lugged Joints
One process Tristan brought over from his work on yachts is integral to his internally lugged tube joining process. A strong porous 'structural foam' plug is bonded into the ends of the tubes and then machine cut at the precise angle and radius to ensure a perfect junction. The plugged end provides a much larger surface area for the bonded join than the regular tube wall resulting in a stiffer, stronger joint. If needed, the level of stiffness can be further refined through the layup of the joints.
The internal lug process also eliminates the aesthetically detracting bulges of an external lug process, and assists with vibration and acoustic damping.
Curing the joints requires accurate control of temperature and pressure specific to the resin and prepreg used. Importantly all joints are set and cured while the frame is still in the jig to ensure perfect alignment is retained. Again, it's a process Tucker has perfected through his work on yachts and repairing frames.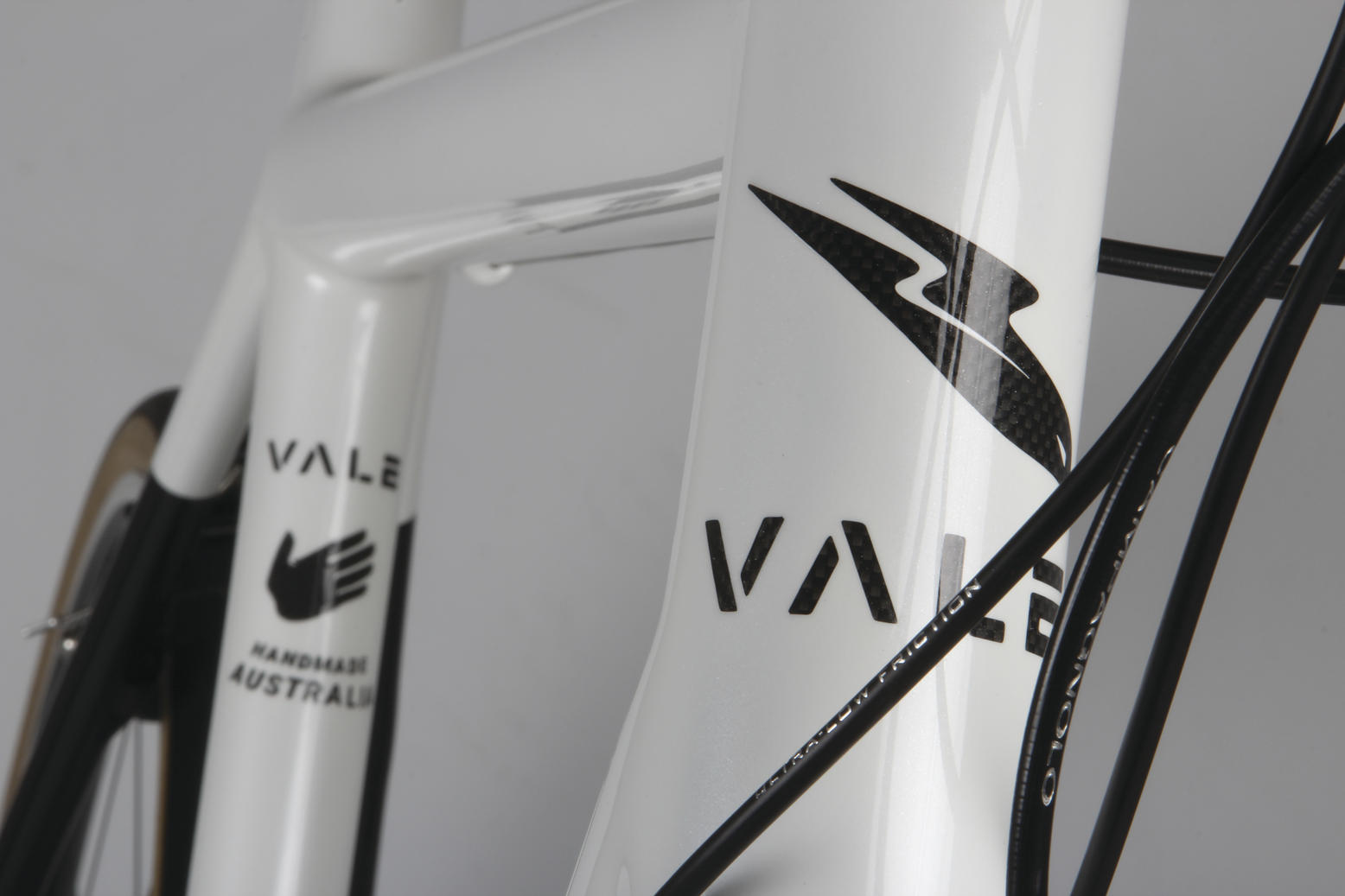 Big And Bold, But Light
On this bike the plain round tube profiles make for a very stiff frame. In contrast to many mass produced frames, especially in the endurance sector, the seatstays are sizeable and fairly stiff, and while many often opt for a 27.2mm seatpost, the Vale sports a powerful looking 31.8mm ISP, one easily converted to 27.2mm if needed; the internal diameter is a perfect fit.
Despite this being a large bike, albeit with a fairly expensive build, it's quite light at just 7.4kg. It would have been lighter still if not for an extra layer of 3k carbon…the bike was originally to be left with a woven carbon finish under a clear coat, only to be painted later to showcase his prowess in this field too.
Super Stiff Frameset
So yes, it is stiff, and intentionally so, built for Tucker's own preferred style and the roads he calls home. I've no doubt it would repay you in kind if you were to bang it into potholes, but likewise it is willing, if not eager, to reward power with speed both on a climb or sprinting for the line. Another benefit from the stiff frame is that it tracks beautifully.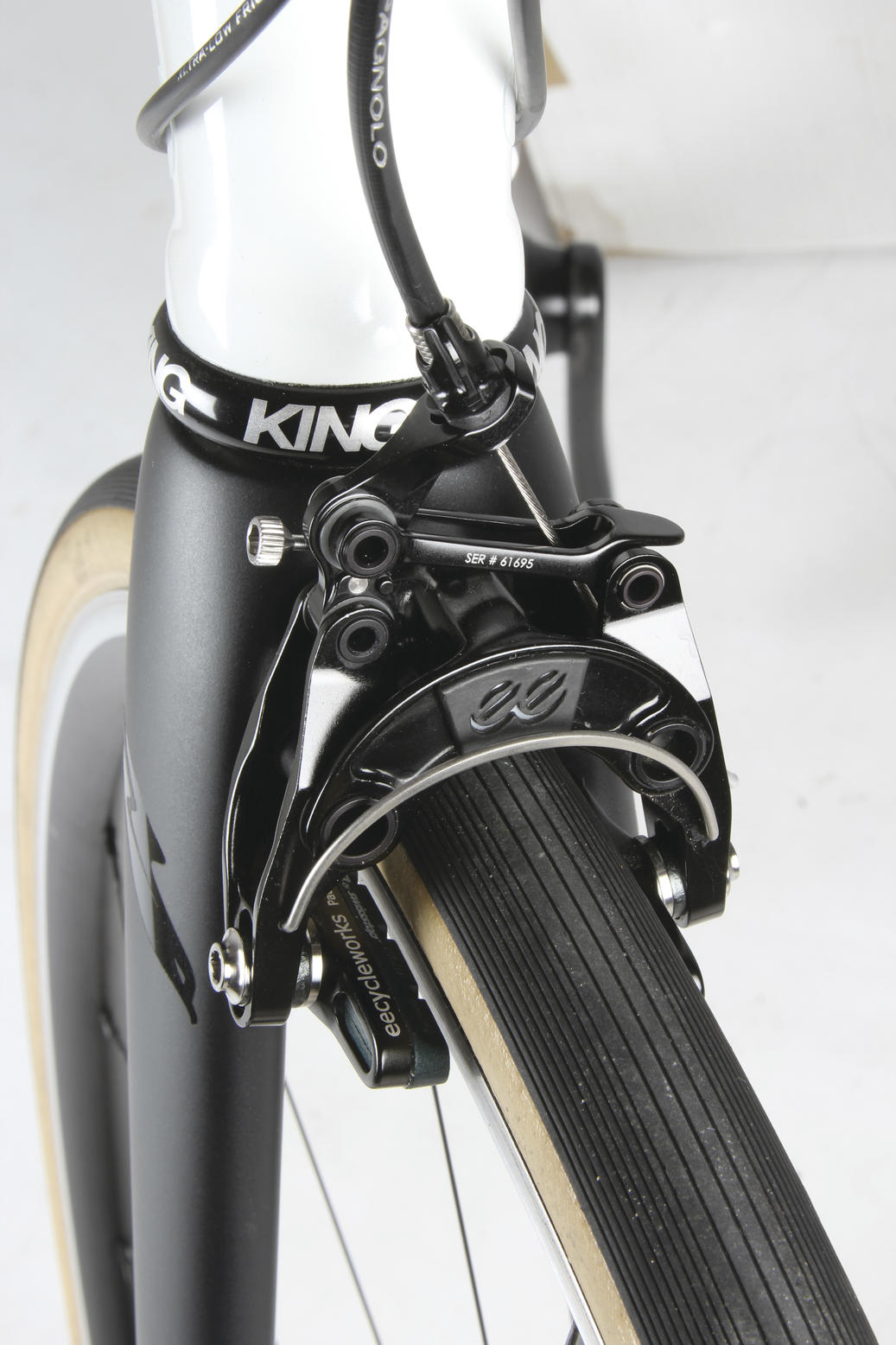 There's no squirelly weaving of wheels from a flexing frame, no second guessing the traction or inflation of your tyres, or wondering if you had one too many last night. HEDs wide Belgium Plus rims and Vittoria Corsa tyres play a part in this perception of stability no doubt, providing a large footprint and an immediate sense of certainty while descending. On my first descent during the review I posted times in my top three on Strava. Put quite simply, it handles exceptionally well. The intentionally specced high volume tyres absorb the buzz of a coarse road surface well to boot.
It would repay you in kind if 
you were to bang it into potholes, but likewise it is willing, if not eager, to reward power with speed both on a climb or sprinting for the line.
Tristan wants his bikes to last a lifetime and the quality of finish is testament to this. The attention to detail in for example the cable stops is superb, the tight radiuses on the tiny lugs are smoothly rounded and perfectly coated with glimmering pearlescent white paint. Equally the transition from metallic to 'clear coat over bare carbon fibre' is sharp and slick.
Customisation To A 'T'
As with any bespoke bicycle build the client is free to choose component spec. Here, Tristan chose a unique assortment of parts; the Chris King headset is a discreet indication of quality, while the matching black hubs with their super smooth spin and distinctively refined, metallic freewheeling buzz speaks a little more loudly of the level of prestige in this build.
The drivetrain and brakeset are not outdone though, with a Super Record groupset and EE Cane Creek brake calipers adding the final flourish.
Beyond the frame build there's also the double edged sword of paint colour and design. It's an enviable problem to have. Once you sign off the paintwork, Tucker brings to bear his years of expertise in paint application. He uses an epoxy undercoat from DNA Paints to bond with the epoxy resin in the carbon fibre matrix for long lasting adhesion. The colours and final clear coat are considered car paints but stick well and bond well with the epoxy undercoats.
So your choice of ultra high end bespoke frames is no longer confined to steel or titanium. Don't spend too long dreaming though; interest is growing and Vale is not even into mass production.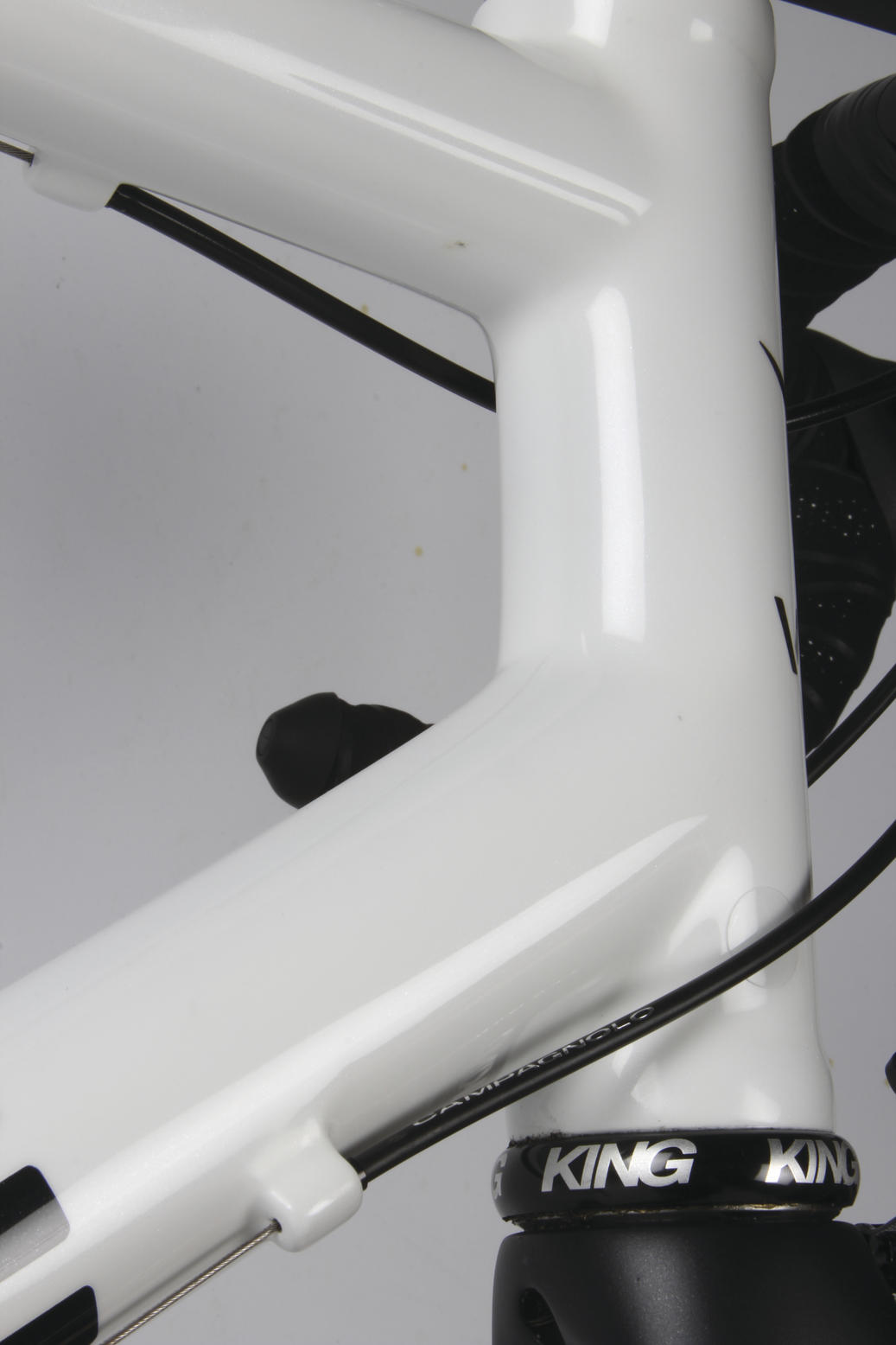 Specifications
Frame: Vale, custom made carbon
Fork: Enve
Head Set: Chris King
Stem: Enve
Handlebars: Enve
Saddle: Fizik R1
Seat post: Vale ISP
Shift Levers: Campagnolo Super Record
Brakes: EE / Cane Creek
Front derailleur: Campagnolo Super Record
Rear Derailleur: Campagnolo Super Record
Cassette: Campagnolo Super Record 11-25
Chain: Campagnolo Record 11s
Crank: Campagnolo Super Record
Bottom Bracket: BB Infinite by Ceramitech
Wheels: HED Belgium + rims, 
on Chris King Hubs
Tyres: Vittoria Corsa 28mm
Weight: 7.4 kg's
Price: $10,000 (frame only)
contact: www.valebikes.com
Quality
Hand made by a carbon fibre expert exclusively from Enve tubing, finished with a superb 'no expense spared' paint job and specced with premium boutique components this bike is literally unique, as will each other Vale after it be.
Performance
While not sharing the proportions of a modern race machine, the Vale is a classy high performer. Using a stiffer tubeset combination (there are others available) this frame, with its fitted running gear, does a reasonable job of smoothing rough roads, but the power delivery, high speed stability and handling is very good.
Value
This bike handmade in Australia, a one of a kind trophy bike that deserves to be put on display. The paint finish is deep and glamorous. With your desired balance of stiffness and compliance and dream spec this custom built frame will last a lifetime bringing a smile to your face each time you ride it. Expensive is a relative term, but at an eye watering $10,000 for the frameset alone, owning a Vale will be for the elite few who must not only have the best, but also something that no one else can.
Overall
The Vale is an exclusive, high performing, high quality machine that makes a statement, one that will set the owner apart from those with their mass produced run of the mill bikes. While it comes with a sizeable price tag, it's difficult to imagine how it could be better. It may well be the best, and very possibly the last, bike you'll ever own.