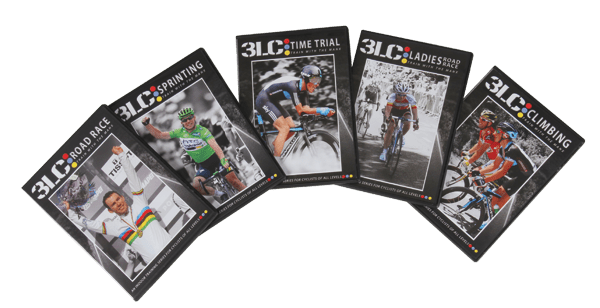 For many riders, spending an hour or two on the home trainer is tantamount to sitting through a Cliff Richard concert; tedious and painful. Of course everybody would prefer to be out on the road, but as most of us know, thanks to work, family and life in general, it's not all that simple. You might find that weather, the seasons or extra time at work leaves you with precious little time to ride. And before you know it, several weeks may have gone by without riding at all.
In this type of situation, trainer time becomes very important. It gives you the opportunity to keep some fitness and regularity in your training. If you get a good DVD to train with then you can find yourself working considerably harder than you would on the road. This is a good thing.
The DVDs on test here are from 3LC which stands for Three Legged Cycling. The name comes from the Isle of Man, whose flag has a circular (or to be accurate a triskelion) design with three armoured legs on it. There are five DVDs in the series, Road Race, Women's Road Race, Time Trial, Climbing and Sprinting. Each runs from between 50 minutes to an hour. Like many similar DVDs such as those by Spinervals or Chris Carmichael, the format is a group of riders in a studio being 'coached' through a training session. The coaches here are Manx level two coach Peter Kennaugh Snr (father of Sky rider Peter Kennaugh) and former British criterium champion, Rob Holden. On the trainers you'll see Peter Kennaugh, Jonny Bellis, Mark Christian, Chris Whorral and Chris Nicholson. As you might expect from an Isle of Man production, Mark Cavendish features a lot in the company's marketing, particularly with their title, 'Train with the Manx', so it was mildly disappointing to find that Cav only rode in the Sprint version. He does appear with good advice in the Road Race volume and I'd have to say that his absence didn't really detract from the quality of the sessions.
An important aspect of indoor training is not being bored and 3LC manage this very well. Each program is based around quite short intervals and you never get any more than five minutes easy spinning. As anyone who has done intervals knows, they can come around very quickly and I would go as far to say that one or two of these are some of the hardest workouts I have ever done indoors. What is nice though, is that the coaches leave it up to you how hard you go, at least when it comes to gear selection. Other DVDs tell you what gear to be in, but the problem with that is that people have varying degrees of fitness. This can result in feelings of guilt or inadequacy when you choose a gear that is lower than the one that's recommended. There's none of that here. Instead you get a recommended cadence and advice on the amount of effort to put in on a scale of one to 10. On the screen you get some good information. A graphic down the bottom shows you what you are doing at the moment, how long you have to go with that particular section and also what is coming up next. It also shows you what your perceived effort should be and a clock in the top right hand corner counts down your overall time.
An unusual feature of these DVDs is the complete lack of music. I asked director Dave Williams about this and his reply was as follows:
"We decided not to include music for a few reasons. The main one being that all the other training DVDs we've used over the years have incredibly annoying music! When you're repeatedly doing a session it can become quite grating so we felt we would let the user decide if they wanted music on in the background. Also, if you race competitively or even just sportives you generally won't have music so this prepares your mind to focus on the task in hand. We also felt that having no music gave everything a more intimate feel and replicated what it would be like to have a personal trainer in your living room."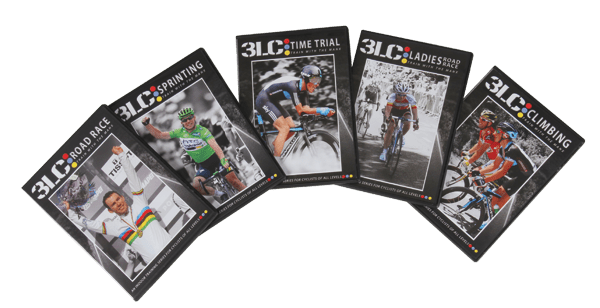 I personally wondered if doing a session without music would be dull, but it wasn't. In fact, I'd go so far as to say that it was better without. Just like a normal training session the guys on the DVD have a fair amount of banter going on, although many people may struggle with the Manx accents. And it does allow you to concentrate on the instructions and motivation from the coaches. There are at least two in each session so you have to listen. If you live in a flat or somewhere without a dedicated training area, this is a definite bonus.
I would definitely recommend these DVDs. They're a cut above both Spinervals and Carmichael Training in production and they manage to quite successfully replicate race conditions. A steady program of these will absolutely see your riding improve. You can check out a preview at: http://vimeo.com/40119597#at=0
Available from Bicycling Australia Shop
www.bicyclingaustralia.com.au
Price: $39.95