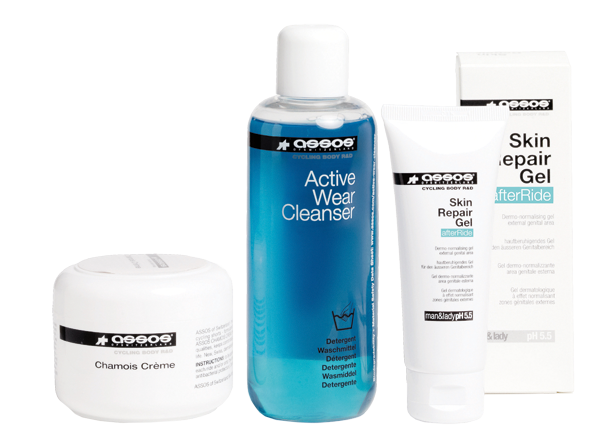 Chamois Cream: Assos have branched out into a range of creams and lotions to complement their bike related clothing line. Their chamois cream is a logical extension to their knicks which are famous for their chamois'. The cream is suitable for all types of chamois' to prevent bacterial and fungal infections and saddle sores. It's said to increase chamois life and reduce chafing and friction.
140ml tub RRP $34.95
Skin Repair Gel: There is also a skin repair gel suitable for relieving discomfort and repairing skin damage caused by friction against the saddle. Their formula is based on natural ingredients, contains no colourants, perfumes or preservatives and is suitable for men and women of all skin types.
75ml RRP $44.95
Active Wear Cleanser: Assos' Active Wear Cleanser was designed exclusively for cleaning Assos technical sportswear—your jerseys and knicks. Its mild formulation has been specifically developed for sublimated textiles and provides colour protection which helps garments retain their vibrant appearance for longer. It has a pleasant fragrance and is gentle on your skin.
300ml RRP $34.95
1 Litre RRP $69.95
Distributed by Echelon Sports