Been thinking of setting up your rig for some bike packing? One of the fastest-growing segments of the sport, bike packing is booming. And it's little wonder, considering the huge amount of interest in events such as the Indian Pacific Wheel Race here in Australia earlier this year, and others such as the TransAm cross America race which kicks off on June 3, or next year's North Cape -Tarifa, from Norway to Spain!
While only a relatively small proportion of us might consider a gruelling trans-continental race such as those mentioned above, many have realised how simple and rewarding a short range, 2 to 3 day adventure, can be.
In this article we'll take a look at one of the most the critical aspects of bike packing, the bags themselves.
Bike Packing Or Bicycle Touring?
Before delving into what to look for in a bike packing bag, it's important to point out the difference between bike packing and bicycle touring.
Bicycle tourists tend to carry more, on bigger, heavier, often purpose-built bikes. Pannier bags are common, as are single or two-wheeled trailers. Bicycle touring is a brilliant way to travel! Many spend months and even years making their way around the state, country or world via bike.
If bicycle touring is distance over time, bike packing is more like time over distance.
Bike packing is different. Think minimalism on two wheels – it's lighter, faster and more efficient. Bike packers tend to focus on balancing cruising comfort with carrying as few necessities as possible. It's about detailed research of equipment, keeping count of the grams and packing smart.
Bags A Key Factor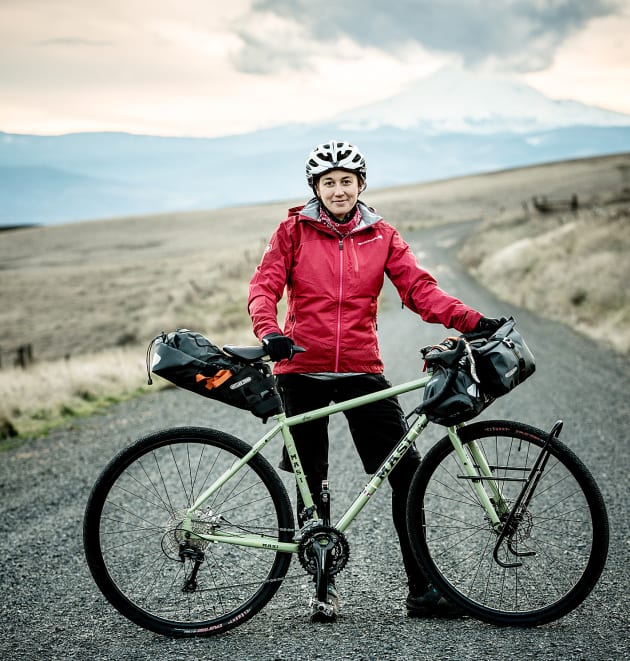 Baggage plays a pivotal role here, with the majority of bike-packers opting for a three-bag set up, a handlebar bag, frame bag, and seat post bag. Small top tube bags for the storage of phones, cables and ride snacks are also common and heavily relied upon.
To get the lowdown on all things bike bags, we spoke with Kevin Morris from Diggari, the Australian distributors of Ortlieb, the global market leader in waterproof bike bags and accessories.
With bike-packing booming, and baggage a key component, we started by asking Kevin about the popularity of getting away from it all by bike.
"It's become hugely popular," he said. "As soon as new stock arrives it's gone straight out the door. We're constantly having to re-order and reorder. People really are embracing the adventure side of biking, and they require the quality equipment that goes with it."
The All-Purpose Bike
"The thing is," Kevin continued, "People like the idea of not needing a specific adventure bike. No panniers, no nuts and bolts or anything like that. These bags can be simply attached for the weekend, used for the specific purpose of adventure, discovery and travel, then easily removed. You can get back on that same bike and ride it to work on Monday morning."
Asked about the best-selling and most common combinations, Kevin said many opt for a seat pack, a front handlebar bag and an accessory pack. Depending upon how far riders are planning to travel, how long they'll be away, and what they intend carrying, some may also fit a frame bag.
"The handlebar bag with an accessory pack is very popular and handy to have," he said. "These suit road bikes, hybrids and mountain bikes, people who may not normally tour can easily attach these bags to their bikes and simply take them off when they get back."
With many weekend bike-packers carrying a lightweight sleeping bag and tent, Kevin said the Ortlieb seat pack was a versatile and popular option.
"It has a lightweight frame inside it which stops it from collapsing," Kevin continued.
"It's rigid, but still very lightweight. It doubles as a very good mudguard – plus it's 100% waterproof. The seat packs actually have a valve on them so they compact right down."
The Ortlieb Range – Handlebar-Pack
Ideal for all-weather offroad adventures, the Handlebar-Pack keeps gear secure and dry in all weather conditions. The cylindrical form holds up to 15 litres and is ideal for soft, stuffable items such as a jacket or sleeping bag. The robust fabrics and fittings ensure long term durability. The twin roll closures allow any sized load to be centred in the middle of the bike. They also allow for quick and easy access.
The Handlebar-Pack fits easily and securely to the bars using two straps and adjustable spacers. A lightweight internal stiffener and stem strap further assist security and stability. The handlebar pack weighs 417gm.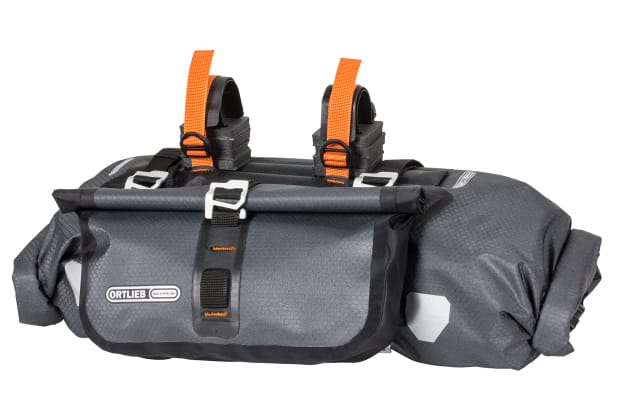 As Kevin Morris said, the Ortlieb Accessory-Pack is a popular addition to the Handlebar-Pack. The Accessory-Pack provides an additional 3.5 litres of completely waterproof storage. It's the perfect place for a phone, camera, energy bars, money, or sunglasses – items you need readily available during the course of a day. The Accessory-Pack can attach directly to the bars and/or the outside of the Handlebar Pack. A shoulder strap is included – this allows the accessory pack to be used as a shoulder or belt bag – it's particularly useful for taking valuables into a shop or café. The Accessory-Pack weighs 206gm.
Ortlieb Seat-Pack
For any expedition, overnight trip, or weekend adventure, a seat pack is a must-have accessory for any bike packer. Spacious and waterproof, the Seat-Pack fastens securely to the seat post and saddle rails of most bikes. Fully adjustable according to load, the internal volume ranges from 8 to16.5 litres. With a roll closure and valve system, excess air can be easily rolled out to ensure tight packing. A top shock cord holds additional gear or clothing.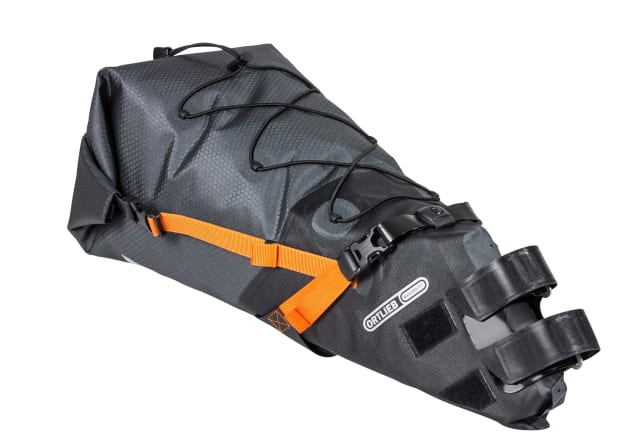 Made of robust fabrics, completely waterproof, and custom stiffeners and an optimised strap design ensure the Seat-Pack performs in harsh off road conditions. The Seat-Pack also blocks spray from the rear wheel like a mudguard. Since stability is a key requirement of any saddle bag, the Seat-Pack uses highly reinforced fabrics and fittings to ensure a secure, movement-free fitting to the bike, and also long term durability. The Ortlieb Seat-Pack weighs 430gm.
Ortlieb Frame Pack
Matching all other storage bags in the range, Ortlieb's Frame-Pack features a waterproof zipper and tear-proof nylon fabric
The Frame-Pack is designed to transport heavier gear such as spares or food in a central position close to your bicycle frame.
Strong and sturdy velcro tabs ensure tight and secure fitting inside the frame triangle. The Velcro securing tabs are individually adjustable for the perfect fit to any frame geometry. The Ortlieb Frame-Pack is available in two sizes, 4 and 6 litres, and weighs in at 174gm (4L) and 220gm (6L).
Ortlieb bags are available from bike shops and retailers right across Australia. Enjoy bike packing? We'd love to hear your tips, advice or anecdotes. Have your say in the comments below or over on the Bicycling Australia Facebook page.