The CeramicSpeed Oversized Pulley Wheel System has extended compatibility options to now cover SRAM Red, Force and Rival groupsets. Launching a new version of the system designed and developed by CeramicSpeed, in Denmark, the new product should be available from mid-October 2016.
A 17-tooth pulley wheel system, CeramicSpeed is made of lightweight materials, the lowest friction bearings and the longest lifetime with consistent road and lab testing. According to the company the system delivers energy savings and reduces the friction in the derailleur by 40 to 60%.
New compatibility – SRAM groupsets
The newest addition to the product collection is the CeramicSpeed system for SRAM. It is designed to be compatible across the SRAM range and fits up to 32-tooth size cassettes. The newly released system comes in two options, one compatible with SRAM eTap, and another one compatible with SRAM mechanical groupsets, 10-speed and 11-speed setups. Just as the OSPW System for Shimano, the SRAM version is available with both coated and standard CeramicSpeed Bearings.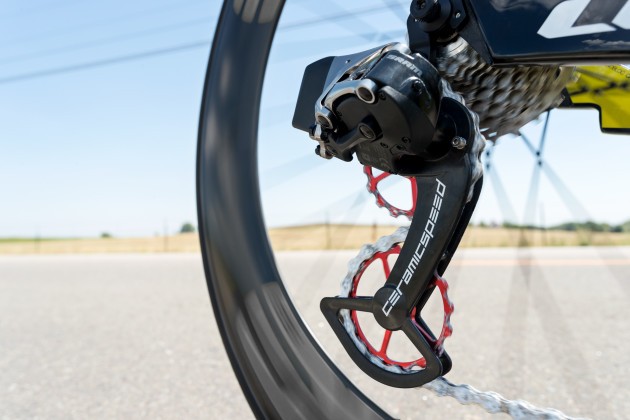 CeramicSpeed Managing Director Martin Banke said it had been a year since the company released its oversized pulley wheel system.
"It was just a matter of time until more and more riders would try out and get to understand the real advantages of the OSPW Systems," he said.
"When that happened, we've watched the OSPW System make the first appearance at Tour de France. After months of research and testing, at the request of athletes worldwide, we are now able to help riders boost their performance, with both Shimano and SRAM groupsets, letting them enjoy the benefits of this technologic advance."