Pete Maniaty rides wheels with an eye-watering price tag but very impressive performance, the $5,000 Schmolke TLO 45 Tubeless Ready Disc Wheelset
There's no shortage of options when it comes to upgrading your bike. Towards the top of the list is a new set of performance wheels—and at the top of that list, or very close to it, you'll find the superb TLO 45 tubeless-ready disc wheelset from German components brand, Schmolke Carbon. Fantastically light, fast and agile, they don't come cheap. With an RRP of $4,990 per set, the big question is 'are they worth it?'
FIRST IMPRESSIONS
TLO stands for 'The Lightest One', and there's no denying these wheels are feathery light. They almost floated out of the box. Claimed weight is 1,360g for the tubeless-ready model reviewed, while the measured weight on my home scales was 1,390g with tape. The clincher-only version is even lighter at just 1,300g.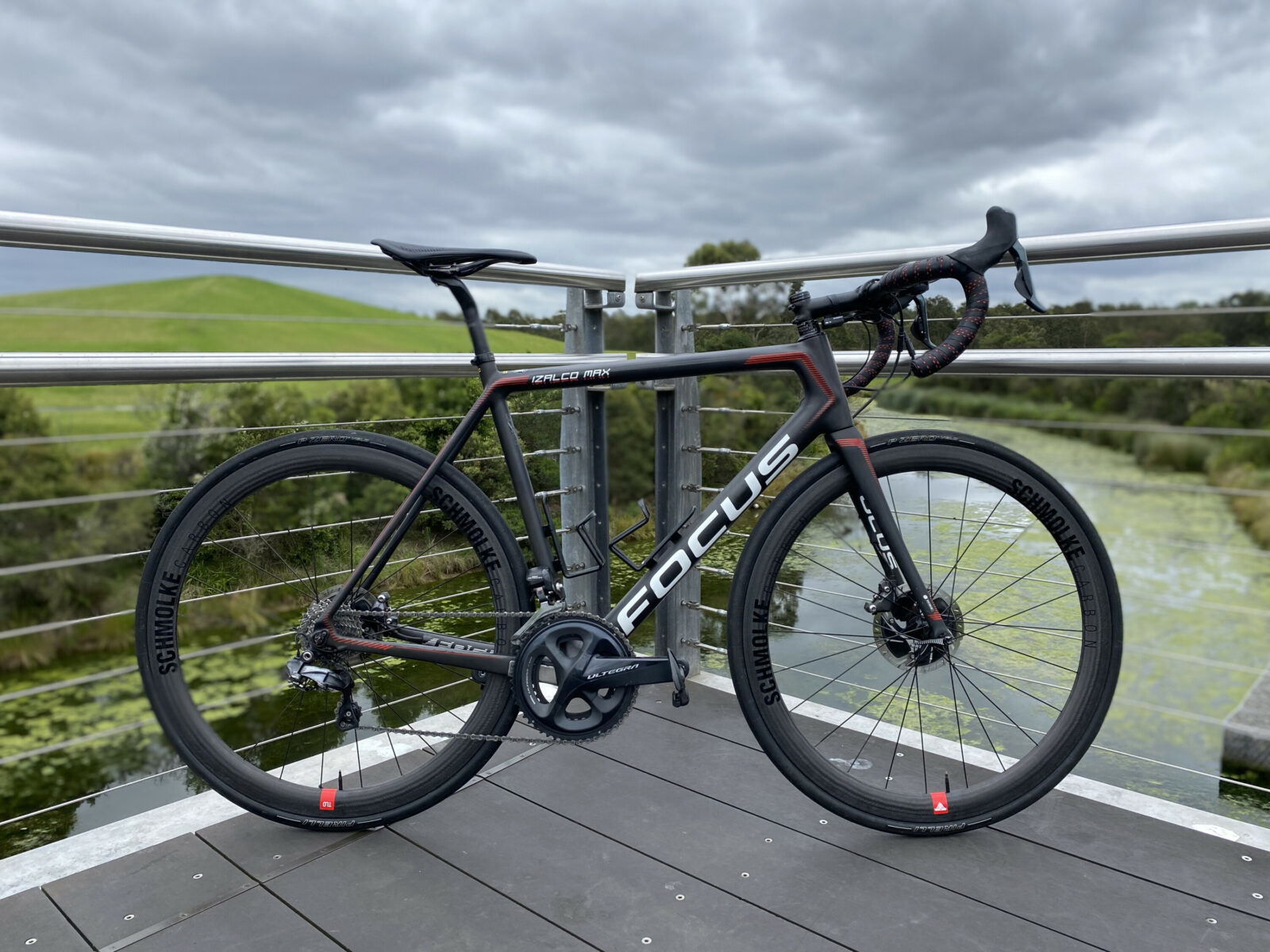 As Schmolke proudly explain, you'll go a very long way to find a lighter 45mm wheelset.The other thing that immediately catches the attention is the raw and brooding styling.
Rather than 'look at me' pretension, Schmolke's designers have opted for a look of understated confidence with a matt braided carbon finish and subtle clear gloss decals for the Black Edition wheels reviewed, punctuated by a flash of red located near—but, somewhat curiously, not actually at—the valve hole.
TECH & SPEC
Little expense has been spared here. Hand-laced Sapim CX-Ray 2.0 straightpull spokes. Ultra-smooth DT Swiss 180 ceramic hubs. High-tensile braided Toray T800 carbon (around 11% stronger than T700). All beautifully finished, as you'd expect. Like every Schmolke wheelset, the TLO 45 uses internal spoke nipples to deliver a cleaner, stronger and more aerodynamic profile.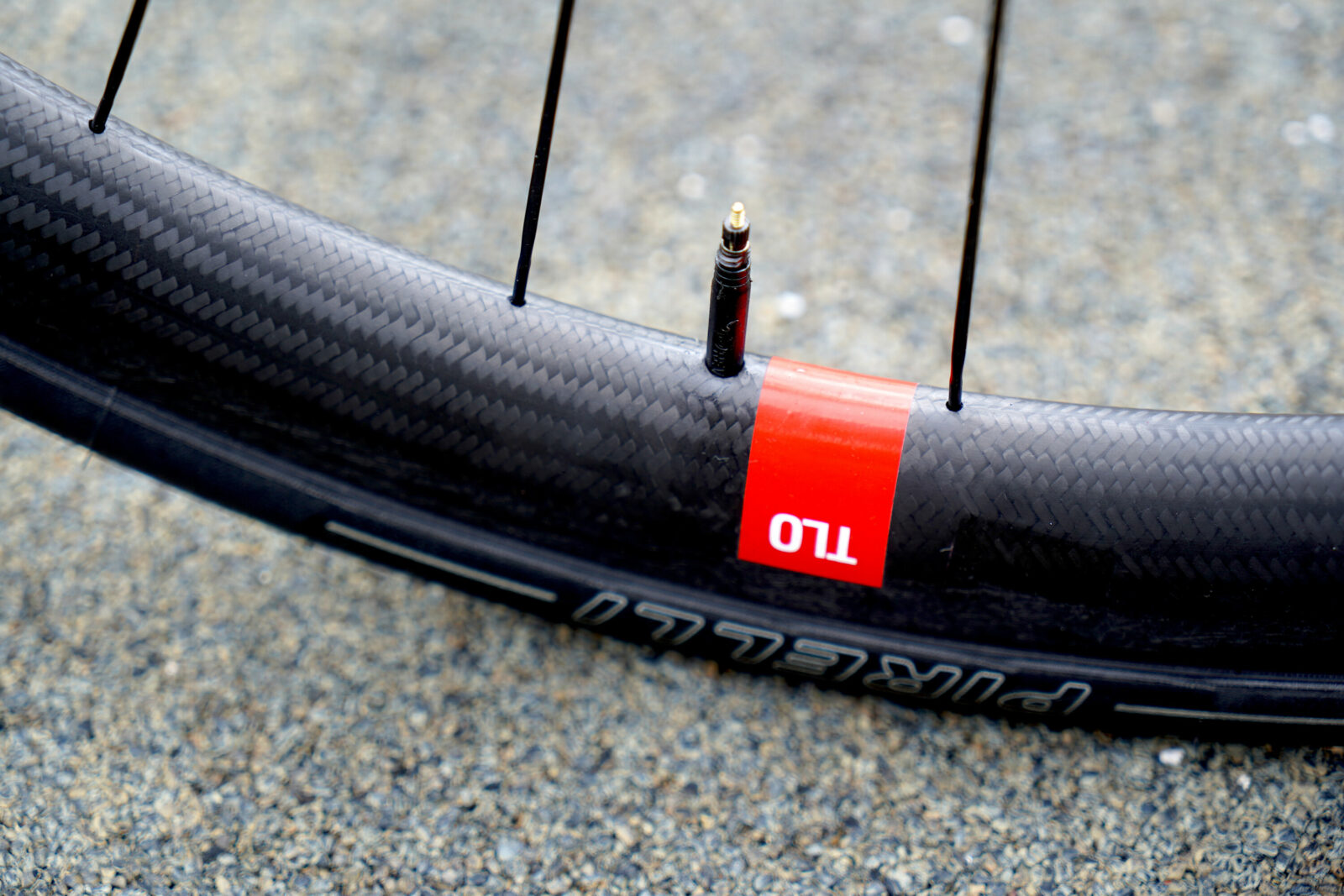 Another feature of note is the internal width of the TLO 45: it's quite narrow at just 17.6mm, somewhat bucking the current trend towards ever-wider rims. Schmolke says the TLO 45 is suitable for running 23-32mm tyres. However, the 25mm tyres I was running already seemed a touch on the 'bulgy' side, suggesting 28mm and 32mm could be even more pronounced. The wheels ship with Schmolke rim tape and tubeless valves.
ON THE ROAD
While the review model was tubeless ready, I rode and raced the TLO 45 exclusively in its tubed configuration using ultralight Revoloop Race tubes and Pirelli P-Zero 25mm tyres. They didn't disappoint. Fast and firm with excellent road feedback, they're not especially supple wheels (tubeless would no doubt be a little a more forgiving).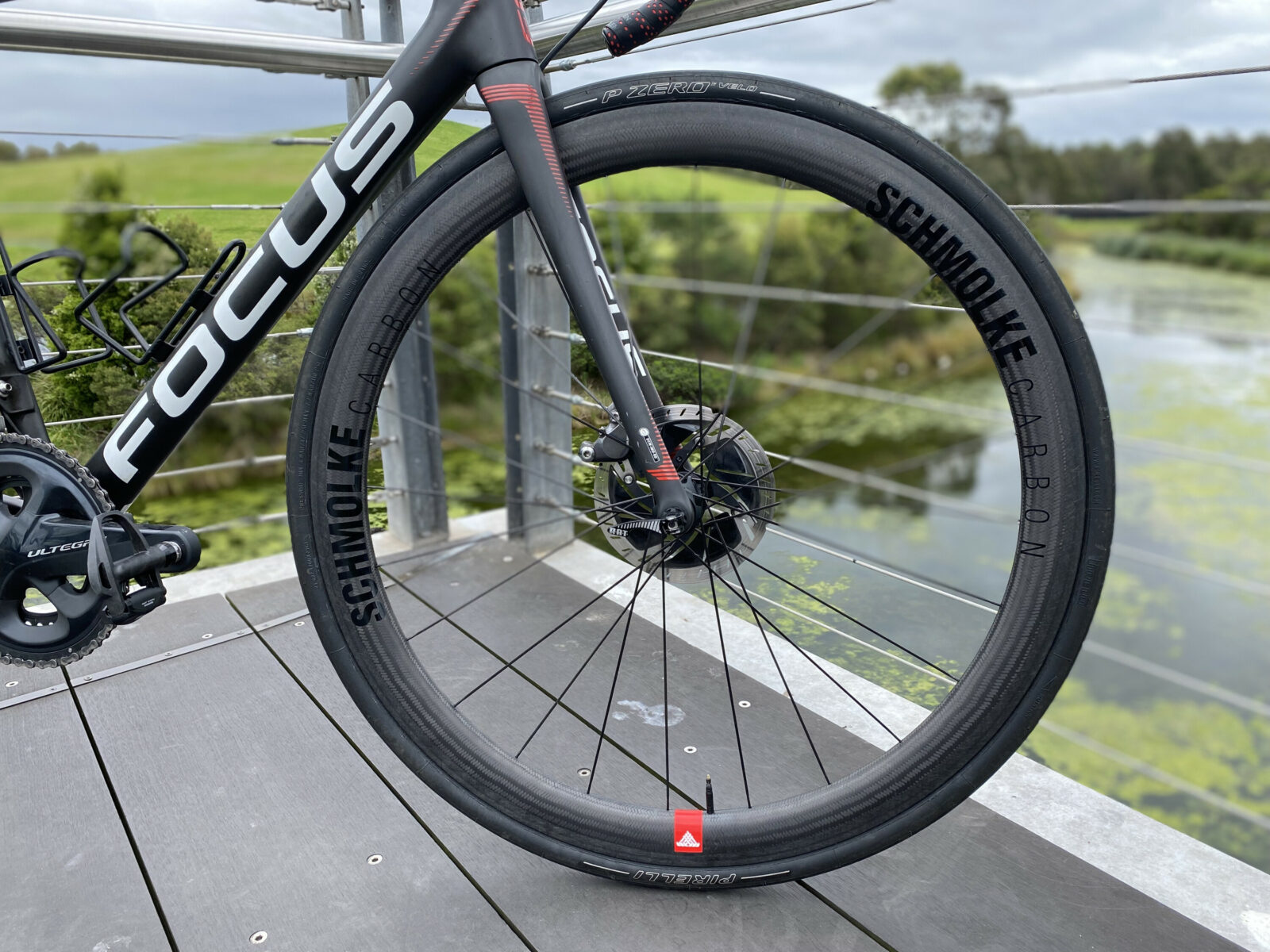 Rather, they're all about maximising speed and power transfer, which they do with great aplomb. The combination of T800 carbon construction with Schmolke's Resin Transfer Moulding process ensures not a watt is wasted through unnecessary flex. This, in turn, delivers fabulous handling with gunbarrel straight control in or out of the saddle.
Acceleration is way above average too, but like most high-end aero wheelsets they get happier and happier as they go faster and faster. It would also be remiss not to mention the outstanding DT Swiss 180 ceramic hubs, these things roll like velvet and spin effortlessly all day.
There's a lot to love about the TLO 45 but two things really stand out. Firstly, they absolutely fly across undulating terrain, treating false flats and modest gradients with absolute disdain. Secondly, and more broadly, the handling is simply superb—super precise and nimble, sensitive to even the smallest of rider inputs. Piloting these wonderful wheels, it's impossible not to feel you are the master of your own destiny.
SUMMING UP
The TL0 45 isn't just another set of carbon wheels. It's a set of ultra-lightweight carbon weapons, ideal for riders who demand the highest of performance and aren't wedded to the ubiquity of mainstream wheel brands. Happiest in the big chainring, they look fast and roll even faster, with truly sublime handling.
At close to $5,000, they're unlikely to make the shortlist of the average weekend warrior. But if you love your current frameset, and your budget can stretch enough, it's unlikely you will regret your decision. This is an upgrade of the highest calibre.
Meet the maker, Schmolke Carbon
Based in the German city of Konstanz, south-west of Munich and close to the Swiss border, Schmolke has been developing lightweight carbon bike components for almost three decades. Their founder, Stefan Schmolke, actually wrote his university thesis on the merits of carbon fibre handlebars back in the late 1980s.
Shortly after graduating, he decided to put his theories into practice founding the Schmolke Carbon business in 1992. In the years since, Schmolke has quietly developed something of a cult following within the global cycling community. Today they produce a high-performance selection of carbon handlebars, stems, saddles, seat posts and, of course, wheels.
More at https://bspokevelo.com.au/collections/schmolke