While winter is a way off, indoor training will be looming as an option for many cyclists, though perhaps one that seems like a jail sentence. Using a quality trainer might just make you feel like you have been let out on probation.
Indoor trainers can be a fast track to form for those without outdoor options available. Or for others a short circuit to intolerable tedium.
But there are good reasons for using a trainer such as inclement weather, road safety issues, or the need to be home with dependants—all of which can be quite valid. Then there are the detractors like the boredom, and the fact that there's a perfectly good road out there. To overcome these factors there are some very well produced training programs you can access online to give your confinement worthwhile structure and improve results.
Some will say the noise that these things make rules them out. Noise output of trainers has come down significantly over the past decade but is still one of the bugbears (read: excuses) some cyclists will cite as to why they don't use an indoor trainer. For others noise doesn't rate a mention.
We've gathered a few good quality trainers to test our resolve, and see how they perform.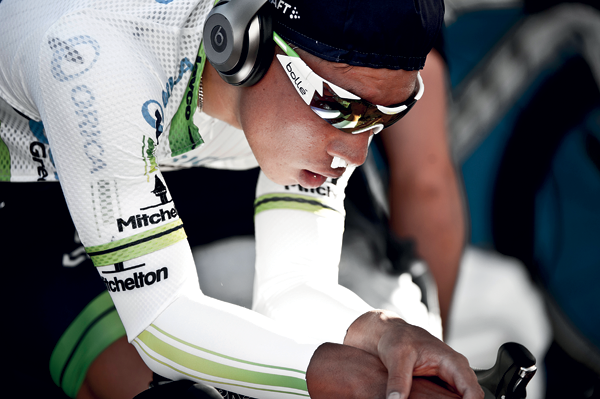 LeMond's Revolution
Specifications
Resistance Unit: Wind
DB: 82 @90RPM 53:17
Dimensions: 62(w) x 45(h) x 50(d)
Weight: 14.3kg
RRP: $649-$699
Distributor: De Grandi Cycle and Sport www.degrandi.com.au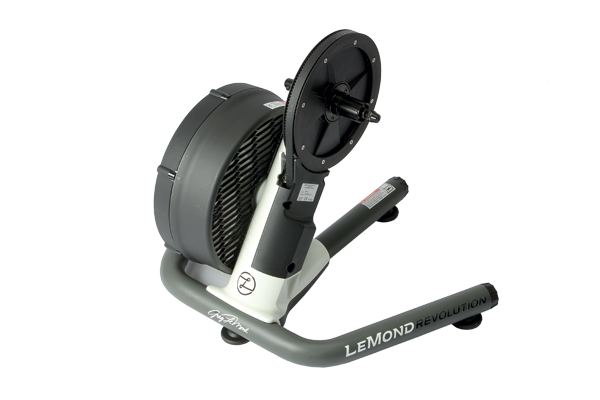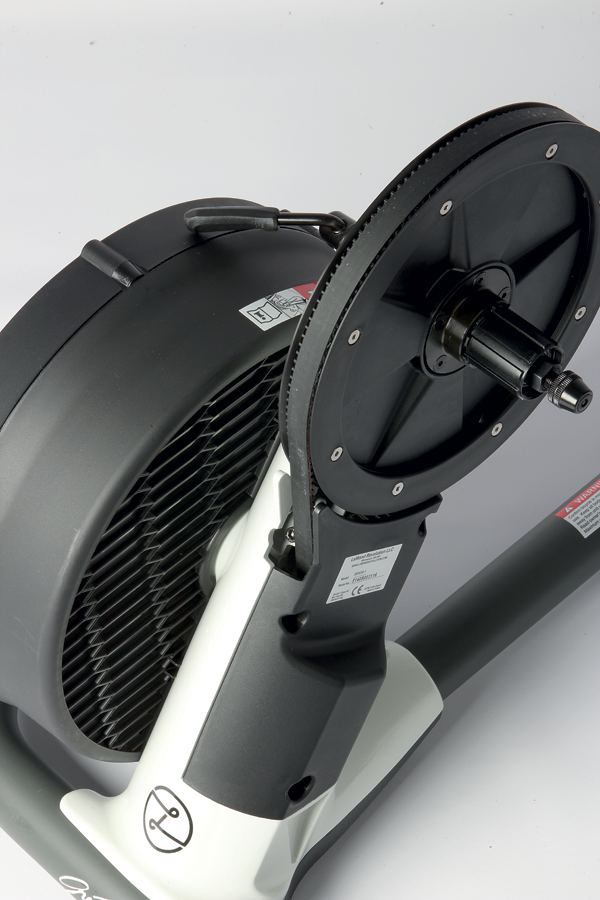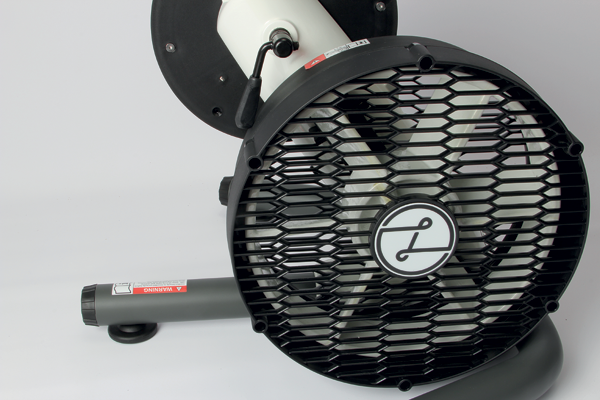 Lemond's revolution is a compact and solidly built direct drive unit with a quality feel and finish.
Setting up is very simple. You'll need to buy an extra cassette to leave on the trainer. Then it's as simple as removing your rear wheel, positioning your frame and chain on the trainer and using the quick release to clamp your frame onto the trainer. The axle height of the trainer is the same as that of your bike so you won't need a riser block to get level.
Resistance is provided through the large fan and some moderation is provided by inertia of the flywheel. The Revolution has a smooth and progressive resistance profile and has been designed to provide useful resistance through the rev range using the complement of gears on your bike. The faster your final drive output the faster the fan spins. The fan that governs resistance pushes a lot of air, and at heavier workloads it does get quite noisy, you may be relegated to the back room or garage while training.
The Revolution's resistance is super smooth and closely mimics a natural road feel, from a slow warm up through to really pushing hard. While the fan resistance unit doesn't replicate standing climbing at lower cadence particularly well, it does have a smooth wind up and coasting down sensation.
It's a gratifyingly hefty but compact unit with three stabilising legs that each has an adjustable foot to cope with any uneven floors. The small footprint is no concern though, and even sprints and powerful out of saddle efforts won't unsettle the LeMond.
The Wattbox is an optional kit for the Revolution to derive speed and power data, sent via Ant+ signal to your connected head unit that will let you track your performance over successive sessions.
Kinetic Rock and Roll
Specifications
Resistance Unit: Fluid
DB: 72 @90RPM 53:17
Dimensions: 88(w) x 45(h) x50(d)
Weight: 18kg
RRP: $899.99
Distributor: Velo Vita www.velovita.com.au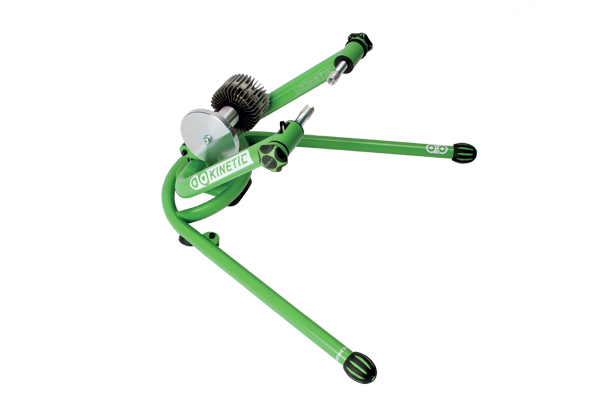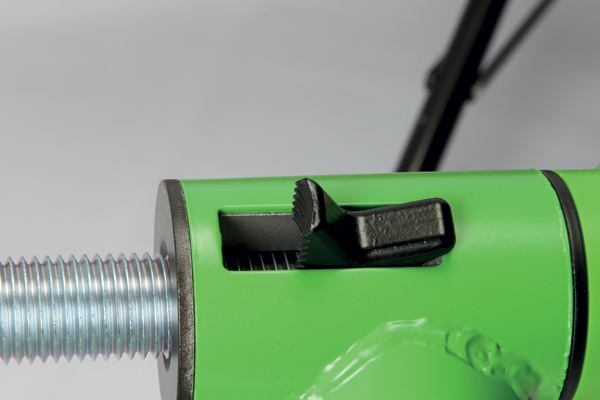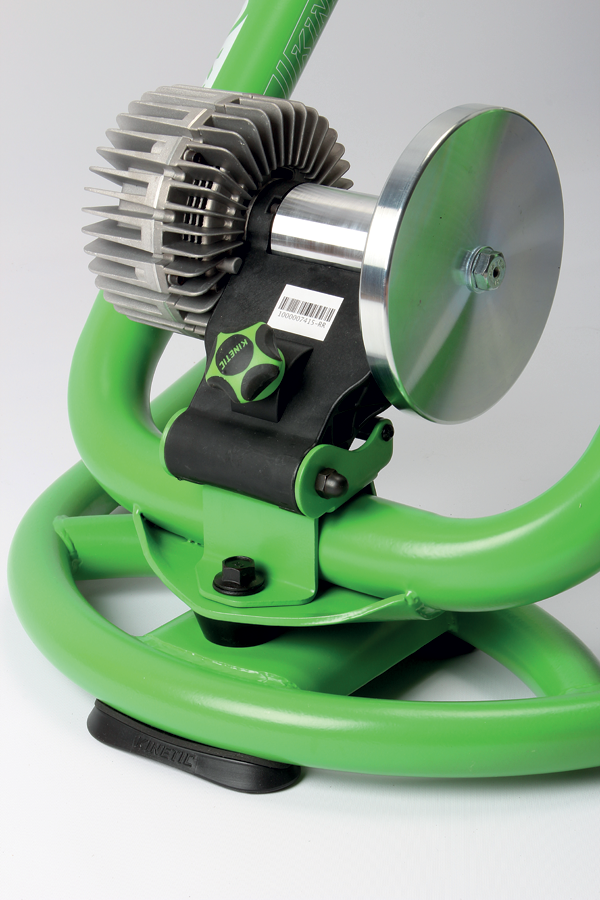 Kinetic's rock and Roll trainer combines a quality fluid resistance unit and a suspension system (similar to skate board trucks) that allows your bike frame to lean from side to side through about plus or minus 10 degrees either side of vertical. This may sound a little unstable but is actually no concern and adds both a little more lifelike feel, plus a level of core workout.
The Kinetic uses a stainless roller driven by your rear tyre to power the resistance unit, so it is quick and simple to set up; simply clamp your bike into the axle brace, and tension the roller against the rear tyre and you are away. One downside to trainers that drive through tyre on roller contact is the accelerated tyre wear these units can sometimes cause, though you can buy tough indoor training tyres to solve that issue.
With the largest footprint of the trainers here and a decent weight stability is no issue and flat out sprints can be performed without alarm. The long outrigger legs can be easily removed for more convenient storage. Given the drive roller is positioned slightly below your rear wheel you need to lift the front wheel as well. Kinetic has a 'turntable riser ring' to allow your front wheel to swivel with the Rock and Roll motion and also lift it (to four heights) to tune riding position for those who want to simulate climbing. Speaking of options there's also an optional power meter adaptor to connect to your trainer, as well as the InRide app to display and analyse your performance on your iphone.
The drive unit has a heavy flywheel on one side of the drive roller and the fluid resistance unit complete with cooling fins on the other, (the power you put down is converted to heat and needs to be dissipated somehow!) The resistance is quite true to life, replicating on road sensation well. Pedalling effort is variable through easy spinning to heavy climbing or sprinting and increases with increasing axle speed, and also by changing gears so you can easily find a resistance to suit the type of training efforts you're looking for.
While the name is flashy the Rock and Roll is no low performing show pony. I found the Kinetic quick to set up and easy to use, with good pedalling feel and reliable resistance and the fairly low noise generated a nice surprise.
Elite Turbomuin
Specifications
Resistance Unit: Fluid
DB: 73 @90RPM 53:17
Dimensions: 70(w) x 49(h) x 55(d)
Weight: 15.8kg
RRP: $849.95
Distributor: Cassons www.cassons.com.au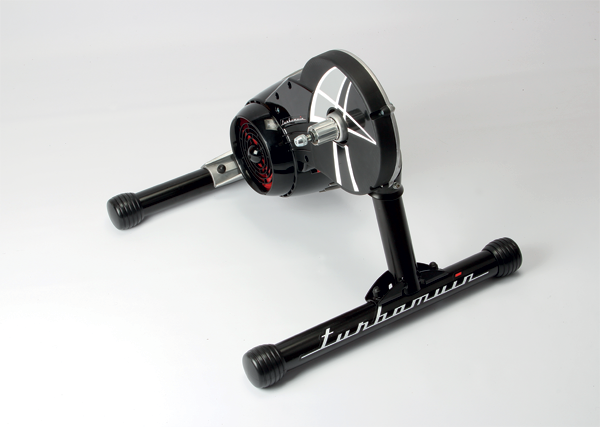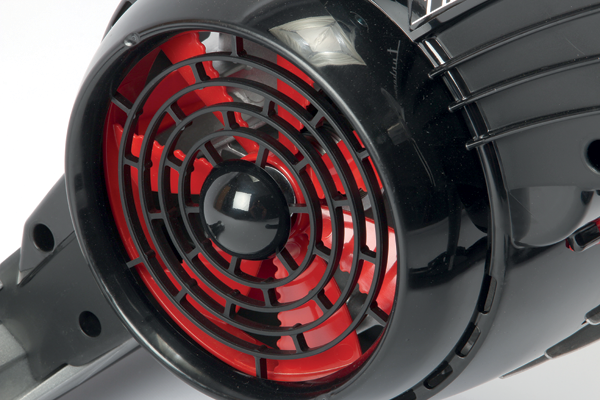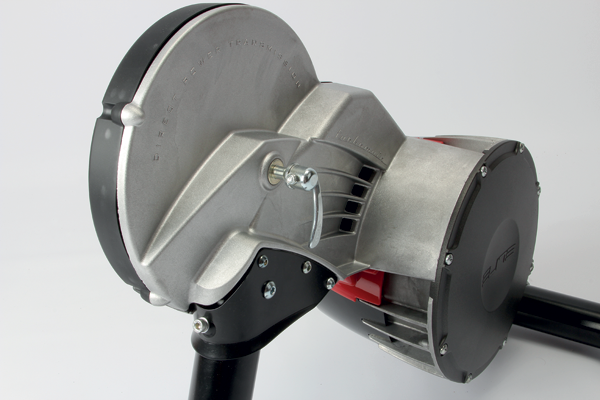 Elite is an italian brand that has been making bike products and trainers for over 30 years. The Turbomuin is a sleek solid unit with a typical Italian style. It's a direct drive trainer, so you'll need to procure a second cassette, and switching from road to trainer is a matter of removing the rear wheel and clamping you bike in via the quick release.
The Turbomuin looks very well manufactured with a tidy alloy cast housing skirted by a large, finned, heat sink area. The small fan you can see is for cooling the unit rather than effecting a change in resistance. In addition to the fluid resistance unit there is a heavy flywheel to smooth cadence changes.
The four rubber feet are well spread and provide a secure stable mounting contact and very good stability at any level of effort. The rubber feet should protect polished wooden floors and the like from marking too.
The Turbomuin's fluid resistance unit delivers a progressive increase in required effort and a true to life pedalling feel. Switching gears easily allows you to choose between high RPM spinning or heavy power sessions; I found the Turbomuin delivers an exceptional steep hill climbing sensation. The Turbomuin is a very quiet unit; indeed it is quiet enough that it was possible to watch TV while training without turning up the volume.
Power and speed data options are available for this trainer in both Bluetooth and Ant+ formats for universal connection options to your iphone, Garmin or other device.
The Turbomuin's refinement sets it in a new generation of fluid based direct drive units, providing good design, along with progressive, expansive and smooth resistance at low noise levels.
JetBlack Whisper Drive
Specifications
Resistance Unit: Magnetic
DB: 62 @90RPM 53:17
Dimensions: 70(w) x 49(h) x 55(d)
Weight: 15.8kg
RRP: $599
Distributor: Jet Black Products www.jetblackproducts.com.au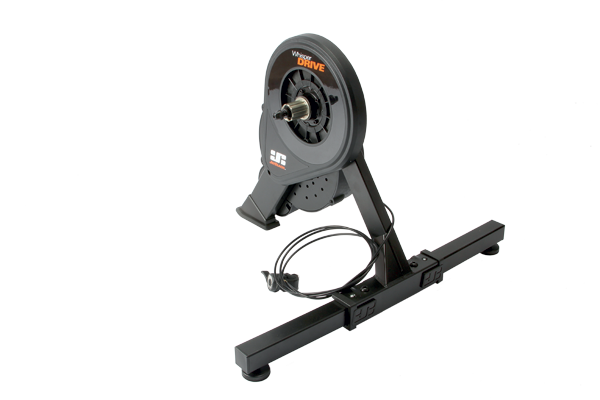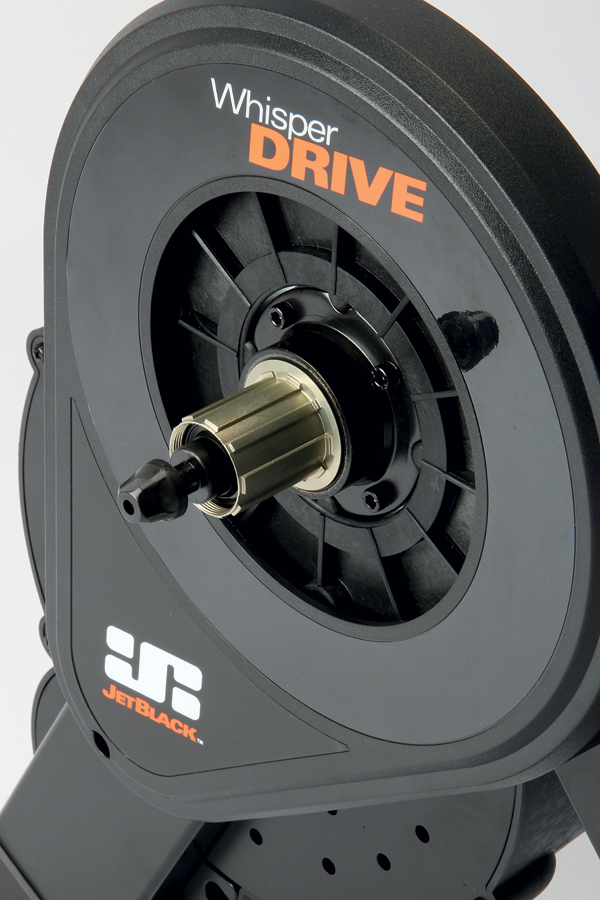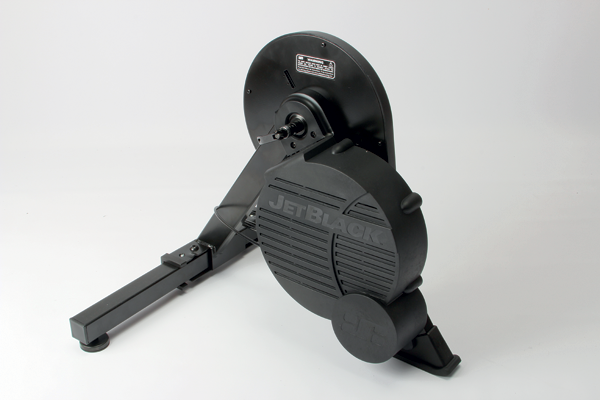 The only magnetic resistance unit in this review the Whisper Drive is an Australian owned product released towards the end of 2014. It's 's a direct drive unit, so set up requires that you take off your rear wheel and clamp your bike into the trainer, which has your second cassette fitted, and is driven directly by your chain.
Appropriately the Whisper Drive is all black, and carries the JetBlack bright orange highlights. Aesthetically the unit is neat and tidy but utility is the name of the game here. So while the cable makes the unit look a little less tidy and refined than other units that go without, it is easily long enough to lie on the floor out of the way of your pedals until it reaches the bars and quickly attached. Stability is no issue even under significant load; the support frame is simple square tubing and the foldaway legs have spring loaded detent buttons to unlock.
The Whisper Drive is built to perform. Climbing aboard for the first time I found the pedals almost locked out; incredibly difficult to turn from a dead stop—the resistance setting of the thumb lever was set at its highest, and my bike in a low gear. This is one of the key differences between fluid or air units and magnetic ones. Mag units have a constant level of resistance from the word go. They don't progressively ramp up the level of effort required like wind and fluid trainers whose resistance is based around friction which increases exponentially rather than magnetic opposition which is a constant, linear increase.
The thumb lever has seven increments which provide a very broad range of resistance control from easy spinning to something like an uphill sprint. They claim up to 1200 watts resistance is at hand, so it should satisfy most people's needs. And combining these seven stages with a spread of gears a suitable resistance is easy to find.
Conventional wisdom says that indoor trainers will undoubtedly be noisy and offensive, friendless but sometimes necessary items. The JetBlack Whisper drive is a revelation in silence. Your bike's drivetrain will probably be louder than this; even the electric pedestal fan you use will be louder than this. While the resistance of the Whisper Drive doesn't ramp up in the same way as other units, it provides smooth silent resistance that makes it an effective training tool for those who choose to train indoors.