Pure style. That's about the only way to aptly describe Italian cycling eyewear manufacturer KOO's Cube and Cube Open range of sunglasses – the unique eyewear offshoot of helmet giant KASK.
After extensively road testing both pairs of the KOO's – along with matching KASK Protone (in matt black) and Valegro (in gloss white) helmets – these glasses combine perfect optical clarity with distinctive design.
The sunglasses seamlessly integrate with KASK cycling helmets, garaging safely and securely in the front and rear helmet vents.
'What could be unique about cycling sunglasses?' you may ask … Well, quite a lot actually.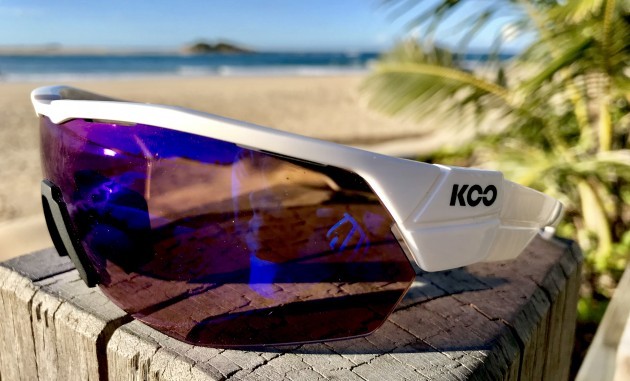 KOO's Pivoting Arm Adjustment System
The most notable major difference with KOO over virtually all others on the market is the folding pivot arm design. Instead of traditional style arms that fold out (from front to rear), the KOO's arms pivot downwards – from against the lens to whichever incrementally adjustable horizontal position best suits the rider. An audible click can be heard as you twist the arms down and out, thus enabling you to quickly match each side (ie 1 click down on both left and right for the angle that suits you best).
Both the inside and outside of the arms feature rubber grippers that comfortably sit alongside the head and prevent any slip.
The removable rubber nosepiece is also adjustable with a subtle two-position click, similar to the arms but obviously with less range. After extensive testing we've found both frames to sit comfortably on the face. Their lack of weight is noticeable and nose slip is absolutely minimal.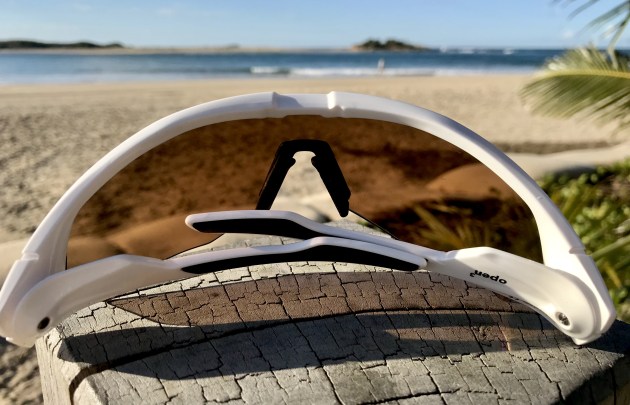 Fog Free & Sharp Lenses
We've found the eyewear to perform very well, remaining fog free and easy to clean and maintain. Despite a solid year of service our original test pair of matt black KOO Opens are not showing and surface wear nor has the Zeiss lens lost any quality. It's a similar story for the now 6-month old KOO Open Cube's – other than the lens needing a quick clean with a soft cloth the frame remains in as new condition. In addition to this the arms and nose piece adjusters function as intended – no signs of wear and the genuine feel of a sturdy and built-to-last product.
Talking optics – both pairs feature easily-removable and fully-interchangeable lenses by the renowned manufacturer Zeiss.
Along with the gloss white and matt black, both models are available in 10 additional frame colours and are 100% made in Italy. KOO Cube and Open Cube weigh in at just over 30grams and are available in size small or medium.
Unique Features Include –
Innovative folding pivot. An innovative folding pivot to store and fold KOO sunglasses with ease.
Adjustable folding nose piece. A soft rubber nose-pad with two adjustable positions for a customised fit, an extra nose bridge will also come as standard in the packaging.
Interchangeable lenses. The optics can be quickly swapped out by simply sliding them in and out of the frame. The lenses can be tilted at three different angles to adjust the position so everyone can maintain the clearest lens possible in all weathers.
Micrometrical Arms Adjustment. The flexible temples improve the fitting without interfering with comfort.
Airflow Active System. With added ventilation, KOO Open Cube ensure the rider's vision is always crystal clear.
ZEISS Technology.Ensuring a superb, uncompromised vision is the number-one commitment. KOO sunglasses boast a set of interchangeable lenses manufactured by the legendary brand Zeiss® according to the highest quality standards, using the most durable materials and featuring an advanced colour technology for excellent clarity in all light conditions.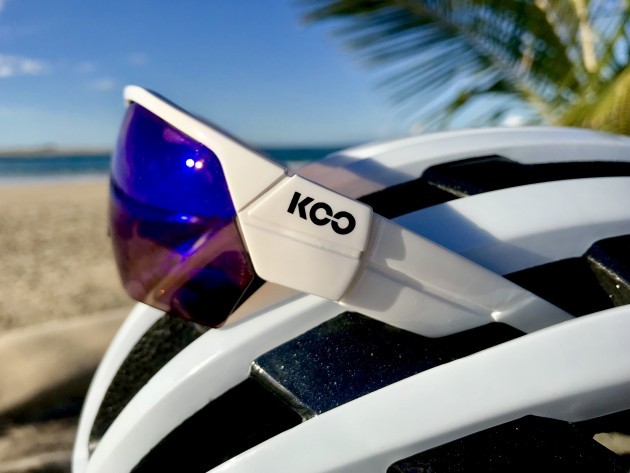 Overall we genuinely can not fault these fine examples from KOO. Match them to a new or exisiting KASK helmet and you'll have a stylish, top-quality, and safe, secure helmet/ glasses combination that will provide years of service.
KOO Open cycling eyewear retail for around $300 per pair and can be ordered via your local bike shop, Cycle Closet stores in Brisbane and Adelaide, or your preferred online outlet.
You can test out the range of KOO eyewear and KASK helmets at this year's Bowral Classic! KOO and KASK will be on display at the event village on Saturday October 20 and Sunday October 22.