Garmin have announced two significantly updated cycling computers, the Edge 540 and Edge 840 plus each model's solar-boosted variant.
The companies latest GPS computers combine a wide array of performance-based training metrics – including one-of-a-kind, comprehensive coaching catered toward the personal goals of each individual cyclist – enhanced navigational support, connected features and more into a lightweight design to help cyclists reach their goals.
The Edge 540 and 840 Series models boast a 2.6-inch colour display while Edge 840 Series computers also include a responsive touchscreen. Both models offer a battery life of up to 26 hours of battery life in demanding use and up to 42 hours in battery saver mode, while the solar models can provide even more ride time – up to 60 hours in battery saver mode!
Dan Bartel, Garmin's Vice President of Global Consumer Sales, said the company is excited to introduce the new Edge 540 and Edge 840 Series to the global cycling community.
"Touting new performance tracking metrics, mapping upgrades and solar charging options, these new Edge cycling computers are a game changer for our customers and are the perfect tool to dramatically elevate any cyclist's training," he said.

Other innovative features include –

• Cycling ability and course demands: Identify strengths and weaknesses as a cyclist and prepare for the demands of a specific course by focusing training in the right areas.

• Targeted adaptive coaching: Whether cycling indoors or outdoors, riders can view daily suggested workouts and training prompts, plus receive personalized coaching that adapts2 based on training load, recovery and the demands of upcoming events.

• Real-time stamina: Monitor and track exertion levels in real-time during a ride to help influence training efforts or see how much further the current pace can be maintained.

• Power guide: Manage efforts with power targets throughout a course.

• ClimbPro ascent planner: View the remaining ascent and grade for each climb while riding
freely without course navigation or search for climbs directly on the Edge and in the Garmin
ConnectTM smartphone app before heading out.

• Multi-band GNSS: Cyclists can easily find their way with enhanced positioning accuracy via
multi-band GNSS technology. Plus, Edge 540/840 operates well in challenging environments, such as dense tree cover or downtown urban environments.
• Solar charging: Power GlassTM solar charging lens on solar models extends battery life to up to 60 hours in battery saver mode, giving cyclists up to an extra 25 minutes per hour during daytime riding.

More Training Metrics And Nav Tools
The updated models have advanced training metrics such as insights from 'Firstbeat' Analytics such as VO2 max, training status and training load, recovery time and more.
When wearing a compatible Garmin smartwatch, riders can receive a more holistic view of their overall health and wellness with insights like Pulse Ox3, Body BatteryTM energy monitoring, advanced sleep monitoring and sleep score results.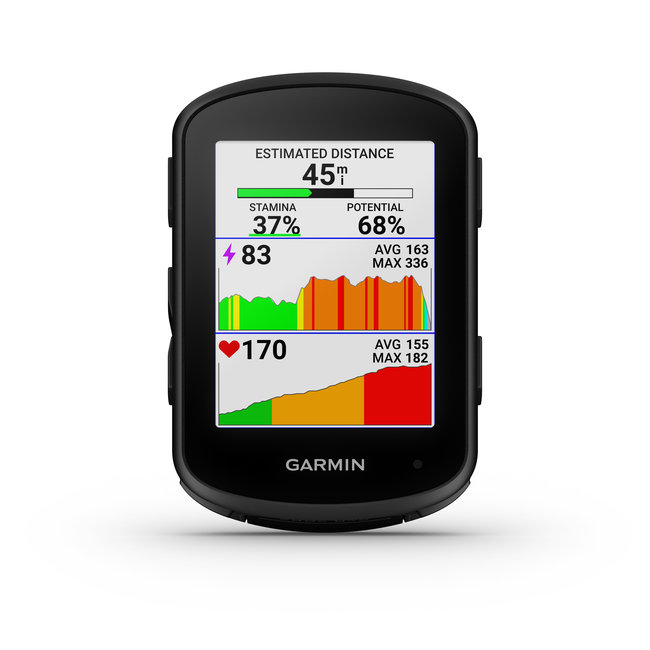 The Edge 540 and 840 Series let riders see how they are holding up in different environments with heat and altitude acclimation and set up in-ride notifications when it's time to refuel or rehydrate. What's more, advanced cycling metrics provide riders with insights on performance while mountain bike metrics, including jump count, jump distance, grit and flow help track the epic details of every ride.
Updated mapping brings more of a community feel, with improved ride type-specific maps that use Trendline Popularity Routing to highlight popular roads and trails, plus searchable points of interest.
Plus, both Edge 540 and 840 Series users have access to worldwide Trailforks trail content, letting cyclists view routes and trail details around the world. Meanwhile, route guidance and off-course notifications can now be paused while cyclists explore and can quickly be turned back on at any time to get riders back to their original route or starting point.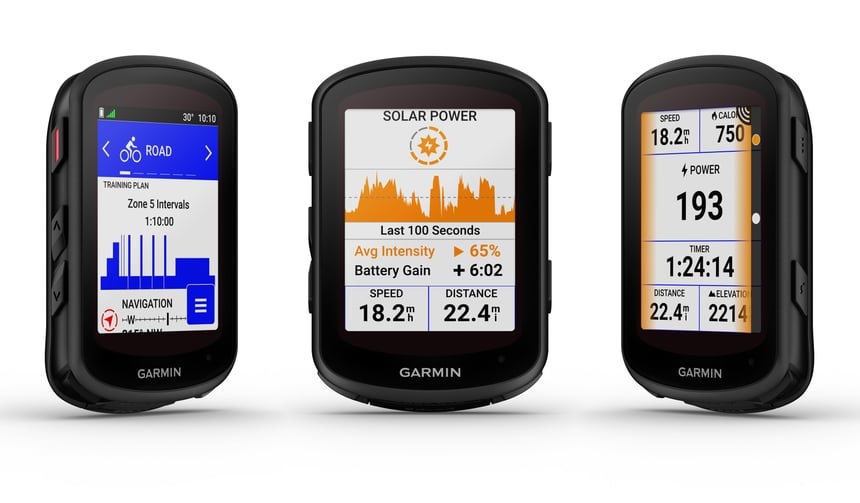 Stay connected
There are built-in safety and tracking features like LiveTrack, group messaging and incident detection for all cycling activities–including mountain biking. The 540 and 840 Series are compatible with the VariaTM line of cycling radars and headlights, as well as inReach devices with SOS capabilities and communication.
Available soon, Edge 540 Solar and Edge 840 Solar have recommended retail prices of AUD $749 and $879, respectively.
The non-solar Edge 540 has a recommended retail price of AUD$599, while the non-solar Edge 840 has a recommended retail price of AUD$749. Sensor bundles for each device are also available.
Bicycling Australia have requested a demo unit and we hope to have a full review in coming weeks.