It's a favourite section of road, a gentle descent prior to a short but personally challenging climb. With a comfortable 4 or so percent start, time and again I've attempted to pip a long-standing personal record only to be beaten and broken by the final, cresting 200 or so meter climb of the starred Strava segment.
That changed during a recent ride – an outing that was more an overdue slow spin than all-out segment hunting mission.
Riding along that favourite section of Sydney's West Head Road, a beep from the GPS alerted me to the fact the starred segment was a hundred metres ahead. 90, 85, 70 … the screen counted down, as I debated whether to give my nemesis a nudge.
"Why not," I thought as the screen showed 20 meters to go.
The Final Countdown
Road testing the new Lezyne Super GPS, getting to know the unit in the best way possible, the next screen really caught my attention. With the countdown timer boldly appearing across the top half of the screen, the personal record emblazoned across the middle, and distance to go at the base of the screen, there was real and visual motivation to dig deeper for that ever-elusive personal record.
As always the case, that final closing quarter of the segment was where the trouble began. With the real-time counter appearing to be ticking a whole lot faster than 'metres to go' were dropping, it wasn't looking good. But pushing harder, having a precise distance to go reference, and using the available information to time the climb, it all came together.
Cresting the top the next screen was joy to my eyes – 'Segment Complete – Willunga Climb PR Time 01:28'. It was only a matter of seconds but the data on display made all the difference.
Live and real time segment support is just one of the stand-out highlights of Lezyne's recently overhauled Super GPS. Packed with an enormous number of features but priced at around $200, it's not surprising the latest from Lezyne has generated significant interest from the cycling public.
With a decent 24-hour battery life, aforementioned live Strava segment support, live tracking ability and smartphone notifications, you'd think that might be enough major selling points.
Intuitive Menu Layout
But scroll through the intuitive menus, selecting screens, modes and functions via the simple four-button layout, and you'll soon discover virtually hundreds of other features hidden inside the tiny device. There's a barometric altimeter, temperature data, GLONASS for pin-point GPS accuracy and full ANT+ connectivity. Should you want it there's the ability for the screen to display smart phone alerts such as texts, incoming call and email information. This may be a bit much for some riders who'd prefer to focus solely on the road ahead however incoming phone calls, email subjects or text messages can be displayed on the screen for 2-minutes. Don't want to see them? Simply switch the option off in settings.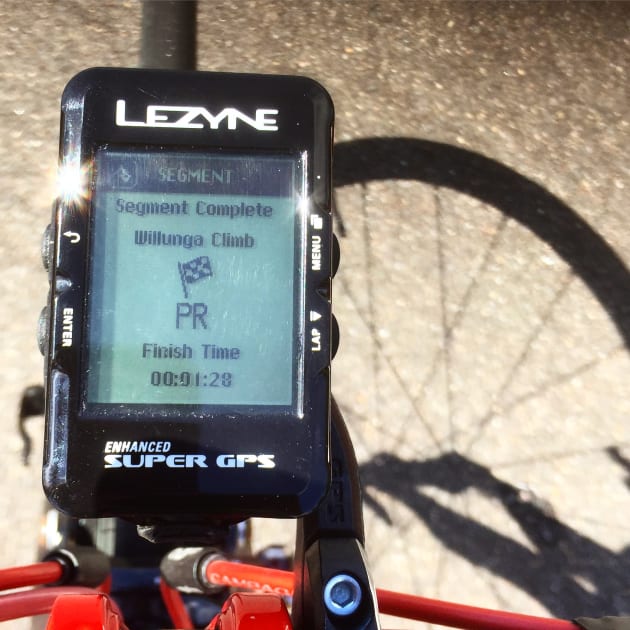 Connecting to either an Android or Apple smart phone is as simple as downloading the relevant 'Lezyne GPS Ally' app and pairing both devices via Bluetooth. The clearly laid out app allows you to view Strava live segments, enable the 'Lezyne Track' live tracking feature (along with adding the email contacts of anyone you chose to track you), change app settings, switch on notifications along with a host of other features. Via the app you can view recent rides, saving them to your phone or the cloud or share them via Strava or social media. To the device itself, up to five data pages can be added – all are customisable with up to four lines of data metrics on each. The home screen shows GPS signal, time, battery life of both the device and your Bluetooth connected mobile phone, and any connected sensors or accessories such as a heart rate monitor, power meter or electronic shifting. It will even show the percentage of battery power in your electronic groupset!
App Controlled Navigation
There's no mapping but who needs it when you've got turn by turn navigation with clear instructions on the display. There's more detailed data (including maps) on the Lezyne Ally app in your pocket. To use this navigation function simply open the phone app, enter your destination (address, area or town), and follow the turn by turn instructions on the display.
As you can see the Lezyne really is a Super GPS – it packs literally hundreds of cutting-edge features in to a small, 85 gram unit that, at 44mm wide x 68mm long x 27.5mm high, is not much bigger than a match box.
Specifications
RPP: $200 circa
Weight: 85g
Battery Life: 24 hours
Distributor: www.lezyne.com