New from Castelli, we road test the latest incarnation of the highly-respected Free Aero RC Bibshorts.
Ultralight and surprisingly comfortable, we have been test-riding a pair of the bibs over the past few months.
A comprehensive update to arguably one of the most highly-respected bib shorts out there, pretty well every aspect of the Free Aero's has been tweaked, honed, updated and refined.
Starting from the top, and the bib straps are constructed of an ultra-thin, high-tech and super stretchy monofilament created by Castelli. This sits comfortably on the upper body and tensions firmly without digging into the skin.
Smartly designed, the upper (shoulder) section of the straps offer less stretch with the bulk of the elasticity being controlled via each front strap. In addition to this, an hourglass shaped rear mesh section offers additional stretch, tension and rear support.
Below this – just under the 'Rosso Corsa' label, is an integrated radio pocket. Sure not many of us ride with team radios – but this pocket will also hold other items such as spare gels or even a small phone.
Simplified Construction For More Comfort
To the main body of the bibshorts, and they now feature half the number of panels of their predecessor – from 10 to five. This simplifies construction and amplifies comfort due to less seams – while also saving a fractional percentage of weight. This bib section is made of a Castelli fabric they call Forza 2 that's 32% elastane / 68% nylon. It is super light, supple, comfy, breathable and feels great on the skin.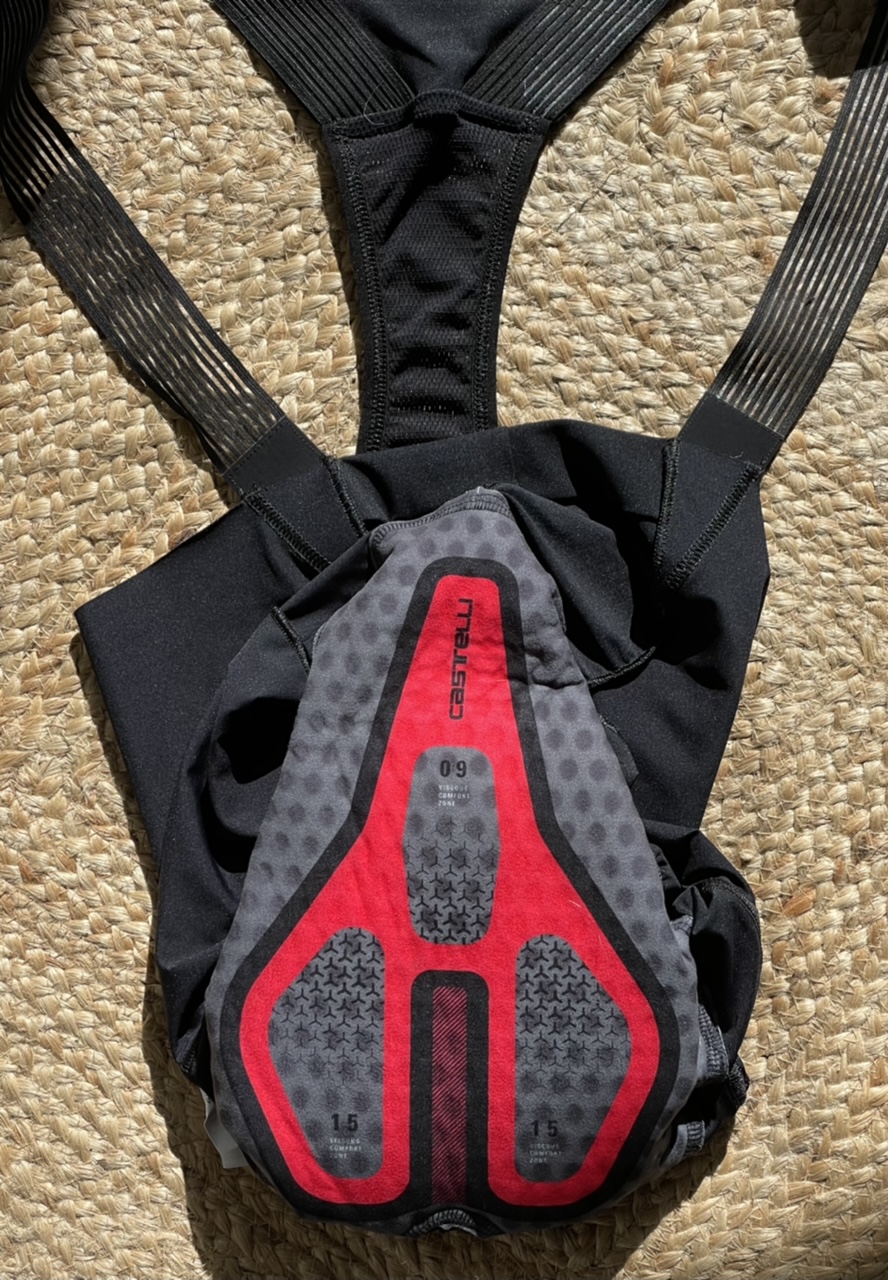 The other notable exclusion on the 5th generation Free Aero shorts are leg grippers. Castelli say new fabric technology has helped them entirely do away with the once integral inclusion. And, during our testing, we can't say we miss them at all.
"We actually went through 28 different fabrics to find the one that gave the right support and was the right weight but didn't move," said a Castelli rep.
Pro team Quick-Step Alpha Vinyl have been race testing the bibs, with Castelli saying they've come full circle with gripper technology "from the first attempt to improve leg endings 15 years ago, now with the best solution of all…nothing."
To the most critical area of all – the 'viscous comfort zone' as named by Castelli. The Progetto X2 Air seat pad varies in density and thickness to offer a class-leading ride and feel. The internal gel-like padding features 3D shaping to provide incredible comfort through the sit areas – it's also highly-breathable and quite wondrous to prod, poke and look at.
Overall these bibs are among the finest we've had the pleasure to test. They fit incredibly well, offer all-day chamois comfort and really do prove that less can quite often be more.
Bottom line: We couldn't test the aero qualities, but these bibs looks slick, feel fantastic, ride well and perform faultlessly – we highly recommend them.
Castelli Free Aero RC Bibshort RRP $279
More at www.echelonsports.com.au