It's all about staying nimble, as Harry Kooros explains in this shoe review.
I've been lucky enough to test out the Nimbl Ultimate road shoes over the past few months. These amazingly light and aesthetic shoes are handmade in Italy and don't come cheap (the RRP in Australia is $799), but the more I ride these shoes, the more I see justification in the price point. Unfortunately for my wallet, I don't think there's any other shoe for me now.
More than half of the bones in your body are in your hands and feet, and with the feet being the key point of power transfer between rider and bike, having comfortable shoes is of utmost importance.
Of all the complaints I hear from cycling friends on the road, painful feet come second only to lower back pain.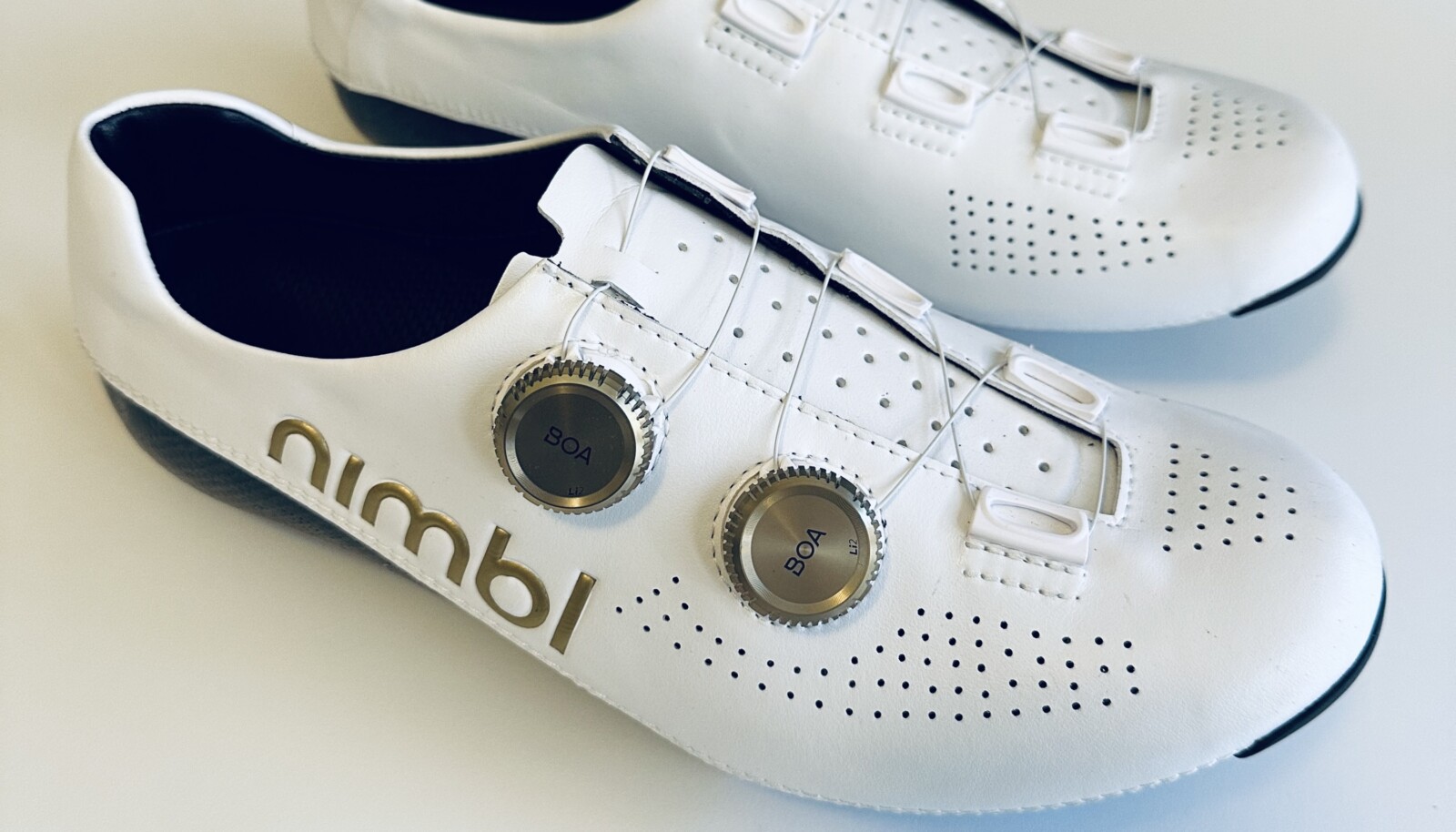 First Impressions
The first thing I noticed when receiving these shoes was the quality of the box. It was obvious from the get-go that Nimbl is an Apple-esque brand that puts quality at the forefront of what they do. Pulling the shoes out, I was immediately impressed by two things: the weight and the aesthetics. At around 200 grams per shoe, these are featherlight, and they are so aesthetically pleasing that I was scared to take them out on the road in case I scratched them.
The exposed proprietary monocoque carbon chassis wraps up around the heel of your foot, and the upper portion of the shoe is covered with white microfiber, with some fancy stitching connecting the two. The Ultimates are compatible with most three-bolt cleat systems and have a replaceable heel cap, ensuring you can keep the shoes functioning as new in the long-run.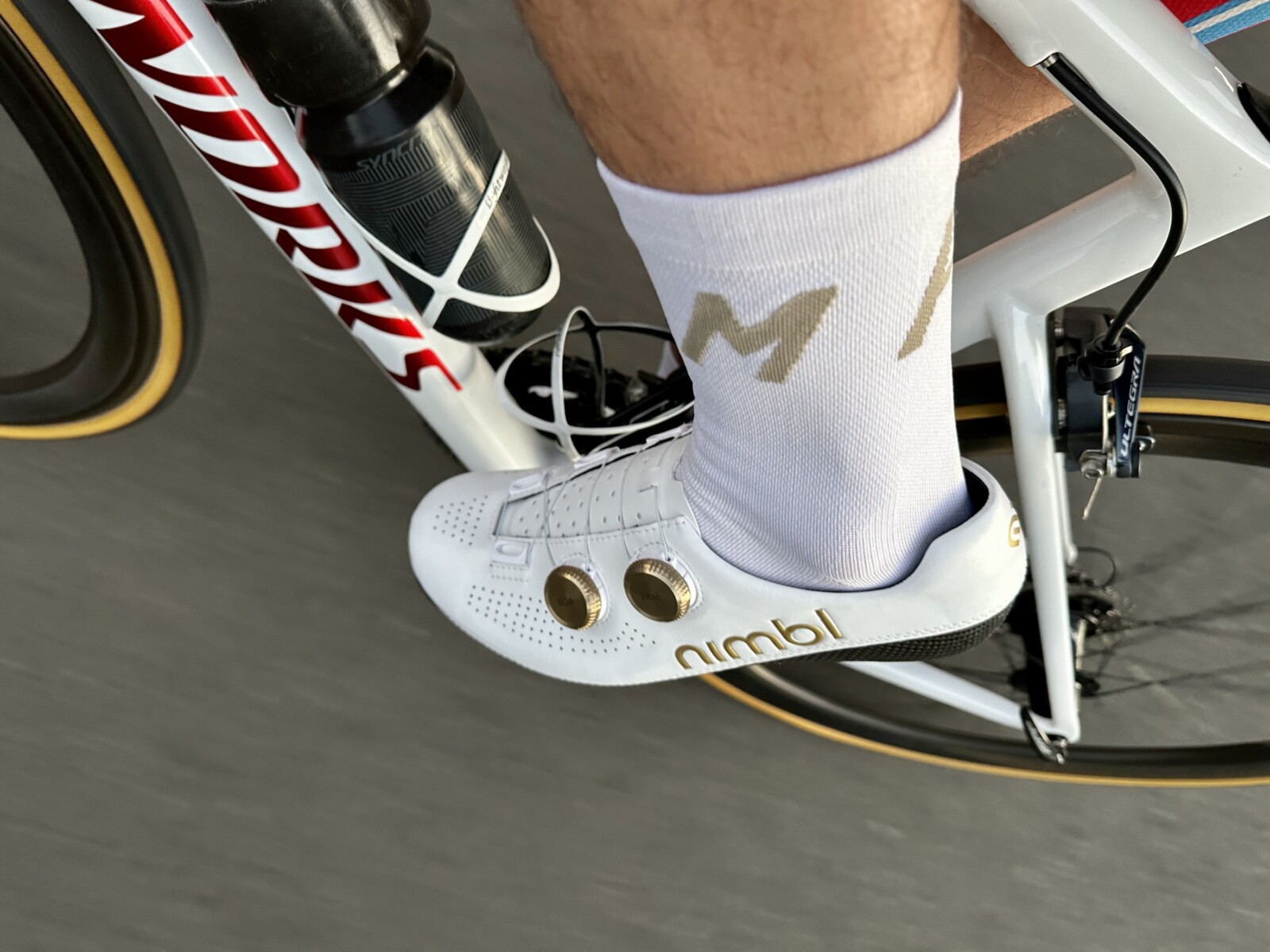 Comfort
While I've tried a lot of road shoes over the years, I've consistently loved riding in the S-works 6 and 7 Road Shoes, as they have a great blend of stiffness and comfort. Moving straight from these to the Nimbl Ultimates, I was only concerned about comfort.
With a monocoque carbon mould and a thin insole of no more than 3mm, I was worried that this stiff, minimalist shoe would be unpleasant to ride in, and that it was a shoe best left for the pros. This concern was quickly cleared from my mind after just one hour on the bike, and I was extremely impressed with the comfortability of these shoes. The compliance in the mould meant that the slim shoe was forgiving enough to keep my feet from aching, even after long hours of riding in the sun.
Power Transfer
What struck me when first riding with these shoes was the power transfer. With such a slim, stiff shoe, I was expecting amazing power transfer, and I got just that. The power transfer was direct and didn't waiver throughout any pedal stroke. Paired with Shimano's blue SPD-SL cleats (with 2° of float), I could notice the difference immediately from any other shoes I've ever ridden in.
Conclusion
Overall, this is a premium, lightweight road shoe with an incredibly sleek look and an amazing build quality. While other shoe brands have top-end models at slightly lower price points, you won't be disappointed if you decide to spend the extra money on a pair of handmade Nimbl Ultimates. They are certainly my go-to from now on, and I'm reluctant to test any other brands out.
With fast growing use across the World Tour peloton, these are race proven shoes, and it's great to see a number of Australians riding in them, including Heinrich Haussler, Luke Plapp, and Georgia Baker.
Shoe specifications
● Closure: Li2 BOA Fit System
● Sole: Carbon fiber sole
● Sole guard: Replaceable heel cap fixed with internally recessed screws.
● Cleats: Compatible with three-bolt cleat systems
● Weight: approx. 200 grams (size 43)
● Sizes: 36-48 (39 to 47 also in half sizes)
● Colours: White Silver, Black, White Gold (reviewed), Pro-Edition
● RRP: AUD$799
More at www.Nimbl.cc or www.DeGrandi.com.au
Latest Edition Out Plus Father's Day Special

Edition 243 of Bicycling Australia Magazine is at your local newsagent now, or you can subscribe and save with our Father's Day Special here https://www.greatmagazines.com.au/magazine/BCA