After a year away from top-level racing Sarah Gigante is set to start the Tour of Scandinavia which runs from August 23 to 27.
The 22-year-old former Australian champion, who has endured a tumultuous year of ill health, is on the team Movistar start list alongside some of the biggest names of the sport including Annemiek van Vleuten and Liane Lippert.
"I'm really excited and grateful to be back racing with my teammates at the Tour of Scandinavia," Gigante told Bicycling Australia in the lead-up to the race.
"It's been a tricky past year, but I've had absolutely fantastic support from everyone at Team Movistar and they've continued to believe in me," she continued.
Gigante, a former Australian national road and time trial champion, has endured a tough couple of years after suffering serious medical conditions including an inflamed heart muscle and pericardium, or Myocarditis.
Ready For 'The Battle Of The North'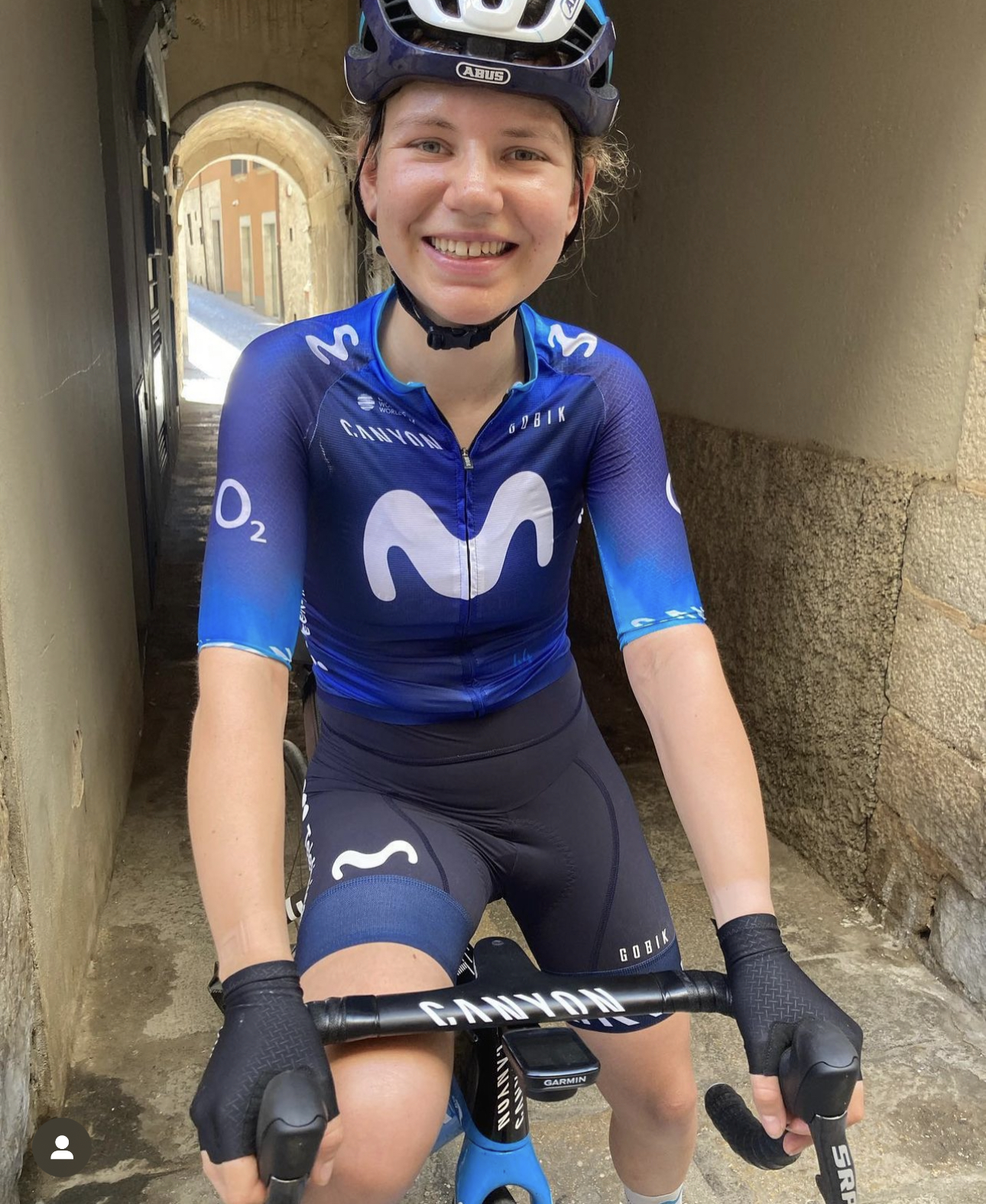 Oozing positivity and her trademark enthusiasm, it is Gigante's first race back after extensive recovery and recuperation, and ironically, her first pro start since the 2022 Tour of Scandinavia which is also known as 'the Battle of the North'.
"The friendship and love from those around me has also been incredible and kept me happy and positive throughout my long build back to fitness in Australia," she told us.
"Although I'm starting my 2023 season very late, I'm definitely still looking forward to finishing the year off strongly and hope to be able to have some great races in the next few months."
One Of Van Vleuten's Final Races
40yo Dutch superstar – and the 2022 World Champion – Annemiek van Vlueten is a hero to many including Gigante who is thrilled to be back racing with the legend almost twice her age.
"I'm really happy to be able to race alongside Annemiek one more time," she told us.
"She was a big part of why I chose to join Movistar, and has been an inspiration for many years so it will be special to support her and learn from her across the week. Our squad is very strong and also includes our two recent stage winners from the TdFF, Emma Norsgaard and Liane Lippert, so I think it will be a great week."
"All in all, I'm just very happy to be feeling great and to be back pinning on a number and doing what I love after such a hard journey," Gigante said.
"I'm very grateful to Team Movistar, and I'd also like everyone in the cycling community for being so lovely overall – from the chats at Hawthorn Crits back when I was unable to ride but came to spectate each week, to the kind messages online and the friendly waves on the roads out to Kinglake over the past winter months…it's all been incredible."
"Here's to a smoother year ahead," Gigante concluded, and we couldn't agree more.
Latest Edition Out Plus Father's Day Special

Edition 243 of Bicycling Australia Magazine is at your local newsagent now, or you can subscribe and save with our Father's Day Special here https://www.greatmagazines.com.au/magazine/BCA