Mitchelton-Scott have formally announced a partnership with leading tyre producer Pirelli, with the Aussie outfit to race the new PZero Velo tubular tyres at the 2018 Tour de France.
During the months leading up to the Tour, Mitchelton-Scott and Pirelli Research and Development personnel have been working together to produce the new tubular that will compliment the exisiting PZero Velo range.
Numerous WorldTour Races With Unbranded Pirellis
With a reported 300,000km testing to date, the new tubular tyres have been used in races and testing sessions, with multiple WorldTour races already ridden with unbranded products.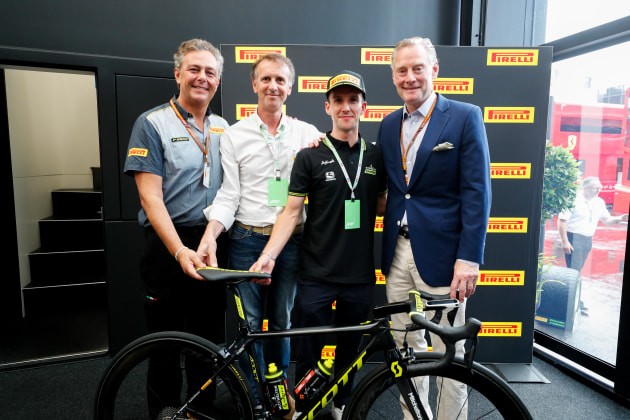 Mitchelton-Scott High Performance Manager Kevin Tabotta said the tyre was arguably the most important piece of equipment available to a professional road cyclist.
"There's an incredible amount of trust that goes into a very small contact patch to the road," he said.
"We have been really happy with the development of the tyres. Pirelli have been excellent in the way they've communicated with our athletes and taken on board their feedback. We have ended up with a fantastic fast, grippy, comfortable tyre that handles incredibly well."
Pirelli say the new PZero Velo tubular tyre was born of the most demanding conditions.
"Besides featuring the high efficiency level and grip typically associated with Pirelli products and ideally suited for WorldTour competitions, enables the riders to reach new levels of confidence and control, under extreme conditions," read the launch statement.
Further details, availability and pricing to follow.