Toulouse in France is one super-energised city … an al fresco party town, at least through the summer, the place exudes all the hallmarks of a non-stop fiesta.
Tens of thousands were out and the atmosphere was electric – from shady Belfort, through Victor Hugo, into historic Quartier 1 and along the vibrant Garonne river front at Carmes, there were endless overflowing tapas houses, cafes, packed restaurants and people everywhere.
Click Here For Weekly Cycling News To Your Inbox
Weaving down narrow streets, jumping gutters, and dodging the never-ending foot traffic, I alternated between footpath, bike lane and roadway. A seemingly endless city, I rode up and down laneways and small streets for hours – and have never seen so much broken glass in all my life.
Tour de France By Vintage Bike
Despite the challenges and occasional impossibilities, I've been using a bike to  reach most stages, and explore the regions, of this year's Tour de France. Not just any old bike, but a 1979 steel Verdin purchased for 180 euros in Paris.
I've taken the navy blue beauty everywhere and covered around 1700 km in the past 4 weeks. Keeping it simple, I carry a small backpack containing my phone, computer, toiletries, a couple of shirts, 2 spare tubes and few other small items. A whirlwind three weeks, as the Tour de France tends to be, it's been go go go for the past 15 days. With way too many daily challenges and variables, the schedule is tight and the last thing I've got time for is a puncture.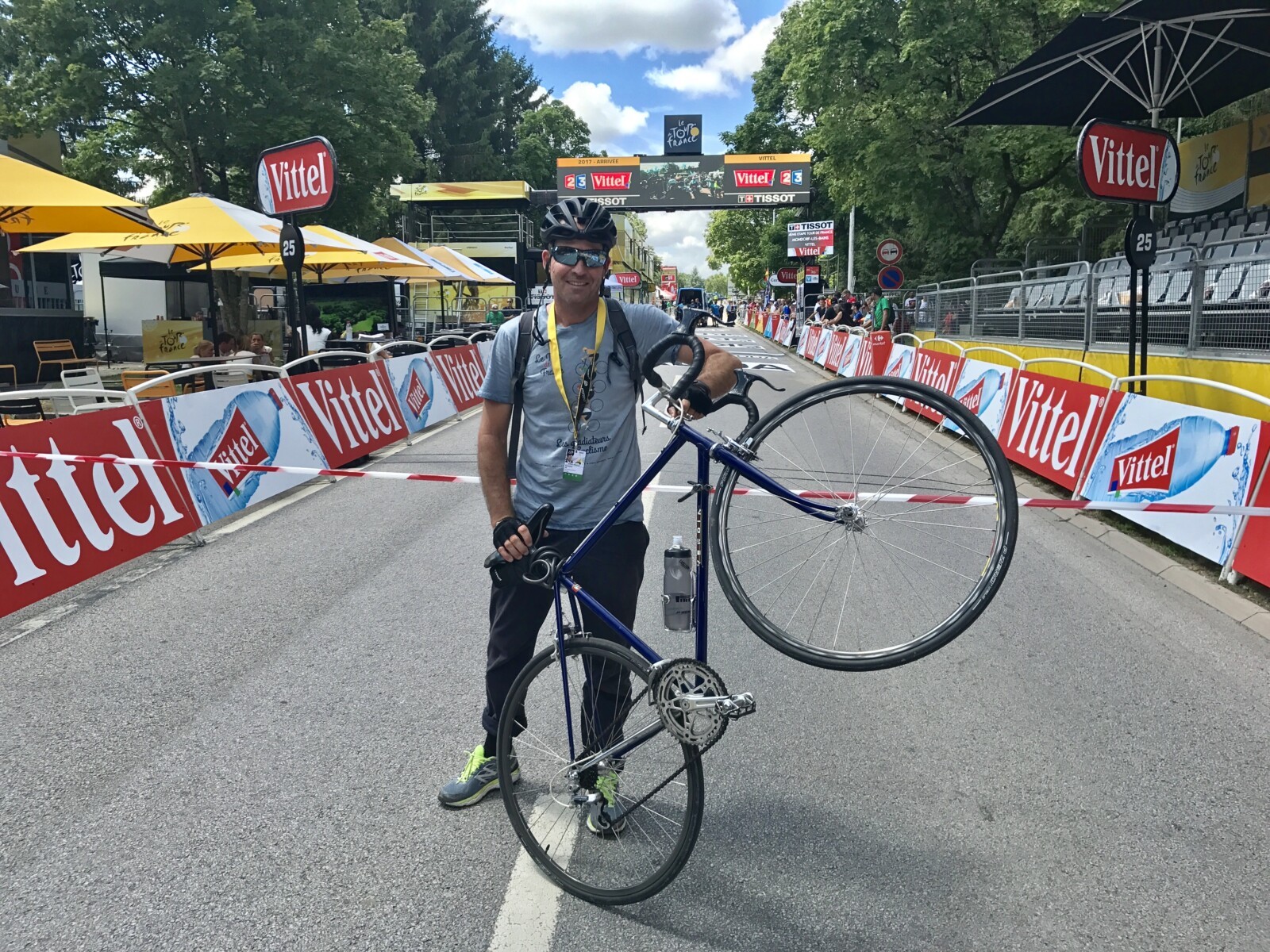 It was in Toulouse that I realised the inevitable was sure to occur, while exploring the lively city that sultry Saturday night.
Quickly turning to avoid people who were spilling out of a packed bar, I heard that most feared of sounds … the crunch of glass under my smooth, thin, vulnerable tyres. On it went, as I tried to bunny hop out of trouble, then steer towards the footpath, that dreaded sound of breaking, grinding, squashing glass continued.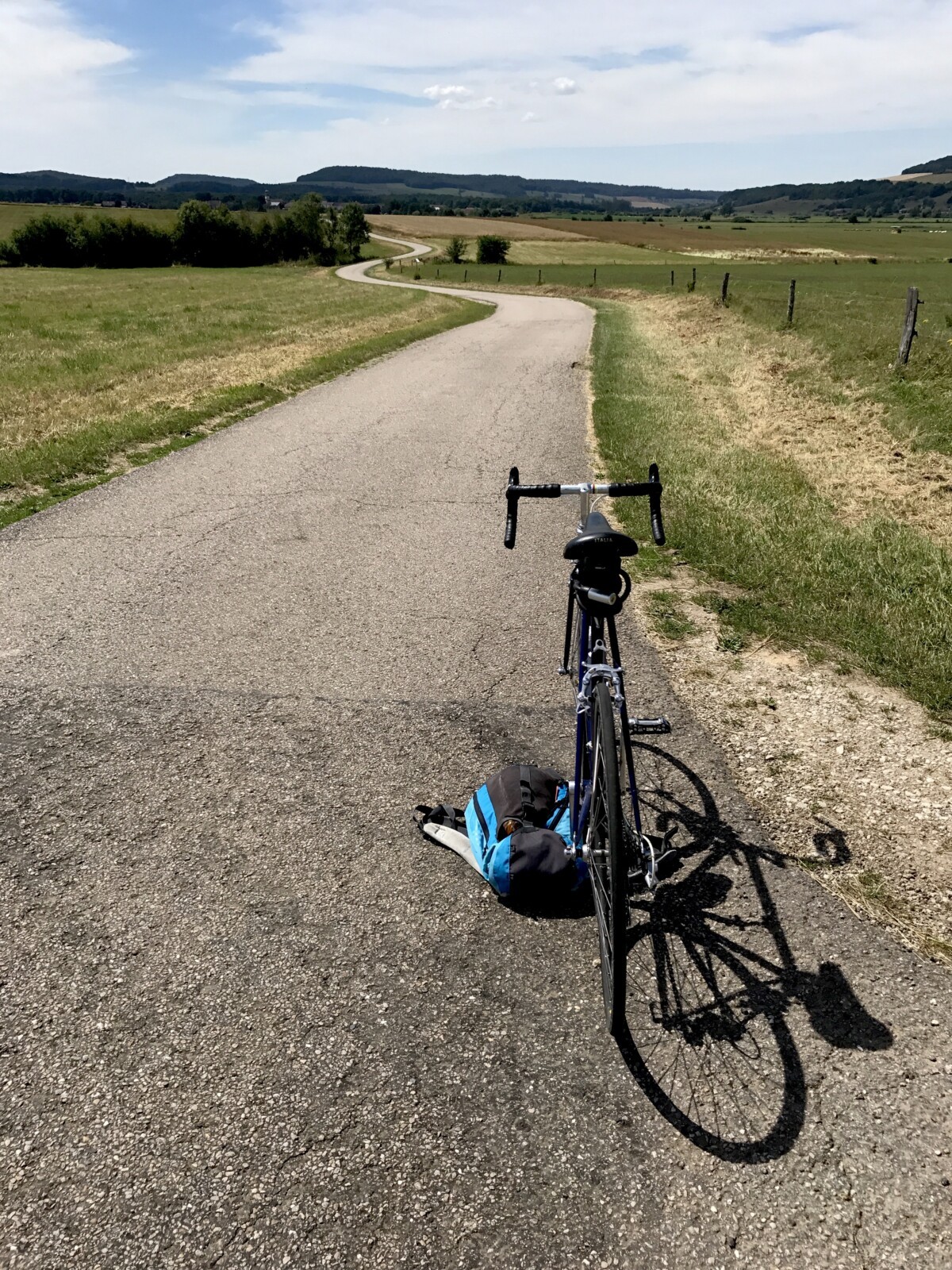 More Glass
"I may as well stop and walk … one's sure to be punctured," I thought, while lifting a foot from the pedal and, tyre by tyre, removing any remaining debris with the side of my shoe.
Surprisingly the tyres stayed up, I kept riding, and didn't feel the rim.
Further on there was more glass, more grinding, more worry … I dodged as much as I could and have never ridden through so much glass in my life! Returning to the hotel I went through more, and dreaded it every time.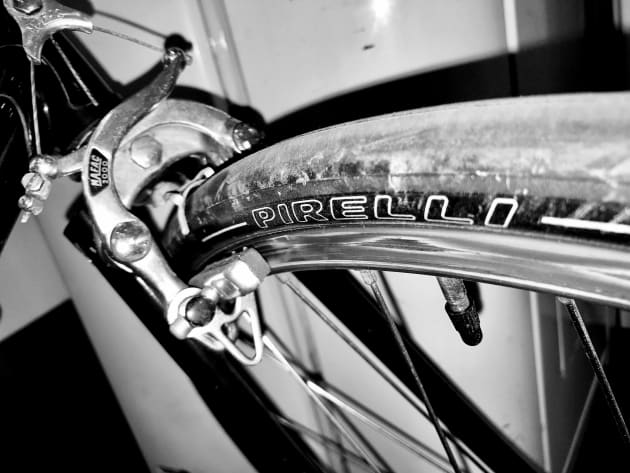 L'Eroica, With A Subtle Modern Touch
Original to the downtube shifters, Mafac centre pull brakes, vintage 3T bars, Stronglight crank and Selle Superlegerra saddle, there are a couple of subtle modern touches to my trusty steel steed.
After purchase and prior to setting off to follow the Tour de France by classic French bike, I upgraded the tyres to a pair of new PZero Velos I'd received while at the Pirelli launch in Milan in June.

Truth be told, I didn't want to fit them to the Verdin, I desperately wanted to take them home to Australia, put them on my Pinarello, and thoroughly test them on a bike, and the roads, I know well.
But that decision to run new PZero Velos on my epic journey around France (plus a bit of Belgium as well) proved one of the best decisions of the trip.
Supreme Cornering, Wet Or Dry
During extended use I've found the tyres to be super comfortable, incredibly hard-wearing and surprisingly puncture resistant.
While the bike may be nowhere near as fast or agile as more modern equivalents, I've put it through more than its fair share of fun. I've steered the tyres into many hard and fast corners – often crazily, on late afternoons, just after watching my WorldTour heroes race. Try as I might, I'll never emulate their style and can only mimic and imagine, yet still the tyres have hung on.
I've ridden the PZero Velos in all weather, from three days of a 36+ degree heatwave to cold drizzly mornings and through constant rain. They've gripped well, have not (yet) come unstuck, and seem to thrive on being ridden hard, especially into corners.
Pyramid Gravel
After a month of brutal use, the tyre's ability and characteristics on gravel and unsealed roads continues to surprise me. Using Google maps for much of the trip, I've limited control over the route from town to town or city to city. On a number of occasions there was no option but to ride over extended sections of dirt, pave, coarse grit and gravel, while following those precious GPS instructions.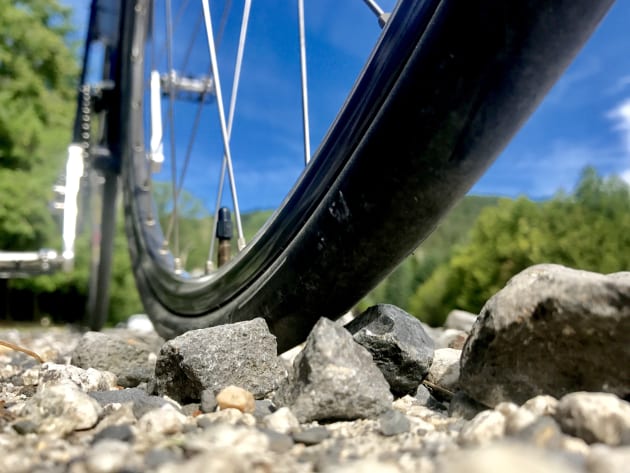 Mentally uncomfortable, especially over a 5 km section of sharp gravel on a 93km 'stage' between Foix and Toulouse, all I kept thinking while dodging the pointy, pyramid-like pieces was 'it's too hot to stop here to repair a puncture'.
It's said that 99% of worry doesn't come to fruition and, fortunately, it didn't over that rough section, or any other on the journey thus far.
After 4 weeks of extensive real-world use, I rate the Pirelli PZero Velos incredibly highly. I can't think of a single reason not to give them 10/10.
Bicycling Australia are delivering daily coverage from the 2017 Tour de France – make sure you check our website each morning for the latest! A feature article on 'Tour de France By Vintage Bike' will appear on our website over coming weeks.