Glance at virtually any cycling photo from the past five decades or so, and within moments you'll more than likely be able to work out the approximate year it was taken.
Just as much as bikes, wheels, brakes, bidons, apparel, helmets (or lack of), shoes and hairstyles can quickly define the many cycling ages, eyewear typically offers the strongest and most accurate insight.
And no more so than the past few years, and our immediate future if the continuing popularity of larger lensed, bolder framed eye-catching eyewear is anything to go by.
Today we are testing out Vulcans from British-based SunGod, a relatively young but rapidly developing global eyewear company.
Every reputable brand needs a significant point of difference or three, and in SunGod's case, the list is long and includes fully customisable eyewear options, a lifetime guarantee on all products, everything they make is recycled and recyclable (including packaging ) and the company boats of various charity partnerships.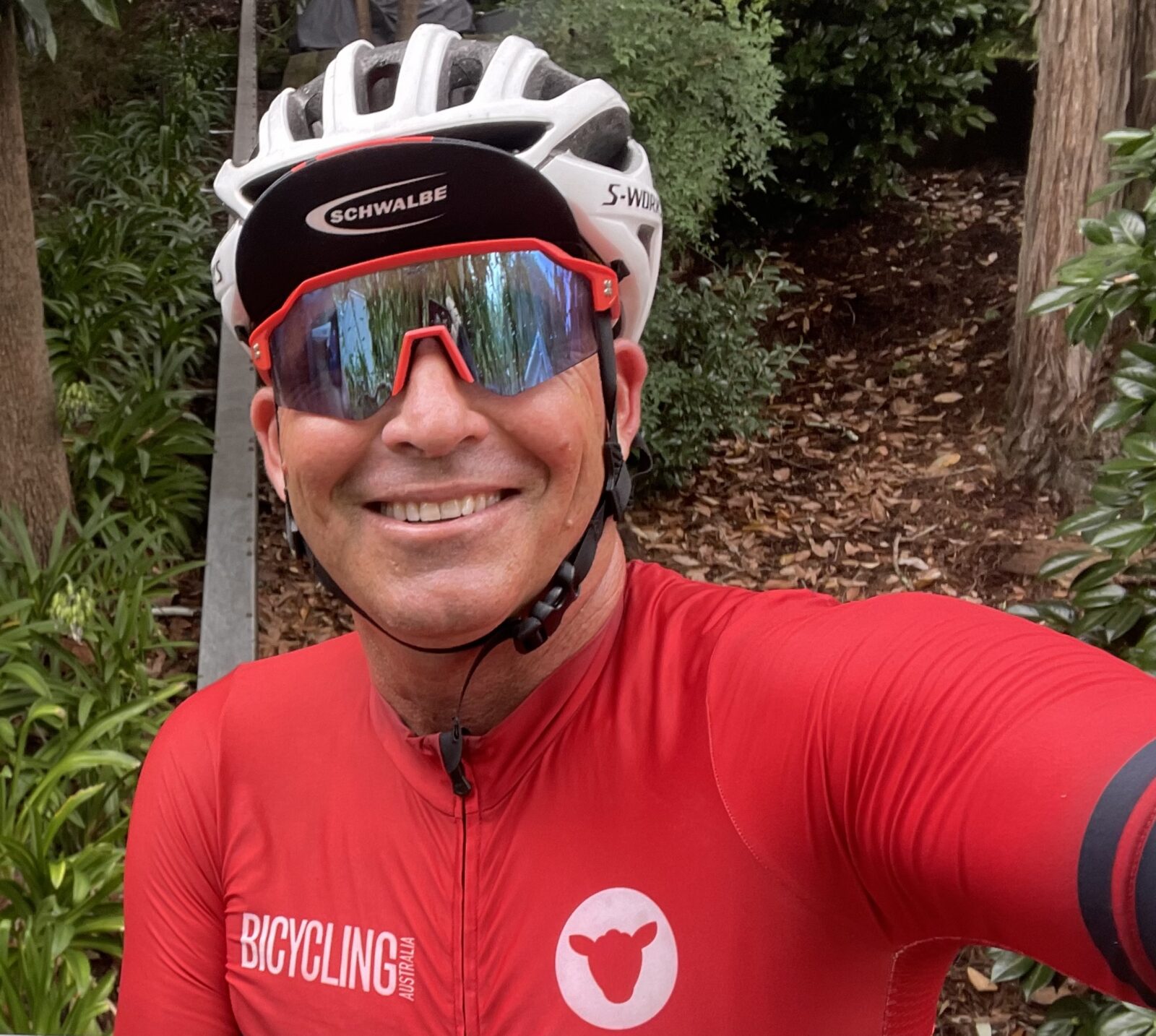 While all of the above is as impressive as it is important, after ordering three pairs of SunGod eyewear over the past two years, our key takeouts are the infinitely customisable approach to their range, the speedy delivery from the UK, and the brilliant quality of their lenses and frames.
In this article we are taking a closer look through one of the more popular models, the Vulcans. Available in both frameless and full framed spec, the glasses can be ordered with a top frame, full frame or top and full frame (ie convertible – the best of both worlds, or looks.)
Jumping on the SunGod website during a rainy afternoon in drab suburbia, it was exciting to select a colourful frame option then custom design a pair of Vulcans to suit our favourite cycling wear.
The kit consists of a dark red and navy blue Black Sheep Bicycling Australia jersey and matching navy nicks and socks. It goes great with crisp white shoes and a white helmet, and just needs to right eyewear to compete the ensemble.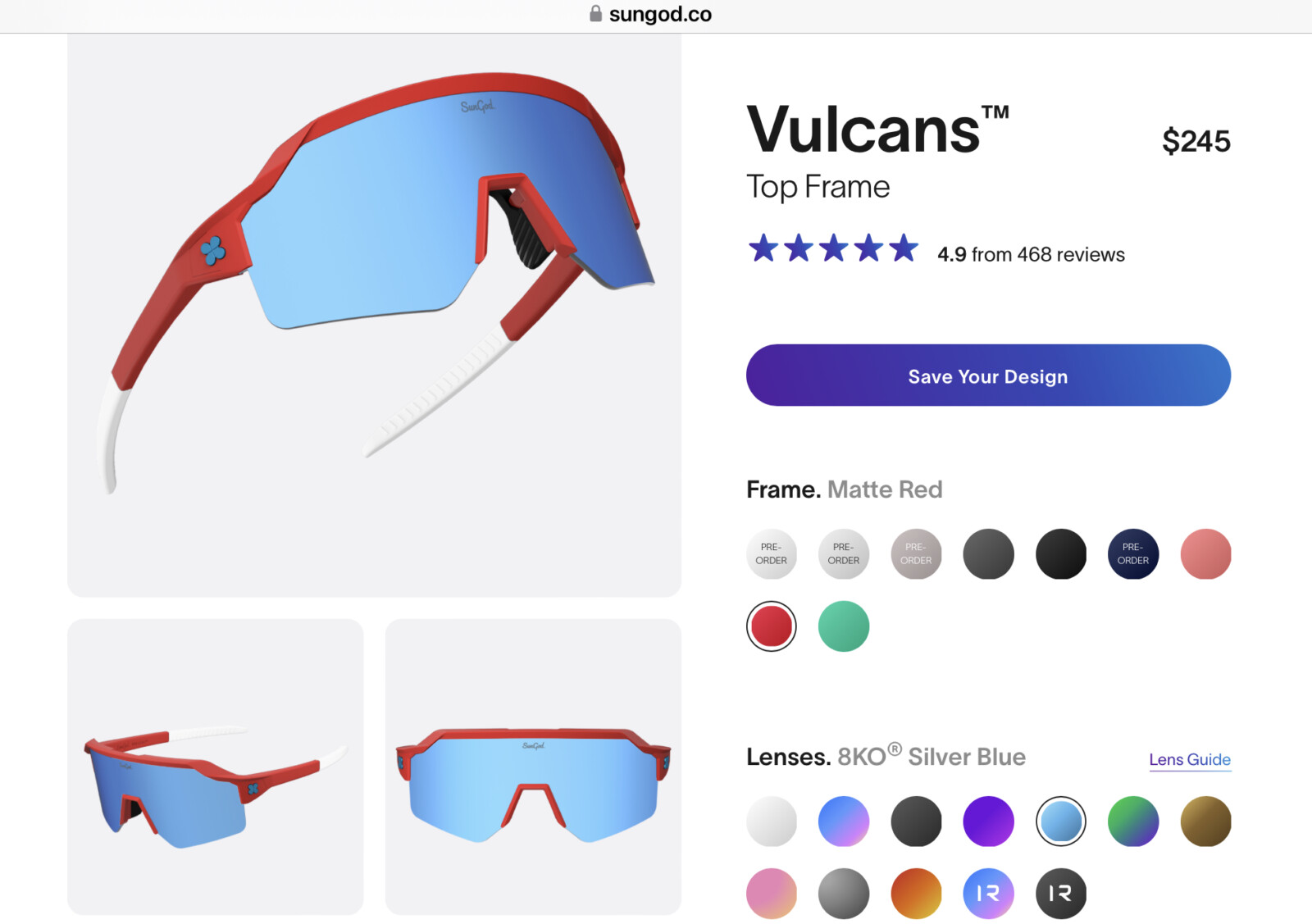 As the rain continued to fall, within a few minutes we were looking at a stunning pair of appropriately matchy matchy top framed Vulcans on the interactive SunGod website. With a Matte Red frame, an '8KO' Silver Blue lense, Brushed Blue SunGod logos and the company's 'GripLock' ear socks in BA logo matching White, they certainly fitted the bill.
Clicking proceed, there was a $22 international postage charge (via DHL express), and the order was made on that drizzly Friday afternoon.
The following Thursday, some 6-days later, a notification advised delivery was imminent and that afternoon, just under a week after making the order, the package arrived.
Fortunately, the weather had cleared, there was time for a ride, and the custom BA kit + new custom matching SunGod's got their first ride.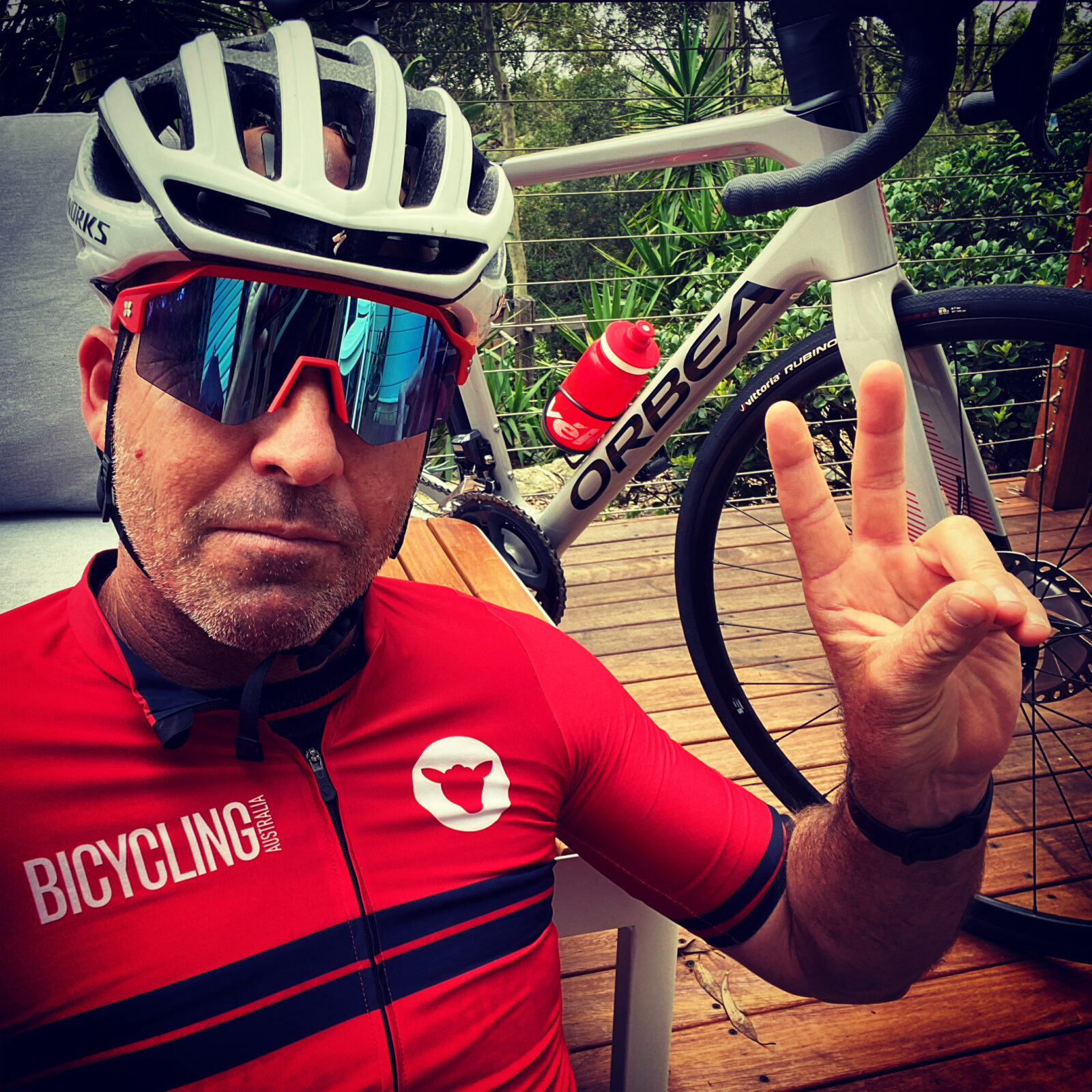 First impressions included ultralight frames (later weighed at around 250grams on the trusty kitchen scales), and incredibly sharp lenses. On the face, the Vulcans offer a wide, completely uninterrupted, panoramic view. They wrap comfortably past the eyes and offer just the right amount of curvature to ensure an even distance as they contour the face. The rubber-sided nosepiece offers soft flexibility and can hardly be felt on the bridge of the nose, and the rubberised eargrippers hold the frame firmly and comfortably in place.
No dreaded 'one-finger push-up' was required during that first test ride – the Vulcans sit perfectly on the face and seem to stay there. On fit, they do seem to sit a little further forward or away from the face than some other eyewear we've worn. This appears to help with airflow and ventilation – despite riding the Vulcans numerous times, sometimes in humidity and light rain – we've yet experienced fogging issues.
Overall, we found the SunGod experience – from initial ordering, customisation, delivery and ultimately riding – to be seamless, professional and surprisingly fun. The Vulcans are wonderful glasses to ride and we haven't yet found a fault with them. Keep up the great work SunGod!
SunGod Vulcan Cycling Sunglasses
From $AU245 + delivery.
More at www.SunGod.co