Specialized have dropped the annual activation fee on their patented ANGi sensor, a lightweight tracking device that 'calls for help when a rider can't'.
Previously requiring a subscription charge to be used, the live tracking and crash detection device can now offer ongoing peace of mind for nothing more than the purchase price of either the unit or a new ANGi-equipped helmet.
How It Works
Pairing with the Specialized Ride App (available on iOS or Android devices), if the device detects a crash it commences a countdown prior to sending an alert to selected contacts. The user's last known GPS coordinates are transmitted along with a message that help is required. The unit also features live tracking, time-based safety alerts and has a 6-month battery life.
Service coverage is maintained even when out of range provided users set an estimated ride time before heading out. All users need is an active data signal at the start of the ride. If the ride is not completed within that time frame ANGi will send a notification to chosen contacts with the last uploaded location.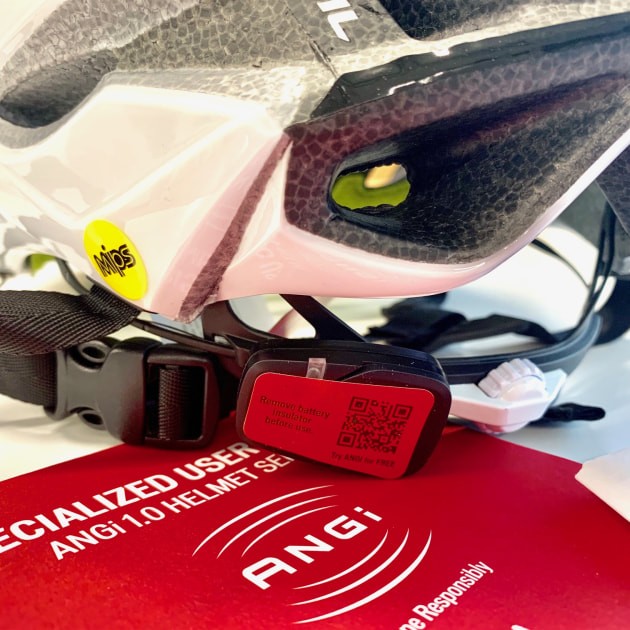 ANGi is pre-installed in selected Specialized helmets such as the Prevail II (pictured) – a helmet that is also MIPS equipped. The unit is now also available for individual purchase and can be retro fitted to the vast majority of bike helmets in the marketplace.
Key Points
ANGi is a ride tracker, crash detector, and safety beacon.
Includes a one-time activation code.
Detects and reports potentially dangerous helmet impacts to the Specialized Ride app, which notifies your emergency contacts and sends them your most recent GPS coordinates.
Additional features include start ride notifications and ride-time alerts.
Works with most helmets from other brands.
Approximate six months' battery life on a 2032 coin cell battery.
Weight: 10 grams w/ battery
Two-year sensor warranty
RRP (ANGi unit only) $75
RRP Prevail II (pictured) $375